Allegiance Moving and Storage Company Review
Overall Opinion
Allegiance Moving and Storage is a moving broker located in Southeast Florida
The broker works with established carriers to handle local and long-distance moves
With 141 complaints in just three years, the company got off to a relatively rocky start
Allegiance is unaccredited and holds a B- rating with the BBB
The company is working hard to address persistent issues and improve service levels
Best for: Cost-conscious consumers moving household goods in Southeast Florida
Not recommended for: Complicated or last-minute moves
For even more long-distance moving companies, check out our list of the best interstate moving companies
How does Allegiance Moving and Storage compare to other professional movers?
Jump to the Allegiance Moving and Storage review section that you're looking for:
About Allegiance Moving and Storage
Allegiance Moving and Storage (U.S. DOT# 3183105) is a national moving broker located in Lake Worth, Florida. As a moving broker, they coordinate with carriers in your local area. Brokers act as intermediaries but do not physically handle or transport their customer's belongings.
Established in 2018, the moving broker handles both local and long-distance moves. Allegiance works with carriers that offer additional packing, storage, and automobile transportation services.
The company makes an effort to inform its customers of its services. The company directly states its broker status and even displays a list of carriers it regularly works with on moves.
Offer local and long-distance moving services, storage, and auto transportation
Provide free quotes on their website
Listed on every government database
Have an extensive network of partner carriers
Do not ship to Hawaii or Alaska
Negative reviews regarding final charges and damages
Unaccredited with the BBB
Allegiance Moving and Storage offers a broad range of services
Allegiance Moving and Storage does more than just schedule local and long-distance moves. Here's a list of all the services they have to offer:
Local moves: The moving broker works with carriers located in Southeast Florida. They provide local services for those looking to move in or around West Palm Beach, Fort Lauderdale, and Miami
Long-distance moves: The company manages moves that cross state lines, excluding those to Alaska and Hawaii
Corporate relocation: Allegiance Moving and Storage organizes commercial moves with certified shipping carriers. This includes packing, transportation, storage, warehousing, and retail deliveries
Packing and unpacking: The company works with carriers to pack personal and commercial belongings, as well as specialty items like antiques and valuable artwork
Short and long-term storage: The company provides temperature-controlled storage for any move. They can even store items overnight
Auto transport: The broker works with specialized moving companies to transport personal or fleet vehicles along with standard moves
Allegiance Moving and Storage makes an effort to inform customers of its broker status. The company provides an extensive list of the carriers it works with on residential moves. This list allows customers to confirm who they'll work with or to choose their preferred mover.
How much does Allegiance Moving and Storage charge?
Because every move is different, quoting an exact price can be difficult. Customers can receive a free quote from Allegiance Moving and Storage using the form on the company's website. Those interested in a free estimate must provide:
Origin and destination zip codes
Move type and home or apartment size
Contact information
Customers can also receive a free quote using the phone number or email address listed on the company's Contact Us page.
Allegiance Moving and Storage details how they charge for their services. Standard estimates include transportation, assembly, packing, loading, and basic released-value coverage equal to .60 cents per pound.
They also charge for additional services such as flights of stairs, long carries, specialty item handling, packing supplies, and storage.
The broker breaks payments into the following three installments:
30% deposit is required when booking your move
50% is due before pick up
The remainder is due prior to unloading
Allegiance Moving's payment system is a bit tedious. The company accepts credit cards, cashier's checks, and personal checks to pay for deposits. They accept credit cards, cashier's checks, cash, and money orders for payment at pick-up. Finally, the broker only accepts money orders and cash.
The company has a specific cancellation policy. To qualify for a refund on a deposit, customers must provide written notification of cancellation within 72 hours of booking. After this window, customers will only receive 50% of the deposit. Those canceling within 72 hours of their move will not receive a refund.
All refunds are charged 10% for merchant fees.
To get a quote on your move and find out about the best movers in your area, check out our moving cost calculator.
How is Allegiance Moving and Storage's customer service?
Allegiance Moving and Storage is transparent with its customers, and company representatives are generally available during regular business hours.
Those interested in receiving a free quote or scheduling an appointment can speak to a customer service representative using the phone number or email provided on the company's Contact Us page.
While the broker does not offer pricing guarantees, they offer a premium guaranteed service. Customers can purchase this additional feature to guarantee their pick-up and delivery dates.
The company goes to great lengths to divulge its broker status, yet some customers claim to be unaware that Allegiance wasn't an asset-based carrier.
Recently, the company has worked to fix this issue. Allegiance Moving and Storage highlights its status as a broker in multiple places on its website.
The broker has also started reaching out to reviewers. A service representative addresses many customer complaints, with claims and even reimbursements provided as compensation for poor experiences.
Does Allegiance Moving and Storage have a good online reputation?
Allegiance Moving and Storage has seen turmoil in the first three years of business. When searching the company on Google Business, the moving broker maintains a 3.8 out of 5-star rating with 829 reviews.
Many reviews point out the company's failure to mention its broker status. Other customers share issues with damages and final charges. Still, others are impressed with the communication and estimate process. Allegiance Moving and Storage makes a concerted effort to reach out to positive and negative reviews.
The broker is working to improve its early reputation on government databases. Allegiance Moving and Storage is unaccredited with the Better Business Bureau and maintains a B- rating.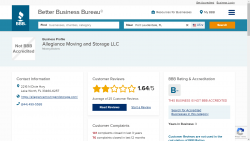 The company has a 1.64 out of 5-star rating on the BBB with 25 customer reviews. Customers unanimously state that the company was dishonest about their broker status. Others have issues with timeliness.
Allegiance Moving and Storage has received 141 official complaints in the last three years – 76 in the last 12 months alone. Many customers have issues with final charges and services provided. Still, the company has responded to and resolved all of its complaints.
The following summarizes the categories (nature) of the complaints received.
| | |
| --- | --- |
| BBB Complaint Types | Number |
| Sales or Advertising | 21 |
| Collections or Billing | 32 |
| Deliver-Related Concerns | 10 |
| Warranty or Guarantee | 0 |
| Product or Service Problems | 78 |
The broker has also received 79 complaints from the National Consumer Complaint Database that are displayed publicly on the AI FMCSA website. Customers frequently share frustrations with pick-up and delivery, final charges, and deceptive business practices.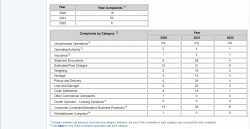 The moving broker also has poor reviews on public review sites. Allegiance Moving and Storage maintains a 1 out of 5-star rating with 38 reviews on Yelp. Customers mention issues with final charges, timeliness, and miscommunication. The company does not respond to Yelp reviews.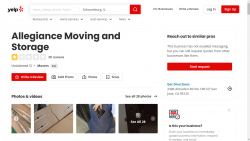 Is Allegiance Moving and Storage licensed and insured?
The moving industry uses various databases to collect information about moving companies. When assessing a moving business, we check four databases to see what information is registered and whether the company has claimed its profile.
These databases are compared with company websites, social media pages, and review sites (such as Yelp) to determine the moving business's credibility and transparency.
| | |
| --- | --- |
| Database | Listed (Y/N) |
| AI FMCSA? | Yes |
| SAFER FMCSA? | Yes |
| Licensing Insurance FMCSA? | Yes |
| Better Business Bureau (BBB) | Listed (Not Accredited) |
The services and data on Allegiance Moving and Storage's website are consistent with the information found on these government databases. The broker has accurately explained its role in the moving process. They clearly define themselves as a broker and provide a list of their partner carriers.
For more information on moving company regulations and why we choose to look at these databases, check out our post on how moving companies are regulated.
How are Allegiance Moving and Storage's website and social media presence?
The moving broker's website is relatively straightforward and easy to navigate. Customers can easily find the company's services, contact information, and other moving advice through the home page.
While Allegiance Moving and Storage doesn't include information about the owner or company history, they do provide important information about their services. Under its About page, the company provides direct links to its Terms and Conditions and its Cancellation Policy. Both of these are vital for customers working with this moving broker.
The company does a great job mentioning its broker status on its website. The first sentence on its home page states that they are a broker and precisely what a broker does. At the bottom of the website, customers will find a broker disclaimer and a link to the broker's partner carriers.
While it seems the company has focused on renovating its website, Allegiance Moving and Storage does not currently maintain social media accounts.
Should You Consider Allegiance Moving and Storage for a Move?
Allegiance Moving and Storage is a national moving broker located in Florida. They coordinate with shipping carriers to handle both local and long-distance moves, and their expansive list of partners allows them to offer a variety of additional services.
While the novice company saw a rocky start to their business, it seems as though they are proactive and listening to their customers' complaints. In addition to having quality customer service, the broker responds to customer complaints and has taken significant steps on their website to relay their broker status.
Allegiance Moving and Storage lands somewhere in the middle of our rated moving companies. While they are still finding their footing in the industry, this is a moving broker that will work to find its customers a good deal. Overall, Allegiance Moving and Storage is a company worth considering to manage your move.
For more help choosing the right moving company and getting free moving quotes, check our picks of the top-rated interstate moving companies.
Not what you were looking for?
Check out other categories that can help you find the information you need!
See All
Hide All