Is Monster Moving LLC Legit? [2021 Review]
Are you sure if Monster Moving is the best moving company option for you? We have reviewed pricing, services, customer reviews, and much more to assist you. 
Overall Opinion: Monster Moving is a newer motor carrier (2020) based in Elk Grove Village, Illinois. They provide many services, including interstate moving and auto-transport. The company has shown early signs they can deliver high levels of customer satisfaction but they're still relatively new to the industry and time will tell if they can maintain service levels.

For even more top moving companies, check out our list of the top interstate moving companies of 2021.
Pros

Cons

Wide variety of moving services
Customer service available seven days a week
Provide enhanced insurance options
Conduct in-home estimates
Transparent Pricing

They mainly serve Chicago and Minneapolis
Hire third-party movers for some interstate moves outside of their coverage area
International transportation services are currently not available
How does Monster Moving compare to other top movers?
| | | | | | |
| --- | --- | --- | --- | --- | --- |
| Company | Price | Vendor Type | Quoting options | Storage | Minimum Move Size |
| Monster Moving LLC | $$ | Carrier | Phone/virtual estimate/In-person | Yes | 1 bedroom |
| Proud American Van Lines | $$ | Broker | Phone/virtual estimate | Yes, free 30 days | 1 bedroom |
| Safeway Moving | $$ | Carrier/Broker | Phone/virtual estimate | Yes, free 30 days | 1 bedroom |
| JK Moving Services | $$$$ | Carrier | Phone/virtual estimate | Yes | 2 bedroom |
Jump to the Monster Moving review section that you're looking for:
About Monster Moving Company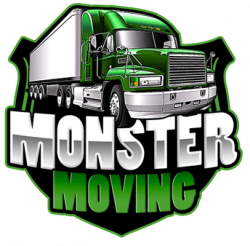 Monster Moving is a newer motor carrier (2020) based in Elk Grove Village, Illinois. They recently added a location with storage capabilities in Minneapolis, Minnesota. Currently, they offer local and long-distance services for residential and commercial customers and many different full-service options. Although limited, the feedback from customers has been quite positive. Their website suggests the organization is detail-oriented, committed to price transparency, and is actively developing its brand.
Monster Moving offers a broad range of services
Local Moves: Those moving from Chicago or Minneapolis will receive an in-home estimate with flat-rate guaranteed pricing.
Long-Distance Moves: Offers interstate moving services nationwide using either a Full Container Load (FCL), which means the customer has a designated truck, or Consolidated Container (LCL) services, which means they divide the shipping container to accommodate the belongings of multiple customers to maximize efficiency.
Corporate Moving: Businesses with moving and relocation projects will appreciate professionally managed and specifically customized services based on their needs. Their Corporate Moving Service program offers assistance for employees, offices, retail stores, and more.
Packing Services: Professional packing, labeling, and custom-crating services are part of their full-service moving services. They currently offer three tiers of packing service and unpacking services as follows.
Packing and Unpacking: Unpacking services are available for purchase separately.
Storage Services: Locally, they have storage facilities in Chicago and Minneapolis that are fully secured 24/7. Climate-controlled units are available for storing items that are susceptible to extreme temperatures or humidity.
Auto Transportation: Currently offers safe transport of all types of vehicles, including cars, trucks, motorcycles, and more
Specialty Services: Their team of experienced professionals will safely transport oversized items such as pool tables and pianos. They also consider high-priced or delicate items, including antiques or grandfather clocks, special items, and move them using custom-built crates.
They also have a few packages that you can choose from based on your needs and budget: 
Platinum Level: This option is an all-inclusive door-to-door level of service that includes all packing, loading, transporting, unpacking, and furniture disassembly and reassembly.
Gold Level: Here, the customer packs the majority of smaller items into boxes and receives professional assistance with larger or more delicate belongings. This package includes furniture disassembly and reassembly.
Silver Level: This is the basic included service that includes loading and unloading all items and furniture disassembly and reassembly.
How much does Monster Moving charge?
For an estimate, you need to contact the moving company or fill out the form on their website for a quote. 
In-home estimates are available for those planning a three or more-bedroom move that will originate in the greater Chicago, IL, or Minneapolis, MN areas.
The website contains a form for requesting a moving quote online and having a representative contact you during business hours. You can also call the phone number on their website to talk to a representative about specific needs. There is no mention of whether they offer remote video estimates.
Acceptable payment methods include cash, traveler's or bank checks, money orders, and credit cards. Personal checks are not accepted.
For more free quotes from top moving companies, check out our moving cost calculator.
Overall, Monster Moving has a good online presence.

Their limited reviews due to them being such a new company, but the ones they do have are positive.
On Google, they have more than 140 customer reviews with an overall rating of 4.8 out of 5.  The feedback is overwhelmingly positive with residential and business customers who praised the quality of the work. Several customers stated that the laborers were professional and hard-working.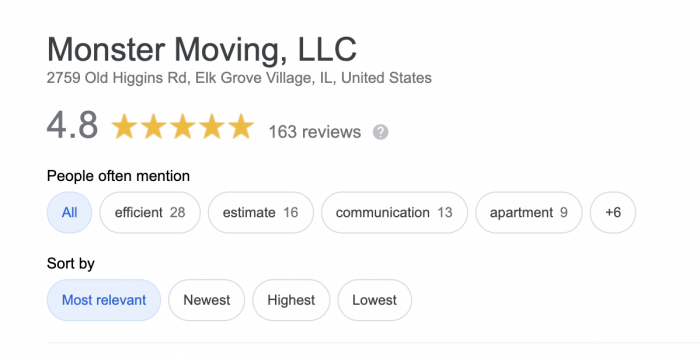 On Yelp, there are two listings for moving companies with "monster" in their name; however, both California companies. The current listing for Monster Moving LLC in Illinois only has one review.
The company currently doesn't have an official accreditation by the Better Business Bureau (BBB.org) but has an overall rating of B+. The BBB has received only one formal complaint in the last three years.
This only complaint is from a delay in transport from Illinois to Texas because the customer had not provided the company with the exact destination address.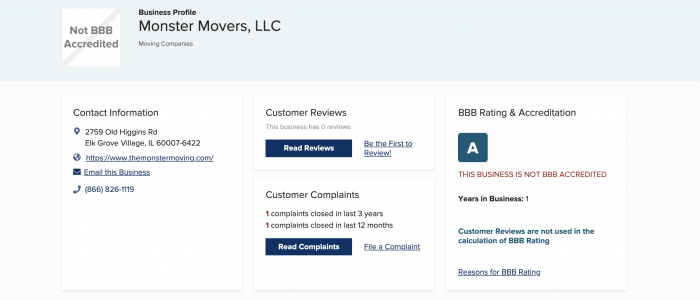 The following is a summary of the categories (nature) of the complaints received.
| | |
| --- | --- |
| BBB Complaint Types | Number |
| Sales or Advertising | 0 |
| Collections or Billing | 0 |
| Deliver-Related Concerns | 1 |
| Warranty or Guarantee | 0 |
| Product or Service Problems | 0 |
Is Monster Moving licensed and insured?
Monster Movers have a license by the Department of Transportation (DOT #3341080). They also have listings on all five major databases monitored by the DOT.
| | |
| --- | --- |
| Database | Listed (Y/N) |
| AI FMCSA? | Yes |
| SAFER FMCSA? | Yes |
| Licensing Insurance FMCSA? | Yes |
| Better Business Bureau (BBB) | Listed (Not Accredited) |
| Vehicle Fleet | Number Owned or Leased |
| Straight Trucks | 1 |
| Truck Tractors | 0 |
| Trailers | 0 |
Monster includes the federally mandated minimum valuation coverage for all transported belongings at no additional charge.
This provides coverage of .60 per pound per item up to a maximum of $10,000 without a deductible. For example, a customer receives $30 in compensation for a 50-pound piece of damaged or lost furniture.  Customers must complete a high-value article inventory form for any items valued beyond $100 per pound.
Additional Insurance is available for customer purchase from several sources. Full Value Protection is available directly through Monster or by using MovingInsurance.com up to 72 hours before your move. Full Value Protection requires written disclosure of the value of all items in the inventory. Pricing options may vary based on the deductible amount chosen.
Customers are encouraged to review their existing homeowner's or renter's insurance policies to check if they include any moving-related coverage.
Should You Consider Monster Moving for a Move?
A family-owned and operated company, Monster Moving LLC demonstrates all the signs of developing into a premier carrier in this market. They know what it takes to create a streamlined and stress-free moving process when moving you to your new home. In less than two years in business, they have shown they can deliver high levels of customer satisfaction and are a viable option.
For more help choosing the right moving company and to get a free moving quote, check our picks of the top-rated interstate moving companies.
Check out some other reviews of top movers: