Overall Opinion
Walkboard Technologies, LLC (dba Walkboard) was launched in 2015 by a group of experienced moving industry professionals and is a licensed broker of property.
They have truly created a unique niche centering on a technology platform they developed. This platform has expanded to assist two distinct groups of customers.
The first group is consumers seeking either a full-service moving solution or some customized set of services such as labor for loading and unloading, container shipping, or to purchase moving supplies.
The other group that utilizes the platform is moving industry professionals such as drivers and helpers with the moving process.
The company is very innovative and capable of providing effective solutions for all parties involved in regional and long-distance moving.
Jump to the Walkboard Moving review section that you're looking for:
Walkboard Provides Services for The Moving Industry:
Walkboard first created a platform used specifically for connecting long-distance moving companies or independent drivers with local labor that is available in the origin and destination areas. This concept of interconnecting various professionals involved in the moving industry was then expanded.
Consumers Seeking Assistance for a Moving Project:
Labor for Loading and Unloading: Those seeking assistance can access Walkboard's listing of rated individual contractors and/or moving companies that provide loading and unloading services for fast quotes. This list is created based in response to the location (zip code) entered for loading and unloading and the date(s) when the help is needed. The customer will have the photos and names of the helpers who you can expect to arrive.
Container Shipping: Container shipping is an excellent alternative to renting a truck. The customer can expect to receive multiple quotes from carriers that will drop off a container and then later transport it to the destination when loaded. The container can remain at the destination for three days, which allows for the gradual loading of belongings. Customers may also hire labor through Walkboard to load the container. These are metal containers that are 28 feet in length and 2,016 cubic feet and you pay only for the space used!
Full-Service Moving: This is a service option that is most closely associated with the traditional role of a moving industry broker. Walkboard has established a vast network of moving companies that are eager to provide comprehensive moving services, which include loading, transport, and unloading. Packing and unpacking services are also available as an option.
Shipping Boxes and Materials: The organization has partnered with UsedCardboardBoxes.com to provide the supplies and materials to complete a moving project that is delivered to the customer's door. All orders placed by 3 p.m. daily are shipped on the next business day.

A Service Platform for Moving Industry Professionals:
Walkboard for Professionals (image to follow) can be described as an electronic interchange that brings together agents, drivers, and movers to team with one another to complete moving-related projects successfully. This application suite is compatible with both iOS and Android devices.

Agents and Dispatchers: Once registered, dispatchers and brokers can post a move that helpers or labor providers may place a bid on. Most of those bidding will have a rating that is based on feedback from those who have used their services in the past. All current projects (jobs) and different drivers can be centrally reviewed and managed on the platform.
Drivers: Many independent drivers will have moving projects that they need to hire help to complete. All of the laborers have a photo, a star-rating, and have been background checked.
Labor Providers and Helpers: Providers of labor (helpers) can access posted requests for drivers and/or laborers and respond with their rate for the job. This also applies to registered individual helpers seeking work.
Customers may purchase used moving boxes that have been inspected to ensure they are in good condition (when available)
Great for long-distance and cross-country moving projects
All the moving helpers have been background checked
A video survey may be conducted to ensure a highly-accurate estimate (quote)
Coverage is nationwide
Optional insurance coverage is available
Storage-in-transit service is available, which should be coordinated when scheduling a move
Walkboard is still a relatively new company that may encounter some challenges during development
The moving helpers (labor) may not be in uniforms
Those hired as helpers are not permitted to also serve as drivers
Walkboard is not geared for local (cross-town) full-service moves
May not be a viable solution for individuals that lack basic knowledge of using mobile devices, the internet, and other technical skills
The Good: Innovative Digital Platform
The Walkboard application is a unique and proven interactive platform in the moving industry. Consumers can use their services to receive a highly-competitive full-service moving quote or to customize the specific services that they need. The technology is compatible with most web-enabled and mobile devices and allows for quickly rating helpers (laborers) based on their performance and dependability.
The Bad: The Potential Volatility of Coordinating Multiple Parties Many Increase Opportunities for Problems
The Walkboard platform effectively connects professionals for moving jobs and helpers are rated and background-screened. As is typical in any "brokered" moving projects, you are depending on various separate entities. For example, an agent, a driver, helpers from a labor provider for the loading, and a group of independent helpers for the unloading. Having various parties involved that lacks common supervision could result in greater opportunities for unforeseen problems.
To obtain a more exact estimate, a video survey may be scheduled with a specialist from Walkboard. All moving helpers are hired for a two-hour minimum. Subsequent charges are added for each 15-minute increment thereafter.
There is no deposit required at the time of booking a container. A $50 fee applies to customer cancellations within seven days, which rises to $150 on the day the container is scheduled to arrive. Those who choose drop-off container service will only need to pay for the portion of the trailer that is used (see image below).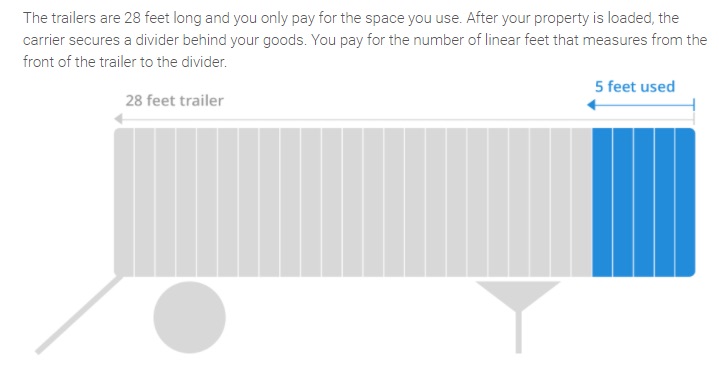 Estimated Costs for Walkboard Moves
| Distance | 1 Bedroom | 2-3 Bedrooms | 4-5 Bedrooms |
| --- | --- | --- | --- |
| Up to 250 miles | $900 to $1,200 | $1,400 to $1,800 | $1,600 to $2,500 |
| Long-Distance (U.S.) | $1,500 to $2,300 | $2,500 to $4,100 | $4,000 to $6,400 |
Customer Reviews & Feedback
Customers appreciated the way that the application consistently delivers status updates during long-distance transports. Feedback also suggests that the rates for long-distance full-service moves are very competitive. One disgruntled customer that ordered moving and packaging supplies contacted the company several days later because the shipment did not arrive. He was told that an error had occurred and that his order was not processed. Although this is a young organization that may have some growing pains, overall feedback is positive.
Should You Consider Walkboard for a Move?
Walkboard has developed its model to differentiate and exceed the industry's standards for a freight-broker. They have developed a platform that is easy-to-use and interactive. Their timing for entry into this market was perfect with today's new "gig economy" where more people are seeking freelance opportunities.
Agents, dispatchers, and drivers that use the platform are likely to work more efficiently. Laborers and helpers that establish an excellent rating on the platform may demand higher rates and significantly boost their earnings. The requirement for background screening creates a sense of credibility and encourages overall quality.
Not what you were looking for?
Check out other categories that can help you find the information you need!
See All
Hide All