Razor Van Lines: Full Company Review
Overall Opinion
Razor Van Lines is an interstate moving broker based in Florida that appears to be a newer entrant to this market.
The organization focuses predominately on the interstate (cross-country) market. The company's high number of DOT complaints relative and lack of operating history do raise concerns.
We couldn't find much about this newer company besides a below-average web presence compared to most competitors, such as no listing on Google, Facebook, and others.
Their customer reviews are mixed. It seems that the company is experiencing some "growing pains" at this point.
For the top moving companies, vetted by our in-house experts, check out our list of the best interstate moving companies.
How does Razor Van Lines compare to other top movers?
About Razor Van Lines

Based in Pompano Beach, Florida, Razor Van Lines LLC is a broker specializing in interstate moves that have been in business for more than 10 years. Since they are a broker and not a moving company or motor carrier, they do not have any of their own moving trucks. Customers work with one of the organization's Relocation Specialists that facilitates the moving process.
They add all belongings to a detailed inventory list before being transported.
Customers are encouraged to ask about eligibility for 30 days of free secured storage.
The company is active in promoting a "best price guarantee" to separate itself from the competition.
The organization has a very basic website
No online quote form tool
Lacks the information and resources generally provided by most of its competitors
No mention of offering local moving services or automobile transport
No mention of insurance or valuation options
What Services Does Razor Van Lines offer?
Residential moves: They handle moves of all sizes from apartment to large family homes
Commercial moving and relocation: Businesses that are moving or relating can use their various full-service packing, loading, and transportation services
Long-distance moves: The company uses its nationwide network of carriers to transport belongings to anywhere in the country
International moving services: They will facilitate moves to countries around the world
Professional packing and unpacking services: They will deploy a staff of professionals that will handle all packaging and unpackaging of belongings as part of their full-service moving options
Packaging supplies and materials: Customers can purchase moving and packing supplies, including boxes, bubble wrapping, tape, and more.
Storage options: Secured storage facilities are available, and they offer 30 days of free
Piano transport: They have access to a certified piano pick-up service to transport these and other specialty items safely.
How much does Razor Van Lines charge?
The company actively markets its competitive pricing and offers a "best price guarantee" but doesn't provide any other information on its website (www.razorvanlines.com).
The website also doesn't have an option to request a free moving quote without reaching out to them directly.
One thing we know from some customer reviews is that to do take payment via credit card.
For instant free quotes from top moving companies, check out our moving cost calculator.
Overall, Razor Van Lines doesn't have a great online presence
Razor Van Lines has had a Better Business Bureau (BBB) profile since 2020 and isn't currently BBB accredited. They have roughly 116 complaints and an overall rating of F.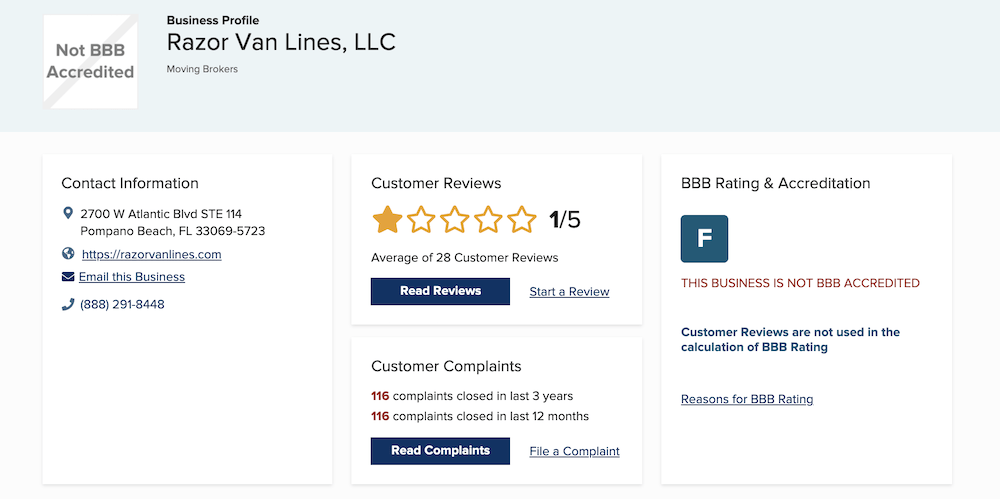 The company has not responded to 11 complaints and 8 unresolved complaints.
The following is a summary of the categories (nature) of the complaints received.
| | |
| --- | --- |
| BBB Complaint Types | Number |
| Sales or Advertising | 16 |
| Collections or Billing | 7 |
| Deliver-Related Concerns | 8 |
| Warranty or Guarantee | 0 |
| Product or Service Problems | 85 |
It doesn't appear that the organization has a Google business presence established.
A search on Facebook showed no current listing for them.
Razor Van Lines has more than 60 reviews on Yelp, with an overall rating of 1 out of 5. Many of the complaints expressed involved poor communication, miscommunication, and pricing discrepancies.
When it comes to their customer service, Razor Van Lines clearly prefers to communicate with customers via phone calls. They have very limited contact information on their website. Potential customers can call a salesperson using their 800# phone number, and they don't have an online chat option.
Are you looking for highly rated companies with a proven track record and good reviews? Check out our list of the best interstate moving companies.
Is Razor Van Lines licensed and insured?
Razor Van Lines LLC is authorized to coordinate household goods transport and has a USDOT Number (DOT#: 3359128). However, they do not transparently provide any other information about their insurance policies or additional licenses.
| | |
| --- | --- |
| Database | Listed (Y/N) |
| AI FMCSA? | Yes |
| SAFER FMCSA? | Yes |
| Licensing Insurance FMCSA? | Yes |
| Better Business Bureau (BBB) | Listed (Not Accredited) |
Should You Consider Razor Van Lines for a Move?
Razor Van Lines LLC acts as a third party in the interstate moving business. Since they have a limited online presence and a pretty negative BBB rating, it's hard for us to gauge what type of moving experience customers will have with them. Many other review sites call this company a scam. They may be experiencing moving pains and could be poised for future success if they can provide more transparency into their processes and pricing. But for now, we can't in good conscience recommend them as a high-quality option.
For more help choosing the right moving company, check our picks of the top-rated interstate moving companies like International Van Lines and Safeway Moving.
Check out some other reviews of top movers:
Not what you were looking for?
Check out other categories that can help you find the information you need!
See All
Hide All