Safebound Moving & Storage Company Review
Overall Opinion of Safebound Moving & Storage: Safebound Moving and Storage is a viable option for local moves in Palm Beach County and Martin County, which are handled by in-house staff. They are a less desirable option for long-distance moving projects because the company functions as a broker on these moves and subcontracts with other carriers that are often much less reliable.
Compare Safebound Moving & Storage to the moving companies on our list of best interstate moving companies.
Jump to the Safebond Moving review section that you're looking for:
Safebound Moving & Storage: Moving Services Available:
They are a family-owned provider of moving and storage solutions created in 2016 and based in West Palm Beach, Florida. The company employs moving crews and coordinators, sales consultants, warehouse staff, and customer service and support representatives.
Local Moving: They provide regional moving services in Palm Beach County, Martin County, and intrastate service statewide. Customers may choose optional services including loading, unloading, packing, unpacking, and storage. They handle moves that are small or large.
Long-Distance Moving: A designated moving consultant will serve as a central point of contact for large state-to-state moving projects. Those with high-end or specialized moving projects can benefit from their "white glove" service.
Automobile Transport: Customized vehicle transportation services are available, but minimal details are provided.
Commercial Moving: They provide moving and relocation services for businesses that are small or large, both local or long-distance.
Transport and storage services: are available for equipment, furniture, and other assets. The company also has experience with disassembling and installing modular office furniture
Packing Services: As part of their full-service moving and relocation offerings, customers may select to have their belongings professionally packed by their staff.
Storage: The organization has sufficient warehouse space and storage units for projects of all sizes. They have implemented closed-circuit security cameras and 24-hour-a-day onsite security.
Onsite Storage Containers: Safebound will drop a moving container at the property for customers to load. When ready, they will return to transport the container to their facility for short or long-term storage. At any time, the container can be transported to a destination to be unloaded.
Packing Supplies: Fast delivery of moving boxes and other packing supplies is offered. Specialized products include wardrobe boxes, mirror boxes, dish packing units, and more. (see images below for customized services)
A Customized Crated Transport Container for Fragile Items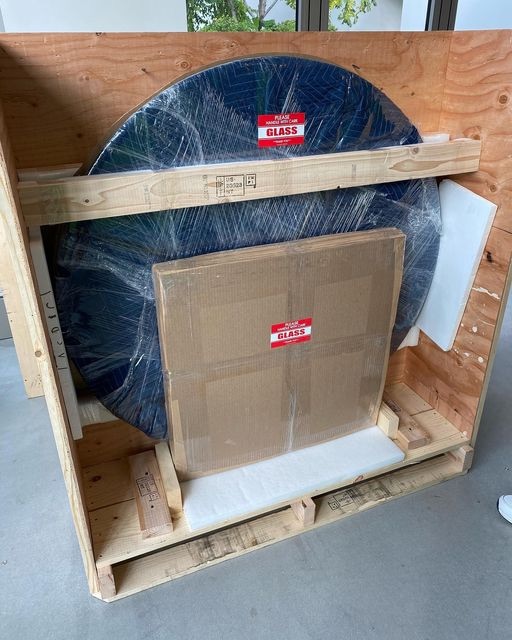 "Survival Kits" of Packaging Supplies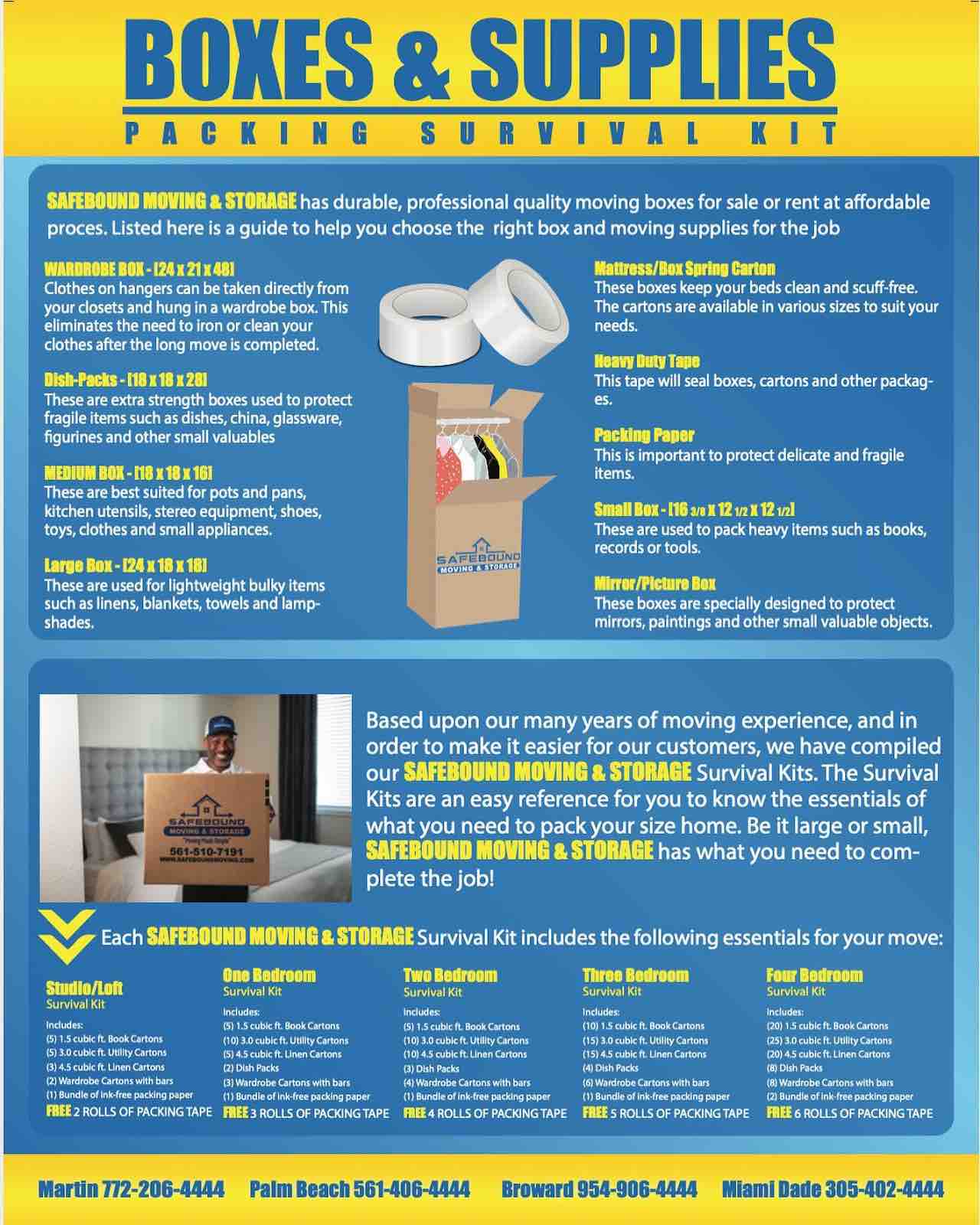 Safebound Moving & Storage: Pros and Cons Summary:
The Good: Competitively Priced Local Moving Services and Availability on Short Notice
They seem to have excellent prices and high levels of customer satisfaction on local moves in the south Florida area. Several customers praised them for being available on only a couple of days' notice for unexpected situations.
The Bad: Inconsistent Performance on Long-Distance Moving Projects
Based on the reviews posted, some of the cross-country moving projects result in dissatisfied customers. They sometimes act as a broker on these longer-distance moves, which brings third-parties in that may be mediocre.
Problems with these moves include late arrival at the loading site, delays in arrival at the destination, and items being damaged in the transport process.
---
Pros:
Has live customer service staff available six days a week from 8 a.m. to 8 p.m.
In response to the COVID-19 pandemic, they have implemented policies that comply with federal and state guidelines and best practices. Examples include the use of remote technology for "contactless" interaction, social distancing requirements, and furnishing masks, gloves, and sanitizing products for the staff.
Offers "convenience services" such as hauling debris, installation of home electronics, cleaning, and more.
Cons:
"Ballpark" estimates or instant online quotes are not offered and require consultation with a representative.
On some long-distance moving projects, they will subcontract with third-party carriers and labor, which sometimes deliver inconsistent quality.
International transportation services are not currently available.
Actual estimates require communicating with a company representative. Safebound explains that lower rates are generally offered during "off-peak" times such as the fall or winter. They are now offering remote estimates conducted via video. They require a 35% deposit at the time of booking, and 50% of the total must be paid before loading.
Moving Valuation and Insurance Services
Safebound outlines the options for insurance coverage, such as if items were lost or damaged during the moving process as follows:
Released Value Protection: This is the mandated minimum that is required of all carriers. The coverage per item is calculated as sixty-cents (.60) per pound. For example, a 100-pound furniture item x .60 = $60.00
Full-Value Protection: This is a moderate upgrade that allows for a maximum of $100 per article of liability coverage. Any items being stored that have significantly higher value must be declared to be eligible for any increases. Safebound may opt to repair the item, replace it with a comparable item, or pay the cash amount.
Third-Party Coverage: Customers seeking more enhanced coverage must purchase a policy from a third-party insurer. Safebound generally refers customers to Baker's International Insurance or MovingInsurance.com.
The Safebound website has an online claim processing form. One of their customer service representatives will respond after receiving a form.
Customer Reviews & Feedback
They have more than 400 reviews posted on Google with a rating of 4.5 out of 5. Many of the unsatisfied customers allege that the company intentionally offered an attractive estimate, but later increased the total cost of the move significantly.
Sometimes the third-party carriers that they contract with are unable to accept credit card payments. A few long-distance customers stated that boxes of belongings from other customers were inadvertently delivered to them. A company representative does respond to the majority of Google posts and attempts to resolve any unresolved grievances.
The Better Business Bureau's (BBB) page for the company has an overall rating of F and they are currently listed as unaccredited. They have received approximately 22 complaints over the past 12 months. Several customers complained that third-party movers (labor) that were contracted were moving items in a reckless manner that led to damage and that many seemed to be inexperienced.
The BBB complaints were fairly consistent with those on Google as it relates to pricing discrepancies. Many customers felt they were duped into the agreement based on a fairly attractive initial estimate; however, after the container was loaded, the add-on costs and fees began to significantly increase the final price.
Some customers stated that pricing increases were needed because all of the items weren't able to fit on a single truck as was expected.
Should You Consider Safebound Moving & Storage for a Move?
Safebound Moving and Storage should be considered for local and intrastate moving projects in south Florida. State-to-state moves are more likely to result in delays in arrival, large price increases, and other headaches.