Cross Country Moving Group Company Review
Overall Opinion
Cross Country Moving Group is a national moving broker located in Southeast Florida
The broker works with established carriers to handle local and long-distance moves
After a relatively rough start, the company is working hard to establish itself as a reputable broker in the moving industry
Cross Country Moving Group is unaccredited with the BBB and holds a C+ rating
Best for: Cost-conscious customers with flexible schedules
Not recommended for: Last-minute moves and customers who prefer to deal directly with the carrier
For even more long-distance moving companies, check out our list of the best interstate moving companies
How does Cross Country Moving Group compare to other professional movers?
Jump to the Cross Country Moving Group review section that you're looking for:
About Cross Country Moving Group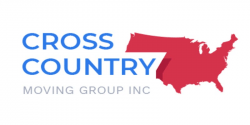 Cross Country Moving Group (U.S. DOT# 3181651) is a national moving broker headquartered in Delray Beach, Florida. As a broker, the company coordinates with established shipping carriers in your local area. They leverage economies of scale to provide customers with the best possible discounts on moving services. However, brokers act as intermediaries and do not physically handle or transport shipments.
The moving broker started business in 2018 and has since expanded its service offerings. The company works with multiple carriers to provide both local and long-distance moving options, including to Alaska and Hawaii.
In addition to their standard services, the broker works with specialized carriers to handle a variety of unique items. The company can take care of both pianos and pool tables, which require proper tools and knowledge to move safely. They can also transport personal and fleet vehicles either by themselves or with household goods shipments.
Cross Country Moving Group is dedicated to providing its customers with the knowledge that will set them up for success. The broker keeps a regular blog to answer typical moving questions. They also provide a detailed set of instructions to verify the quality of carriers that the company works with.
Local and long-distance moving services
Experience moving pianos, pool tables, and other specialty items
Handle shipments to Alaska and Hawaii
Free quotes on the company's website
Only three years of industry experience
Over 200 complaints with the BBB
Unaccredited with the BBB and hold a C+ rating
Cross Country Moving Group offers a broad range of services
Despite only having three years of experience in the moving industry, Cross Country Moving Group works with a number of carriers and provides a lengthy list of services.
Local moves: The moving broker works with reputable carriers to provide local, residential services in Southeast Florida in and around West Palm Beach, Boca Raton, Fort Lauderdale, and Miami
Long-distance moves: The company coordinates move to and from Florida across state lines. They work with carriers with the proper experience in long-distance logistics to make sure your belongings are properly packed, handled, and transported
Commercial moves: Cross Country Moving Group offers both residential and corporate services. They can organize the logistics of moving a business in order to keep day-to-day processes intact
Short and long-term storage: The company works with storage facilities across the country to provide a variety of standard and climate-controlled storage solutions to its customers, regardless of move size
Auto transport: The broker works with special auto transporters to ship personal and fleet vehicles. Depending on move variables, they may offer door-to-door service, or pick up and deliver vehicles at a convenient, nearby location
Specialty items: Cross Country Moving Group works with specially trained carriers to move unique and delicate items like fine art, antiques, and pool tables
How much does Cross Country Moving Group charge?
Since no two moves are identical, "ballpark" pricing is often inaccurate. Customers interested in working with this national moving broker should request a quote.
Cross Country Moving Group offers free estimates on its website. Customers can fill out a short form on the company's website, providing them with:
Origin and destination zip codes
Move size
Contact information
Customers can also receive free quotes over the phone or via the email address provided on the company's Contact Us Page.
The broker makes an effort to protect its customers in regard to final payment. The company's website mentions that customers should verify that the carrier has provided them with a binding estimate. Binding estimates lock in the amount due, as long as the scope of the move hasn't changed.
Factors that affect move cost include:
Date and seasonality
Distance between old and new residences
Size of home or apartment
Weight of belongings
Moving add-ons like custom crating and appliance service
Packing and unpacking
Storage
Valuation
Keep in mind that with non-binding estimates, your final cost may be more than originally quoted.
Cross Country Moving Group has a specific cancellation policy. The company offers a small window for customers to qualify for a refund on their deposit. Those canceling outside the window are subject to partial or no refund. All refunds are charged a 4% cancellation fee. More specific cancellation policy details can be found on the broker's website.
To get a quote on your move and to find out about the best movers in your area, check out our moving cost calculator.
How is Cross Country Moving Group's customer service?
Cross Country Moving Group makes itself accessible to customers.
The company's business hours are from:
9:00 a.m. to 5:30 p.m. from Monday through Friday
10:00 a.m. to 2:00 p.m. on Saturday
The office is closed on Sunday
Customers can request a quote or set up an appointment with a customer service representative using the phone number or email provided on the company's Contact Us page. Those interested in a free estimate can also use the form provided on their homepage.
The company does not offer pricing or on-time delivery guarantees. Instead, Cross Country Moving Group uses economies of scale to leverage the best possible price from the carriers it works with. This provides customers with lower than average estimates on their moves.
With all the work they do, Cross Country Moving Group tends to get mixed reviews regarding their customer services. Despite being a broker, there is difficulty discerning what role this company plays in the move process.
Does Cross Country Moving Group have a good online reputation?
The company has a balance of positive and negative reviews, which is a good sign for brokers. When searched for on Google Business, Cross Country Moving Group maintains a 3.7 out of 5-star rating with over 1,000 reviews. Many customers are pleased with the quality and professionalism of the movers. Others have issues with damages.
Their performance on government databases tells a more full story. Cross Country Moving Group is unaccredited with the Better Business Bureau and holds a C+ rating.
The broker holds a 2.36 out of 5-star rating on the BBB with 81 reviews. Customers regularly have issues with final charges and are disappointed in the carriers provided for their move. Other customers are appreciative of the customer service despite the issues with the physical handling.
The company has received 214 complaints in the last three years, with only 30 of them submitted in the last 12 months. This suggests that the broker is working diligently to correct these issues.
The following is a summary of the categories (nature) of the complaints received.
| | |
| --- | --- |
| BBB Complaint Types | Number |
| Sales or Advertising | 14 |
| Collections or Billing | 34 |
| Deliver-Related Concerns | 22 |
| Warranty or Guarantee | 0 |
| Product or Service Problems | 144 |
Company complaints submitted on the AI FMCSA government database tell a similar story. The broker has received 119 complaints in the last three years, trending significantly downward. Historically, customers have expressed frustrations with final charges, pickup and delivery, and deceptive business practices.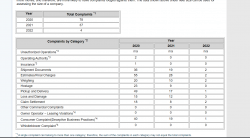 Cross Country Moving Group maintains a 1.5 out of 5-star review on the public review site Yelp. The company has claimed its account and actively responds to reviews. Many customers are concerned with miscommunication regarding the company's broker status.
Is Cross Country Moving Group licensed and insured?
The moving industry uses various databases to collect information about moving companies. When assessing a moving business, we check four databases to see what information is registered and whether the company has claimed its profile.
These databases are compared alongside company websites, social media pages, and review sites (such as Yelp) to determine credibility and transparency.
| | |
| --- | --- |
| Database | Listed (Y/N) |
| AI FMCSA? | Yes |
| SAFER FMCSA? | Yes |
| Licensing Insurance FMCSA? | Yes |
| Better Business Bureau (BBB) | Listed (Not Accredited) |
The services and information stated on Cross Country Moving Group's website are consistent with the information on these government databases. The company accurately describes its position as a broker and goes to great lengths to protect its customers from common issues in the industry.
For more information on moving company regulations, and why we choose to look at these databases, check out our post on how moving companies are regulated.
How are Cross Country Moving Group's website and social media presence?
The moving broker keeps a clean and basic website for its customers. While they don't offer much detail, the company makes it easy to discover the services offered. Customers can also find contact information as well as answers to common moving questions in the company's blog.
Cross Country Moving Group also explains directly on several of their pages the purpose of their broker status. They offer a list of carriers so customers can verify who they are working with. They also explain in detail how to research shipping carriers on government databases.
Currently, the company does not have a social media presence.
Should You Consider Cross Country Moving Group for a Move?
Cross Country Moving Group is a national moving broker located in Southeast Florida. They coordinate local and long-distance moves for both residential and corporate customers, and offer a variety of additional services.
The company leverages economies of scale to provide lower than average move costs. Their customer service is available during standard business hours, and those interested in working with this company can reach a service representative using the phone number, email, or online form provided.
Customers are typically pleased with the services Cross Country Moving Group provides. While some are frustrated with the communications in regards to the company's broker status, many are pleased with the company's responsiveness and professionalism.
Despite a rough start, Cross Country Moving Group has worked hard to establish itself as a reputable moving broker. Overall, customers with a flexible timeframe may consider scheduling their move with this company.
For more help choosing the right moving company and to get a free moving quote, check our picks of the top-rated interstate moving companies.
Not what you were looking for?
Check out other categories that can help you find the information you need!
See All
Hide All