Armstrong Relocation & Companies Review
Overall Opinion
Armstrong Relocation is an industry-leading moving company serving the residential and commercial markets.
They have more than 20 office locations in the U.S. and are among the largest agents within the United Van Lines network, which affords them nationwide coverage and international transportation capabilities.
Customer feedback suggests they deliver high-quality results.For even more long-distance moving companies, check out our list of the top interstate moving companies.
How does Armstrong Relocation compare to other professional movers?
About Armstrong Relocation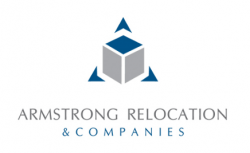 Headquartered in Memphis, Tennessee, Armstrong Relocation has roughly 30 locations throughout the U.S., spanning more than 18 states. (see image below) The three California locations do business as Crown Worldwide Moving & Storage. The company is a full-service moving provider offering a wide variety of services for the residential and commercial markets.
Some of the locations function as an agent of United Van Lines; for example, Armstrong Relocation in Charlotte, North Carolina, was a recipient of the United Van Lines President's Quality Award. Note: Avoid misidentifying this company with Armstrong Moving, an organization based in Ontario, Canada, or Armstrong Relocation Services in Pompano Beach, Florida.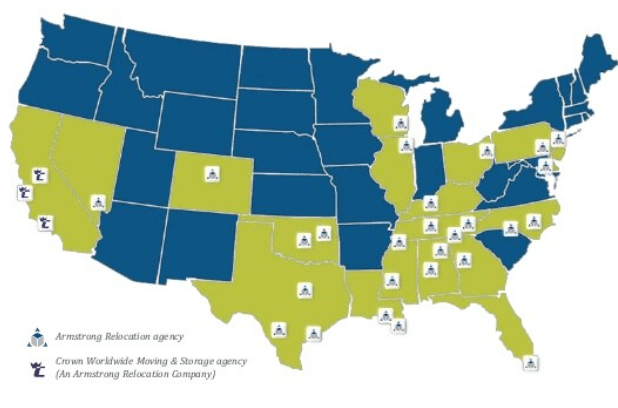 The organization clearly outlines its core mission through the following:
Integrity
Attitude
Value
Relationships
Communication
Generosity
Unity
The company maintains a tremendous number of industry association memberships and agency affiliations as follows:
American Moving and Storage Association (AMSA)
American Library Association
British Association of Removers
Building Owners and Managers Association (BOMA)
Claims Prevention and Procedure Council
Commercial Relocation Network
Federation of International Moving Companies
Indirect Air Carriers and roughly a dozen more…
The company has designated Agency Safety Representatives (ASR) and move coordinators for each location and a Safety Director overseeing safety practices.
Armstrong places emphasis on using sustainable materials and practices in different aspects of their business.
They offer local, cross country, and international moving services
The "ballpark" quote option still requires direct contact with a representative and completing a detailed inventory form.
Armstrong Relocation offers a broad range of services
Residential moving
Local: Customers may choose additional services, including packing, unpacking, storage, and more. They participate in the United Van Lines Snapmove program, which is an excellent option for small, apartment-sized moving projects.
Long-distance movers: Armstrong will facilitate moves nationwide, often with assistance from the United Van Lines network when needed.
Employee relocation: They perform individual employee moving projects completed in conjunction with a corporate relocation (or not).
International movers: Individuals or families relocating abroad can choose from different global moving options. Transportation options include air, ocean, or land. The designated representative responsible for the project has plenty of move experience with freight forwarding, clearing customs, import and export logistics, and more.
Storage: They offer both short and long-term storage options for all clients.
Commercial moving
Armstrong relocation has worked with organizations in dozens of sectors, including healthcare, education, manufacturing, hospitality, and government.
Office and facility moving: They handle everything from small-business moves to large-scale corporate relocations. A single point of contact better ensures the project remains organized with consistent communications. They will provide various types of optional on-site project management services.
Furniture and equipment installation: Commercial customers might choose modular furniture services, including installation, reconfiguration, disassembly, removal, and storage.
Technology and support: The available IT and electronic services include network connection and disconnection.
Space decommissioning: They will move and/or store files and records and experience asset auctions, recycling services, handling charitable donations of assets, and crisis recovery and restoration.
Logistics and warehousing
Asset management: Services provided include secure storage, inventory control, liquidation, or disposal of critical business assets.
Fulfillment: Armstrong will provide customized services for companies, including shipping, storage, and distribution.
Final mile services: In many cases, business customers will choose terminal to terminal or other types of transportation that Armstrong will receive and ensure the items safely reach their local destination.
How much does Armstrong Relocation charge?
Access to specific pricing requires direct contact with a sales or service representative.
Armstrong Relocation does not position itself as an "economy" or "value-priced" service provider; instead, they emphasize a commitment that ensures customers receive top-quality services at competitive prices.
Insurance (valuation) Coverage: They promote offering full-value protection plans; however, they don't list pricing details explicitly. Items considered high-value include anything estimated at $100 per pound and require documentation using a High-Value Inventory form.
If you want a much more accurate quote on your next move, you can discover the best and most affordable moving companies in your area with our moving cost calculator.
Overall, Armstrong Relocation has an excellent online presence
The Google business listing includes feedback from more than 60 customers and an overall rating of 4.5 out of 5.
The majority of Armstrong locations have a Yelp business page.
The Better Business Bureau (BBB) page for the main office in Memphis shows that the organization has maintained BBB accreditation since 1959, and they have an overall rating of A+.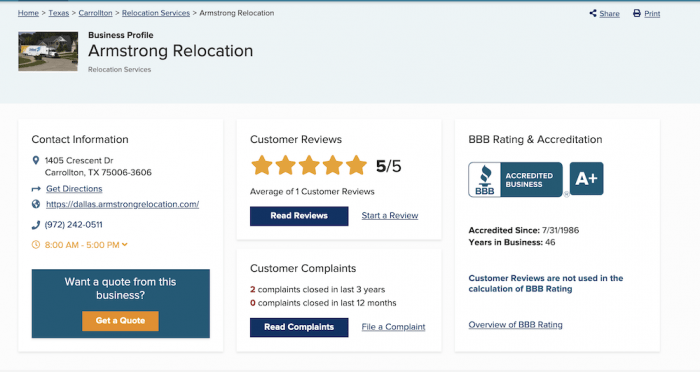 The BBB has only received one complaint regarding this location over the past three years, as illustrated in the following table:
| | |
| --- | --- |
| BBB Complaint Types | Number |
| Sales or Advertising | 0 |
| Collections or Billing | 0 |
| Deliver-Related Concerns | 0 |
| Warranty or Guarantee | 0 |
| Product or Service Problems | 1 |
How is Armstrong Relocations' customer experience?
Prospective customers may choose from an in-home or office estimate or a virtual (remote) estimate. A virtual survey (estimate) involves using a mobile app that connects the customer and their representative. Individuals with an upcoming interstate move or local move that want a rough estimate may choose the "ballpark" moving quote feature on the website.
Customers seeking shipment tracking may use the company's website (armstrongrelocation.com), which uses the same web tool as United Van Lines.
The majority of customers leaving reviews mention having a stress-free move, and overall great moving experience.
Is Armstrong Relocations licensed and insured?
The company's headquarters in Memphis is currently registered as Armstrong Transfer & Storage Company Inc (dba: Armstrong Relocation Co.) Each of the organization's U.S. offices is independently registered with a USDOT#. The company is now authorized for transportation of four cargo categories, including general freight, household goods, metals, and motor vehicles (MC# 76574).
They maintain $1 million in bodily injury and property damage coverage (BIPD), which exceeds the minimum $750,000 required. The company has a Satisfactory SAFER safety rating and a 0% out-of-service rate. (see image)
| | |
| --- | --- |
| Database | Listed (Y/N) |
| AI FMCSA? | Yes |
| SAFER FMCSA? | Yes |
| Licensing Insurance FMCSA? | Yes |
| Better Business Bureau (BBB) | Yes |
For more information on how moving company regulations and why we choose to look at these databases, check out our post on how moving companies are regulated.
Should You Consider Armstrong Relocation Companies for a Move?
Armstrong Relocation does an excellent job and maintains a track record of success dating back for roughly three generations and continues expanding across the U.S. Feedback shows that customers experience high satisfaction levels. The organization has an excellent reputation within the moving industry and supports dozens of local, regional, and national trade associations and safety-related groups. Armstrong Relocation is a recommended option for residential or commercial customers.
Do you need some guidance when choosing a moving company and want to see how much your move will cost? If so, check out our moving cost calculator for instant ballpark pricing and learn about your options.
Check out other reviews of some of the best movers:
Not what you were looking for?
Check out other categories that can help you find the information you need!
See All
Hide All