Overall Opinion
Island Movers is based in Hawaii.
The company has over 60 years of experience moving customers to and from the island state.
The mover hosts the only Central Examination Station in Hawaii
Island Movers has experience handling large freight shipments
Customers generally have positive experiences with Island Movers
Island Movers holds an A+ accreditation with the BBB
Best for: Customers moving to and from Hawaii, or those with large shipments
Not recommended for: Customers ordering household appliances
For even more Hawaii moving tips, check out our guide on how to move to Hawaii.
How does Island Movers compare to other professional movers?
Jump to the Island Movers review section that you're looking for:
About Island Movers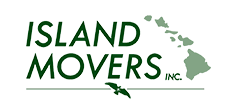 Island Movers (U.S. DOT# 105271) is based in Honolulu, Hawaii. As a mover and carrier, the company handles the loading, unloading, and transportation of household goods and commercial shipments. Island Movers has over 60 years of experience in the moving industry. In 2021 the company's fleet of more than 90 trucks logged approximately 1.2 million miles.
Island Movers specializes in intra-island moves and those from and to mainland United States.
Island Movers has experience working with U.S. Customs and has the only approved Central Examination Station (CES) in Hawaii. Customers importing and exporting cargo can use Island Movers as a hub to have their freight inspected.
The family-owned company is active in the community. Island Movers sponsors the Aloha Festival and the HHSAA Track and Field Championships. The company has also raised money for the United Way and the American Cancer Society.
Island Movers is a member of the Office Moving Alliance and partners with International Convention Services and Pacific Courier to facilitate large events and public transportation.
Handle shipments to, from, and within Hawaii
Free internet quotes
Over 60 years of moving industry experience
BBB accredited with an A+ rating
No mention of international delivery
Low reviews when delivering and installing appliances
Island Movers offers a broad range of services
With over six decades of moving experience, Island Movers offers a long list of services.
Local moves: Island Movers can help customers move their residential belongings within the same island or to another island. This includes packing, loading, and unloading
Long-distance moves: The company has experience transporting freight and household goods via air, land and sea, both to and from the continental United States
Business moves: On commercial and office relocations, Island works directly with business owners to coordinate moves in and around Hawaii
Short and long-term storage: Island Movers offers a variety of storage options for customers. This includes portable container storage and sales
Trucking and hauling: Since Hawaii's economy and infrastructure rely heavily on imports, the company delivers freight from various ports
Warehousing and distribution: Island Movers offers centralized warehousing for businesses and the general public. The company is experienced in inventory management, and U.S. Customs uses them for freight storage
Island Movers manages the only Centralized Examination Station in the state. Customers with large shipping requirements may use this company to store their freight while U.S. Customs inspect it.
How much does Island Movers charge?
Because move variables differ, Island Movers does not advertise specific prices for its services. Instead, customers interested in moving to, from or within Hawaii can contact the company for a free estimate.
Island Movers provides a one-page form to fill out to get a free quote on your move. Customers will share their pickup and drop-off locations, the type of move, and contact information. The company also asks for an approximate moving date and any helpful information about extraordinarily valuable items or those that require special handling.
To get a quote on your move and find out about the best movers in your area, check out our moving cost calculator.
What is Island Mover's customer service like?
Island Movers works diligently with its customers. The company is open from 7:30 a.m. to 4:30 p.m. from Monday to Friday but is closed on weekends. They have two offices; their main office is in Oahu, and their satellite office is in Maui.
Customers can book an appointment or follow up on a move with a customer service representative. The company provides a phone number and email address for each office. Customers can also fill out a form on the website to receive a free estimate.
While Island Movers does not offer pricing or delivery guarantees, the company does provide full-value protection coverage on residential and commercial moves. Customers considering local or long-distance moves can feel confident that their belongings are covered with this added protection.
Those that have used Island Movers in the past have shared positive experiences with the company's customer service. Reviews show a pattern of professionalism and responsiveness.
Does Island Movers have a good online reputation?
Island Movers is a trusted partner when moving to and from Hawaii. When searched on Google business, the company maintains a 3.8 out of 5-star rating with nearly 60 reviews. Many customers praise the company for its professionalism and responsiveness, while others have shared their frustrations with appliance delivery and installation issues.
The carrier is in good standing with the Better Business Bureau. Island movers is accredited and has held its accreditation for 25 years.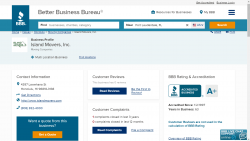 Island Movers maintains an A+ with the Better Business Bureau. The company has received no reviews and has settled one complaint in the last three years.
The shipping carrier has a similar reputation on the AI FMCSA government database. Island Movers has received no complaints on the National Consumer Complaint Database in the last four years.
The company is satisfactory on other review websites. Island Movers holds a 3 out of 5 star rating on Yelp with over 150 reviews. Customers unanimously praise the company for its communication and delivery time. Others continue to share difficulties with poor service regarding delivering and installing appliances.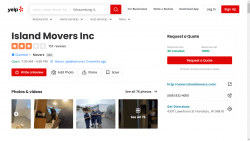 Island Movers provides more customer testimonials on their website. Those interested in working with the shipping carrier can find services provided, a helpful moving blog, and contact information. Customers will also learn about the company's history and community participation on its About Us page.
The shipping carrier has branched out to social media. Customers can find blog posts and testimonials on Facebook, Twitter, and Instagram.
Is Island Movers licensed and insured?
The moving industry uses a compilation of databases to collect information about various moving companies. When assessing a moving business, we check four databases to see what information is registered and whether the company has claimed its profile.
These databases are compared alongside company websites, social media pages, and review sites (such as Yelp) to determine the moving business's credibility and transparency.
| | |
| --- | --- |
| Database | Listed (Y/N) |
| AI FMCSA? | Yes |
| SAFER FMCSA? | Yes |
| Licensing Insurance FMCSA? | Yes |
| Better Business Bureau (BBB) | Listed and Accredited |
The services and information stated on Island Movers' website are consistent with the information on these government databases. The shipping carrier accurately explains its role in the move process. The company maintains 91 delivery vehicles and logged 1,200,000 miles in 2021.
For more information on how moving company regulations, and why we choose to look at these databases, check out our post on how moving companies are regulated. 
Should You Consider Island Movers for a Move?
Island Movers is a Hawaiian shipping carrier. They specialize in residential and corporate moves to and from Hawaii. The company hosts the only Centralized Examination Center in the state and is adept at managing large freight.
The company is family-owned and is an active participant in its community. With 60 years of experience in the moving industry, Island Movers is one of the highest-rated shipping carriers in Hawaii. Customers share positive experiences working with the company, particularly its communication and professionalism.
Those moving to or from Hawaii might consider working with Island Movers. While the company has  struggled to deliver and install appliances, they're particularly adept at handling large shipments.
For more help choosing the right moving company and to get a free moving quote, check our picks of the top-rated interstate moving companies.
Not what you were looking for?
Check out other categories that can help you find the information you need!
See All
Hide All