VanGo Van Lines Company Review
Overall Opinion
VanGo Van Lines is a relative newcomer to the long-distance residential moving market (entering the scene in 2021).
They've completed the federal registration process and satisfied the insurance requirements, making them an up-and-comer in the interstate moving market.
For even more long-distance moving companies, check out our list of the top interstate moving companies.
They currently impose no financial penalties on customers that cancel a move.
Customers are now eligible for 35 days of complimentary storage
In response to the COVID-19 pandemic, the staff now sanitizes the trucks every evening
The "instant" price quote process requires waiting for a representative to call you back
They are presently focused exclusively on residential long-distance moving services and are not promoting local, international, or business relocation services.
How does VanGo compare to other professional movers?
Jump to the VanGo Van Lines review section that you're looking for:
About VanGo Van Lines

VanGo Van Lines is a carrier based in New Jersey that specializes in long-distance moving services. The listing for them with the Better Business Bureau (BBB) states that they opened for business in 2021. The owner is a military veteran who summarizes the organization's six goals as follows:
Empowered Accountability
Integrity
Unwavering Commitment
Fearless Communication
Infectious Positivity
Purposeful Agility
VanGo Van Lines offers a broad range of services
Long-distance moving: The team of professional movers will load and secure all belongings for transport in a manner that prevents shifting and the potential damage that may result.
Packing services: They provide professional packing and unpacking services for customers and use high-quality packing supplies
Storage: Secured and climate-controlled storage units are ready to accommodate customer needs.
Custom crating and unique item transport: VanGo's team will create customized crating options for irregular items that need transporting, such as glass or marble tabletops, televisions, grandfather clocks, pool tables, ATV's and motorcycles, and others.
How much does VanGo charge?
Their estimated price for a long-distance move with 5,000 pounds of cargo to a destination that is roughly 1,000 miles away is $4,200.
What is VanGo's Customer Service Like?
The company website is extremely simplistic and primarily serves as a funnel directing visitors to the quote request form. (See image)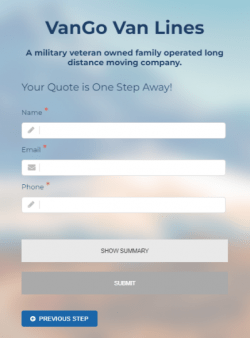 You can email them [email protected]. They currently do not have any customer services hours on their website.
Do VanGo Van Lines have a good online reputation?
According to the Better Business Bureau (BBB), they began operations in 2021 and remain unaccredited. No customer reviews or complaints have yet been reported to the BBB.
The following summary categorizes the nature of the complaints received.
| BBB Complaint Types | Number |
| --- | --- |
| Sales or Advertising | 0 |
| Collections or Billing | 0 |
| Deliver-Related Concerns | 0 |
| Warranty or Guarantee | 0 |
| Product or Service Problems | 0 |
Is VanGo licensed and insured?
VanGo Van Lines has authorization for general freight and household goods interstate with the Federal Motor Carrier Safety Administration (FMCSA). Somewhat surprisingly, the company listing states they employ nine drivers traveling roughly 250,000 miles in 2021. They have had zero reported crashes in the past 24 months. They currently maintain $750,000 in Bodily Injury and Property Damage (BPID) coverage (MC#1199833) and cargo coverage.

| Database | Listed (Y/N) |
| --- | --- |
| AI FMCSA? | Yes |
| SAFER FMCSA? | Yes |
| Licensing Insurance FMCSA? | Yes |
| Better Business Bureau (BBB) | Listed (Not Accredited) |
For more information on moving company regulations and why we choose to look at these databases, check out our post on how moving companies are regulated. 
Should You Consider VanGo for a Move?
Having only been in business for a few months, customer feedback and reviews are very scarce. Based on the founding principles and the customer-centric mission, VanGo Van Lines may develop into an excellent option for interstate moving services.
For more help choosing the right moving company and a free moving quote, check our picks of the top-rated interstate moving companies.
Check out other reviews of some of the best movers:
Not what you were looking for?
Check out other categories that can help you find the information you need!
See All
Hide All