Colonial Van Lines Company Review
Wondering if Colonial Van Lines is the best moving company option for you? We have reviewed prices, services, customer reviews, and much more to assist you.
Overall Opinion of Colonial Van Lines: The organization is very well-established and claims to facilitate roughly 12,000 long-distance moves each year. The company does not currently offer local or international moving services. They also offer short-term and long-term storage solutions to the residential and commercial markets.
Although the organization does not present itself as such—they are a broker. The U.S. Department of Transportation's registration confirms that they do not employ any in-house drivers or own any vehicles used for transport. Customer reviews illustrate a pattern of dissatisfaction. The original estimates provided tend to be inaccurate and the contracted third parties are sometimes not punctual or professional.
Compare Colonial Van Lines to the moving companies on our list of best interstate moving companies.
Jump to the Colonial Van Lines review section that you're looking for:
Colonial Van Lines: Moving Services Available:
Colonial Van Lines has been in business for 50+ years and is headquartered in Pompano Beach, Florida. They are family-owned and boast a nationwide network of more than 200 agents for effectively facilitating long-distance moves and relocations.
Long-Distance Moving Services: The company also promotes "cross-county" moving services, which is part of this category. Automobile transport services are also available.
Corporate Relocation: They are adept at handling small and large commercial moving projects that are professionally managed by a relocation specialist. Comprehensive insurance programs are available and large storage capabilities are available for office furniture, equipment, etc.
Short-Term Storage: This is a great option for those who have a delay before accessing their new home or office. Storage-in-transit is available where a loaded and secured trailer or container is used for temporary storage.
Long-Term Storage: Residential and commercial customers have customized storage units and warehousing options. These well-maintained storage facilities are very secure, sealed to avoid dust, and climate (temperature) controlled as needed.
Packaging Services: All furniture items are wrapped in "thick and durable" moving blankets. Packaging services are optional and can be customized as necessary.
Professional-Grade Packaging Supplies and Materials: They offer various "packages" that are specially designed based on the size of a moving project. Examples include bubble wrap, packing paper and tape, foam, mattress covers, and more.
Colonial Van Lines: Pros and Cons Summary:
We have identified some of the strengths and weaknesses of Colonial Van Lines
The Good: Committed to Using the Latest Technology
The organization has invested in a very detailed website that is easy to navigate. They recently created the In-Home Moving Service App for improving accuracy and efficiency in the process of obtaining an estimate. They also employ technology to maximize logistical efficiency across the transportation network.
The Bad: Failures in Scheduling and Communication
The customer reviews suggest that a disconnect exists in the period that immediately precedes the scheduled move date. Part of the problem seems to result from hurriedly subcontracting with local moving companies before moves. Other evidence of poor communication is rampant in the process of quotes, fees, and other costs. Many customers find themselves responsible for a much greater amount than expected.
---
Pros:
Their national service area includes all U.S. states except Alaska and Hawaii
The Colonial Van Lines In-Home Moving Service App can be quickly downloaded and is capable of generating estimates
Commercial moves are assigned to a designated relocation specialist that serves as a central point of contact
Contracted staff members are properly licensed, trained, and insured
If problems arise, the Resolution Department does typically respond to address the concern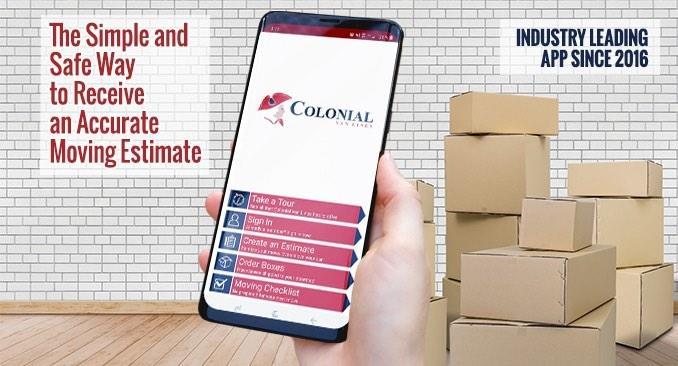 Colonial Van Lines In-Home Moving Service App
The company designed and continues to enhance a smartphone app for customers. The app is capable of creating visual moving quotes with all belongings being photographed or captured using video. This information is then securely transmitted for access by a company representative to assist with generating an estimate.
Customers may also order packaging and other supplies using this application. A "moving checklist" is also a very helpful feature for staying organized throughout the process. Staircases, entryways, and other logistical characteristics of the property provide the project manager with an accurate preview of the physical environment.
Cons:
Does not currently offer local moving services or relocation to international destinations
Those who exclusively receive a "non-binding" estimate may face unexpected add-on charges and other fees
Moving projects are often subcontracted to workers that lack dependability and professionalism
The sales team representatives that create estimates and secure the agreements present a great impression; however, the company tends to be slow to respond as the moving date approaches and "last minute" problems are common
Colonial Van Lines does not promote themselves as being the lowest priced option in the market. Much greater emphasis is placed on having decades of experience, deployment of trained and professional staff, and having excellent storage capabilities. As a broker, they may check with multiple local options for labor and transport to find the best rates.
Customers may obtain a binding or non-binding quote (estimate). A non-binding estimate is a "ball-park" price that is not guaranteed and is usually provided without a representative visiting the location(s). Part of the difficulty in creating a binding estimate is that the total weight of all the belongings to be moved is not precisely defined until all items are loaded.
Other factors that may impact the price of a move include the date of the move, fuel, mileage, insurance, and more. Their prices tend to decrease in the "non-peak" fall and winter seasons. Customers are encouraged to book moves further in advance to receive better prices.
Customer Reviews & Feedback
The company has more than 1,300 Google reviews with an overall 3.7 out of 5 ratings. Many customers that had scheduled a move several weeks in advance have still experienced delays. In many cases, the company was unresponsive to customers seeking to confirm the arrival time of their move. The company was responsive to all negative reviews and encouraged these individuals to contact their Resolution Department.
They have close to 400 customer reviews on Yelp with a mediocre overall rating of 3 stars out of 5. Many customers complained of discrepancies between the original estimate and the actual cost of the move they were charged. It seems that many customers are not fully aware that a non-binding estimate is subject to change based on a host of variables.
It appears that the majority of pricing disputes occur when a representative does not physically visit the property to conduct an estimate. This tends to create customer dissatisfaction when they are surprised by additional costs and fees. Perhaps the usage of the In-Home Moving Service App will increase the accuracy of the estimates and boost customer satisfaction?
Colonial Van Lines does not have a formal rating with the Better Business Bureau (BBB), as they are simply assigned as NR. The BBB does show that 280 complaints were made in the last three years. The nature of these complaints are as follows:
| | |
| --- | --- |
| Advertising or Sales Related | 19 |
| Billing and Collections | 21 |
| Delivery Issues | 81 |
| Guarantees or Warranty | 1 |
| Product or Service Concerns | 158 |
Should You Consider Colonial Van Lines for a Move?
Colonial Van Lines coordinates thousands of moves each year and has many customers that are satisfied with the outcome. Unfortunately, they also have quite a few unhappy customers. Prospective customers are encouraged to carefully read the terms and pricing agreement before signing to minimize the chance for surprises. Those who have a "tight" timeline for a move should probably consider another option.