Moving Experience – Kallie's Move with Colonial Van Lines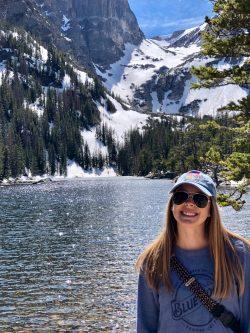 In late June of 2022, Kallie made a work-related move from Winston-Salem, North Carolina to Houston, Texas. 
After comparing full-service movers online, Kallie hired Colonial Van Lines to handle her 1,100-mile relocation.
With more than 200 agents and five decades of moving experience, Colonial seemed like the perfect choice to move Kallie's household goods efficiently and affordably.
So did Colonial deliver, or was Kallie underwhelmed with the company's performance?
To help others considering a move like hers, Kallie participated in our Better Moves Project by documenting her experiences with Colonial Van Lines.
In this post, we'll look at what went well, where improvements could have been made, and whether Kallie would use Colonial again.
Move day takeaways for Colonial Van Lines customers
Communication: Kallie wasn't thrilled with Colonial Van Lines' communication and attention to detail
Pricing accuracy and transparency: Colonial's quote was accurate, but Kallie paid nearly $500 extra for an unexpected long carry in Houston. However, the charges were reasonable because the driver had to park the truck about 500 feet away from her new apartment, and the excessive distance increased unloading time significantly
Timeliness: Colonial delivered Kallie's household goods within the agreed-upon delivery window
Professionalism: Kallie was impressed with the movers' hard work and professionalism
Loss and damage: Nothing got lost or damaged on Kallie's move
Would Kallie use Colonial Van Lines again? Kallie will probably use a different moving company next time she moves, mainly due to persistent communication issues
Kallie's move in a nutshell
| | |
| --- | --- |
| Moved from | Winston-Salem, North Carolina |
| Moved to | Houston, Texas |
| Distance | 1,100 miles |
| Move size | 2 bedrooms, ~850 sqft |
| Moving company | Colonial Van Lines |
| Moving quote | $3,898.02 |
| Actual cost | About $4,500  |
Kallie needed help moving from North Carolina to Texas
Kallie was "only" moving the contents of an 850-square foot apartment, but hiring a full-service moving company made more sense than doing a DIY move.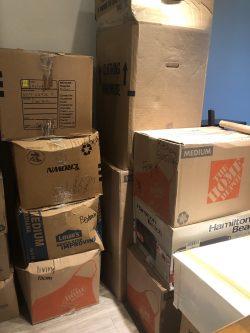 Kallie's move priorities included keeping costs low, avoiding loss and damage, and finding a mover that could work around her tight schedule.
Her shipment included about 35 boxes and standard household furniture that weighed approximately 3,700 pounds.
Though Kallie wasn't moving any high-value items, she was concerned about her television, a Papasan chair, and a few large pictures and mirrors.
How Kallie researched potential movers
About a month out, Kallie began doing Google searches, checking online review sites, and comparing prospective movers on moveBuddha. 
After doing a phone survey, Kallie's Colonial representative emailed a $3,898 estimate that was lower than her other quote.
Colonial's estimate included:
Loading and unloading labor
Transportation and a fuel surcharge
Packing material and labor for a mirror and a few large paintings
Basic released-value moving insurance (valuation)
Kallie was confident she'd have a smooth move because she'd used Colonial before.
After paying a $1,850 deposit, Colonial confirmed Kallie's move details via email and sent links to helpful moving tips and hacks.
Kallie prepared by packing (her mother helped, too), changing her address with the USPS, dealing with utility and internet providers, and planning her cross-country road trip.
Moving day was quick and efficient
After struggling through a traffic jam, Kallie's movers showed up at 4:30 in the afternoon on the appointed day.
This was about 30 minutes later than expected, but it wasn't a big deal.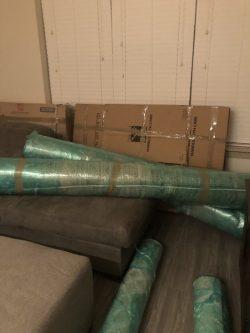 Thankfully, the crew's hard work and professionalism immediately put Kallie at ease.
While they packed, wrapped, and moved everything onto the truck, Kallie:
Answered their questions
Cleaned the rooms they'd emptied
Tried to stay out of the way
Everything was out of her apartment by 7:30.
Delivery day was relatively painless
The movers arrived at Kallie's new apartment in Houston just 13 days after her household goods were picked up in North Carolina.
Thirteen days may seem like a long transit time. Still, it's reasonable (actually pretty darn good) for a relatively small shipment going more than 1,000 miles over a holiday weekend during the peak summer season.
We all want our "stuff" as soon as possible when we move, but Colonial delivered Kallie's items two days before the end of the estimated service window included on her original quote.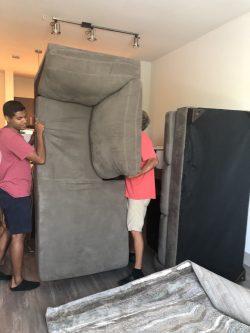 Like the crew in North Carolina, Kallie's unloaders did a super job.
When it was all said and done:
Nothing was lost or damaged
Everything ended up exactly where Kallie wanted it
The movers reassembled her table, desk, and bed
On the downside, Kallie was charged $480 for the 500-foot carry between the truck and her apartment.
She wasn't thrilled about the unexpected charge, but she thought it was reasonable, and the movers couldn't have known about it before arriving.
It's worth noting that a 500-foot carry could have turned into a shuttle, which would have cost Kallie far more.
In fact, Colonial probably saved Kallie money by carrying and dollying everything between the truck and her new apartment instead of shuttling it with a smaller truck.
What could have gone differently on Kallie's move
In hindsight, Kallie wishes that:
She didn't have to spend so much time relaying information between the driver and office staff (they could have communicated directly)
Colonial could have delivered her items a few days earlier
Colonial's schedule and hers would have been more compatible
The verdict – did Colonial Van Lines make the grade?
To recap:
Colonial picked up and delivered Kallie's household goods on time
Her crews were professional and efficient
None of her items were lost or damaged
Her initial estimate was accurate
The additional charges were reasonable considering the circumstances, and the movers had no way of knowing about the long carry in Houston
In the end, Kallie felt like she paid too much and that Colonial's poor communication made her move a bigger headache than it needed to be.
We definitely sympathize with Kallie wanting her things earlier and her frustration with the poor communication, but by most measures, her move was a resounding success.
That said, she'd probably "start from scratch" instead of using Colonial again on a future move.
Lessons from Kallie's move
Be prepared for extended delivery if you're moving over a holiday – Luckily, Kallie's things were delivered on time even though she moved over the 4th of July weekend
Additional charges are common on long-distance moves – Kallie paid $114 for the crew to pack a few large items and nearly $500 for a long carry at her new apartment
Always ask your landlord or property manager about truck access issues – Long carries and shuttles may be unavoidable, but it's always good to know about them beforehand when possible
Before you go, check out these helpful moving resources:
Not what you were looking for?
Check out other categories that can help you find the information you need!
See All
Hide All