Cardinal Van Lines Review
Overall Opinion
Cardinal Van Lines is an interstate moving broker based in South Florida.
They are a new company with a well-designed website.
The information they provide can be misleading at times, and many customers have had issues with their services after booking the move.
The company has had several complaints issued with the Department of Transportation, including 58 counts of deceptive business practices.
For more top movers, check out our list of the best interstate moving companies. 
How does Cardinal Van Lines compare to other professional movers?
Jump to the Cardinal Van Lines review section that you're looking for:
About Cardinal Van Lines
Cardinal Van Lines (U.S. DOT#3504569) is a long-distance moving broker based in Boynton Beach, Florida. Moving brokers help customers book their move with an established moving company in the surrounding area. Knowing the distinction between brokers and carriers is important to understand these companies' different services.
Opening their Better Business Bureau (BBB) file in early 2021, Cardinal Van Lines has positioned themselves as long-distance and cross-country moving brokers. While their broker status is inconspicuous on their website, the company claims many years of service in the industry.
In addition to long-distance moves, Cardinal Van Lines specializes in office and business relocation. The company offers helpful blog guides for business owners in understanding the process to support this offered service.
Commercial and business specialty
Affordable up-front estimate
Clean and inviting website
Unclear or misleading information on their website
1 out of 5 stars on Yelp
Unaccredited on Better Business Bureau (BBB) with an F rating
What services does Cardinal Van Lines Offer?
Residential Moving: Cardinal Van Lines states that they "move more than 25,000 families each year." While listed as a broker, the company promotes having a team of residential movers that will handle household goods with care. NOTE: Cardinal Van Lines does not currently own a carrier truck and are not authorized as a carrier.
Corporate Moving: The broker can coordinate the shipping of office furniture, lab equipment, and factory machinery. The company has also written blogs helping detail the nuances of the business relocation.
Long Distance Moving: Cardinal Van lines handles residential moves not just in the South Florida area but to other states as well. The company helps handle the complex steps involved in moving to another city or state.
Interstate Moving: The broker can also schedule moves across the country. It is unclear if their services include moves to Hawaii or Alaska.
Packing Services: Cardinal Van Lines coordinates with moving companies that can pack and unpack household and commercial goods.
Auto Transport: The ling-distance broker works with vehicle transportation companies to ship customers' cars to their new location.
How much does Cardinal Van Lines charge?
Cardinal Van Lines has positioned itself as the value broker, suggesting quotes at a highly competitive rate. The company has offered a couple of figures as starting estimates, quoting estimates as low as $1049 on one page of their website and $1699 on another.
Customers can receive a free quote by filling out a form on their website. Customers interested in receiving an estimate will provide:
Zip code and destination city
Move date
Contact information
Cardinal Van Lines has implemented a Terms of Service on their website. In the legal document, the company states:
"Any and all visitors to our site shall be deemed as "users" of the herein contained Services provided for the purpose of this TOS."
The legal document goes on to explain:
"Cardinal Van Lines shall reserve the right at any time it may deem fit, to modify, alter and or discontinue, whether temporarily or permanently, our service, or any part thereof, with or without prior notice."
To get a quote on your move and to find out about the best movers in your area, check out our moving cost calculator.
How is Cardinal Van Lines customer service?
Cardinal Van Lines provides an email and phone number on their website. The company has stated that their customer service representatives are available any time, although business hours are not clearly established.
Customers can contact a representative at Cardinal Vanlines by either of these methods or by a form on their website. Representatives can be contacted to either receive a quote or to verify points of contact before, during, or after a move.
While the company mentions it is built on "the premises of fairness, integrity, and exceptional customer service," there seems to be a disconnect in the actual customer experience.
Many negative reviews on their BBB file show a pattern of miscommunication of Cardinal Van Lines' service. Customers state that representatives convinced them the company works as a moving carrier instead of a broker. Others mentioned having their possessions held hostage over a grossly adjusted rate.
Is Cardinal Van Lines licensed?
The moving industry uses a compilation of databases to collect information about various moving companies. When assessing a moving business, we check four databases to see what information is registered and whether the company has claimed its profile.
These databases are compared alongside company websites, social media pages, and review sites (such as Yelp) to determine the moving business's credibility and transparency.
| | |
| --- | --- |
| DATABASE | Are they listed? |
| AI FMCSA | Yes |
| SAFER FMCSA | Yes |
| Licensing Insurance FMCSA | Yes |
| Better Business Bureau (BBB) | Listed but not accredited |
Cardinal Van Lines discloses that they are a broker company, although its done in an inconspicuous manner. Nowhere on the main page or the About Us page does the company mention their broker status, and customers would have to read through the Terms of Service to find mention of it.
Cardinal Van Lines writes confusing content on some paragraphs on their website that may lead customers to believe they are carriers. The company frequently states that its team is highly trained in moving services, such as residential transportation and packing and unpacking. Carriers typically provide these services while brokers handle booking the move.
How is Cardinal Van Lines' online reputation?
At first glance, Cardinal Van Lines holds an average reputation. When searching their Google Business reviews, the moving broker maintains a 3.7 out of 5-star rating with just under 600 reviews. They also provide reviews on their own website, where they suggest having a 4.5 out of 5-star rating with 263 reviews.
Among these reviews, customers explain having quality customer service and a positive experience with the moving crew. Other reviews, such as the one displayed on their website, promote a seamless process and affordable service. However, these reviews do not tend to follow the pattern of complaints on other sites.
Cardinal Van Lines is unaccredited with the BBB but is listed. The company maintains an overall rating of F.
Cardinal Van Lines has received 148 complaints since the BBB received the company's profile. Their reviews currently stand at 1 out of 5 stars, with over 50 reviews. Customers commonly share frustrations with estimates changing in the process of moving and receive inaccurate information before the move takes place.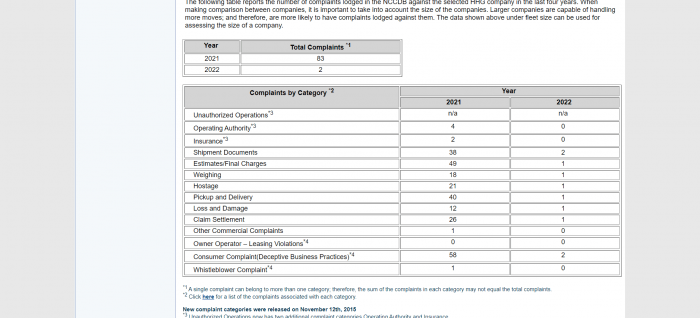 The following summarizes the categories of complaints received.
| | |
| --- | --- |
| DATABASE | Are they listed? |
| AI FMCSA | Yes |
| SAFER FMCSA | Yes |
| Licensing Insurance FMCSA | Yes |
| Better Business Bureau (BBB) | Listed but not accredited |
Reviews are similar on Yelp, where the company holds a 1-star rating with over 60 reviews. Customers report issues with miscommunication and receiving inaccurate information. Other customers have noted issues with unresponsiveness and major delays of their possessions. Still, customers are noting an adjustment of their original estimate in the middle of their moves.
Cardinal Van Lines' trend of complaints continues to reveal itself on their AI FMSCA listing. The company has received 85 complaints in the last year.
Does Cardinal Van Lines Have a Website or Social Media?
Cardinal Van Lines has a clean and inviting website. The company has put a lot of work into creating a customer experience that invites people to use their services. On the front page, the broker introduces their Free Quote form, services, and blog.
You can find more information in their dropdown menu. Customers can find out more about the company and the services they provide, although the information is written broadly and craftily. No information can be found about the company's owners or employees.
Cardinal Van Lines has additional pages not included in their dropdown menu. In the top right corner of the website, customers will find the Terms of Service. The company uses these terms of service to lock its customers into agreements when using their business. Review this document when considering working with this broker.
Should you choose Cardinal Van Lines?
Cardinal Van Lines has a beautiful website and looks like a reputable company at face value. However, actual customer experience suggests that the information provided on their website is not entirely accurate. While the company is technically a broker, it may be difficult to discern this. Customers may even interpret some of their information to believe this company is a carrier.
Cardinal Van Lines promotes estimates as low as $1,049. Many customers have expressed frustrations that the company has adjusted estimates after the move had been booked.
The broker uses a Terms of Service on their website to lock customers into certain business practices people may not be aware of. When considering using Cardinal Van Lines, be sure to find the Terms of Service on their website in the top right corner.
Overall, customers planning a long-distance move are recommended to choose a company from our list of vetted interstate movers. While the value Cardinal Van Lines claims is tempting, customers may be risking a negative experience once the move is booked.
For more help choosing the right moving company and to get a free moving quote, check our picks of the top-rated interstate moving companies.
Not what you were looking for?
Check out other categories that can help you find the information you need!
See All
Hide All