Easy Auto Ship Company Review
Overall Opinion of Easy Auto Ship: The company's management team has more than 25 years of experience and the organization has completed more than 123,000 vehicle transports. Easy Auto Ship is among the industry leaders in domestic and international service.

See Easy Auto and other top shippers on our list of best auto shipping companies.

Jump to the Easy Auto Ship review section that you're looking for:
Easy Auto Ship: Transport Services Available:
Based in Youngstown, Ohio, Easy Auto Ship describes itself as a provider of "Full Circle Auto Transport Solutions and Technologies." They are a freight forwarding company that embraces the latest technology.
Vehicle Moving: They are compliant with all federal regulations. Customers may include families, students, military members, snowbirds, and more. The organization also transports RVs, motorcycles, golf carts, and boats.
Vehicle Delivery for Online Buyers or Auto Dealers: It is increasingly common for consumers to purchase a vehicle online from a remote location. This is very prevalent among collectors and other specialty vehicle enthusiasts. Automobile dealers and rental agencies now routinely participate in vehicle auctions across the country and need multiple vehicle transportation and other customized services.
Heavy Equipment Transport: The company has the equipment, knowledge, and licensing needed to move over-sized commercial vehicles, machinery, and equipment. These projects may involve costly capital equipment and require a transporter that can safely and efficiently handle the job.
International Transport: They transport vehicles across the sea or through the air to intentional destinations according to Federal Maritime Commission standards. They offer "roll on and roll off" open transport options, enclosed and container transportation, and can accommodate requests for expedited service.
Understanding Open-carrier Enclosed Car Shipping
Open-carrier vehicle shipping is much more common than enclosed shipping based on affordability. Based on this demand, those seeking to ship a car are likely to find more open options available—particularly on short notice.
Open carriers generally can accommodate more vehicles per load. The drawback of open shipping is that it exposes the vehicle to rain, snow, and debris. Luxury or collectible vehicles are most commonly moved in enclosed containers.
Same Vehicle Cost Comparison: Easy Auto Ship
| | Open-carrier | Enclosed | Difference |
| --- | --- | --- | --- |
| Cleveland, OH to Atlanta, GA | $718 | $1046 | 31% |
| New Orleans, LA to Kansas City, MO | $923 | $1394 | 34% |
Easy Auto Ship: Pros and Cons Summary:
The Good: Nationwide Service Area and Excellent Customer Satisfaction
Easy Auto Ship offers car transport throughout the U.S. and seems committed to overall customer satisfaction. Customer feedback on Google and BBB is overwhelmingly positive and when complaints do occur, they are personally addressed by a company representative.
The Bad: Offers Limited Discounts
Easy Auto Ship offers only military and multi-vehicle discounts. Some other companies in the market advertise special discounts for seniors, students, and repeat customers.
---
Pros:
Price Guarantee: The price provided includes tax and has no hidden fees or add-on surcharges. Easy Auto Ship reminds customers who are considering other shipping companies to inquire if their auto transport quote is "binding." This term means that the quoted price is fixed and not subject to change.
Fully Insured: The Department of Transportation requires car shippers to maintain a minimum of $250,000 in cargo insurance and $750,000 in liability coverage. Easy Auto Ship works exclusively with those who are properly licensed, bonded, and insured and includes an extra $100,000 of insurance coverage.
Free Rental Vehicles: Although it is unlikely, customers who experience a delay that exceeds 14 days are provided with a complimentary rental car.
Complimentary Car Wash: Easy Auto Ship offers free car washing to its customers.
Easy Online Cost Calculator Tool: Getting an estimate is very quick and easy. Simply enter a few details including the origin zip code, destination zip code, and type of vehicle that needs to be transported for an instant quote. (see the sample quote to follow)
You can also call (888) 259-6046 and speak with a customer support representative for a quote.
Cons:
Vehicles with modifications or aftermarket accessories such as lift kits may be subject to additional charges.
Some customers experience confusion related to billing such as Easy Pay vs Flat Rate and the credit card deposit process.
Those who wish to pay the driver at pick or delivery must do so with cash or certified check—they are unable to process credit card payments.
Discounts Available and Affordability
They offer discounts for active-duty military members, veterans, and those shipping multiple vehicles. Google customer reviews suggest that Easy Auto Ship is typically competitively priced; however, several prior customers described the pricing as being in the mid-range.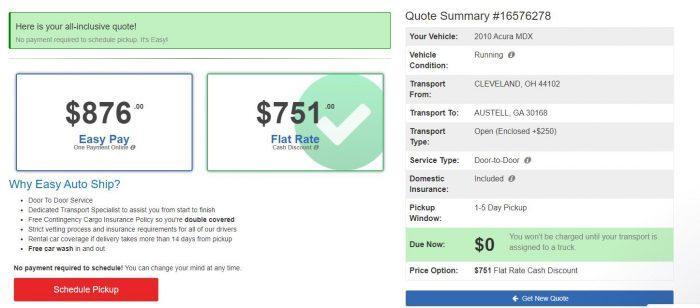 Understanding the Easy Pay vs Flat Rate Option
The Flat Rate or Cash Discount Option involves using a credit or debit card for an initial deposit and then paying the balance upon delivery with cash, money order, or certified check. The Easy Pay Option simply involves a single credit card or PayPal payment that is made for the full amount.
General Pricing Summary
500 – 1000 miles.75 each
| Distance to the Destination | Average Per Mile Cost |
| --- | --- |
| Less than 500 miles | $1.00 each |
| 1000 – 2000 miles | .60 each |
| 2000 – 2500 miles | .50 each |
| Over 2500 miles | .40 each |
As the chart suggests, the average cost per mile generally declines when the distance increases. There are also a host of other factors that can directly impact the price as follows:
Operable or Inoperable Vehicle
Inoperable vehicles can create challenges for the shipping company because they can not be easily moved or positioned. Inoperable vehicles often require using a winch or a forklift to load and unload because they do not roll and cannot be steered. You can expect an upcharge of between $100 and $200.
The Type of Vehicle
The size and weight of the vehicle being transported affect the price. For example, a small passenger sedan may only weight 3,500 pounds while a large truck may weigh 6,000 pounds. Transport vehicles have a maximum weight limit and a maximum amount of space to accommodate vehicles; therefore, those with excessive weight or size may reduce the number of vehicles that can be transported on a single load.
The Origin and Destination
It is less time consuming and expensive to transport cars along major city-to-city routes. Those who need vehicle delivery to remote locations will certainly encounter higher prices. Some people in remote locations may realize considerable savings by driving their car to the nearest large metropolitan area for shipping.
Seasonal Factors
The time of year may impact prices. For example, many snowbirds ship their cars to Florida during the late fall and early winter months. Shipments from Florida to northern cities during this time are more affordable.
Timing and Flexibility
Those who need transport completed on short notice will typically pay more for expedited service. People who have more flexibility in the times and days from pick up and drop off can expect lower rates.
Customer Reviews & Feedback
They have a solid 4.5 out of 5 customer rating on Google based on more than 1,200 reviews. Many of the complaints involved delays in pick up or delivery, which is, unfortunately, an inherent problem in this industry. A representative from the company personally responded to most of the complaints to seek a resolution.
Easy Auto Ship has an A+ rating with the Better Business Bureau and has been accredited with them since 2014. The overall customer rating is 4.5 out of 5 based on more than 400 reviews. There has been a total of 49 complaints filed with the BBB, which the company does address. The following table shows the categories of these complaints:
| | | | | | |
| --- | --- | --- | --- | --- | --- |
| Nature of Complaint | Advertising/Sales | Billing | Delivery | Warranty/Guarantee | Product/Service (other) |
| Number | 3 | 18 | 11 | 1 | 16 |
Should You Consider Easy Auto Ship?
Easy Auto Ship is among the leading auto transport companies for overall customer satisfaction. When problems do arise, the organization actively responds in efforts to correct the situation. They offer competitive prices, superb insurance coverage, and customer support is available seven days a week.
Not what you were looking for?
Check out other categories that can help you find the information you need!
See All
Hide All