Joyce Van Lines Moving Review
Overall Opinion
The organization has been in this business for decades and has offices throughout the country with an impressive fleet of vehicles and storage facilities.
They offer a means of obtaining an estimate using a unique "virtual survey."
The customer uses a smartphone to conduct a virtual tour of the premises that allows a representative to make a fairly accurate assessment.
How does Joyce Van Lines compare to other professional movers?
Jump to the Joyce Van Lines review section that you're looking for:
Joyce Van Lines: Moving Services Available
William H. Joyce founded the company in 1981 in Stamford, CT. The organization is now a licensed motor carrier in 48 states and has offices and warehouses in New York, Florida, Massachusetts, Indiana, Texas, and California. In 2017, they bought a 54,000 square foot warehouse in Fort Myers, Florida that is climate-controlled for short and long-term storage.
The organization has received a Gold Award for High Volume Domestic Moving Services. They also claim to have A+ ratings with both the Better Business Bureau and Angie's List.
Local and Interstate: Moving and relocation services are available for those transferring across town or throughout the country. The price for a local move is typically based on the number of hours required for completion. When the destination exceeds 100 miles, the pricing is often based on weight and travel distance.The total cost generally includes packaging, loading, shipping, and unloading. Disassembly and reassembly of applicable furniture are also typically included in the price quote. A designated company representative serves as a central point of contact for each customer.
International Moving: Moving of household goods and automobiles is available. An international moving consultant prepares a detailed quote and oversees the moving process.
Corporate Relocation: Corporations are eligible for special contracted rates by entering into a Transportation Agreement. A Corporate Move Coordinator works closely to ensure timely transport, superior responsiveness, and customer support. National Accounts also benefit from having a designated corporate liaison that serves as a point of contact. Areas of expertise include scheduling, inventory management, storage solutions, price transparency, and more.
Military Relocation: Joyce Van Lines has many years of experience providing relocation services for those in the military. They understand the requirements for Permanent Change of Station (PCS), Personally Procured Moves (PPM), and Government Contract Moves (GCM).
Joyce Van Lines: Pros and Cons Summary:
A detailed inventory of belongings is created that is then verified during unloading at the destination.
Has multiple large warehouses that will accommodate the storage needs of sizeable companies.
The in-house staff handles all moves and they do not use brokers, agents, or other carriers that may lack dependability.
Has implemented a comprehensive safety program in response to the COVID-19 pandemic. They exceed federal and state standards for compliance and regularly have their vehicles cleaned and sanitized. All staff is equipped with gloves, facial coverings, and is aware of the best practices related to social distancing.
Too many complaints related to belongings that are damaged during the moving process.
Some customers stated that the overall claims process was slow and that the claims representatives often did not promptly respond.
Despite claims to the contrary, sometimes uses local contracted labor that is careless and unprofessional.
The Good: Comprehensive Service Area and Solid Operational Infrastructure
Joyce Van Lines offers moving services throughout the U.S. and abroad. They have regional offices and warehouse facilities spread across the country and have made a tremendous investment in their fleet of vehicles as indicated below.
| Current Fleet | Number |
| --- | --- |
| Tractors | 40 |
| Straight Trucks | 68 |
| Pack Vans | 10 |
| Trailers | 85 |
The Bad: Damage to Items During Moves
Many of the negative customer reviews were related to belongings that were damaged during the moving process. This is a common problem in the moving industry. In many cases, somewhat minor damage to an item soon becomes exacerbated during the claims process.
First, customers who do not purchase the additional insurance coverage become more aggravated by the small amount of reimbursement that moving companies are legally obligated to pay. Second, customers tend to become disgruntled when the claims process is too slow or if they perceive that the moving company is not responding to their concerns and is acting with indifference.
They have a process for completing a "virtual" inventory from which an accurate quote may be generated "instantaneously." As the illustration below shows, a smartphone recording is made of all belongings and an itemized inventory is then created. Although the potential for errors is possible, it sounds great—particularly as an alternative to an in-house visit from a representative during the COVID-19 pandemic.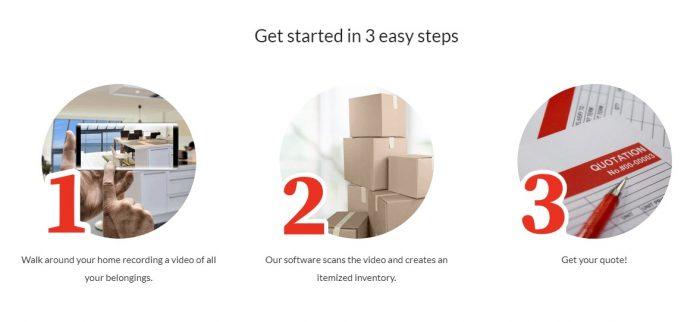 An initial $100 deposit is required when confirming a moving date. The remaining balance is paid no later than upon arrival at the destination and is payable by certified check, credit card, cash, or money order.
The customer has two options for cargo protection that may compensate them when any belongings are damaged. The first is the basic or Released Value plan that is mandated by regulators that simply pays sixty cents (.60) per pound. For example, a 10-pound television would translate to $6.00, which is insufficient in most instances.
The Full Value Protection terms explain that Joyce Van Lines will either "repair, replace, or reimburse" you for damaged property. Any property with an estimated value that exceeds $100 per pound must be declared by the customer. The cost of this additional coverage was not specified.
Joyce Van Lines does not promote itself as being the lowest cost option in the residential moving market; rather, they emphasize a commitment to superior customer service, excellent staff, and the latest equipment. In marketing their Corporate Relocation Services for businesses, they do highlight affordability. Some of the price-related benefits they advertise include offering detailed budgetary projections, price transparency, and corporate discounts.
Customer Reviews & Feedback
Google: Only three different city listings were found nationwide on Google, each with only one review. This is unusual considering this is a long-established moving company that operates nationwide.
With a total of 38 reviews on Yelp, the overall rating is a mediocre 3 of 5 stars. One customer relocating from California to Texas stated that all the labor used on both ends of the move were contracted (except for the driver). The organization does have a Joyce representative take the time to post very-detailed responses to most negative complaints on Yelp.
Several unhappy customers explained that their items did not arrive at the destination and that items from other customers were mistakenly delivered. This suggests that the company is careless in keeping loads from different customers separated.
They have an A rating on the Better Business Bureau (BBB) report for their Oxford, CT office. Out of a total of four reviews, three of them were negative and related to items damaged during moving and billing problems. The BBB has a company listing in a couple of other cities, but they did not contain any customer feedback.
Should You Choose Joyce Van Lines for a Move?
Joyce Van Lines is a capable provider of moving services for the residential, corporate, government, and military markets. The organization has an experienced executive team, vast warehouse and storage facilities, and a fleet of more than 200 transport vehicles. The recent implementation of the "virtual estimate" system for potential household customers is an example of the organization's ability to leverage today's technology.
The absence of any Google reviews seems a bit concerning; however, it may indicate that the organization does the majority of its business in the corporate realm? The feedback from household customers that can be found suggests that the movers are sometimes careless and damage property during the process.
Not what you were looking for?
Check out other categories that can help you find the information you need!
See All
Hide All