Allstate Moving Company Review
Overall Opinion
Allstate Moving has multiple locations across the country
The carrier handles local and long-distance moves
One free month of storage is included with every move
The company is unaccredited with the BBB and has an F rating
Some customers report struggling with damages and claims
Best for: Those looking to save time on their long-distance move
Not recommended for: Shipping valuable items or moves to Hawaii
For even more long-distance moving companies, check out our list of the top interstate moving companies
How does Allstate Moving compare to other professional movers?
Company
Quote
Rating
Price

Safeway Moving

Best Overall Value

Get A Quote

American Van Lines

Best industry reputation

Get A Quote

International Van Lines

Best customer service

Get A Quote
Several offices across the country
One free month of storage included with every move
4.1 out of 5-star rating on Google Business
Does not ship to Hawaii
Unaccredited with the BBB and holds an F rating
Currently has a pending insurance cancellation
Jump to the Allstate Moving review section that you're looking for:
About Allstate Moving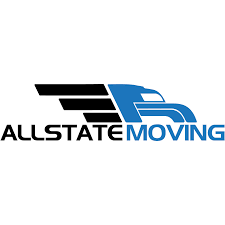 Allstate Moving (U.S. DOT# 3200864) is a national moving company with multiple locations across the country. As a carrier, the company physically handles the packing and loading of its customers' household goods and personal belongings. Originally founded in Kent, Washington in 2018, the carrier now has offices in California, Massachusetts, Maryland, Nevada, Texas, and Illinois.
Allstate Moving primarily focuses on delivering goods locally and between states. In 2020, the company's small fleet of nine trucks and trailers logged approximately 185,000 miles.
While the carrier is capable of handling standard long-distance moving and storage, they also offer direct moves to nearby states.  Skipping the transfer process, Allstate Moving will deliver goods straight to the dropoff locations, saving time and handling.
Allstate Moving is a family-owned business with significant roots in the Pacific Northwest. The company aims to spread its community standards to its seven additional locations.
As of March 2022, Allstate Moving is currently in the process of canceling its insurance. While they currently have Bodily Injury Property Damage (BIPD) and Cargo insurance on file, customers might consider confirming this before booking a move. Carriers may not cover lost or damaged items without proper insurance on file.
To check the status of this company's filed insurances, visit the Licensing and Insurance FMCSA using the DOT# listed above.
Allstate Moving offers a broad range of services
Along with its standard services, Allstate Moving offers a variety of additional benefits to make move day stress-free.
Local Moves: Allstate Moving provides residential relocation services in and around Seattle, WA, Los Angeles and Sacramento, CA, Boston, MA, Baltimore, MD, Las Vegas, NV, Austin, TX and Chicago, IL
Long Distance Moves: This carrier offers full-service relocation to anywhere in the continental United States. Services include packing, storage, and quality relocation consultants. The company currently does not ship to Hawaii
Commercial Moves: Allstate Moving can handle corporate moves of any size. They work with employers to create a moving plan to keep the business running smoothly
Storage Services: Allstate offers a variety of short and long-term storage solutions for residential and commercial moves. The company provides one month of free storage with every move
Packing/Unpacking: The company offers full-service or customized packing services. The carrier will safely pack and unpack belongings, including kitchen supplies, wardrobes, and unique items. They even provide packing supplies for customers
>
The company promotes its direct move service for customers planning a long-distance move to a nearby state. Instead of going through the standard process of loading and unloading cross-country shipments into a warehouse, the company will take your shipments straight to the dropoff point. Customers interested in saving time and handling during their move may talk to a customer service representative about this option.
How much does Allstate Moving charge?
Each move has a variety of factors that affect cost. They typically include:
The amount of space used in the truck
Difficult moving conditions like flights of stairs, elevators, and long carries from the truck
Special packing for fragile or awkward items
Additional services, such as packing supplies, custom crating, appliance disconnects/reconnects, and comprehensive coverage
Customers working with Allstate Moving can contact the company for an estimate on their move. They offer a free quote on their website in a simple form. Customers will provide their pickup and dropoff location, type of move, and contact information.
Those wanting to book a move with Allstate Moving can also receive a free estimate using the phone number or email listed on the company's web page.
The carrier charges customers once at the pickup location and again at the end of the move. The company accepts money orders, cashier's checks, cash, and major credit cards. They will accept personal checks for the first payment if the delivery is scheduled at least seven days in advance but will not accept them for final payment.
The company offers a standard valuation with every move. This covers 60 cents per pound on any item damaged. Customers wishing to purchase additional coverage may do so through one of Allstate's insurance partners.
To get a quote on your move and find out about the best movers in your area, check out our moving cost calculator.
How is Allstate Moving LLC's customer service?
Allstate Moving works to provide its services to customers across the country. The shipping carrier has offices in several locations in different states, all of which are open every day during regular business hours.
Customers can contact their local office to set up an appointment or receive a free quote. They can contact a customer service representative using the phone number or email provided on the company's Locations page.
While they do not specifically mention pricing or on-time delivery guarantee, Allstate Moving works directly with insurance partners to provide the best customized and comprehensive coverage on their customers' items if they prefer.
The shipping carrier recommends contacting them six weeks before the actual move, especially during the busy season. Those wanting to plan a move with Allstate Moving will find more planning information in the company's FAQ and blog.
While the company front-loads its customer service on its website, previous users have mixed feelings. The company tends to deliver on its promises to customers, but in cases where they underperform, they haven't shown much effort to make amends.

Does Allstate Moving have a good online reputation?
Although the company has several locations across the country, Allstate Moving's home office tends to do good business.
When searching the shipping carrier on Google Business, they maintain a 4.1 out of 5-star rating with over 200 reviews. Many customers praise the company for its quality service, having their items delivered on time and without damage. Other customers stress issues with final charges, damages, and unresponsiveness. Interestingly enough, even many negative reviews give the company high marks for customer service.
The shipping carrier tends to struggle to manage its official complaints. Allstate Moving is unaccredited with the Better Business Bureau and holds an F rating.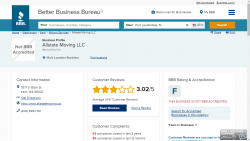 The company maintains a 3.02 out of 5-star rating with 61 customer reviews. While many customers appreciate the movers' professionalism, others have issues with damages and final charges. The shipping carrier attempts to reconcile these issues.
Allstate Moving receives its F rating through customer complaints. The carrier received 63 complaints in the last three years, 49 of which were submitted in the last year. The company failed to respond to 9 of these, while two went unresolved.
Customers consistently have issues with delivery and the quality of service. Below is a breakdown of the types of complaints filed against the company.
| | |
| --- | --- |
| BBB Complaint Types | Number |
| Sales or Advertising | 1 |
| Collections or Billing | 3 |
| Deliver-Related Concerns | 25 |
| Warranty or Guarantee | 1 |
| Product or Service Problems | 33 |
Allstate Moving received 38 official complaints on the National Consumer Complaint Database, with 33 submitted in 2021 alone. Customers mention frustrations with delivery, damages, and claim settlements.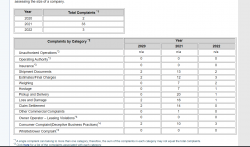 The shipping carrier performs similarly on social review sites. Allstate Moving holds a 1 out of 5-star rating with 30 reviews on Yelp. Many customers share difficulties with damages and claims. The shipping carrier has made little effort to respond to complaints.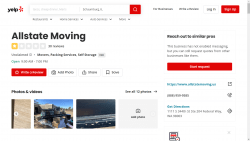 Is Allstate Moving licensed and insured?
The moving industry uses multiple databases to collect information about various moving companies. When assessing a moving business, we check four databases to see what information is registered and whether the company has claimed its profile.
These databases are compared alongside company websites, social media pages, and review sites (such as Yelp) to determine the moving business's credibility and transparency.
| | |
| --- | --- |
| Database | Listed (Y/N) |
| AI FMCSA? | Yes |
| SAFER FMCSA? | Yes |
| Licensing Insurance FMCSA? | Yes |
| Better Business Bureau (BBB) | Listed (Not Accredited) |
The services and information stated on Allstate Moving's website are consistent with the information on these government databases. The carrier has accurately explained its role in the moving process.
As of March 2022, Allstate Moving currently has a pending insurance cancellation. While the company still has its BIPD and Cargo insurances on file, customers should take time to confirm this upon scheduling a move. Carriers without insurances on file cannot cover lost or damaged items.
For more information on moving company regulations and why we choose to look at these databases, check out our post on how moving companies are regulated.
How are Allstate Moving's website and social media presence?
Allstate Moving's website is clean and straightforward. Customers will have no issues discovering the services provided, contact information, and helpful moving advice. Those interested in receiving a free estimate can find the form right on the front page.
While the carrier does not share details about the owner or company history, they do pride themselves on being family-owned and community-oriented.
Customers can find additional information and recent reviews on the company's Facebook page. The company is also interested in setting up other platforms, such as Instagram and Twitter.

Should You Consider Allstate Moving for a Move?
Allstate Moving is a national carrier with locations across the country. They specialize in local and long-distance moves and service several regions. The company offers additional services, such as packing and storage, and even one month of free storage for every move.
The company offers quality customer service. While several customers mention issues with damages and claims, others praise the company for its professionalism and communication.
As of March 2022, Allstate Moving has a pending insurance cancellation. Carriers without insurances on file cannot cover lost or damaged items. While the company still has its BIPD and Cargo insurances on file, customers should take time to confirm this upon scheduling a move.
Overall, customers searching for a shipping carrier can trust Allstate Moving with their belongings.
For more help choosing the right moving company and getting free moving quotes, check our picks of the top-rated interstate moving companies.
Not what you were looking for?
Check out other categories that can help you find the information you need!