Best customer experience
Quick quote
Fast, easy, no commitment
(866) 774-5063
Best customer experience
Quick and easy booking process
National 4.75/5 star rating (these guys are good at what they do)
A dedicated concierge specialist to ensure you are set up for success on your move day
Pay as you go service. 2-hour minimum and then prorated down to the minute (you don't pay for time you don't use)
Straight forward pricing with no hidden fees. What you see is what you get
The time clock starts when the movers arrive and ends when you tell them
Quick quote
Fast, easy, no commitment
(866) 774-5063
LEARN MORE
Over the past 10 years, Bellhop has become an industry leader in the moving and storage industry.
Their unique "Uber-like" technology has enabled the company to find and retain the best moving labor in the country.
Bellhop continues to impress us with their incredible customer satisfaction scores and very competitive pricing.
We love Bellhop and can't recommend them enough.
Availability to potentially respond on short notice
Offers guaranteed fixed-price quotes without hidden fees that are available in minutes
Bellhop claims to "rigorously" review and assess the movers for punctuality, professionalism, efficiency, and various other factors that better ensure high-quality results
In response to COVID-19, the company has established "contact-free" moves and all staff wear facial coverings
Potential customers that are not tech-savvy may struggle with the Bellhop application
Payment is limited to a credit card or via Apple Pay or Google Pay account (cash and checks are not accepted)
Bellhop does not service California, South Carolina, Connecticut, and several other states
They are not able to install or to uninstall appliances
Any claims for damage to property must be reported within five business days
How does Bellhop compare to other professional movers?
Company
Quote
Rating
Price

Safeway Moving

Best Overall Value

Get A Quote

American Van Lines

Best industry reputation

Get A Quote

International Van Lines

Best customer service

Get A Quote
Jump to the Bellhop review section that you're looking for:
Compare Bellhop to the moving companies on our list of best interstate moving companies.
About BellHop
It's all about labor.
Moving companies are really only as good as the moving laborers they employ. If you have bad or unhappy employees, you're going to provide bad service. If you have well trained and motivated employees, you're going to provide great service.
This is a big reason why we love Bellhop. By leveraging "uber-like" technology, they've created an incredible workforce. This focus on keeping their workers happy has allowed them to become one of the highest-rated moving companies by customers we've ever reviewed.
In this review, we'll cover all aspects of Bellhop's moving services including which services they provide and the typical costs.
The Good: Excellent Technology
Obtaining a quote using the Bellhop platform is seamless. You are initially prompted to enter the origin and destination(s) zip codes and your preferred time and date for the move. A support representative is available to provide real-time assistance using their chat feature if needed. Many additional details of the move such as the number of bedrooms, flights of stairs, and other variables are selected using a simple drop-down format.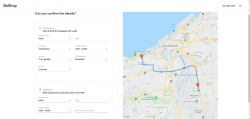 The Bad: Not great for complex moves
Bellhop is an excellent choice for straight forward moves like moving an apartment across the city or hiring some extra labor to load a rental truck or moving container. But for more complex moves, moves that involve difficult items like pianos, high value art, etc. Bellhop may not be the best option. The company's on-demand workforce means their crews usually don't have the specialized know-how required to move complicated items.
Bellhop: Moving Services Available
Bellhop began in Alabama in 2011 as a moving option primarily offered to students who resided in college dormitories. Shortly after, the organization established its present-day headquarters in Chattanooga, Tennessee. As the company grew, they developed mobile and web-based applications and transitioned to a "gig-based" moving service and hired a regional manager from Uber to assist with their growth strategy.
The company now offers a comprehensive set of "end-to-end" moving-related services that include the following:
Local Moving: A dedicated truck is loaded and driven to the new home to be unloaded
Long-Distance Moving: Bellhop offer intrastate and interstate moving services that may be customized to include moves involving multiple locations
Hourly Labor: Customers with a truck can hire a team of movers to assist with moves or for special events
Driving and Delivery: A driver with a truck will arrive with dollies, blankets, and other supplies to promptly transport your belongings
Packing Service: Assistance with proper packaging and/or unpacking your belongings for safe transport
Moving Supplies: Bellhop offers packages of moving supplies (kits) that are tailored to the customer's needs. The optional supplies include boxes, bubble wrapping, tape, and much more.
Bellhop also promotes its event setup and clearing service, although to a much lesser extent.
Examples include providing packing, transport, placement, and removal services for weddings, conventions, and such.
Bellhop's Service Area
Bellhop now offers service to more than 20 states.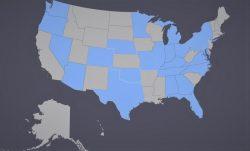 Bellhop: Cost / Affordability
Bellhop markets themselves as competitively priced; however, they primarily differentiate themselves as offering robust service and support rather than emphasizing low prices. No two moves are the same and the quote that you receive is based on many potentially variable factors that can influence pricing.
Some examples may include the business relationships that Bellhop has in certain services areas, the competitiveness of the region, time of year, day of the week, and dozens more.
Those who place an order with Bellhop will have a deposit amount of 25% charged to their credit or debit card, Google Pay, or Apple Pay account. The balance is charged following the completion of the move.
Another financial concern involves the possibility of property damage during a move. You should review Bellhop's Damage Protection Policy before entering an agreement. The company will only compensate up to a maximum of $2,000 for damage that occurs during a move.
Individual items that are damaged are subject to a formula that determines customer compensation. The amount is calculated based on the weight of the item damaged, which is multiplied by a factor of .60. For example, an item weighing 100 pounds equates to $60. Customers are encouraged to consult with their insurance agent to consider whether to purchase additional moving insurance coverage.
Customer Reviews & Feedback
Overall, customer reviews regarding Bellhop are good. The local reviews on Google were mostly positive, totaling 4.6 out of 5 stars. The few negative reviews complained of movers who did not arrive on time or movers that lacked the strength needed to move heavier items.
The local reviews of Bellhop on Yelp resulted in a 4 out of 5-star overall rating. Many of the reviews praised the staff as being friendly and hard-working. The most common concern among dissatisfied customers was that items were scratched or cracked during the move. A few of these individuals attributed the problem to movers that lacked training on how to properly position the loaded items to prevent damage during transit.
The Better Business Bureau (BBB) listing for the company headquarters shows a B rating. The majority of the customer complaints were related to billing discrepancies that involved unexpected add-on charges and insufficient reimbursement for property damaged during the move.
It appears that many customers who had items damaged were unaware of the Bellhop Damage Protection Policy and felt that the compensation they received was significantly less than the value of the damaged property. Bellhop issued responses to the vast majority of negative customer reviews that I saw across multiple sites from their Customer Experience Team, which showed a genuine commitment to customer satisfaction and maintaining a positive image.
Should You Consider Bellhop for Your Move?
Bellhop appears to be an organization that is generally committed to satisfying customers.
Bellhop has demonstrated rapid growth and Forbes reported that they are securing very significant venture funding. The organization's large nationwide presence may boost their appeal and credibility, affording them an advantage when competing against small local movers that lack technical skills and effective digital marketing.
Compare instant price moving estimates from multiple moving companies.
Not what you were looking for?
Check out other categories that can help you find the information you need!