What is a Full-Service Moving Company?
Best overall value
Portion to charity
Veteran owned

20 yrs experience
Flat rate pricing
Family owned

24/7 cust. service
Competitive rates
15% discounts

74 years in biz
1,800 trucks
Storage available

White glove
Expensive items
Guaranteed delivery
Full-service moving companies do everything. They can pack your belongings, load them onto the truck, disassemble furniture, transport them to your new home, unload the truck, reassemble your furniture, and unpack your items. They'll even provide all the moving equipment and supplies you'll need.
There are two principal concerns with full-service movers: price and quality of service.
How Much Do These Movers Cost?: Get an instant idea of what a full-service mover should cost. Just enter your dates and where you're moving to/from.
Choose the best movers: A good full-service mover has transparent prices, experience, and offers what you're looking for. We've picked the best ones.
Now, we'll jump into what full-service moving companies offer, what to expect, and services that they will and won't handle.
What do full-service movers do?
Looking for movers that will pack for you?
Full-service movers offer all the services that customers may (or may not) need when moving their homes.
Though packing, moving, and unpacking are the most commonly used, they're just the tip of the iceberg.
Packing
If you opt for professional packing services, it'll include labor, boxes, tape, and paper.
There's no shortage of moving companies that will pack for you. But it's not cheap, and on big moves, it can even double the cost.
Insider's Tip #1: To save money and ensure peace of mind, many customers choose a partial pack. This is where the movers pack only fragile items like glassware, electronics, and mirrors.
For cost-conscious do-it-yourselfers, doing the packing and unpacking on your own is a great way to reduce cost.
Insider's Tip #2: Some moving companies offer free boxes to customers who've already booked their moves. So don't be shy about using this as a negotiation point.
Ways to negotiate with movers.
Furniture Disassembly and Reassembly
True full-service movers will include the manpower to move everything out of your old home and into your new one in their estimate. They'll also disassemble and reassemble furniture like beds, tables, and cribs. If they don't, keep looking.
Auto transport is another option from full-service movers.
Depending on the size and value, they may ship your car inside the van with your household goods.
If you own an oversized vehicle or one that's particularly valuable, a specialized car hauler is a better option.
Disconnect and Reconnect Appliances
For liability reasons, many full-service movers won't disconnect and reconnect appliances and complex home entertainment systems.
But they do have relationships with specialized companies that do. If you're not comfortable doing those things on your own, ask your consultant about these services.
Storage Option
Insider's Tip #3: Even if you don't think you'll need it, it's wise to get a quote on the cost of storage options from prospective movers before signing a contract.
Sometimes unexpected circumstances postpone the closing on your new home, making short-term storage a necessary evil.
Specialty Items
And lastly, full-service movers should be able to assist you with things like transporting priceless art, vintage wine collections, and even pets.
These services aren't cheap, but they will help reduce unnecessary stress.
---
How much will it cost?
How Much do Movers Cost?
Get instant ballpark pricing. No email or phone required. It's fast, free, and easy.
According to numerous polls, moving is one of life's most stressful events.
In fact it ranks right up there with divorce and the death of a loved one.
It can be downright expensive too.
Here's a simple formula worth remembering:
EXPENSIVE + STRESSFUL = LOUSY EXPERIENCE
Thankfully, the cost is dependent on a number of factors over which consumers have some control.
First, how much have you accumulated over the years? The more you have, the more it'll cost to move it.
Local moves are usually charged on an hourly basis.
Crossing state lines?
Interstate moves depend on the weight of your items, services needed, and the mileage between your old and new homes.
Interested in saving some dough?
Insider's Tip #4: Consider donating unused items to a charitable organization before moving. They may even pick them up for free.
Specialized services like appliance and home entertainment center disconnects and reconnects can be pricey. But remember, you're paying for something that you probably can't do on your own. Think stress reduction.
Insider's Tip #5: It's important to have your consultant schedule these services before the movers arrive.
Each service the mover provides ups the cost. So the more you can do on your own, the less expensive your move will be.
Try to find a pleasant balance between cost and hassle.
---
How long will it take?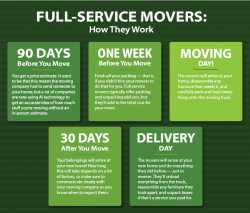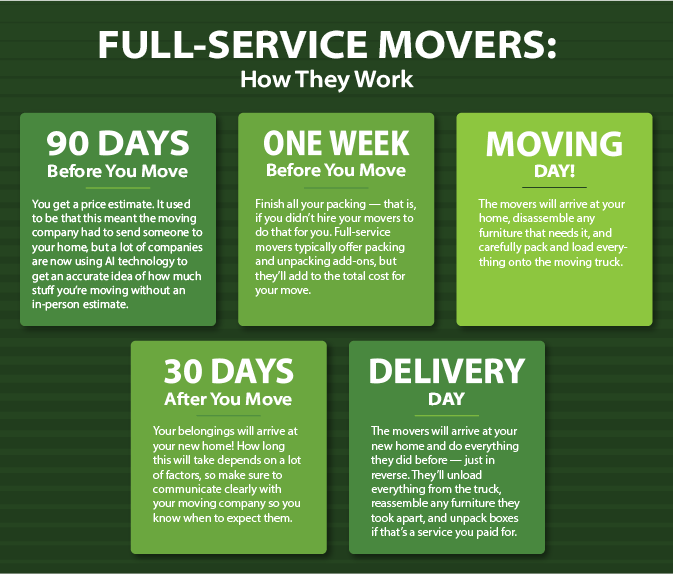 A full-service relocation can take just a day or two if you're only moving across town.
But depending on the size of your home, distance, and overall scope, it may take a week or more.
For most apartments, the packing and moving can be done one or two days.
But for larger homes it can take multiple days for each. It may seem excessive, but having an overworked and exhausted crew handling your precious cargo isn't a good idea.
The time it takes to complete a move can vary by season as well. During the summer months when movers are working at maximum capacity, delivery times are longer. During the fall and winter when customers are scarce, they're shorter.
---
Are full-service movers worth it?
There's definitely no right or wrong answer to this question.
Yes, full-service moves are more expensive than ones in which customers do their own packing and unpacking.
But there are lots of intangibles that often get overlooked.
For example, what price do you place on sanity?
It sounds silly, but moving can be irritating, aggravating, and taxing.
For the easily stressed, a full-service move may be a godsend regardless of the cost.
It's also worth noting that if you pack yourself and items inside a box get broken, moving companies will generally reject claims.
After all, who's to say you packed properly in the first place?
Reputable long-distance movers are much more likely to honor claims if they've done the packing.
Full-service movers also save their customers from hurting themselves with heavy lifting like armoires and sleeper sofas.
They also free-up time — a valuable commodity these days when both parents often work full-time jobs.
A full-service relocation may not be a good option for those moving on a budget. This is especially true during the peak season when movers increase their rates.
Insider's Tip #6: If your move dates are flexible, considering holding off until the fall or winter. You may save yourself a bundle.
If you can't wait, a container moving company may be a good option.
---
Who should I hire?
Now that you've achieved a higher level of moving consciousness, consider this…
Insider's Tip #7: The most important thing you can do is hire a reputable mover.
Easier said than done right? Maybe, but it's not as hard as you think.
First, ask friends and families for recommendations.
Then check the Better Business Bureau's website to see which companies rank highly, and which don't.
You can also use the internet, but don't skimp on the research.
Let the U.S. DOT help. Use these steps to hire a reputable moving company
When you're finally ready, call and ask prospective companies to send a representative out to assess your move.
Don't forget to use our relocation cost estimator and get a free quote for your upcoming move.
Not what you were looking for?
Check out other categories that can help you find the information you need!