What are Full Service Moving Companies? Services, Cost, and More
Full-service moving companies handle every aspect of the moving process. From full-service packing to insurance coverage to a stress free moving plan, full-service moving companies make your move easier.Depending on your moving needs, they will:
Pack your belongings
Load them onto the moving truck
Disassemble furniture
Transport your belongings to your new home
Unload your belongings at your new home
Reassemble your furniture
Unpack your items
Most also offer an option to provide all the moving equipment and supplies you'll need even if you do the packing.
There are two principal concerns with full-service movers: price and quality of service.
The type of move, desired features in your moving plan, and other factors related to your unique circumstances will affect the cost of your move and which company you ultimately decide to go with.
What do full-service movers do?
Full-service movers offer all the services that customers may (or may not) need when moving. If your moving needs dictate a stress-free, hands off approach, full service is a good choice. An a la carte option is often available which allows you to tailor your services to fit your needs.
Though packing, moving, and unpacking are the most commonly used, there are other features available that can greatly benefit you in your move.
Packing
Professional packing services are a popular feature of full service movers, but can increase your overall moving costs.
Professional packers will pack your belongings for you on moving day and provide all packing supplies including boxes, tape, and paper.
Insider's Tip #1: Cut moving costs and ensure peace of mind, by choosing a partial pack. The movers pack only fragile items like glassware, electronics, and mirrors while you pack the rest of your belongings.
DIY packing is always an option if cost is an issue. You do all the packing and unpacking yourself. However, if you choose to pack any fragile or specialty items yourself you are usually responsible for any breakage, not the moving company.
Insider's Tip #2: Some moving companies offer free boxes to customers who've already booked their moves.
Furniture Disassembly and Reassembly
True full-service movers will provide professional movers to pack and move everything out of your old home. This includes disassembling and reassembling furniture such as beds, tables, and cribs.
This service should be a standard feature included in their estimate and is part of your moving quote.
Sometimes, smaller companies will treat it as an add-on option that you will have to request.
Auto transport is another option offered by full-service movers.
Depending on the size of the vehicle and moving truck as well as the volume of your belongings, movers may ship your car inside the truck with your household goods. Other times a separate auto transport vehicle is used.
Cost-effectiveness generally determines the method used. This is a practical, convenient add-on feature if you are moving cross-country. It's also a good option for any type of long distance move, including international moves.
However, if you own an oversized vehicle or one that's particularly valuable, a specialized car hauler is a better option.
Disconnect and Reconnect Appliances
For liability reasons, many full-service movers won't disconnect and reconnect appliances and complex home entertainment systems.
However, this is a commonly needed service for both commercial moves as well as residential moves.
To answer that need, many moving companies have established relationships with specialized companies that offer these services. If you're not comfortable doing those things on your own, ask your consultant about adding these services to your moving estimate.
Storage Option
Insider's Tip #3: Even if you don't anticipate needing storage solutions, it's wise to get a quote on it anyway.
Unexpected circumstances can arise such as a postponed closing on your new home, which can leave you needing short-term storage. Some moving companies offer storage services so ask when getting your quote.
Check on costs for a short-term storage unit as well as long-term storage so you have that information on hand if you need it.
Specialty Items
Most full-service movers can assist you with things like transporting priceless art, vintage wine collections, and even pets. Whether it is in-house or an outside company, they can supply specialty packing materials and help you move your valuable items safely.
Most of the major van lines offer these services, but some smaller, local movers may as well. They are often presented as add-on features at an additional cost.
---
How much do full-service movers cost?
How Much do Movers Cost?
Get instant ballpark pricing. No email or phone required. It's fast, free, and easy.
Moving can be expensive, but doing some things yourself can cut your moving costs considerably.
Ultimately, you have some control over your moving costs. It may mean rearranging your moving checklist and being a little more hands on in your move than you planned, but it can be done.
Simple ways to cut costs include:
Minimize clutter and get rid of items that you don't need or don't use. The more you have to move, the more your move will cost.
Insider's Tip #4: Consider donating unused items to a charitable organization before moving. They may even pick them up for free.
Local moves and long-distance moves are priced differently and can have a variety of factors that impact how much you'll pay.

Local moves are usually charged on an hourly basis and based on the number of movers.
Interstate moves depend on the weight of your items, services needed, and the mileage between your old and new homes.

Specialized services like appliance and home entertainment center disconnects/reconnects can increase your costs. However, if it is something that you are unwilling to do or can't do on your own it may be worth it.
Insider's Tip #5: Have your consultant schedule these specialized services before the movers arrive.
Each add-on service your mover provides increases the overall cost of your move. The more you can do on your own, the less expensive your move will be.
"Expensive" is a very subjective term. Ultimately, you have to decide what expenses are worth it to you because they help to minimize the hassle and stress of the move.
---
How long will it take to move?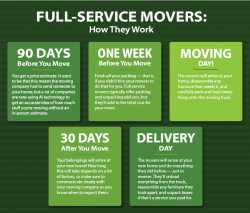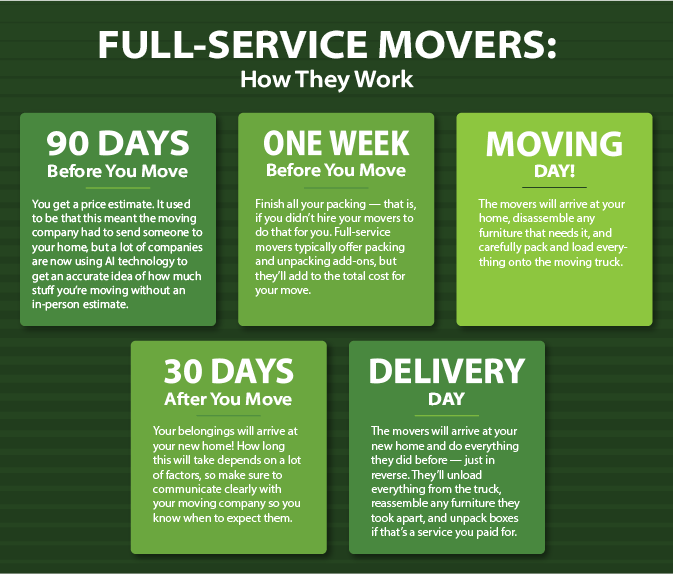 A full-service relocation can take just a day or two if you're only moving across town. Moving across state lines and bigger moves over longer distances may take a week or more.
The length of time a move takes depends on the size of your home, distance you are moving, and the overall scope of your move. For most apartments or small homes, packing and moving can be done in one or two days. Larger homes can take several days to pack and move.
The time of year can also affect the time it takes to complete a move. During the summer months when movers are working at maximum capacity, delivery times are longer. During the fall and winter when fewer moves tend to occur due to weather and the holidays, delivery times are shorter and usually more affordable.
---
What happens if my belongings are damaged or lost in the move?
Reputable long-distance movers are much more likely to honor claims of damage or loss if they've done the packing.
Professional full-service providers will give you a valuation coverage option. This is full value protection so your items are guaranteed from packing to delivery at your new home.
If something happens at any point in the moving process and your belongings are damaged or lost, your provider will take full responsibility as long as you have this coverage option.
---
Are full-service movers worth it?
If the features that full-service moving companies offer align with your moving needs, then yes, they are most likely well worth the cost. But if you have a very limited moving budget or have a small move you can do rather easily, then full-service movers might not be the best option.
However, if you value the peace of mind that comes with having someone handle your move for you and the time saving benefits that come with having professional movers pack your belongings and move you into your new home, the cost is worth it.
Knowing that your belongings are secure and covered if there is any breakage or loss makes a full-service movers well worth the cost for many people.
Insider's Tip #6: If your move dates are flexible, consider holding off until the off-season which is usually fall or winter. You may save quite a bit on your moving costs.
---
Who should I hire?
You should hire the moving company that is within your budget, and offers most, if not all, of the features that you need.
Insider's Tip #7: Reputable full-service moving companies are always the smartest choice. Cheap doesn't always save you money. It can end up costing you in the long run with hidden fees, added costs, and poorly managed moving teams that make your move longer and harder than it should be.
There are several ways to find a reputable moving company that you can trust:
Ask friends and families for recommendations.
Check the Better Business Bureau's website to see which companies rank highly, and which don't.
Do some internet research, but look on third party sites that are not connected to the company so you can get objective opinions and information.
Check with the U.S. DOT to identify professional movers who are bonded and licensed.
When vetting moving companies, price is not the only consideration. Look at the company's years of experience in the moving business and always check out customer reviews on external sites like Trust Pilot and Yelp.
Use our relocation cost estimator and get a free quote for your next move.
When you're finally ready, call and ask prospective full service moving companies to send a representative out to assess your move. That way you can choose the best moving company that fits your needs.
Not what you were looking for?
Check out other categories that can help you find the information you need!
See All
Hide All