Moving Experience: Shayndel's Move with Safeway
In March of 2023, recent retiree Shayndel relocated from Santa Clara, California, to the sunny shores of Sarasota, Florida. The 3,000-mile relocation was no small task, so she knew she needed to work with a reputable moving company.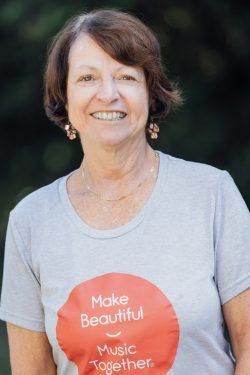 After looking at reviews online for a week, Shayndel decided to trust Safeway Moving with her big move. She signed up for the moveBuddha Better Moves Project to share her experience working with Safeway Moving in exchange for a $500 moving stipend.
Shayndel says she would likely use Safeway Moving again. She was impressed that her things made the 3,000 mile move on-time with minimal damage. There were some minor hiccups along the way, but they're par for the course with such a big move.
89% of users select this mover
So, how did Safeway stack up? In this guide, we'll share how Shayndel found a moving service, how she prepped for the move, and her advice for anyone planning a cross-country relocation.
Move day takeaways for Safeway Moving customers
Communication: Safeway Moving's reps were friendly and communicative. While Shayndel would have preferred a few more touch points before the move, she still felt well-informed
Pricing accuracy and transparency: Shayndel left several items off of her phone estimate, so the final cost was more than estimated
Professionalism: Safeway's phone reps and movers were the picture of professionalism!
Timeliness: Safeway delivered Shayndel's items on time, minus a 30-minute delay due to bad weather
Loss and damage: Shayndel had some minor damage, which isn't unusual for a 3,000-mile move with storage
Would Shayndel use Safeway Moving again? Shayndel said she would likely use Safeway again, although she would opt for a video estimate to get a more accurate idea of pricing
Shayndel needed help moving from Santa Clara, California, to Sarasota, Florida
Newly retired, Shayndel needed a change of scenery. She set her sights nearly 3,000 miles east to Sarasota, Florida, as an escape from the cooler California climes.

Licensed
Insured
Price
rating
4.5 / 5
Get A Quote
(855) 650-0657
93% of users select this mover
At A Glance
30 days of free storage on all interstate moves
Veteran owned
Long distance and cross country moves only
A portion of every move is donated to charity
read our full review
Get A Quote
(855) 650-0657
93% of users select this mover
Shayndel and her partner needed to move five rooms' worth of stuff into their 1,200-square-foot home in Florida. With such a big move, Shayndel needed a reliable mover who would show up on time and deliver all-star service.
Going into the move, Shayndel cared most about punctuality but also wanted to work with a friendly, personable company.
Shayndel's move at a glance
| | |
| --- | --- |
| Move date | March 27, 2023 |
| Moved from | Santa Clara, California |
| Moved to | Sarasota, Florida |
| Distance | 3,000 miles |
| Move size | 1,200-square-foot home, 724 cubic feet |
| Moving company | Safeway Moving |
| Moving quote | $5,768 |
| Actual cost | $8,345 |
Shayndel got quotes from three full-service moving companies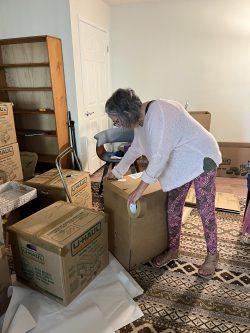 Shayndel knew five months in advance that she wanted to pick up stakes and make a cross-country move. She spent a week Googling movers, looking for companies with good ratings and a reputation for A+ customer service.
But Shayndel couldn't find exactly what she needed on Google. Fortunately, she found moveBuddha. She checked several moveBuddha review posts to find the best company for the job.
She narrowed it down to three of the best moving companies before ultimately choosing to go with Safeway Moving.
Shayndel chose Safeway Moving for their good reviews
Shayndel instantly connected with Safeway's reps over the phone. Impressed by their solid reviews and friendly service, she knew this was the moving company for her.
89% of users select this mover
Shayndel received an estimate over the phone and provided a list of items she wanted to move. As you'll see later, it's essential to be super accurate during phone estimates — this is why Shayndel's moving estimate was different from her final bill.
Shayndel didn't hear much from Safeway after paying a deposit to book her move. She would have liked a few more touch points leading up to the move, but it's normal for movers to wait until about a week before your move date to connect with you.
In the weeks leading up to her move, Safeway emailed her instructions on how to pack her belongings. Shayndel got busy and carefully packed as much as she could in the days leading up to Safeway's arrival.
Moving day was wet but efficient
As luck would have it, California's March weather brought a downpour on Shayndel's move day. Safeway Moving sent Shayndel an email the day of the move with an approximate arrival time, and her movers called later to tell her they would arrive within half an hour.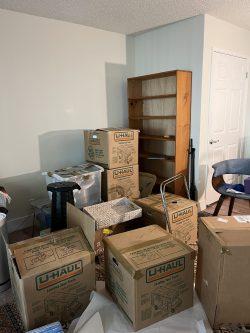 The movers arrived at 2:30 p.m. on March 28. They gave her a window of noon and 2 p.m., but the heavy rain put them a tad behind schedule.
Shayndel has nothing but positive things to say about Safeway's moving crew. They carefully packed her stuff because of the rain, ensuring her boxes stayed dry during loading. Meanwhile, Shayndel camped out in the kitchen to keep out of the way and let the movers do their job.
All in all, loading took 2.5 hours. Shayndel paid half of the invoice by check.
Want to know more about what it's like to move with Safeway Moving? Check out our Safeway Review where we break down pros/cons, costs, and services!
Learn More
Delivery went quickly
It took three weeks for Shayndel's belongings to arrive in Sarasota —right on time. Safeway stored Shayndel's belongings while she planned her relocation to Florida, which gave her one less thing to worry about.
When it was time to retrieve her stuff, Safeway called her ahead of time and arrived right on schedule. The movers were respectful and did a great job unloading her belongings.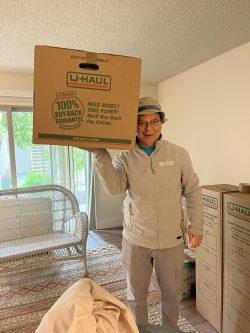 Shayndel did have minor damage to some items and is in the process of submitting a claim. But overall, the process went as she expected.
The final cost of the move was $8,345, $2,500 more than estimated. This happened because Shayndel had more items than she accounted for during the estimate.
To their credit, Safeway Moving explained why they added line items to the invoice and how it would affect the cost. While nobody likes a price increase, Safeway was friendly and transparent throughout the process.
Our take on the move
Safeway Moving did a great job with Shayndel's move! Three thousand miles is one of the biggest moves we've seen with our Better Moves Project participants, and the fact that it cost just over $8,000 is still pretty good.
89% of users select this mover
We know the price increase bummed Shayndel out, but it's important to remember that estimates are just estimates. They're only as accurate as the information you provide to the mover, and in Shayndel's case, she accidentally left off quite a few items.
This is a common problem with phone or online estimates, so if you can, go for a video estimate instead. Sure, you'll have to put on pants and schedule time for it, but accurate moving costs make a big difference in budgeting for your relocation. In hindsight, Shayndel would have asked for a video estimate instead.
She had some damage to her items, which can happen with long cross-country moves. While you can't prevent all damages, try to be as hands-on as possible during the moving process.
Shayndel thought she was helping by hanging out in the kitchen and staying out of the way, but involving yourself in the process is a great way to prevent damage. Be as involved as you can and oversee how the movers handle and stack your belongings —it could make a big difference when it's time to unload.
The verdict
Shayndel wishes her estimate was more accurate, but looking back, she believes she got her money's worth with Safeway Moving. She recommends that other people planning a cross-country move ask for video estimates from several moving companies. This way, you get a more accurate idea of your move's cost.
All in all, Shayndel's belongings arrived on time, nearly 3,000 miles away, with minimal damage. We say that's a home run!
Here's how Shayndel rated Safeway Moving's performance on a scale of 1 to 5:
Communication: 4
Timeliness: 5
Quote accuracy: 3
Overall experience: 4
Do you have an upcoming move? Share your moving story with the Better Moves Project to earn a $500 stipend. Sign up now.
Check out these helpful resources before signing off:
Not what you were looking for?
Check out other categories that can help you find the information you need!
See All
Hide All