Moving APT: Full Company Review
How does Moving APT compare to other professional movers?
Company
Quote
Rating
Price

Safeway Moving

Best Overall Value

Get A Quote

American Van Lines

Best industry reputation

Get A Quote

International Van Lines

Best customer service

Get A Quote
Jump to the Moving APT review section that you're looking for:
About Moving APT
Based in Miami, Florida, Moving APT Inc has specialized in facilitating and providing logistical services for residential and commercial interstate moves since 2010.
A nationwide network of more than 2,500 carriers and having brokered moves for more than 500,000 customers
The website has an exhaustive list of their most-used carriers with a significant summary of the strengths of each one.
An easy-to-use moving cost calculator that uses drop-down menus
Have onboard GPS or other tracking systems that allow customers to monitor them in real-time.
As you navigate to a new page of the website, an annoying popup chat feature appears.
Deposits are not refundable unless you provide a 7-day advanced notice
APT does not appear to facilitate local moves currently
Moving APT offers a broad range of services
Residential long-distance moves: They provide moving services for residences both small and large.
Commercial interstate moves: Businesses relocating can choose from options, including packing and unpacking services, trash and junk removal, and custom crating for safe transport of larger items. Corporate price quotes include Full Value Protection, meaning that they will repair, replace, or reimburse you for any damaged or lost items.
International moves: Applies to customers moving abroad. The three leading international carriers they use are Allied Van Lines, Pricing Van Lines, and United Van Lines.
Packing service: Partial or full packing and unpacking services are always available.
Storage-in-transit (SIT): The truck is fully loaded and then placed in temporary storage until the destination is available to receive the unloaded belongings. They don't mention other longer-term storage options.
Automobile transportation: Transportation is available for cars, motorcycles, boats, and RVs via enclosed or open transport. Rates vary based on size and weight, distance, insurance requirements, and more. The car moving process generally takes at least 2 days and as long as a week or more.
How much does Moving APT charge?
The organization promotes offering highly competitive pricing. Customers are encouraged to secure a binding estimate, which establishes the maximum cost of the moving project. They are currently offering discounts to "seniors, military personnel, and disabled customers."
Their rates range from $1,850 for a one-bedroom apartment to up to $16,000 for five-bedroom homes. They list packing services ranging from $270 to $2,200 and a $1,000 average.
National moving services are calculated based on factors including distance, weight, and size of the load, and labor necessary. Moving APT reminds customers that rates tend to decline by up to 25% in the winter (off-peak) season, and flat rates are also lowest between Monday and Thursday each week.
Moving APT has three preferred "cheap" or "most affordable" carriers, including All My Sons, Two Men and a Truck, and Black Tie. The following chart represents estimate prices based on different variables.

To find out the best prices from top moving companies, check out our moving cost calculator.
Add-On Costs That May Apply
Moving APT explains that three add-on or extra costs may apply to long-distance and cross-country moves, including additional shuttle, insurance, and storage-in-transit (SIT). A shuttle fee may apply for moves involving a location that is inaccessible using a full-sized moving truck.
A smaller shuttle is used as an intermediary to load the full-sized truck by making multiple trips. This cost is between $250-$300.
All carriers must, by federal law to provide the minimum coverage for any customer belongings that are damaged or lost. This amount is sixty cents (.60) per pound per item. The majority of their carriers offer optional coverage that averages $10 per $1,000 of coverage, and deductibles may apply.
SIT applies when they can't access the new home or destination right away. In these cases, they load the truck and store items for up to one month.
The following chart contains the estimated costs for storage in transit.
| | |
| --- | --- |
| Studio (231cf) | $150 |
| 1-Bedroom, Small (390cf) | $253 |
| 1-Bedroom, Large (524cf) | $341 |
| 2-Bedroom (892cf) | $580 |
| 3-Bedroom (1215cf) | $790 |
| 4-Bedroom (1815cf) | $1,179 |
The price for automobile transport rates is on their website (www.movingapt.com). They estimate an interstate transport of a 4-door sedan to be from $600 to $1,000.
They encourage customers to request an in-home estimate because they are the most accurate.
Cancellation Details: A deposit is required to reserve (book) a shipment and is non-refundable unless the cancellation is received more than seven days before the move. You must make cancellations in writing, and they will apply deposits to a future move within the upcoming 12 months.
Overall, Moving APT has a good online presence.
Moving APT is a business registered with Google and has more than 800 reviews with an overall rating of 4.4 out of 5.
It doesn't appear that the company currently has a page on Yelp.
The Better Business Bureau (BBB) page indicates the company is not currently BBB accredited and has an overall B rating. They have received 65 complaints in the past three years and 30 complaints in the last year.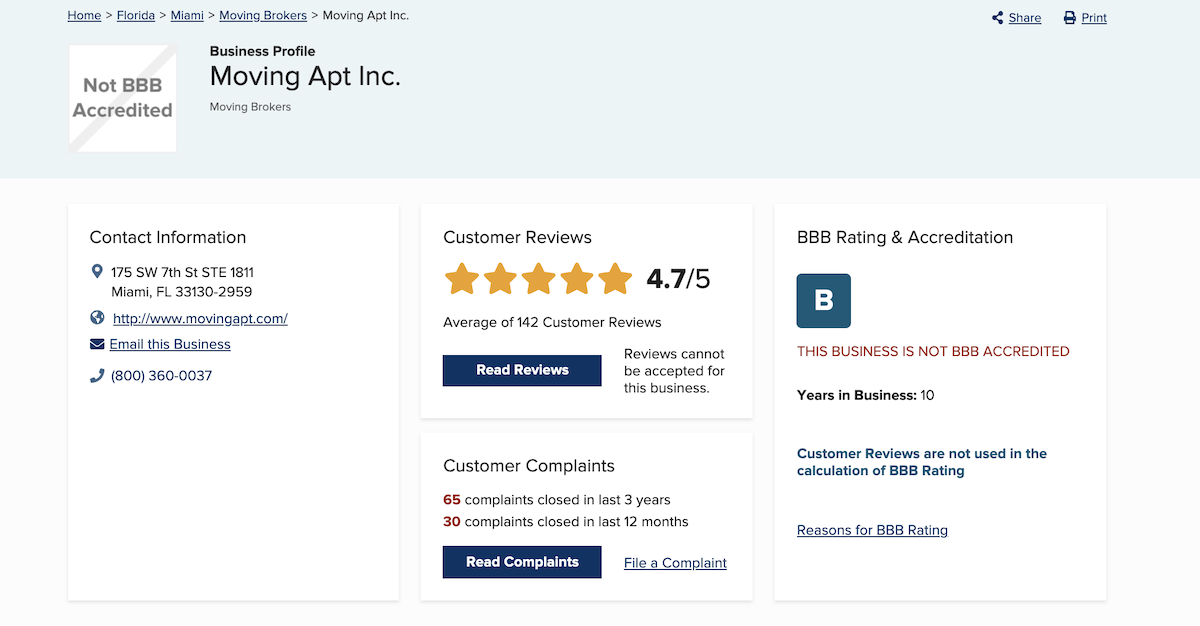 The following is a summary of the categories (nature) of the complaints received.
| | |
| --- | --- |
| BBB Complaint Types | Number |
| Sales or Advertising | 7 |
| Collections or Billing | 6 |
| Deliver-Related Concerns | 20 |
| Warranty or Guarantee | 1 |
| Product or Service Problems | 31 |
Their customer service hours are 9 a.m. to 8 p.m. on Monday through Friday and 9 a.m. to 5 p.m. on Saturday and Sunday via phone call or their online chat.
Is Moving APT licensed and insured?
Moving APT Inc is a moving broker licensed by the Federal Motor Carrier Safety Administration (FMCSA) to transport property and household goods. The organization does have a bond in place as necessary for liability.
| | |
| --- | --- |
| Database | Listed (Y/N) |
| AI FMCSA? | Yes |
| SAFER FMCSA? | Yes |
| Licensing Insurance FMCSA? | Yes |
| Better Business Bureau (BBB) | Listed (Not Accredited) |
For more information on how moving company regulations, and why we choose to look at these databases, check out our post on how moving companies are regulated. 
Should You Consider Moving APT for a Move?
Moving APT is among the many full-service brokers operating in the moving industry based in South Florida. They have a presence in New York, Texas, Florida, and across the US.
They boast an extensive network of well-known carriers that will move household goods between locations throughout the U.S. Customer reviews are generally positive; however, there are a few complaints on their BBB profile regarding damaged items.
Keep in mind that they are not currently handling local moves, and they don't promote any long-term storage services. They appear to be an above-average option for long-distance moves.
For more help choosing the right moving company and to get a free moving quote, check our picks of the top-rated interstate moving companies.
Check out other reviews of some of the best movers:
Not what you were looking for?
Check out other categories that can help you find the information you need!