Moving Experience: Megan's Move with MovingPlace
In March of 2023, Megan began planning an ambitious relocation for herself, her husband, and their two young children. A new residency position opened up for her husband, so the young family decided to move from Cincinnati, Ohio, to Reno, Nevada.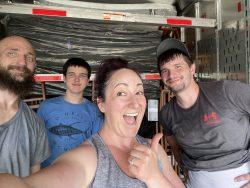 Megan applied for the Better Moves Project to share her moving experience with moveBuddha readers in exchange for a $500 moving stipend.
After consulting the moveBuddha website, Megan decided to go with MovingPlace for their affordability and awesome customer service. As a self-service mover, MovingPlace handles the trucks and transportation, while you handle all of the packing, loading, and unloading.
89% of users select this mover
But in a bid to save a few bucks, Megan also booked third-party labor to load and unload the trucks for her. She's a busy lady, after all.
Spoiler alert: cobbling together a move with multiple companies was super difficult. The third-party movers were more expensive than she budgeted, and they damaged her wooden furniture.
For their part, MovingPlace did an outstanding job and caused no issues. MovingPlace was on time, had great communication, and gave Megan guidance every step of the way.
Megan's primary focus was dealing with the third-party movers who had nothing to do with MovingPlace, but she found MovingPlace to be the easiest, no-hassle part of her move.
Let's look at the details of Megan's move to see how MovingPlace came in clutch during a challenging relocation, and what Megan recommends for anyone else planning a cross-country move.
Move day takeaways for MovingPlace customers
Communication: MovingPlace was incredibly communicative and kept in touch via email and phone calls
Pricing accuracy and transparency: Megan needed more room on the trailer than she thought, so the final cost was more than estimated, but most folks underestimate how many possessions they need to move
Professionalism: MovingPlace's drivers were the picture of professionalism
Timeliness: MovingPlace arrived right on time
Loss and damage: MovingPlace drove carefully and didn't damage her belongings, although the third-party moving labor company Megan hired wasn't as careful
Would Megan use MovingPlace again? Yes, Megan says working with MovingPlace was the best (and easiest) part of her move
89% of users select this mover
Megan needed help moving from Cincinnati, OH to Reno, NV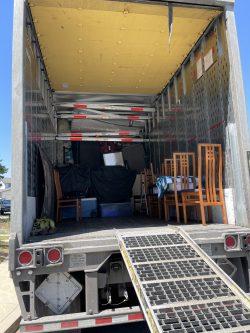 Megan's husband received an invitation to a new residency program, so her family of four decided to pick up and relocate from Cincinnati to sunny Reno.
The family got to upgrade from a three-bedroom apartment (1,445 square feet) to a four-bedroom home (1,699 square feet), so Megan felt excited about having a little extra space. Especially for her energetic three-year-old and one-year-old children.
Megan needed to move nine rooms' worth of stuff, or about 6,000 pounds (60 boxes). She cared the most about finding an affordable provider for such a big move but also wanted to protect her items from damage.
She felt excited about the new adventure, but Megan worried about driving well over 2,000 miles by herself, kiddos in tow. Any parent knows the challenges of driving just a few miles with toddlers, let alone a cross-country trip, so we salute Megan's chutzpah.
Megan needed a trustworthy moving company that would help her handle all of the moving parts that come with a big relocation.
Megan's move at a glance
| | |
| --- | --- |
| Move date | June 15, 2023 |
| Moved from | Cincinnati, Ohio |
| Moved to | Reno, Nevada |
| Distance | 2,155 miles |
| Move size | 3 bedroom, 2.5 bathroom (1,445 square feet) |
| Moving company | MovingPlace |
| Moving quote | $3,520 |
| Actual cost | $4,945 |
Megan got quotes from one self-service mover and two full-service movers

Licensed
Insured
Price
rating
4.0 / 5
Check prices
Check Prices
93% of users select this mover
At A Glance
Long distance moves only
Best pricing on freight trailers
Excellent customer service
Ship your home goods and car option
Very fast long distance delivery times
read our full review
Check prices
Check Prices
93% of users select this mover
Megan started planning the move 13 weeks in advance of moving day and spent two weeks comparing movers—she even had an Excel spreadsheet comparing all of the different options.
She kicked off the search by looking for "best of" lists for cross-country movers and came across moveBuddha. She reached out to the better-rated companies on the moveBuddha site to collect quotes.
To compare apples to apples, Megan gave each company the same inventory list. She also added notes about reviews and customer service in her snazzy Excel sheet. Ultimately, Megan ended up choosing the lowest bid where she still felt comfortable with the quality of the company.
While Megan may have thought she was comparing apples to apples, it's important to note that she got quotes from several types of moving companies.
MovingPlace isn't the same as Safeway or Trinity. MovingPlace only provides the truck and transportation, while Safeway and Trinity include loading and unloading. Keep that in mind when you see the quotes she got.
| | | |
| --- | --- | --- |
| Company | Estimated volume/weight | Estimated cost |
| MovingPlace | 14 feet of truck space (8 feet wide by 9 feet tall) | $3,520 |
| Safeway Moving | 1,180 cubic feet/8,260 pounds | $9,945.77 |
| Trinity Relocation Group | 873 cubic feet/6,111 pounds | $8,848.18 |
Megan chose MovingPlace for their affordability and customer service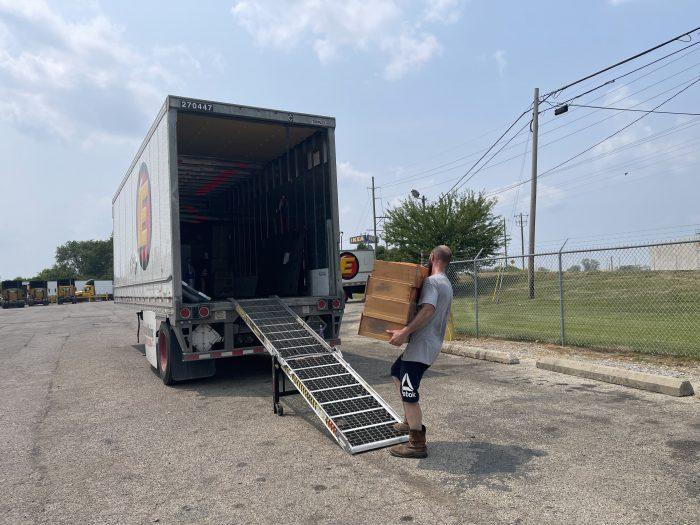 After sourcing a few quotes from full-service movers, Megan found MovingPlace and loved their concept of "you load, we haul." She thought she could save a few bucks by hiring different companies for transportation and loading, so she went with MovingPlace for transport.
MovingPlace responded to Megan's request via email. She sent them the inventory list and they replied to her email with a written estimate. They quoted her $3,270, or $250 per foot of space on the truck, which was less than she expected.
Megan loved that MovingPlace had great customer service but wasn't too pushy. And it didn't hurt that they gave her great value for the money.
She decided to go with MovingPlace and chatted with them about ten times to hash out all of the finer details.
Megan bought space on the moving truck, as well as transport services through MovingPlace. She separately contracted with a moving labor company to load the truck and a third company to unload the truck (Psst! We don't recommend doing that, and you'll see why in a sec).
To avoid the problems Megan had with third-party labor, consider hiring a full service mover to handle the whole move
Learn More
Before the move, MovingPlace stayed in touch with Megan and was very helpful. They gave her pointers on how to pack for the move and secure items in the back of the truck.
While we would normally recommend movers buy extra insurance for cross-country moves, Megan already had coverage. Her renters and valuable personal property insurance policies through USAA actually covered this, so she didn't need additonal moving insurance.
If you already have a robust insurance policy, read through it before hiring a moving company to see if you already have moving insurance coverage. It's a great way to save a few bucks!
Moving day was a little hectic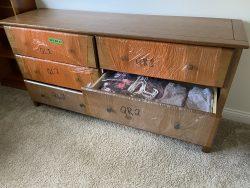 While MovingPlace showed up on time and had no issues, the labor company was another story. The original labor company Megan booked canceled 19 hours before her reservation.
… And then the second company canceled 12 hours before the move.
Fortunately, the third one actually showed up.
Movers in hand, Megan prepped by packing all items. MovingPlace had great communication leading up to moving day. They also arrived right on time at 9:50 AM, within the window they provided.
The problem was that the MovingPlace truck wouldn't fit in Megan's small apartment complex, so she had to rent a U-Haul to transport everything to a trucking depot. This made moving day longer and more complex, so always check your apartment's policies and roadway sizes before booking a commercial-size truck for your move.
All in, it took eight hours to load Megan's stuff, transport it back to a trucking depot, and repeat the process with a surprise second load.
She took up 16 feet on the commercial truck instead of 14, so the MovingPlace quote increased. This is very common, especially if you pack for your own move. If you want a more accurate estimate on spacing, it's best to pay for packing services from a full-service mover.
Megan also started lifting and loading her belongings to speed up the move. While you don't have to break your back moving your items, we do recommend getting involved in the moving process. This way, you have more of a say over how the movers treat your belongings.

Licensed
Insured
Price
rating
4.0 / 5
Check prices
Check Prices
93% of users select this mover
At A Glance
Long distance moves only
Best pricing on freight trailers
Excellent customer service
Ship your home goods and car option
Very fast long distance delivery times
read our full review
Check prices
Check Prices
93% of users select this mover
Delivery was on time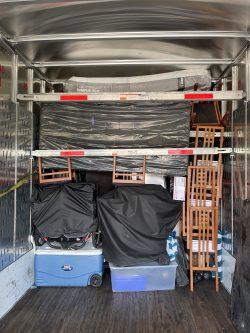 It took two weeks for MovingPlace to transport the items from Cincinnati to Reno. Everything arrived on time and MovingPlace stayed in close communication with Megan during transport.
MovingPlace dropped off the commercial trailer in front of Megan's new home, and a third-party company handled unloading for her.
The problem, though, is that Megan realized the loading company loaded her wooden furniture incorrectly. They placed the furniture on the bottom of the truck, which damaged nearly every piece of furniture. Since she signed a waiver with those movers, she can't submit a claim for reimbursement, so Megan may need to submit a claim through her insurance.
In total, MovingPlace cost $4,945, which is about $1,500 more than the initial estimate. That's a little high, but you can get more accurate pricing if you:
Pay for packing services
Hire a full-service mover
Ask for an in-home estimate where the professionals calculate everything for you.
Our take on the move
89% of users select this mover
Honestly? MovingPlace knocked this move out of the park.
Megan wasn't a fan of the difference between the quote and the final cost, but this can happen with moves where you're estimating your own weight and volume instead of letting the professionals do it for you.
More often than not, Zoom estimates or in-home estimates are the way to go.
Megan had a lot of issues with the third-party labor companies she hired, which is why we don't recommend hiring several companies to handle your move.
If you need labor, go with a full-service mover that offers both transportation and labor in one. The last thing you want is to juggle multiple companies and points of contact during an already busy time.
The MovingPlace commercial trailer wouldn't fit inside Megan's apartment complex and she had to rent a U-Haul to transport everything to the truck depot. But if Megan had asked more questions, she might have booked with a full-service mover or booked a few smaller trucks to transport everything.
Megan thought this approach would save her some money, but looking back at the move, the $1,500 she saved wasn't worth the extra hassle.
The verdict
Megan had no problems working with MovingPlace. If anything, the issues in her move came down to third-party labor and parking issues at her apartment complex.
In hindsight, Megan should have booked a full-service mover. It didn't make sense to plan a piecemeal move when a full-service company could have handled everything.
However, she does think MovingPlace is ideal if:
You're moving a long distance
You can load and unload the truck yourself without hiring additional labor
The commercial trailer will fit at both of your locations
All in all, Megan found that MovingPlace was worth the money and recommends them to movers who aren't afraid to DIY loading and unloading.
Here's how Megan rated MovingPlace's performance on a scale of 1 to 5:
Communication – 5
Timeliness – 5
Quote accuracy – 4
Overall experience – 5
Do you have an upcoming move? Share your moving story with the Better Moves Project to earn a $500 stipend. Sign up now.
Check out these helpful resources before signing off:
Not what you were looking for?
Check out other categories that can help you find the information you need!
See All
Hide All