Moving Experience: Matt's Move with MovingPlace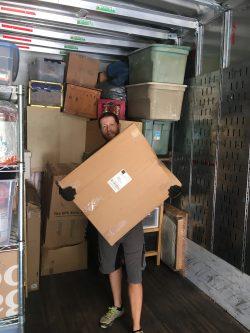 Matt and his family moved from Berkeley, California to St. Paul, Minnesota in mid-June of 2022.
After getting moving quotes from the "usual suspects," Matt booked a freight trailer through MovingPlace.
Unlike traditional container companies like PODS and U-Pack, MovingPlace is a transportation broker.
MovingPlace claims to offer the convenience of full-service movers at rental truck prices.
So did MovingPlace deliver as promised, or did the company fail to meet Matt's expectations?
To help others considering a move like his, Matt agreed to participate in our Better Moves Project by documenting and sharing his experiences with MovingPlace.
In this post we'll look at what went well on Matt's move, what didn't go so well, and whether he'd use MovingPlace again.
Important takeaways for MovingPlace customers
Communication: MovingPlace made a big (and unwelcome) change to Matt's move just days before his scheduled service date
Pricing accuracy and transparency: Matt paid less than expected, but he ended up doing way more work too
Timeliness: Matt's household goods were delivered on time
Loss and damage: Nothing was lost or damaged during Matt's move
Would Matt use MovingPlace again? Yes
Matt's move details at a glance
| | |
| --- | --- |
| Moving from | Berkeley, California |
| Moving to | St. Paul, Minnesota |
| Distance | 2,000 miles |
| Moving company | MovingPlace |
| Moving quote | $3,529 (based on linear feet of trailer space) |
| Actual cost | $3,218 |
The vetting and quote processes were relatively easy
Matt and his family were excited to move into their new home, but he was worried that there wouldn't be enough space on the trailer and that his household goods wouldn't be delivered on time.
Thankfully he had plenty of time to find a reputable mover. Once he got started, the process took just ten days.
Matt did various Google searches and used moveBuddha to compare service providers and request quotes. 
During the vetting process, he also read these posts:
Matt got quotes from PODS, Zippy Shell, and U-Pack, but MovingPlace came through with the lowest price.
MovingPlace's quote included fuel, transportation, door-to-door delivery, and basic insurance.
Matt's representative answered his questions and provided helpful loading tips and important trailer parking information.
Matt prepared by decluttering, packing, and wrapping his family's bicycles in moving blankets and stretch wrap.
The plan was to drop the trailer at Matt's home in California, but MovingPlace threw him a giant curveball a few days before his move.
Moving day didn't go as smoothly as it could have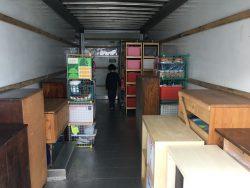 Five days out, Matt received an unpleasant and unexpected call from MovingPlace.
Due to logistical issues or poor planning on the company's part, Matt would have to load the trailer at a freight terminal 15 miles away from his home.
This meant that he'd need to rent a U-Haul and do tons more work than expected.
Worse yet, getting an early start was out of the question because the trailer wouldn't be available until the afternoon.
Talk about a huge hassle.
In the end, loading and unloading the U-Haul and moving everything onto the freight trailer took more than 20 hours.
It would have taken longer if not for the go-getter in the blue hat (below).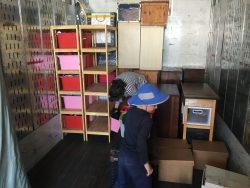 Delivery was relatively quick and painless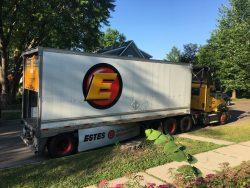 Matt's household goods arrived in Minnesota 17 days after leaving California.
Matt was told to expect the trailer at approximately 7:30 AM on the scheduled delivery day.
After the driver dropped the trailer on the street, Matt and his family:
Set up the ramp
Removed the bulkhead
Started moving everything into their new home
Some settling had occurred during transit, but nothing was damaged or missing.
MovingPlace didn't follow up after the move to see how everything went.
What could have gone differently
Matt's biggest issue with MovingPlace was that the trailer wasn't dropped at his home in California as promised.
Not only did he have to scramble to rent a U-Haul, but the loading process took twice as long as it should have.
Matt and his family got everything done, but their move would have been a disaster if they'd been elderly, disabled, or unwilling to do the extra work themselves. 
Matt's advice to anyone planning a move like his
For families on the move, Matt recommends:
Setting aside plenty of time for packing (it always takes longer than expected)
Using as many standard-size moving boxes as possible to make stacking and loading easier
Coming up with a loading plan before move day
Loading carefully and filling holes to prevent shifting and settling during transit
The downside of freight trailers
It's worth noting that MovingPlace subcontracted Matt's move to national LTL (less-than-truckload) freight carrier Estes Express Lines.
Nothing got damaged, but Matt's trailer probably had a spring-ride suspension designed for hauling general freight.
Spring-ride trailers may not be the best choice for customers moving fragile, sensitive, and breakable items.
On the other hand, nearly all moving vans have air-ride suspensions that are far gentler on household goods.
How did MovingPlace stack up?
Despite the last-minute change, Matt would use MovingPlace again.
After all, the company delivered everything on time and was far cheaper than the competition.
The next cheapest option would have cost nearly 50% more and required Matt to do the driving.
However, Matt wishes that MovingPlace would have honored its original commitment to bring the trailer to his home in California.
Our Take
Despite moving during the busiest time of the year, Matt's experience went smoothly for an interstate move.
Summer is the peak moving season, with about45% of annual U.S. moves take place between May and August.
So the likelihood of delays and a lack of communication are common during that time.
All things considered, we're glad Matt had a good experience with MovingPlace.
In Matt's own words:
"An interstate move for a family is hard work, and I don't want to do it again!"
Well said.
Before you go, check out these helpful move resources:
Not what you were looking for?
Check out other categories that can help you find the information you need!
See All
Hide All