MovingPlace Review: Costs, Services, and Reputation
Here's the bottom line: MovingPlace is a well-reviewed self-service moving company that can help you move on your own terms. The company doesn't offer moving help, so you may want to partner with their sister company, HireAHelper, if you need labor assistance.
89% of users select this mover
We spoke to Matt and Megan, two recent MovingPlace customers, to learn more about their moving experiences through our Better Moves Project. Both customers would work with the company again, as they were impressed with MovingPlace's timeliness, communication, and professionalism when moving their items.
With that said, MovingPlace only supplies the truck, so you may need to hire extra help if you have bulky furniture or a significant volume of household goods to move. Outsourcing providers can make the moving process more hectic and the costs more difficult to estimate, so it may not always be the best moving company for logistically complex relocations.
You can take a look at our best interstate moving companies and best moving container companies to compare MovingPlace to its competitors. Keep reading to uncover all the important details you'll need to make an informed decision that supports your moving needs.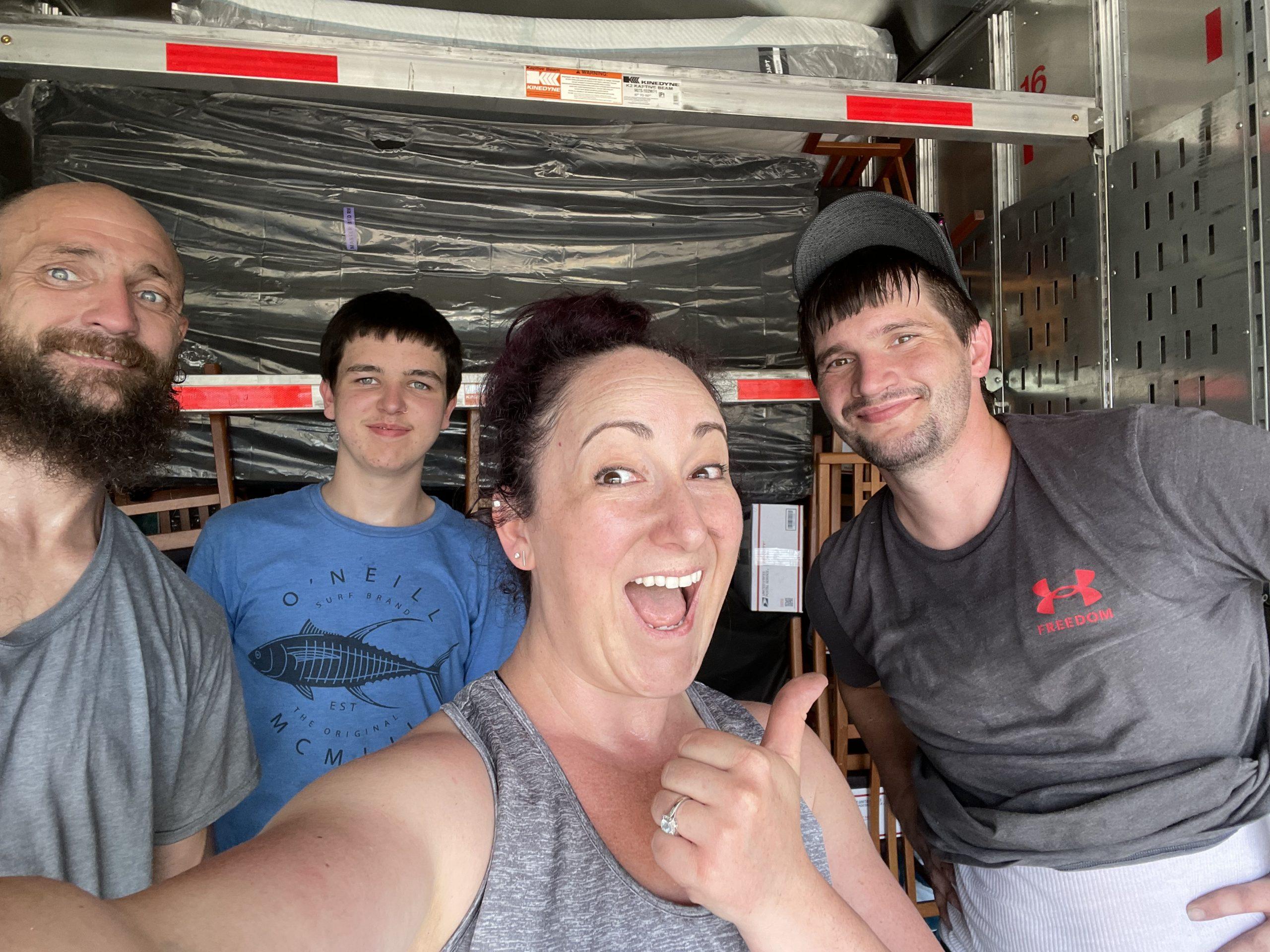 Recommended
Megan's Move with MovingPlace
In March of 2023, Megan began planning an ambitious relocation for herself, her husband, and their two young children. A new residency position opened up for her husband, so the young family decided to move from Cincinnati, Ohio, to Reno, Nevada. Megan decided to go with MovingPlace for their affordability and awesome customer service.
Read The Full Story
Pros & cons of moving with MovingPlace
Best pricing on freight trailers
Excellent customer service according to customer reviews
DIY structure gives you control of the whole process
Fast deliveries on long-distance and of out-of-state moves
Offers shipping options for household goods and vehicles
Provides up to three business days to load and/or unload the moving van or truck, so you don't have to cram everything into your moving date
Last-minute availability (often less less than 48 hours)
Weekend service is available for no additional charge
Competitive pricing and moving services for relocations more than 250 miles
No online quotes
No local moving options
Doesn't offer unpacking or packing services
No professional movers (company is entirely self-service)
Isn't currently available in Hawaii or Alaska
Can't ride with your items or transport vehicle
Punctuality concerns often arise for those having automobiles transported
Need to account for the potential limitations associated with navigating a 53-foot trailer through residential streets and accessing tight spaces for loading and unloading
Several customers accused the company of sharing their information with other moving companies, which resulted in being inundated with unwanted phone calls, texts, and e-mails
Key takeaways
MovingPlace (USDOT#2360948) is a self-service moving company that provides container space perfect for cross-country and long-distance movers. Bonus: You don't have to drive!
Customers generally have positive experiences with this moving company, but you'll have to coordinate more logistics than hiring a full-service moving company.
MovingPlace can be an alternative to U-Haul, PODS, and more expensive van lines, especially for interstate moves.
Jump to the MovingPlace info you're looking for:
MovingPlace pricing: How much it costs to move
Unfortunately, MovingPlace doesn't even offer ballpark pricing estimates online. You'll always have to call.
Matt and Megan both did their research by requesting quotes from several companies. Matt liked that MovingPlace's pricing estimate included fuel and door-to-door delivery. Megan requested quotes from four moving companies, including two self-service and two full-service moving companies. She ultimately went with the lowest estimate.
How Much do Movers Cost?
Get instant ballpark pricing. No email or phone required. It's fast, free, and easy.
MovingPlace representatives estimated Matt's move from Berkeley, California to St. Paul, Minnesota, at $3,529 based on the amount of space he'd need, but his actual cost was slightly lower — $3,218 — by the time all was said and done.
Megan moved from Cincinnati to Reno, Nevada, and her move cost her $4,945 compared to her original estimate of $3,520. MovingPlace doesn't provide binding estimates, so it's important to note that the original quote won't reflect your full price if you have changes in your inventory list or encounter other factors that result in delays.
Rates vary based on location, time of year, demand, and other factors. The organization markets itself as an affordable alternative to truck renting, particularly for moves longer than 250 miles.
According to our estimates, a move from Ohio to Georgia using 20 feet of space on a moving truck will cost slightly more than $2,500.
Other pricing estimates
| Move type | 1 bedroom | 2–3 bedrooms | 4–5 bedrooms |
| --- | --- | --- | --- |
| <250 miles | $1,100–$1,300 | $1,200–$1,700 | $1,400–$2,100 |
| Cross-country | $1,100– $2,500 | $1,900–$3,200 | $2,900–$4,700 |
You can find the best value for your upcoming relocation using our moving cost calculator.
89% of users select this mover
MovingPlace offers a wide variety of services
MovingPlace's services include the following:
"You Load, We Drive": This is MovingPlace's primary service offering, in which the customer loads the trailer and later unloads it upon arrival at the new location. You load and they drive everything to your new home. You can compare MovingPlace to PODS, U-Haul, and similar companies.
Truck drop-off: Typically, MovingPlace will drop off the truck for loading and pick it up the following day. Those who wish to load immediately ("live load") have one hour to do so at no charge or pay $150 per hour for the driver to remain onsite. The rental truck, fuel, driver, and transport are all included in the quote. You can transport your car in the trailer directly with your home goods.
Truck and container sizes: All trucks are 28 feet long, 8 feet wide, and 9 feet tall (interior). However, MovingPlace will partition the truck as needed to hold multiple customer loads. A full 53-foot trailer option is also available, equipped with a ramp, moving pads, straps, and dollies.
Storage services: MovingPlace can provide a temporary storage facility for up to three months. Local storage is not available.
Vehicle transport: Vehicles are either moved within a 53-foot transport truck or using a designated automobile transport vehicle.
Tradeshow services: A tradeshow specialist offers customized transport services for commercial customers.
Military moves: Military members are encouraged to call for moving services throughout the U.S. (Hawaii and Alaska excluded).
International moves: MovingPlace partners with UPakWeShip, a trucking company based in the United Kingdom.
Insurance: MovingPlace is properly insured and offers basic valuation for customers' household goods, but they don't offer customers additional insurance coverage options for purchase. As such, you'll be limited to $0.60/per pound of belongings. This means, for example, that if your $500, 25-pound smart TV is damaged or broken, you'd be compensated just $15 (.60 x 25). Both Megan and Matt reported that MovingPlace transported their items with care, and there wasn't any damage that could be attributed to their drivers.
How MovingPlace stacks up against the competition
MovingPlace's customers appear overwhelmingly satisfied in most cases, and both Megan and Matt's real-life experiences support these claims. The company keeps things fairly simple with two truck sizes, automobile transportation, and limited storage services, which allows it to focus its resources squarely in those areas.
When complaints are posted online, a representative from the organization generally responds to correct the problem. Many customer reviews, including Megan and Matt's experiences, applaud the company's proactive communication and personable customer service that minimized much of the headache of the moving process, even when there were delays.
However, several customers were frustrated when their cars were not picked up according to schedule or arrived late at their destinations. Like other automobile transport companies, MovingPlace partners with local owner-operators to move the vehicles. MovingPlace is more of a facilitator than a service provider in this case. Third-party services can result in varying service quality, so we recommend proactive communication and leaving wiggle room in your schedule.
MovingPlace is accredited by Better Business Bureau (BBB) and holds an A+ rating. Customer reviews have it averaging 3.94 out of 5 stars, which we consider a strong reputation that rivals some of the best long-distance moving companies in the industry.
How moving with MovingPlace works
Matt experienced his fair share of headaches during the moving process, so he wouldn't exactly call it stress-free. Similarly, Megan's moving day was hectic, even though she did everything in her power to be as organized as possible.
Matt's biggest headache was getting a call five days before his move date stating that he would have to load his freight trailer 15 miles away from his home. While this wrinkle in the plan was a big inconvenience, Matt was given enough lead time to make adjustments.

Licensed
Insured
Price
rating
4.0 / 5
Check prices
Visit Website
93% of users select this mover
At A Glance
Long distance moves only
Best pricing on freight trailers
Excellent customer service
Ship your home goods and car option
Very fast long distance delivery times
read our full review
Check prices
Visit Website
93% of users select this mover
With that said, it's important to note that this adjustment likely wouldn't have been necessarily had he worked with a full-service moving company, and the extra cost of having to unexpectedly rent a U-Haul increased his overall budget.
In Megan's case, her MovingPlace truck arrived on time. However, she, too, had to rent a U-Haul to load her belongings at a partner facility when the truck didn't fit in her small apartment complex's parking spaces. Megan also had a surprise second load when her belongings didn't fit in her originally estimated 14 feet of space. Instead, she needed 16 feet.
Matt's belongings arrived at his new home within 17 days. Though some belongings had moved during the transport process, nothing was damaged. Megan's belongings arrived in two weeks, and she used a third-party labor company to unload her belongings. Nearly all her furniture was damaged by this company, but she says this damage wasn't MovingPlace's fault.
While both customers had their fair share of issues throughout the moving process, they both felt that MovingPlace delivered on its promises. Matt recommends allotting as much time as possible to move your items because it always takes longer than you imagine. Megan recommends triple-checking your origin and destination locations' space limitations to ensure the truck fits.
Despite these issues, Matt and Megan were happy with MovingPlace's communication and ease of use once they troubleshooted the logistics on moving day.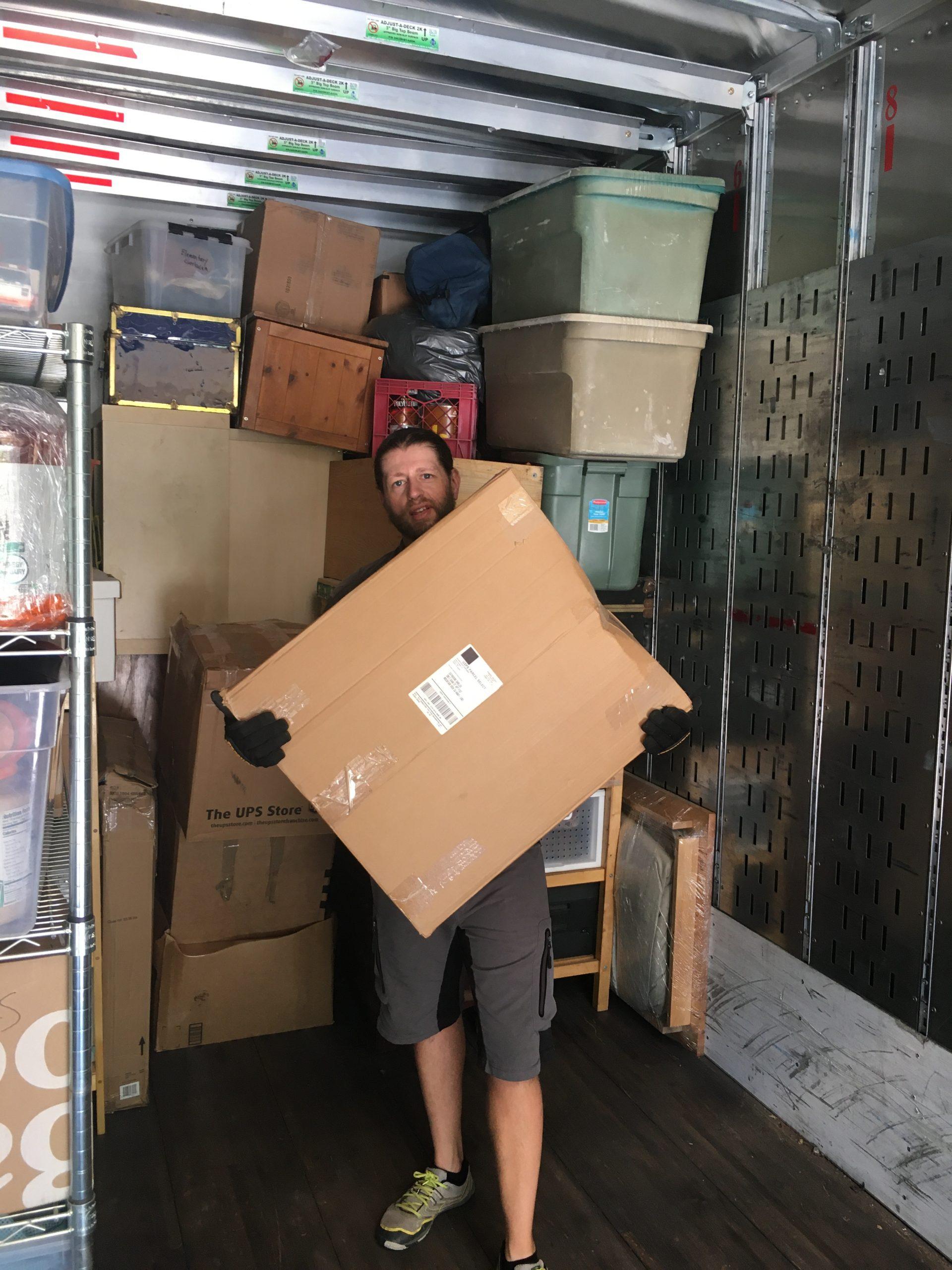 Recommended
Matt's Move with MovingPlace
Matt and his family moved from Berkeley, California to St. Paul, Minnesota in mid-June of 2022. After getting moving quotes from the "usual suspects," Matt booked a freight trailer through MovingPlace. Unlike traditional container companies like PODS and U-Pack, MovingPlace is a transportation broker.
Read The Full Story
MovingPlace is perfect for people who are moving long-distance and don't mind doing the heavy lifting
MovingPlace is a viable option if you're willing to handle the loading and unloading of your belongings or coordinate third-party moving help.
You'll have up to three days at the loading site and the destination for unloading, which allows you to spread your labor out over a few days instead of doing it all at once. MovingPlace uses trucks instead of portable storage containers, so be sure to verify your space accommodates the truck size.
MovingPlace doesn't assume responsibility for items damaged during transport that result from poorly loading and insufficiently securing the belongings within the transport vehicle. If you elect third-party moving help, add extra insurance for peace of mind.
MovingPlace provides long-distance moving services exclusively. If you are moving locally, you should look elsewhere. The truck sizes are 28 or 53 feet, and partial loads are separated from other customers' loads using moveable partitioning, so you only pay for the space you need.
They provide nationwide automobile transportation services, which can be an excellent option if you're moving a household and want to take your vehicles. They offer competitive prices and don't overcharge on their quotes.
We recommend requesting at least three quotes using our moving cost calculator and comparing all companies against our best moving companies to ensure you get the best bang for your buck. Issues on moving day are common, but it always goes better when you work with a company you trust.
FAQ
What payment methods does MovingPlace accept?
MovingPlace accepts all major credit cards. It doesn't appear to accept cash or checks, but you can ask customer service when you make your reservation.
Is there anything MovingPlace can't move?
MovingPlace is limited in what it can legally move. Avoid packing the following items:
Batteries
Cleaning products, including ammonia and bleach
Fireworks
Food
Nail polish remover
Paint
Plants
Does MovingPlace offer coupon codes?
Yes, MovingPlace occasionally offers coupon codes and discounts for certain demographics. Inquire about promotions when you book your move.
Not what you were looking for?
Check out other categories that can help you find the information you need!
See All
Hide All