Moving Experience: Chloe's Move with U-Pack
In mid-October 2022, Chloe and her dog moved from Fresno, California, to Salt Lake City, Utah.
Chloe got quotes from several full service movers and moving container companies, but she ultimately chose to move with U-Pack.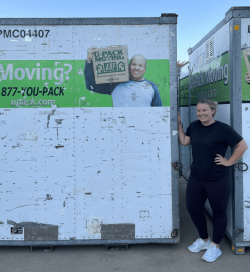 With competitive prices, two types of equipment (ReloCube containers and 28-foot freight trailers), and more than two decades of experience, it's no wonder customers like Ryan and Janna regularly have positive experiences with U-Pack. Local moving services aren't available, but we recommend getting a quote from U-Pack if moving more than 100 miles.
To take advantage of a $500 relocation stipend and to help anyone considering a move like hers, Chloe participated in our Better Moves Project by sharing her experiences with U-Pack. Spoiler alert: Chloe gave U-Pack high marks for pricing accuracy, timeliness, and overall value.
Now without further ado…a play-by-play breakdown of Chloe's move from California to Utah.
Move-day takeaways for U-Pack customers
Communication: U-Pack communicated effectively throughout Chloe's move (there was a minor billing issue, but U-Pack resolved it quickly and satisfactorily)
Pricing accuracy and transparency: U-Pack's quote for two ReloCube containers was right on the money
Timeliness: Chloe's household goods arrived in Utah slightly earlier than expected
Professionalism: U-Pack's customer service representatives and drivers were helpful, professional, and courteous
Loss and damage: Nothing was lost or damaged on Chloe's move
Would Chloe use U-Pack again? Yes, Chloe would definitely consider using U-Pack again on a future move
Chloe needed help moving from Fresno to Salt Lake City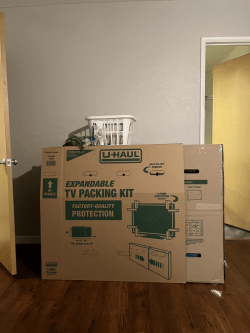 Planning, organizing, and downsizing were big priorities because Chloe moved from a multi-bedroom home in Fresno to a 1-bedroom apartment in Salt Lake City.
In the weeks leading up to her move, Chloe whittled her shipment down to just 20 boxes and standard household furniture that weighed about 1,500 pounds. She didn't move any specialty items like pianos or chandeliers, but she had a few large pictures and a fragile floor lamp that needed special attention.
To get the best deal possible, Chloe considered hiring full-service movers, using moving containers, and renting a truck from U-Haul. Keeping costs low was important, but she wanted to work with a reputable, experienced company that communicated effectively and met its service commitments.
Chloe's move details
| | |
| --- | --- |
| Move date | October 14, 2022 |
| Moved from | Fresno, California |
| Moved to | Salt Lake City, Utah |
| Distance | 812 miles |
| Move size | Partial contents of a 3-bedroom home (roughly equivalent to a moderately furnished 1-bedroom apartment) |
| Moving company | U-Pack |
| Moving quote | Between $2,100 – $2,952 (Chloe wasn't sure if she'd need one or two ReloCube containers) |
| Actual cost | $2,952 for two ReloCube containers (Chloe's move cost approximately $3,500, including packing material and movers in Salt Lake City) |
Chloe got multiple quotes before selecting U-Pack
Chloe spent nearly a month researching service providers and getting quotes from big national van lines, interstate moving brokers, and moving container companies like U-Pack
Her comprehensive vetting process included the following:
Doing Google searches
Checking various online review sites
Asking friends, family members, and coworkers for referrals
Taking advantage of free resources like our moving cost calculator (it's a great budgeting tool)
When it was all said and done, Chloe had ten quotes that ranged from less than $3,000 to $8,000. Because she wasn't sure how much her things weighed or how much space they'd take up in a moving container, most companies gave Chloe a range of prices to account for these unknown factors.
Here's how her quotes compared:
| Company | Move Size | Estimated cost |
| --- | --- | --- |
| Mayflower | 2-3,000 lbs | $5,000 – $8,000 |
| Moving Connections | 2-3,000 lbs | $6,000 – $7,000 |
| United Van Lines | 2-3,000 lbs | $5,700 – $6,300 |
| National Van Lines | 2-3,000 lbs | $4,200 |
| PODS | 2-3,000 lbs | $3,500 – $3,900 |
| American Van Lines | 2-3,000 lbs | $3,307 |
| Safeway Moving Services | 2-3,000 lbs | $3,099 |
| Moving APT | 2-3,000 lbs | $2,750 |
| Nationwide Moving Services | 2-3,000 lbs | $2,495 |
| U-Pack | 2-3,000 lbs | $2,100 – $2,950 |
U-Pack's quote included door-to-door transportation from Fresno to Salt Lake City, all applicable taxes, fees, surcharges, and free catastrophic liability and carrier negligence coverage.
U-Pack came through with the services Chloe needed for a price she could afford
Chloe wasn't about to spend $8,000 for a full-service moving experience, and she didn't get a good vibe from some of the movers that provided lower quotes. She also ruled out a two-day drive in a clunky moving van, which meant that moving containers made the most sense. Thankfully, U-Pack provided a reasonable quote for the services she needed.
89% of users select this mover
89% of users select this mover
In addition, Chloe liked that:
She could do nearly everything online
She could call in and speak with a knowledgeable customer service representative when she had questions.
U-Pack had lots of positive online reviews and more than two decades of experience (the company was founded in 1997)
She wouldn't pay a dime for the second container if she didn't need it (she ended up using both containers)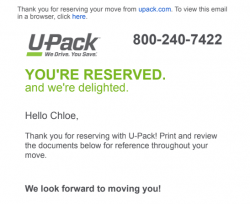 Throughout the quote process, Chloe felt confident that U-Pack's prices and services were straightforward and that they'd live up to their commitments. After she booked her move, U-Pack sent an email that outlined the container moving process and a video tutorial about how to load a ReloCube container to prevent shifting and damage.
U-Pack customers can easily add moving labor to any order, but Chloe did her search for movers in Salt Lake City and got a reasonable $285 quote (2 movers for 3 hours) from Moving Connections. She decided to do the packing and loading herself to save money, and she spent $160 on packing supplies from Walmart, Amazon, and U-Haul.
To make move-in day as painless as possible, Chloe reached out to the property manager at her new apartment to determine where to place her containers. It's always a good idea to check on parking and container rules in your area.
Moving day was long, but everything went as planned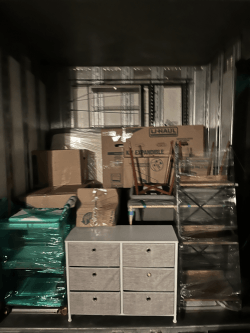 U-Pack sent Chloe a text message on October 12th to confirm that they would deliver her two ReloCube containers between 8 AM and noon on the 14th. As planned, the driver showed up at 11 AM and put the containers exactly where Chloe wanted them.
Nearly everything was packed and ready to go, but it took Chloe and her friend more than nine hours to pack last-minute items and load everything into the containers.
The driver said he could pick them up the same day at or before 7 PM, but this didn't work for Chloe because she and her friend didn't finish up until 8 PM.
When her containers were picked up on the 17th, the driver answered Chloe's questions, gave her contact numbers for U-Pack's Salt Lake City terminal and national customer service line, and provided her with tracking numbers for her ReloCubes so she could follow their progress in real-time.
On the 18th, U-Pack charged Chloe's credit card, reconfirmed her delivery window, and asked her to ensure that the containers' parking area was clear before the driver arrived.
Delivery was quick and easy.
Chloe loved that she could see where her containers were at the end of each day. This allowed her to estimate when she could expect delivery and when to schedule the crew from Moving Connections.
U-Pack delivered Chloe's containers to her new apartment in Salt Lake City at 11:15 AM on the 24th, which was perfect because she'd scheduled the movers to arrive at noon.
The crew worked quickly and efficiently and had everything into the apartment in just 90 minutes. Since there was a 3-hour minimum, Chloe had them set up her bed, table, and television and ensure all the boxes were in the correct rooms.
U-Pack picked up the empty containers the following day and sent Chloe a link to a post-move survey where she could provide feedback.
The verdict – how did U-Pack stack up?
From pricing accuracy and top-notch customer service to on-time pick-up and delivery, Chloe's move with U-Pack was a success by nearly every measure.
Chloe initially wanted to keep her moving costs between $2,500 and $3,000, but in hindsight, she thinks she got a great bang for her buck.
Here's how she rated U-Pack on a scale of 1 to 5:
Pricing accuracy – 5
Timeliness – 5
Communication – 4
Overall Experience – 5
Chloe raved about U-Pack's proactive communication, but there was one minor hiccup. When she called to confirm delivery for the 24th, she was told that it hadn't been scheduled because she hadn't paid, even though her credit card was charged on the 18th. Thankfully the issue was resolved quickly, and the representative apologized for the confusion.
Chloe would definitely consider using U-Pack again, and she couldn't have been happier with the service she got from Moving Connections as well.
Chloe's advice for anyone planning a move like hers
Chloe suggests planning ahead, getting multiple quotes, and trusting your instincts when considering service options and researching movers. Some of the full-service moving quotes she got seemed too good to be true, and she got the impression that a few of the sales representatives were telling her what she wanted to hear.
Chloe's hybrid couldn't have gone more smoothly, but she would have liked to hire movers to help with loading in Fresno. Unfortunately, this would have cost another $250 to $450, so she and her friend had to spend an entire day loading the containers themselves.
Best Overall Value
Visit Website
Best Overall Value
Long distance moves only
Only pay for the space you use
No deposit or initial fees
Fast delivery time frames
Visit Website
LEARN MORE
Before signing off, check out these helpful resources:
Not what you were looking for?
Check out other categories that can help you find the information you need!