U-Pack vs. Alternatives: How Do They Compare?
Fast delivery
Nationwide
100+ miles moves

Unlimited storage
3 container sizes
Nationwide

Price matching
10% discount
Local/long dist.

4-5 Bdrm Houses
Nationwide
No local moves

Park on street
Labor available
Small moves
This article explores U-Pack's service, comparing it to PODS, 1-800-PACK-RAT, and independent full-service movers to help you make an informed decision – so you can get packing and moving toward the next chapter of your life.
When you're getting ready for a big move, the last thing you want is to have a snafu happen with your moving service. You also don't want to be so overwhelmed that you can't determine which one is best for your needs.
If your moving day is fast approaching, you need to lock in your ideal moving service.
Snapshot: all about U-Pack
U-Pack, owned by ABF, is a moving service halfway between full-service moving and rental truck service, where you load and unload your belongings but don't need to handle the driving. U-Pack is intended for those moving long distance from state to state. You might not be able to use U-Pack if you're moving within the same state since this option depends on total mileage and service centers. To find out, check the coverage areas or speak with a customer service representative.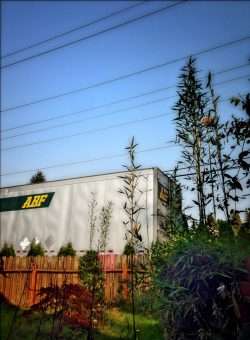 What does U-Pack offer?
Containers and trailers
You'll choose from ReloCubes or a moving trailer, depending on your needs and the company's equipment availability. Each ReloCube is a metal, weatherproof container measuring 7 feet wide by 6.3 feet deep by 8.4 feet high; interior measurements are 70 inches by 82 inches by 93 inches. According to their website, this should hold one room's worth of furniture. The moving trailer measures 28 feet long by 8 feet wide by 9 feet high on the outside, comes with a loading ramp, and can hold up to 1,944 cubic feet – equivalent to a 3- to 4-bedroom home.
Pickup and delivery
U-Pack drops off your ReloCubes or moving trailer at your residence, giving you up to three days to load your belongings. They'll pick up the trailer or ReloCubes and take them to your destination, estimating a delivery of between three to five business days. U-Pack does not pick up or deliver during weekends.
Service options
You can choose from door-to-door service, terminal-to-terminal service, or a combination of door-to-terminal or terminal-to-door service.
A full review of U-Pack
To make the best choice for a moving service, you need to have all the facts.
Getting a quote
When you want a quote from U-Pack, you'll have one of two options: either you call and talk to their representatives or you use the online form. You'll receive a quote in less than a minute as long as it's not overly complex or impossible based on service areas. The price includes three ReloCubes (or one trailer) and the cost of the driver, fuel, and taxes. The quote also includes catastrophic liability and carrier negligence liability at no charge; U-Pack does not cover damages caused by loading and unloading. Supplemental liability insurance is recommended, especially since carrier negligence is only 10 cents per pound per piece. As an example, if your 60-inch, 55-pound flatscreen TV broke, you'd receive about $5.50 (10 cents times 55 lbs equals $5.50).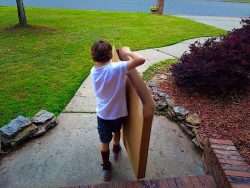 Understanding U-Pack costs
According to their website, you only pay for the ReloCubes you use. This means your bill might be less if you only use two. Of course, there is only one size option, which might be an issue for larger furniture. You need to measure accurately to ensure larger furniture will fit.
If you choose a moving trailer, you'll only pay for the space you use. While the trailer will not include anyone else's belongings, it will include commercial freight to fill up the space. You'll install the bulkhead divider after you've finished packing, separating your stuff from the commercial freight.
Discounts are available for students and military members, and you can save some money if you opt for terminal service instead of door-to-door service.
Expect to pay more if you want extra services, such as storage ($105 per ReloCube per month) or U-Pack Guaranteed ($150 for a one-hour window and $75 for a two-hour window) if you need your stuff delivered on a certain day.
You won't pay for your moving service until your belongings are in transit to the new destination. If you cancel your reservation within one week of the drop-off date, you can expect a $50 fee. This fee increases to $150 if you cancel on moving day.
…What U-Pack customers say
Yelper Barbara B. from Studio City, CA, had good things to say about the pricing. She wrote,
"We were getting quotes from other moving companies for $15-20,000, and we ended up doing the move using U-Pack and movers for under $4,000." Other customers like Taylor Y. from Austin, TX, felt misled by the price versus quoted delivery date: "It wasn't until later in the process that I was told I needed to pay an extra $200 to be guaranteed delivery on that date. Fine, but I wish I had been told upfront."
Receiving your U-Pack containers or trailer
Drivers will drop off your ReloCubes or trailer in a safe, legally allowed location. At that point, you'll have three business days to load your belongings. If you need additional time, you can call U-Pack to request it. Extra days will increase your bill. If you want your containers picked up early, call your local terminal.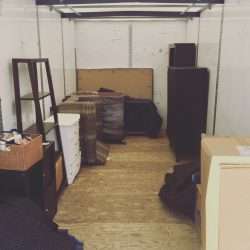 If you live in an area with narrow streets, difficult parking, or an apartment complex and need to get your belongings in and out as soon as possible, call U-Pack to ask about same-day service. In some instances, drivers can drop off and pick up your ReloCubes or trailer on the same day. A live load, where the driver waits at the loading destination while you pack, might be possible as well.
One important note is that ReloCubes are only available for drop-off in certain areas, typically closer to U-Pack's terminal locations. If you don't live near a larger city or within a certain radius of a metropolitan area, you might need to go with their moving trailer option.
…What U-Pack customers say
Megan S. from Denver, CO, was blunt about the state of her delivered trailer:
"The trailers ARE filthy dirty, so make sure your stuff is either boxed or well wrapped." Some Yelpers, like E T. from Manhattan, NY, state that their belongings were damaged in transit. E T. said, "Broken desk, lamp, and dishes. Boxes were visibly crushed. Dents in my solid wood bed frame. It was obvious that items had been roughly handled."
Tracking and delivery
You'll be able to track your items online or by calling U-Pack. Since drivers typically make one or multiple stops at ABF terminals, you can see where your belongings stop along the way. On delivery day, the driver will drop off your ReloCubes or trailer and have you sign a delivery receipt. You'll have three business days to unload your belongings before a driver picks up the containers for the final time.
…What U-Pack customers say
Some customers, like Dan B. from Seattle, WA, end up with deliveries far outside what was in the quoted schedule. He said,
"We were told that the cube wouldn't arrive until the next Monday, 21 days after it had been originally picked up, a full 14 business days from when it was supposed to arrive." Others, like Darryl F. from Marina del Rey, CA, praised U-Pack for "Drop-offs and pick-ups in precise small windows, and helpful staff in every interaction."
How does U-Pack compare to PODS?
As another mid-level moving service, PODS has many similarities to U-Pack, including self-serve loading and unloading with weatherproof, steel-framed moving containers that drivers drop at the customer's door.
Unlike U-Pack, PODS offers three sizes of moving containers – 7 feet, 12 feet, and 16 feet. They also let you keep the container for up to 30 days versus six days total for U-Pack, although you will pay for each day you use it.
PODS has service areas in 48 states versus 50 states for U-Pack, but the company also handles local, same-state, and state-to-state moves instead of mainly state-to-state moves.
The final difference is in the cost, with PODS, according to HireAHelper.com, costing on average about $800 to $1,000 more.
How does U-Pack compare to 1-800-PACK-RAT?
A third competitor is 1-800-PACK-RAT. While this company offers the same self-serve loading and unloading, its containers are all-steel and said to be stronger than U-Pack's and fully weather-resistant.
1-800-PACK-RAT offers moving containers in three sizes – 8 feet, 12 feet, and 16 feet – with barn-style doors, unlike U-Pack's single-size option. They also include 30 days of use in the quoted price, which is substantially more than U-Pack's six days.
While the moving service has fewer service areas than U-Pack, it does offer local and long-distance moves. Long-distance moves also come with $10,000 worth of complimentary content protection, but upgrades for any move type are available for an extra charge.
1-800-PACK-RAT, according to HireAHelper.com, is more expensive than U-Pack and similar in price to PODS.
How does U-Pack compare to full-service movers?
Full-service movers offer local and long-distance moves, while U-Pack is limited to long-distance only. They also include full liability coverage and professional movers, while U-Pack leaves the packing and unpacking up to you and offers much more limited liability coverage.
If you're on a strict budget, you'll be drawn in by the significant savings that U-Pack offers; however, you'll also need to be able to pack your belongings just as well as the professionals do.
U-Pack may cost you less for transportation, but it might cost you more to replace belongings should anything happen during transit, such as shifting or container leakage.
A state-to-state (not cross-country) move using full-service movers could be the ideal balance between cost, efficiency, reliability, and quality of service. If you have a larger budget and are unable to or prefer not to DIY your move, consider requesting quotes from your local independent full-service movers.
Not what you were looking for?
Check out other categories that can help you find the information you need!