Moving Experience: Allison's Move With American Van Lines
In the summer of 2023, Allison, her husband, and their three cats moved from Weehawken, New Jersey, to Denton, Texas, for graduate school.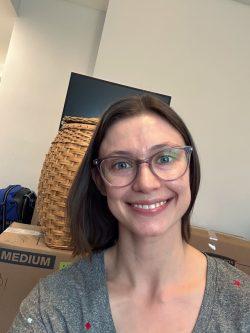 Allison spent an entire month looking for the perfect mover. She got quotes from PODS, U-Pack, and Safeway, but ultimately chose American Van Lines because of their affordability and amazing reviews.
Allison participated in moveBuddha's Better Moves Project to share her honest experience working with American Van Lines. In exchange for a $500 moving stipend, she shared how she found a mover, how the moving experience went overall, and her tips for safely moving with three pets in tow.
89% of users select this mover
Move day takeaways for American Van Lines customers
Communication: American Van Lines gave Allison excellent communication leading up to delivery, but there was a misunderstanding about the delivery date
Pricing accuracy and transparency: American Van Lines didn't charge Allison a dime over their quoted price
Professionalism: Allison has nothing but glowing recommendations for American Van Lines' courteous moving crews
Timeliness: It took 25 days for Allison's belongings to arrive because the truck driver quit without notice
Loss and damage: All of Allison's belongings arrived without so much as a scratch
Would Allison use American Van Lines again? Allison would have preferred more transparency and control, so she plans on doing a DIY move in the future.
Allison needed help moving from Weehawken, New Jersey, to Denton, Texas
Eager to make the nearly 1,600-mile move for graduate school, Allison and her husband spent six months carefully planning their move. They planned to relocate from a tiny 630-square-foot New Jersey apartment to a more spacious 1,100-square-foot one in Texas.
But with well over 3,000 pounds of stuff to move, Allison knew she needed a solid mover who could move her stuff on time and with no damage. She also wanted a mover who would stick to their original estimate and not tack on last-minute fees.
Allison's move at a glance
| | |
| --- | --- |
| Move date | August 11, 2023 |
| Moved from | Weehawken, NJ |
| Moved to | Denton, TX |
| Distance | 1,584 miles |
| Move size | Two-bedroom home |
| Moving company | American Van Lines |
| Moving quote | $4,050 |
| Actual cost | $4,050 |
Allison got quotes from container companies and full-service movers
Allison spent a solid month looking for movers. After a quick Google search, she stumbled upon the moveBuddha site and devoured all the information she could.
She checked moveBuddha's list of the best long-distance moving companies, got an idea of fair pricing with the moving cost calculator, and checked a few posts for packing tips, like when to start packing for a move.
After consulting moveBuddha's list of long-distance moving companies, Allison contacted a few of her favorites for quotes. At first, she wasn't sure whether she wanted a full-service company or should pick from one of our best moving container companies. She liked U-Pack, but none of their container sizes were a fit for her move.
PODS was more expensive than the full-service movers and she didn't need the storage, so Allison narrowed it down to American Van Lines and Safeway Moving.
Allison chose American Van Lines for their great reviews
After comparing the two full-service movers, Allison decided to go with American Van Lines because of their positive reviews.
Licensed
Insured
Price
rating
4.5 / 5
Get A Quote
(866) 835-2392
93% of users select this mover
At A Glance
Over 20 years in business
Excellent customer service score
Best pricing we've seen
Can handle last minute moves
read our full review
Get A Quote
(866) 835-2392
93% of users select this mover
After submitting an online form, Allison got a call from American Van Lines to take inventory over the phone. They later emailed her the confirmed estimate of $4,050.
She purchased:
Furniture breakdown and setup
Placement (putting boxes and furniture in the desired rooms)
Transportation
Allison also bought moving insurance through a third-party company.
She paid a 50% deposit via credit card to reserve the Aug. 11 move date.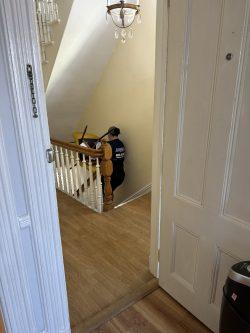 American Van Lines gave Allison high-touch service, contacting her via email 15 times and five times via phone. That's impressive for a long-distance move during peak moving season!
American Van Lines gave Allison a list of prohibited items and told her the amount of space their truck would need on her street to park and load her items.
In the meantime, Allison and her husband got busy packing, planning new household purchases, cleaning, and selling items they didn't need.
Allison wasn't thrilled about driving 1,600 miles from New Jersey to Texas and planned to fly to her new home.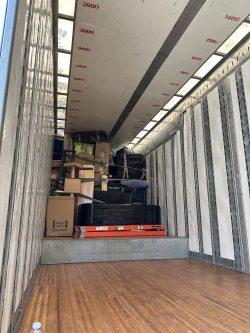 The catch? She and her husband needed to take their three cats with them.
Before moving day, Allison enlisted a friend to fly with her and her husband to Texas so the three could declare the cats as "personal items." She researched approved carriers, met with her vet for checkups and medication, and paid the $125 per pet, per flight fee ahead of time.
It took a bit of planning, but Allison saved a lot of time and hassle by flying with her cats instead of driving or using a pet shipping company.
Moving day was fast and efficient
American Van Lines called Allison to confirm her inventory list after booking. They also called her the day before and gave her an estimated arrival window of 9–11 a.m.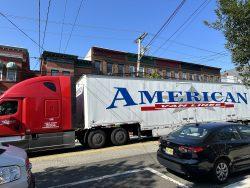 American Van Lines arrived precisely at 9 a.m. and went straight to work. The movers quickly impressed Allison with their professionalism and care. They wrapped everything well with moving blankets and took great care going down the apartment stairs.
An American Van Lines coordinator also called Allison during the loading process to ensure everything was going well. They gave Allison their phone number and encouraged her to call if she had any problems.
Allison checked on her cats a few times but otherwise made herself available to assist the movers and ask plenty of questions.
We applaud Allison for being so involved! The movers had a question about a box of fragile items, so it's good that Allison was there to offer direction.
The loading process took four hours in total. The movers confirmed Allison's original quote of $4,050, which pleasantly surprised her. She added a few items last-minute and appreciated that American Van Lines didn't add those charges to her bill.
Delivery was delayed
American Van Lines initially gave Allison an estimated delivery date of Aug. 15. The next day, they called and told her it would be Aug. 16.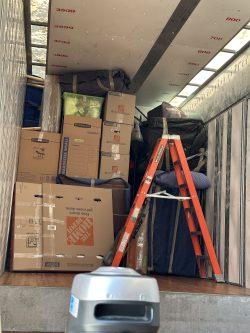 However, it soon came to light that American Van Lines' driver quit unexpectedly, leaving Allison's items in limbo while the company searched for a replacement to do the drive.
Allison continued calling to ask for updates, and the customer service reps said they had no further information. Allison was understandably anxious about the fate of her items.
It took 25 days for Allison's belongings to arrive at her new home in Texas. While Allison expected her items within a few days, this was within the window of time mentioned in her contract with American Van Lines.
It's understandable that she felt confused and anxious, but it can take up to four weeks for your belongings to arrive at their destination.
Once her items arrived, Allison had a great experience with the delivery staff. They unrolled mats throughout the house to protect the floors and placed boxes and furniture in the right rooms.
After unpacking everything, Allison couldn't believe her eyes: everything arrived undamaged. She couldn't find a single scratch, which is an impressive feat for a 1,600-mile long-distance move.
Our take on the move
Aside from the delivery misunderstanding, Allison had a great move with American Van Lines.
For starters, $4,050 is very affordable for a full-service move across the country. American Van Lines didn't charge Allison extra for the additional items on moving day, which doesn't happen often. They also stuck to their original quote, which was great for Allison's budget!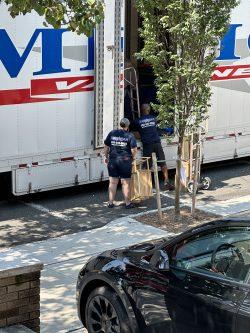 Fifteen emails and five phone calls is a lot of communication from a moving company, especially during peak season. The fact that an American Van Lines coordinator proactively called Allison once the movers arrived was also a nice touch that few Better Moves Project participants get.
Allison bought moving insurance from a third-party company for additional coverage. This can give you more peace of mind, but if you have renters insurance, you likely already have moving coverage. Check your policy before you move to see if your renters insurance covers moving damage — you could save a few bucks!
Allison did a lot right with this move, too. We love that she enlisted her husband and friend to fly with the cats as "personal items," which eliminated the need to pay for separate pet shipping.
Allison also stayed involved during the loading process, which is likely one of the reasons why her belongings arrived in such great shape.
American Van Lines had to delay the delivery date, but was still within the contracted delivery window. Since the delay resulted from an unexpected resignation, the company did its best to do right by Allison. They've promised a $700 refund to make up for the inconvenience. That reflects on American Van Lines commitment to customer service — they offered a refund even though they met their contractual obligations.
Allison had a great experience with professional, friendly movers who transported her belongings without any damage.
The verdict
Allison loved the quality of the movers who handled her belongings. She couldn't believe American Van Lines pulled off a damage-free move, so kudos to them.
However, she did want more transparency and support when the truck driver unexpectedly quit. It felt, to her, like the company lost her items in transit, and it would have been nice to get more information during that understandably stressful time.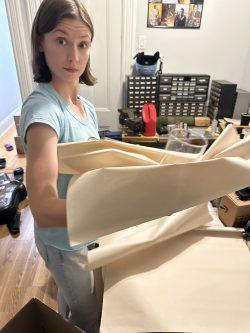 While we get Allison's sense of panic, this can happen during moves. It's best to look at your contract terms and base your expectations off that. Allison originally expected a five-day turnaround —because that's what American Van Lines planned for — but life happens.
Looking back on her move, Allison would have started packing way earlier. She definitely felt rushed, and it made the moving experience more hectic.
She recommends reading the fine print of your contract to manage your expectations. It's also a good idea to have phone conversations with the reps who will work with you on the day of the move instead of with the pre-move sales teams.
Allison's clever idea to fly with her cats also worked out great! She avoided paying three pet shipping fees, and her cats arrived in Denton, Texas, at the same time as her.
While flying and hiring a full-service mover saved Allison a lot of hassle, she wanted more control over her move. Although she was happy with American Van Lines, in the future, she would prefer to do a DIY move instead.
Here's how Allison rated American Van Lines' performance on a scale of 1 to 5:
Communication – 4
Timeliness – 4
Quote accuracy – 5
Overall experience – 4
Do you have an upcoming move? Share your moving story with the Better Moves Project to earn a $500 stipend. Sign up now.
Check out these helpful resources before signing off:
Not what you were looking for?
Check out other categories that can help you find the information you need!
See All
Hide All