Moving Experience: Irena's Move with Mayzlin Relocation
In late January 2023, Irena and her husband moved from Columbus, Ohio to Easley, South Carolina.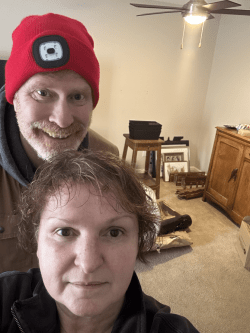 Irena spent weeks scouring the internet and comparing companies on our Best Long-Distance Movers list. In the end, North Carolina-based Mayzlin Relocation came through with the best price for the services she wanted.
Irena loved Mayzlin's low quote and generally positive online reviews. However, with multiple military moves under her belt, she knew that lots could go wrong on long-distance relocations.
To take advantage of a $500 relocation stipend and help anyone planning a move like hers, Irena participated in our Better Moves Project by sharing her experiences with Mayzlin.
In this post, we'll cover what Irena liked about working with Mayzlin (hint: she had a great experience), where improvements could have been made, and what she learned along the way.
Company
Quote
Rating
Price

Safeway Moving

Best Overall Value

Get A Quote

American Van Lines

Best industry reputation

Get A Quote

International Van Lines

Best customer service

Get A Quote
Move day takeaways for Mayzlin Relocation customers
Communication: Irena gave Mayzlin 4 out of 5 stars for communication throughout her move
Pricing accuracy and transparency: Mayzlin's quote was right on the money
Professionalism: Irena gave Mayzlin's coordinators, movers, and drivers high marks for professionalism and efficiency
Timeliness: Mayzlin picked up and delivered Irena's household goods on time
Loss and damage: Nothing got lost on Irena's move, but a few items received minor damage
Would Irena use Mayzlin Relocation again? Mayzlin delivered a positive moving experience and Irena would definitely use the company again
Irena needed help moving from Ohio to South Carolina
After years in the military, Irena and her husband were ready to say goodbye to Ohio and retire in sunny South Carolina.
Despite the size of their home, their shipment only consisted of about 40 boxes and miscellaneous furniture that weighed approximately 5,000 pounds. Irena's move wasn't that different than many others. She did have a grandfather clock and a vintage arcade game that needed special attention.
Instead of going the DIY route and renting a truck or using moving containers, Irena focused on finding a reputable and experienced full-service mover. Price was an issue (our Moving Cost Calculator is a great budgeting tool), but Irena was determined to work with a company that could communicate effectively, handle her things with care, and live up to its service commitments too.
Irena's move details
| | |
| --- | --- |
| Move date | January 31, 2023 |
| Moved from | Columbus, Ohio |
| Moved to | Easley, South Carolina |
| Distance | 541 miles |
| Move size | Six rooms (1,865 square feet) |
| Moving company | Mayzlin Relocation |
| Moving quote |  $5,200 |
| Actual cost | $5,147  |
Irena spent two weeks getting moving quotes
Irena and her husband decided to move from Ohio to South Carolina about a year in advance, but they researched movers and got all the quotes they needed in about two weeks.
Early in the process, Irena received an email from moveBuddha introducing her to our Better Moves Project and inviting her to check out some of our helpful long-distance moving posts. Irena liked how easy it was to compare pre-vetted interstate moving companies in one convenient location. She ultimately reached out to a few of the companies on our Best Long-Distance Movers list.
Each company had pros and cons, but she was surprised that her highest and lowest quotes were thousands of dollars apart.
Irena's quotes were between $5,200 and $7,000
Mayzlin's sales representative Mike quickly responded to Irena's quote request by phone. After introducing himself and reviewing Irena's move details, he prepared and sent a formal estimate via email.
The rest of Irena's quotes rolled in over the next few days. She and her husband had the following estimates to consider:
Mayzlin's quote included the following:
Full packing
Door-to-door transportation
All applicable charges
Basic released-value coverage of .60 cents per pound per item (Irena chose not to purchase additional moving insurance)
A $1,315 military discount
Irena chose Mayzlin for its price and reputation

All things considered, Irena got the best vibe from Mike, and she felt comfortable using a company with such a solid online reputation.
Since Irena's move was relatively small and going to another state, Mayzlin asked for a 2-day pick-up window. This made coordination with other shipments as easy as possible. Irena would have preferred a guaranteed 1-day pick-up, but this was a reasonable request considering the scope of her move.
With their move day rapidly approaching, Irena and her husband prepared by doing the following:
Staying on top of moving and housing issues as they arose
Packing boxes whenever they had free time
Setting aside the personal items they'd move by themselves
Decluttering and downsizing by getting rid of things they no longer used or needed
A few days out, Mike and Irena connected again via phone to double-check the original inventory, review her move details, and nail down a firm pick-up date.
When getting ready for your move, be sure to know how many moving boxes you'll need so you're all ready to go when the movers arrive.
Moving day was long, but nearly everything went smoothly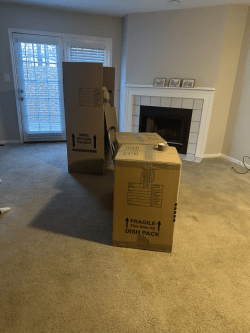 Mayzlin's moving crew arrived a few hours later than expected at 1:30 in the afternoon on January 31.
Irena felt that Mayzlin could have been more proactive by letting her know that the movers were running late. However, the driver and her customer service representative responded appropriately once she mentioned the issue.
After introducing themselves and taking a quick look around, the crew got down to business. They inventoried everything, padded and protected loose items and furniture, and moved Irena's possessions onto the truck.
To make sure her fragile grandfather clock arrived in South Carolina in good condition, they thoroughly wrapped it in quilted moving blankets. They also put a layer of cardboard around the outside to protect the glass.
Irena was impressed by the crew's professionalism and attention to detail. During the moving process, she and her husband tidied up, answered their questions, packed last-minute items, and tried to stay out of the way.
With only a few short breaks, the crew worked diligently for the next seven hours. On the downside, they could have used another helper because they'd underestimated how much packing needed to be done. This wasn't a big issue, but Irena thinks they'd have had a better packing estimate if a virtual survey had been done early on.
All told, the crew worked until nearly nine o'clock before making the three-hour drive back to the warehouse.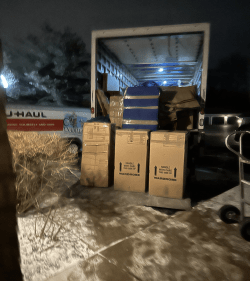 Delivery was quick and efficient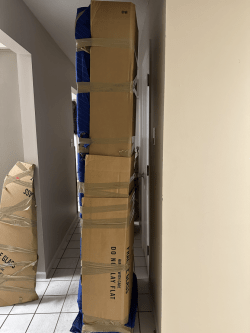 Irena and Mayzlin had worked out a mutually agreeable delivery window weeks before her move date. However, Irena wasn't sure exactly what day within the window the truck would arrive in South Carolina. Mayzlin could only tell her that she'd get at least 24 hours' notice before delivery.
This is the standard operating procedure on state-to-state moves. The total transit time on Irena's move was just 12 days.
After reviewing Irena's moving documents the driver collected the balance of her move cost. The driver and his helper then got the truck situated, set up the walk board, and began the arduous unloading process.
Everything was placed where Irena and her spouse wanted it. If they changed their minds the crew gladly moved it again without complaint. Nearly everything made the journey in perfect condition, but there were a few minor dings and a broken wine glass.
That said, Irena was thrilled with the level of service Mayzlin provided on her move from Ohio to South Carolina. Plus, she paid a few dollars less than expected despite a $150 stair-carry charge at the destination.
Final thoughts Q & A
After she and her husband were settled into their new place, we asked Irena the following questions about her experience with Mayzlin Relocation.
Here's what she had to say:
Did your move go as expected?
Pretty much. The company was easy to work with and very transparent. Very professional on the phone and responded timely to messages.
What do you wish had gone differently?
I wish they would have arrived earlier for pickup and brought another person. The pack out took longer than they thought and they were rushed at the end as they had a 3-hour drive back to the warehouse.
Is there anything you wish the mover had done differently?
I would have liked a visual confirmation of the items that needed to be packed. The quality assurance department called for final confirmation and I thought it was going to be via FaceTime, but it was just a phone call confirming the original inventory. I think a virtual walk-through would have given them a better picture of the volume of items that needed to be packed.
What advice would you give to other people with similar moving situations as yours?
Ask a lot of questions and make sure you fully understand the process.
The verdict – Mayzlin provided top-notch service on Irena's move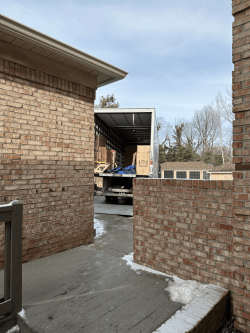 In her post-move survey, Irena used the following terms to describe Mayzlin and its employees:
Responsive
Courteous
Hard-working
Honest
And Irena's assessment of Mayzlin isn't a fluke. In fact, lots of Better Moves Project participants like Sally (who recently hired Mayzlin to move her household goods from Chicago, Illinois to Brighton, Massachusetts) have positive experiences too.
Whatever they're doing, Mayzlin Relocation seems to have interstate moving figured out.
Now without further ado, here's how Irena rated Mayzlin on a scale of 1 to 5:
Communication – 4
Timeliness – 5
Quote accuracy – 5
Overall experience – 5
Before signing off, check out these helpful long-distance moving resources:
Not what you were looking for?
Check out other categories that can help you find the information you need!