Moving Experience: Sally's Move with Mayzlin Relocation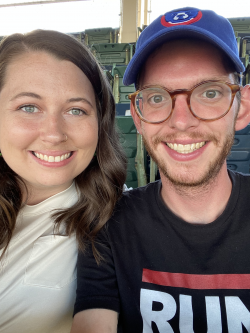 Sally recently moved from Chicago, Illinois, to Brighton, Massachusetts, with the help of Mayzlin Relocation.
She liked that Mayzlin is accredited by the Better Business Bureau (BBB), has lots of positive online reviews, and specializes in long-distance moves. Sally got quotes from a few service providers on our Best Long-Distance Movers and Best Moving Container Companies lists, but Mayzlin came through with the services she needed for a price she could afford.
To promote transparency and take advantage of a $500 relocation stipend, Sally participated in our Better Moves Project by documenting and sharing her experiences with Mayzlin.
In this post, we'll look at what Sally liked about working with Mayzlin (hint: her move went very well), where improvements could have been made, and what she learned along the way.
Takeaways Mayzlin Relocation customers should know on moving day
89% of users select this mover
Communication: Mayzlin communicated adequately throughout Sally's move, but they could have done a better job keeping her informed while her things were in transit
Customer service: It was easy to get a quote, do a virtual tour, and ask questions during the moving process
Timeliness: Mayzlin picked up and delivered Sally's household goods within the agreed-upon timeframes
Loss and damage: While most of Sally's belongings were fine, the movers were a little rough when moving and setting down boxes (she didn't file a claim)
Would Sally use Mayzlin Relocation again? Sally would consider using Mayzlin Relocation again, but she'd explore other options as well
Sally needed to relocate nearly 1,000 miles for work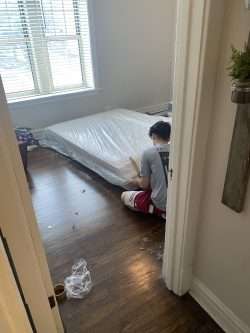 With a new job almost 1,000 miles away, Sally needed help moving her household goods from Chicago, Illinois, to Brighton, Massachusetts.
Sally considered full-service movers, moving containers, and renting a truck from U-Haul, but Mayzlin's top-notch customer service and low quote won her over. A full-service move would have been nice, but Sally and her husband decided to save money by packing themselves and letting Mayzlin handle the loading, transportation, and unloading.
Since she wasn't moving any valuables or specialty items, Sally didn't purchase moving insurance through Mayzlin or a third-party insurer.
Sally's move details
| | |
| --- | --- |
| Moved from | Chicago, Illinois |
| Moved to | Brighton, Massachusetts |
| Distance | 980 miles |
| Move date | August 1, 2022 |
| Move size | 1 bedroom apartment (680 square feet) |
| Moving company | Mayzlin Relocation |
| Moving quote | $3,663 |
| Actual cost | $3,663 |
Sally chose Mayzlin Relocation for affordability and transparency
After using our moving cost calculator for budgeting purposes, Sally got multiple quotes that ranged from $2,400 for a moving container move to over $7,000 for a full-service move.
Here's how they compared from least expensive to most expensive:
| Company/move type | Estimated weight | Estimated cost |
| --- | --- | --- |
| U-Pack (moving container) | N/A | $2,411 |
| Mayzlin Relocation (full-service) | 3,101 pounds | $3,663 |
| Safeway Moving (full-service) | 4,550 pounds | $5,000 |
| New City Moving (full-service) | 3,920 pounds | $7,147 |
Since Sally liked Mayzlin's reasonable quote and attention to detail, she didn't waste any time booking her move and paying a deposit to lock in her date. She also liked that Mayzlin did a virtual tour (instead of an in-home survey) and provided a fixed quote instead of a non-binding estimate.
Communication was strong despite a few challenges

Licensed
Insured
Price
rating
4.05 / 5
Get A Quote
(980) 217-6841
93% of users select this mover
At A Glance
Family owned with locations covering the east coast
Full refund for cancellations within 7 days of your move
Packing and unpacking services available
Handle residential, corporate, and military moves
read our full review
Get A Quote
(980) 217-6841
93% of users select this mover
There were a few communication issues on Sally's move, but most weren't Mayzlin's fault.
Despite these hurdles, Mayzlin communicated consistently via phone and email. They reached out to Sally a few days prior to the move to go over the inventory list, then two days before the move to confirm the moving schedule. The movers also called a few hours before they arrived to confirm Sally was home.
Moving day was a little bumpier than expected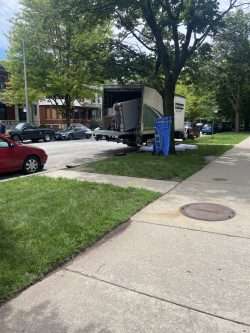 The crew had difficulty finding Sally's apartment on moving day because she lived in a tricky area with lots of parking restrictions and one-way streets.
The movers showed up on time, but they handled Sally's furniture and boxes more roughly than she would have liked, and a few things got damaged in the process. On the positive side, Sally and her husband were able to relax on the front steps while the crew worked, and everything was loaded onto the truck in just two hours.
Mayzlin delivered Sally's household goods earlier than expected
Mayzlin could have communicated more proactively while Sally's household goods were in transit. This caused some difficulty because she had to get a date-specific parking permit for the moving truck in Brighton.
Thankfully, Mayzlin let her know on Monday that the truck would arrive on Wednesday, and she was able to get the permit. In the end, Sally's household goods were delivered on the second day of the delivery window, just six days after they were loaded in Chicago. After a quick look around, the movers got to work, and Sally checked each item off the inventory as it came in. Everything was accounted for, but she was frustrated with the minor damage caused by the rough handling in Chicago.
The verdict: Sally had a positive moving experience with Mayzlin
89% of users select this mover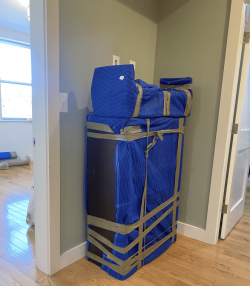 Sally was happy with Mayzlin's performance despite lightly damaged furniture and the difficulties of finding the movers a parking spot. She arrived at her new home in six days and hit the ground running with her new job.
Excellent customer service, consistent communication, and a competitive price made this experience a positive one. She'd consider using Mayzlin again in the future, but she wouldn't rule out other options.
What could have gone differently on Sally's move
There wasn't much to complain about on Sally's move. However, she wishes that the loaders had been gentler with her boxes and furniture and that Mayzlin would have given her more notice regarding pick-up and delivery dates.
In general, she felt that the customer service was better during the quote process than during her move, but when it was all said and done, Mayzlin met Sally's relocation needs for a reasonable price.
Planning a long-distance move? If so, check out these helpful resources:
Not what you were looking for?
Check out other categories that can help you find the information you need!
See All
Hide All