Suburban Fortunes: America's Top 25 Fastest-Growing Wealthy Suburbs
Gated communities, country clubs, and high-class amenities are worth a pretty penny. It's in these suburban estates where you will find some of America's wealthiest families. 
It must be nice, right?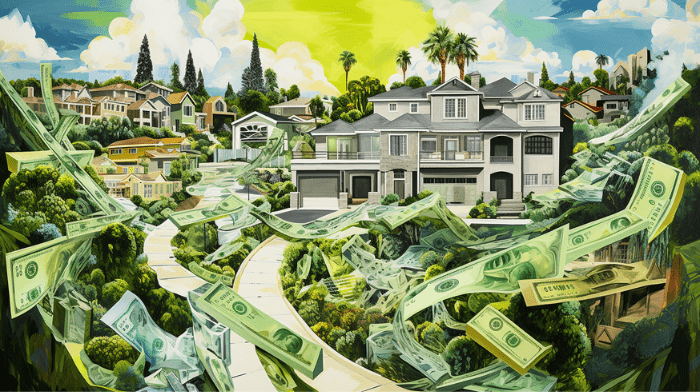 Expensive housing prices usually drive residents away (while affordable suburbs are some of the fastest-growing). 
Even still, across America, there are plenty of suburban towns where housing prices are astronomically high and that hasn't stopped the drumbeat of population growth.
For those who have enough zeroes in their home-buying budget, we found which of the nation's wealthiest suburbs are growing the fastest.
How Did We Define Suburbs?
We defined suburbs in this study the same way we did in our previous study of fastest-growing suburban towns with low housing costs. We included cities that are not the single largest city by population in their US Census metro area. 
The federal government has no concrete definition of the suburbs, but 52% of Americans believe they live there, according to HUD's American Housing Survey. And if you define the suburbs by population density and the age of the housing stock, up to 80% of Americans are in suburban areas.
If we break it down further, here are three ways to define the suburbs:
Suburbs are non-principal cities in a metro area with fewer than 100,000 people.

Suburbia has a specific commuting pattern and high numbers of single-family-owned homes.

Suburbs have lower housing density, and the age of the housing stock is newer than in urban areas.
When all these criteria overlap, that means 40% of Americans live in the 'burbs. The suburbs are less densely populated areas where more people own their homes, and the vast majority of folks commute by car.
One last thing to note: the American suburbs are thriving. Between 2010 and 2020, the share of Americans living in the 'burbs increased by 10.5%, according to Census data. The pandemic accelerated this trend, and an increasing share of Millennials, the nation's biggest generation, are settling down in suburban homes.
Big Takeaways
Growth in a high-tech haven

.

Redmond, WA,

is America's #1 fastest-growing wealthy suburb. Despite an average single-family home value of about $1.36 million, the home of Microsoft has seen its population swell by 18.13% in the past five years.

Staying golden in California

. California has 14 of the top 25 fastest-growing wealthy suburbs, including

#2

Irvine

, #3

Dublin

, and #6

Eastvale

. Unlike other California towns seeing a mass exodus, these suburban enclaves are doing well.
The Northeast's lifestyles of the rich & famous

. Cities and towns in the Northeastern U.S. generally aren't faring well with moving trends lately. But some wealthy suburban towns are bucking the trend, including #4 Medford, MA, #9 Hoboken, NJ, and #17 Stamford, CT

.
Fancy towns in the South

. The only two Southern cities to make the list include #5 Franklin, TN, and #8 Mount Pleasant, SC, where quaint Southern charm and impressive wealth coexist.
California is just fine if you're rich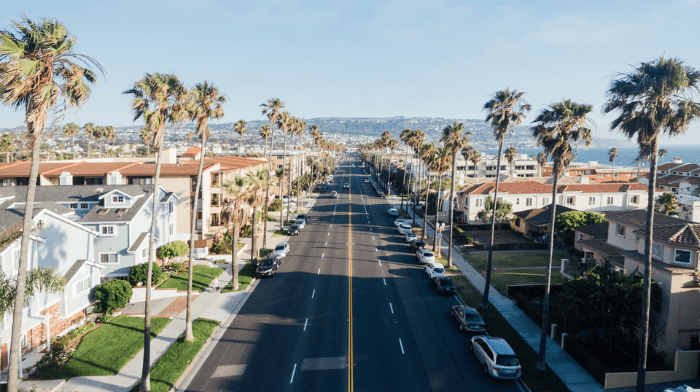 California's dominance in this study of the fastest-growing wealthy suburbs shouldn't be surprising. In many ways, the inclusion of 14 California towns in the list of 25 highlights the stubborn problem of the Golden State's wealth inequality.
While many major California cities like San Francisco and Los Angeles are in the headlines for losing locals, smaller, wealthy suburban towns are doing better. 
The data shows that some of the fast-growing affluent suburbs in CA include Irvine, Dublin, Brentwood, San Ramon, and Folsom.
Dublin is a suburb of San Francisco with an average housing value of more than $1.39 million. Despite that high home value, Dublin's population grew by 16.45% between 2017 and 2022.
The fast growth coupled with high home values may be explained by the fact that California is the nation's wealthiest state. It has the largest sub-national economy in the world. If California were a sovereign nation, it would rank in terms of nominal GDP as the world's fifth largest economy, behind Germany and ahead of India. The state holds 17% of America's net worth while making up only 12% of America's population. We could go on, but you get the point.
At the same time, California is the epicenter of America's housing and homelessness crisis. The state has struggled mightily to retain residents in the past several years, and many who leave cite in surveys the most significant factor is the cost of living and housing prices.
Living large in the Northeast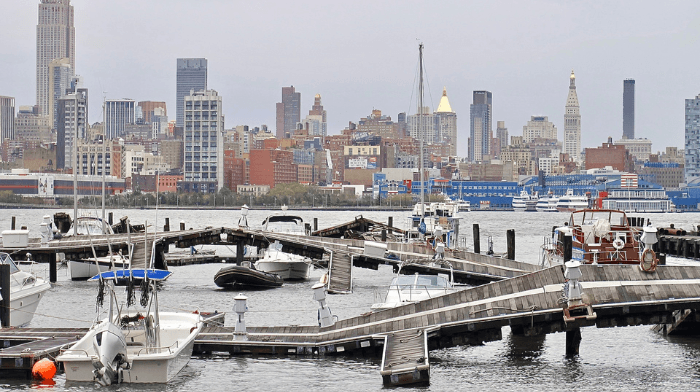 Perhaps it's also not surprising that a smattering of Northeastern cities showed up in the top 25:
#4 Medford, MA
#9 Hoboken, NJ
#17 Stamford, CT
#20 New Rochelle, NY
Massachusetts,  New Jersey,  Connecticut, and New York have all had notable problems with population loss in recent years, as many folks have fled the expensive and densely populated states for more affordable, wide-open spaces in the Sunbelt and the Mountain West.
But these four suburban towns we listed are doing just fine. One explanation could be that migration has flowed in from more expensive areas or cities.
Hoboken, NJ, in the NYC metro area, has astronomically high average home values of more than $1.57 million. Yet, Hoboken's population growth rate has surged by 7.52% between 2017 and 2022.
In Medford, MA - a suburb of Boston - homes are, on average, half the cost of those in Hoboken at  $822K, and its population has grown by 13.13% in the past five years. 
Why are these towns still growing despite the high cost of housing? In Medford's case, it may be because some families can afford it. The median household income in Medford is $107,853 compared to the national average of $71,000. 
Medford isn't just for the rich, either. Realtor Timothy Tremonte was quoted in one recent report as saying the city offers many homes, including affordable options in the south and east side of the town. Medford housing costs also tend to be lower than in neighboring Cambridge and Somerville, so the city hits a sweet spot for the wealthy and not-so-wealthy.
Wealthy Southern anomalies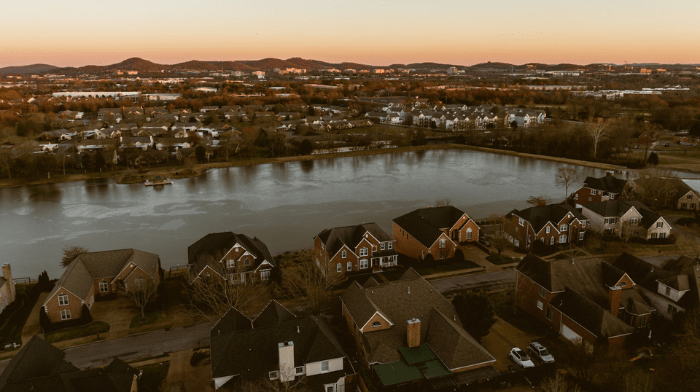 Most Americans are moving to the South to find affordable housing. But two Southern suburban towns - #5 Franklin, TN, and #8 Mount Pleasant, SC - have become havens for the wealthy.
The average home value in Franklin, TN, is $874,853, which is a bargain compared to other towns on the list but considerably higher than the state average of $311,015. Despite the price tag, Franklin's population swelled by 10.8% in the past five years.
Located in the Nashville area (where jobs and luxury tourism are aplenty),  Franklin is a quaint but fast-growing suburban town with a picturesque downtown where you might bump into country music stars like Brad Paisley, Keith Urban, or Keith's wife, Nicole Kidman.
Epic homes on spacious estates like Alan Jackson's, which sold for $28 million, drive the suburb's median price up.  And despite high prices in Franklin, property taxes are low, and there's no state income tax in Tennessee. It also helps that the median household income in Franklin is nearly $116,000, meaning most residents can afford their mortgage payments and have money to spare.
#8 Mount Pleasant, SC, is in the Charleston metro area, with a slightly lower median housing value than Franklin ($825,827). Mount Pleasant's population growth rate has surged 8.11% since 2017 for various reasons.
For one thing, South Carolina is the most popular moving destination state in America in 2023, according to a recent moveBuddha report. Secondly, Mount Pleasant offers superior schools, proximity to beaches, and extensive opportunities to enjoy the great outdoors. It's one reason why so many remote workers moved to Mount Pleasant during the height of the pandemic.
High-tech and wealthy around Seattle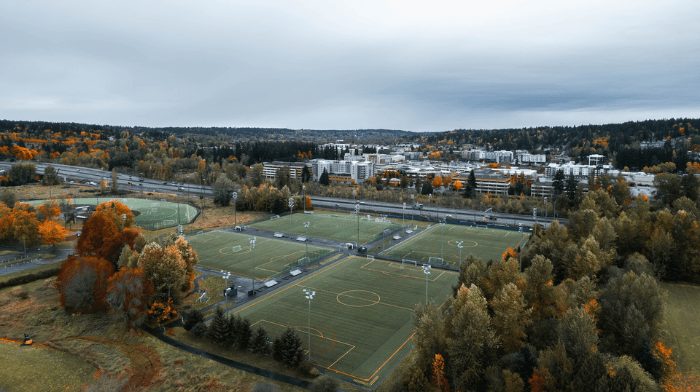 The most interesting data moveBuddha found was around the Seattle metropolitan area. Seattle has the second-highest percentage of people considering or planning to move among U.S. cities, according to the Census Bureau. Census workers report that over the next year, about 171,00 households plan to leave King County (where Seattle is located).
Most people who plan to leave the Seattle area say they'll move to neighboring counties in Washington state. However, moveBuddha's data found something fascinating: there are four suburban towns near Seattle where, despite very high housing prices, they've gained in population since 2017.
Those towns are #1 Redmond, #14 Shoreline, #15 Bellevue, and #24 Kirkland.
| | | | |
| --- | --- | --- | --- |
| Overall Rank | City, State | Average Home Value | % Growth 2017 to 2022 |
| 1 | Redmond, Washington | $1,361,208 | 18.13% |
| 14 | Shoreline, Washington | $783,363 | 5.47% |
| 15 | Bellevue, Washington | $1,527,698 | 5.01% |
| 24 | Kirkland, Washington | $1,278,063 | 3.39% |
Redmond is an interesting case study of this. The average single-home value in Redmond is more than $1.36 million, but the town's population has grown by 18.13% between 2017 and 2022 - more than any town we studied.
Redmond is an anomaly for a few reasons. It's the home of Microsoft and Nintendo, and plenty of other high-tech firms that are big employers. Residents are highly educated, with 73% holding at least a bachelor's degree. And the median household income is more than $147,000.
Located just 15 miles east of Seattle, Redmond offers bountiful opportunities for outdoor recreation and a quiet suburban lifestyle. Many people plan to flee the Seattle area, but if you can afford to live in Redmond, there are plenty of things to like.
America's thriving wealthy suburban towns
The pull of the suburbs has always been strong for Americans. 
The pandemic also accelerated the trend of people moving to the 'burbs. The share of Americans who want to live in suburbia increased from 42% to 46% between 2018 and 2021, according to the Pew Research Center, and fewer Americans expressed an interest in living in the city. 
While many folks are looking for bargain suburban towns, suburbs, both affordable and less so, are thriving.

A historic exodus from large U.S. cities between 2020 and 2022, combined with office vacancies and increasing inner-city crime rates, poses existential challenges to cities from San Francisco to New York City. But that exodus has sent many just a short drive away from metropolitan downtowns. Wealthy suburban towns like Dublin, California, or Hoboken, New Jersey, are welcoming those new residents with manicured lawns, spacious single-family homes, and less of the hustle and bustle.
Methodology and Sources
To find the fastest-growing US suburbs, we crunched the U.S. Census Bureau's numbers for population change across 805 non-principal cities within a metropolitan area. Using 2017 and 2022 population estimates, we calculated the most significant population gains over five years and ranked cities according to their growth rate. 
We filtered those results, limiting high-growth cities to just those with ZHVI Zillow Single Family Home prices of more than $750,000, and ranked cities according to their growth rates.
Not what you were looking for?
Check out other categories that can help you find the information you need!
See All
Hide All