Are People Moving Back to New York City? New Moving Trends Report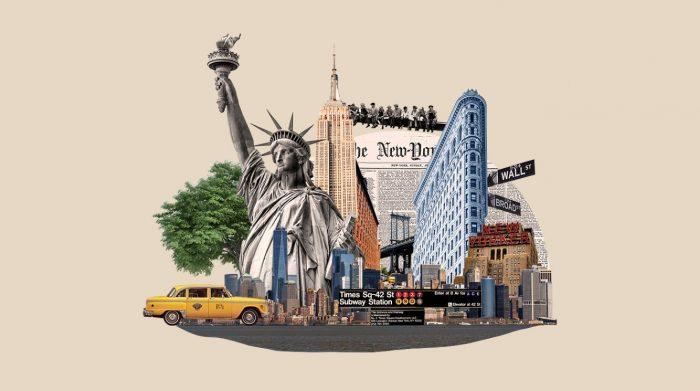 The Big Apple suffered some COVID-19 bruises in 2020 when over 100K residents noped out of a dense city with some of the highest COVID transmissions and death rates. Many returned, but the city still hasn't fully recovered. Are newcomers moving in to take a bite of the apple, or has the big city lost its sparkle?
Big takeaways
New York State is bleeding residents. New York City is, too, with out-moves dominating almost every month since January 2020.
The Great Recovery Wasn't: An influx of New Yorkers in the summer of 2021 did not last, and out-migration was the norm again in 2022.
Manhattan neighborhoods are seeing an uptick of interest from movers, while outer boroughs fail to recover from covid-era losses.
West Coast big-city dwellers, especially in Seattle and San Francisco are the most likely to change up their game and choose to move to NYC, while New Yorkers are most likely to head to Florida.
New York has long represented the dreams of millions of would-be singers, artists, and entrepreneurs trying to make it big. It is, after all, the center of the universe.
But suddenly, in 2020, toiling in a cramped apartment and waiting tables, waiting for a break, wasn't even possible anymore. Once famous for its bustle and glamour, New York City became a veritable ghost town. Its 5 boroughs quieted. Outdoor dining replaced table service. Street rodents proliferated. And people started yearning for a different dream: multiple rooms from which to Zoom the office.
It's true: COVID-19 drastically altered who strolled down fancy Delancey street in 2020 and 2021 and who gave up on New York City altogether.
While many residents headed out of the city, today, some are returning. Rents are higher than ever, and apartment-seekers report they have to make above-asking-price offers sight unseen. These are signs of a comeback. But not every corner of the city is seeing the same glimmer of hope, and even for those that are, out-moves are still more common than new neighbors.
Which NYC boroughs are seeing the most moves in and out? And which states are New Yorkers coming from and going to? We analyzed 2022's moving data to get the best idea of how New York City is staging its renaissance and where we'll see the New York dream growing in 2023.
Table of Contents:
I. Timeline of searches for moves to and from New York City
II. New York City Neighborhood Moving Trends
III. City to City Moving Trends
IV. Moving to and from NYC by state
V. Methodology
I. Timeline of moves to NYC: They Made it There. Now They'll Make it Anywhere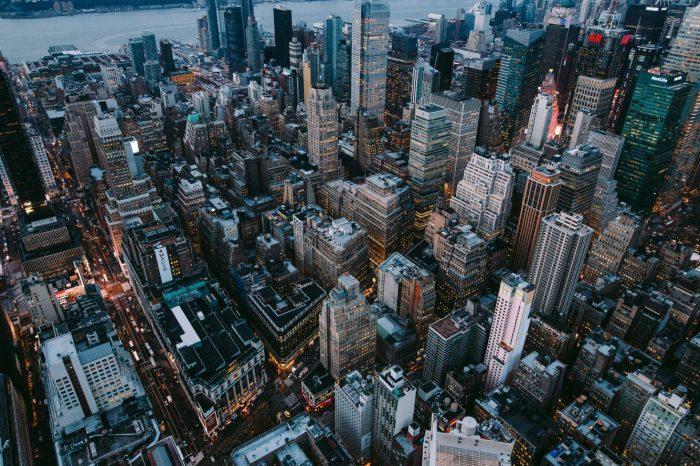 New York's growth wasn't explosive even before COVID knocked it down. In January 2020, before business shut-downs and school closures, there were more out-moves from NYC's zip codes than new residents moving in.
That pattern was nothing new, with postal change-of-address data showing that, on average, New York City typically sees more out-moves than in. However, the trend accelerated when COVID found its way to NYC, and the city has seen more out-moves than ever, excluding the summer of 2021.
The pandemic amplified the city's exodus, and by July 2020, more than three times as many New Yorkers were leaving than were moving in. NYC lost some 336,000 residents in a single year. Worse yet, they took roughly $21 billion in taxes with them.
As dire as the loss felt in a city accustomed to jam-packed sidewalks and standing-room subways, by the summer of 2021, you could be forgiven for thinking it had all been a bad dream.
Residents who decamped to work remotely during the pandemic swarmed the city again. Rents skyrocketed 30% from $2,500 in May to $3,250 at the beginning of October, 2021.
It felt like New York was coming back to life.
Those in-moves didn't last. Since the summer of 2021, monthly out-moves have continued to outpace in-moves, netting ongoing losses for NYC.
During the pandemic, some of New York's wealthiest residents were most likely to code their moves as "temporary." This group was also the most likely to return to the city in the summer of 2021. With newcomers, they created a temporary influx spike. To fully recover, New York will need to make it permanent.
II. New York City Moving Trends – Are People Moving Back to NYC?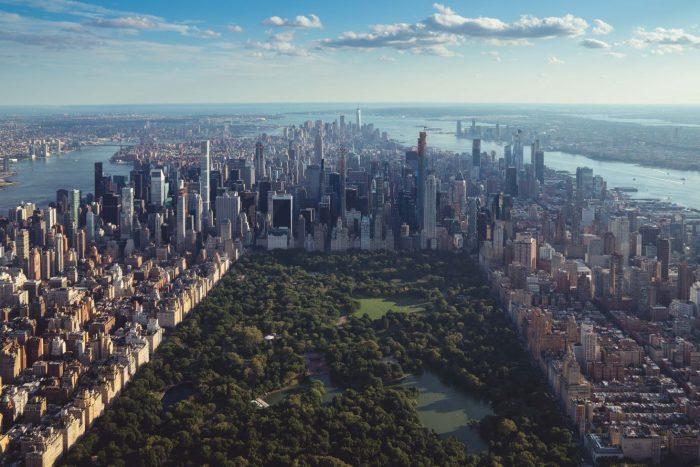 While the overall trend in New York is for more out-moves than in, some NYC zip codes are seeing newcomers eclipse those moving away. Which neighborhoods are on the road to recovery and which are still on life support?
Borough breakdown: People are Moving Back to Manhattan.
Today, incoming New Yorkers are taking the opportunity to live somewhere they want to live, despite cramped spaces and skyscraper-high prices — the only borough with a positive in- to out-migration ratio is Manhattan.
In fact, out of the 17 total New York City zip codes with a positive in-to-out move ratio, just two lie outside Manhattan. And of the 20 zip codes with the highest ratio of out-moves, just two are in Manhattan.
They'll take Manhattan, but not the Bronx or Staten Island
Analyzing moveBuddha search data, we found which zip codes have the highest proportion of moves out vs in, and the inverse. Only zip codes with 25 moves in and out were considered for this analysis (63 zip codes).
Top zips to move to in NYC:
| | | |
| --- | --- | --- |
| Zip Code | Borough | Neighborhood |
| 10024 | Manhattan | Upper West Side |
| 10001 | Manhattan | Chelsea and Clinton |
| 10002 | Manhattan | Lower East Side |
| 10007 | Manhattan | Lower Manhattan |
| 10038 | Manhattan | Lower Manhattan |
Three lower Manhattan zip codes make the top five. The area was dominated by financial centers and office buildings before 9/11 but has added green spaces, schools, hotels, tourism, and, most importantly, residential real estate.
It worked.
Lower Manhattan transformed itself into a desirable neighborhood that was booming before the pandemic and hasn't lost its caché yet.
In Lower Manhattan, at least, opening up commercial real estate to make way for residences was a smart move for a post-pandemic world where commercial office space is so 2019, but living close to the beating heart of an international city is in style.
People are Moving Back to Chelsea
The other two top-performing zip codes both boast desirable, upscale neighborhoods. Chelsea's 10001 zip code has been voted the best in New York, and the Upper West Side's 10024 zip code is home to the famed Natural History Museum, Central Park, and Manhattan's children's museum.
The median sale price in New York City is $755K, with Manhattan homes going for $1.1M. That puts two of the five hottest neighborhoods ahead of the Manhattan affordability curve. But new buyers need deeper pockets than elsewhere in the city, and certainly more than the average American home price of $348K.
Manhattan has made recent headlines for a stratospheric average rent of over $5,000 per month. But that doesn't seem to be deterring move-ins.
People are Leaving Brooklyn, Queens and The Bronx in Droves
On the flip side, 1 Brooklyn, 2 Queens, and 2 Bronx neighborhoods have the most out-moves compared to in-moves in NYC.
Here are the 5 zips with the highest ratio of out-moves:
| | | |
| --- | --- | --- |
| Zip Code | Borough | Neighborhood |
| 11209 | Brooklyn | Southwest Brooklyn |
| 11375 | Queens | West Central Queens |
| 10463 | Bronx | Kingsbridge and Riverdale |
| 11105 | Queens |  Northwest Queens |
| 10462 | Bronx | Southeast Bronx |
All are further afield from the glitter of Broadway, shopping, and restaurants, suggesting that the top winning zip codes aren't the places where New Yorkers get a breather from city life or a discount on rent. Instead, incoming residents want all that the city has to offer. Borough residents are the ones calling it quits.
Overall, the neighborhoods that are losing the most people are a lot more affordable than those seeing high inflow.
For instance, in the Morris Park/Van Nest neighborhood of the Bronx, home values are actually below the national average and a bargain compared to pie-in-the-sky NYC prices. Low costs might reflect that while kids can bike to the Bronx Zoo, on the edge of the neighborhood, there's little green space and few amenities, like museums and concert halls, in this hardworking community.
In Astoria, Queens, home values of $1.13M call attention to the fact that upscale neighborhoods aren't immune from high outflow in 2022. In fact, for communities with high prices but long commutes to Manhattan (and under the flight path at La Guardia Airport), the price tag may no longer be worth it.
While the neighborhoods with the highest outflow are affordable compared to Manhattan, none are New York's most impoverished. In fact, many, like Kingsbridge and Riverdale, in the Bronx, fare well compared to the rest of New York City, with above-average life expectancies and poverty rates.
It could be that politics, rather than affordability, is responsible for residents' moves.
III. Which U.S. Cities are Moving to and from NYC?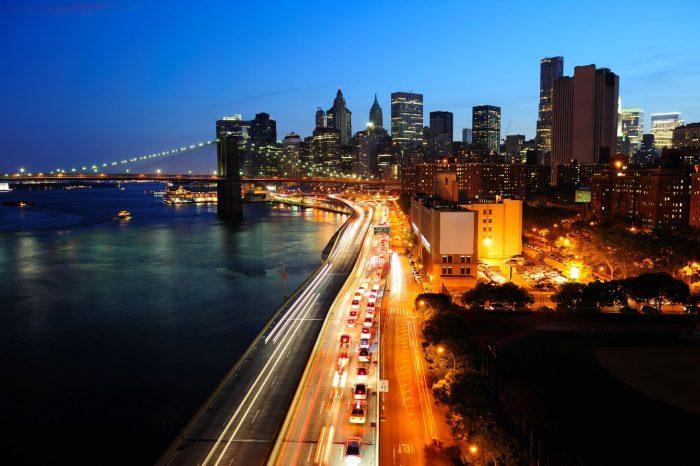 NYC moves to Florida continue to far outpace moves from Florida's major cities coming in.
In 2022, San Francisco and Seattle are responsible for the highest proportions of moves to NYC vs. those exiting NYC to these two cities.
According to moveBuddha data, the 2021 inflow into NYC was fueled by moves from Oakland and Los Angeles.
In 2020, movers from NYC headed to Los Angeles, Chicago, Minneapolis, and Columbus. Those cities all saw the trend reverse in 2021, with a spike in inflow into NYC that fell dramatically in 2022.
Philadelphia, Austin, and Dallas have crossed over the breakpoint: New Yorkers were more likely to move to these cities than vice versa in 2020 and 2021. Now, it's reversed.
From Apples to Oranges: New York City to Florida Moves
To get the best picture of where New Yorkers are heading, we looked at cities with the highest ratio of incoming New Yorkers versus that city's residents moving to the Big Apple. In 2022, Florida cities dominated the list. Fort Lauderdale, Orlando, Tampa, Miami, and Jacksonville all make the top ten.
That's even more New Yorkers with Sunshine State dreams than in 2020, when only Orlando, Tampa, and Fort Lauderdale were in the top ten.
There are more Florida cities on New Yorkers' radar than these, but the takeaway is that move-in vs. move-out ratios are rising, meaning either Florida is sending more movers to NYC in each of its top cities or NYC is sending less movers to Florida cities than in 2021.
That likely means that the outmigration from New York is slowing from its pandemic high, not that Florida is losing popularity.
But though NYC is gaining some new residents from the Sunshine state, it has a long way to go to break even. In 2022, New York's best showing was in Jacksonville, which sent just 46 residents to New York in exchange for every 100 New Yorkers heading south.
The East Coast is the Best Coast
While the Dodgers may not be moving back to New York, a lot of other West Coasters are.
But California and Washington's political leanings, cost of living, and high tax burdens aren't so different in New York City, so there are likely other reasons that cities on the Pacific are sending many more residents to New York than the city is sending back to them.
It could be the geography of high rent: in San Francisco, a small peninsula, rent can be prohibitive hours away from the city, whereas New Yorkers can find bargain prices within commuting distance.
It could be other economic factors, like the chance to change careers while waiting out the pandemic in fields like entertainment or music. Or the chance to work in New York's tech boom as California faces layoffs.
Whatever the reason, Seattle and San Francisco have move ratios over 2.0, meaning they're sending 2 residents to New York City for every 1 resident looking to move to either of these west coast cities. And three large Bay Area cities — San Francisco, Oakland, and San Jose — are in the top ten.
However, other West Coast cities are seeing more incoming New Yorkers than residents moving to New York. Places like Portland, Santa Monica, Los Angeles, and San Diego might see more move-ins because they appeal more concretely to budget-minded New Yorkers looking for extra square footage and lower mortgages in addition to West Coast vibes.
2021's Comeback Story: New York's Short-Lived Spike of Inflow
According to moveBuddha data, Oakland and Los Angeles fueled New York City's 2021 move spike, with more than two movers heading east for every New Yorker who was California dreaming. And for many other would-be New Yorkers from Minneapolis to Chicago, that moment of potential reopening was the time to leap.
Residents from cities across the country saw the chance to experience the city and enjoy a "COVID discount" on rent. The influx peaked as New York struggled to reopen in the face of new variants and muted tourism, but though the overall population was stagnant, rent prices rebounded aggressively. Those who signed leases in 2020 and 2021 were quickly priced out with renewals attached to high rent increases. Why? USPS data shows that even in Manhattan, new migration was lower than pre-pandemic levels for all of 2021 and 2022.
High prices led to more NYC outflow, but also decreased interest from newcomers: A double whammy. The cities that saw inflow from New York in 2020, then spiking outflow to NYC in 2021, found themselves receiving more New Yorkers again in 2022.
It didn't matter if newcomers were from Oakland, where the average 2021 rent for a one-bedroom was $1,934, or Columbus, Ohio, where it was $698. Potential residents shied away from the city that never sleeps, and moves to New York City from most U.S. cities slowed dramatically over their 2021 highs.
However, not everybody was discouraged. In 2022, moves into NYC from Austin, Dallas, and Philadelphia were higher than moves out, and higher than in 2020 and 2021.
That could be that places like Austin and Dallas were popular destinations themselves at the height of pandemic moves. They battled for the biggest share of Texas' pandemic newcomers, with Austin winning 46,958 new residents by summer 2021 and Dallas nabbing 76,037. New Yorkers were one of the top contributors to both cities' influx.
With real estate prices soaring, residents might be increasingly willing to trade one crowded town for another. All three cities have now crossed the break-even mark and are sending more of their residents to NYC than they see in return.
Other cities have seen their residents increasingly eyeing NYC as a potential home base, too. Boston, San Jose, DC, Baltimore, Richmond, and Salt Lake City have seen annual increases in the number of residents they send to NYC over the past three years, but NYC still sends more of its residents to these cities than it sees in return.
Top cities moving into NYC in 2022
Seattle
San Francisco
Oakland
Boston
Chicago
Philadelphia
San Jose
Minneapolis
Austin
Columbus
Top destination cities for NYC move-outs in 2022
Las Vegas
Fort Lauderdale
Orlando
Tampa
Charlotte
Miami
Jacksonville
Raleigh
Atlanta
San Diego
IV. Which States are Moving to and from New York Most?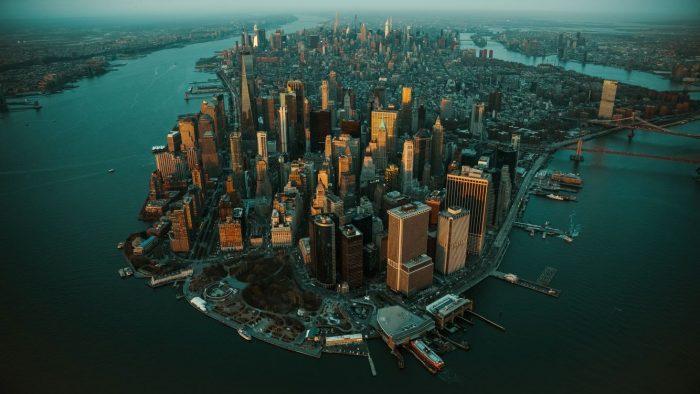 We looked at people moving from each state into NYC zip codes and subtracted those moving from NYC zip codes to the same state. That gave us net moves to NYC for each state. (This excludes moves from NYC to other parts of New York state.) 
Of net moves into NYC from out of state, and out of NYC to other states, 80% of movers are exiting the city while 20% are moving in.
OF net moves into and out of NYC
Moves OUT of NYC to other states
80%
Moves IN to NYC from other states
20%
Here are the states that NYC residents are moving to and from the most:
Former West Coasters are most likely to find themselves among new New Yorkers: California and Washington make up the biggest share of net moves into the city.
In 2022, searches for moves from Californians netted 175 into NYC, making up 30% of net inflow into NYC. Washington accounted for 126 more in-moves than out-moves, accounting for 22% of the net inflow into The Big Apple.
And with the high number of Florida cities on New Yorkers' minds, it's not surprising that the land of gators and flip-flops also tops the state list. It's reeling in more than three times the number of New York movers as #2 New Jersey.
Top 5 states moving TO NYC by highest inbound net moves:
California
Washington
Illinois
Massachusetts
Alabama
Top 5 states NYC is moving to by most outbound net moves:
Florida
New Jersey
North Carolina
Georgia
Pennsylvania
Some Diamonds in a Rough Recovery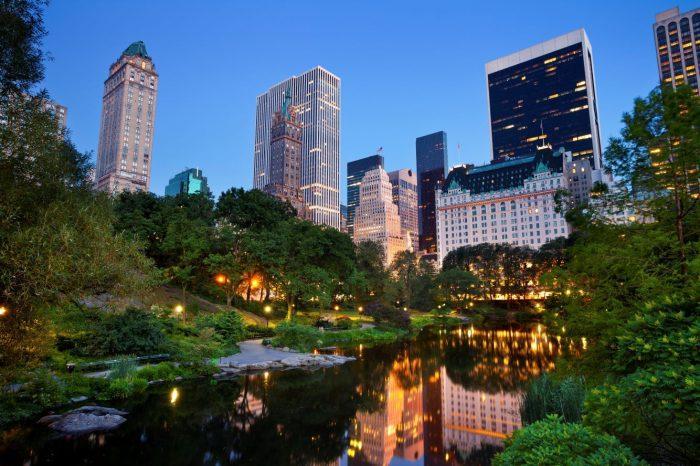 New York City wasn't gaining population from other states before 2020.
But its struggle got harder when it became the early epicenter of COVID-19 transmission. it was the kind of place you didn't want to be in a pandemic anyway: dense, crowded, full of shared public transportation and poorly ventilated office towers.
Early on, residents left the city in droves. While some returned and newcomers were enticed by the city's return in the summer of 2021, that recovery has proven to be as bumpy as the road back from any near-fatal encounter. Its much-hyped return spike couldn't overcome high out-moves.
In 2022, the influx of newcomers stalled altogether, and more residents left the state. Many hit the beach, while others found sunbelt cities cured what ailed them.
New York City continues to face growth troubles. But looking at its top and bottom performing zip codes might offer some clues to moving forward successfully: a growing NYC should look more like Manhattan — with plenty of culture, restaurants, museums, parks, and opportunities. It should embrace tech as well as theater, music, and nightlife.
Butt NYC cant thrive if it caters only to its wealthy residents. Residential housing, more walkable, livable neighborhoods, and rent that's accessible to workers are the ultimate cure for keeping New Yorkers off that beach. At least until retirement.
V. Methodology and Sources
This report primarily relies on mover search data collected from moveBuddha's Moving Cost Calculator by zip code.
moveBuddha proprietary data
Data used in this report spans from January 2020 through through December 31, 2022, capturing searches by individuals who were either planning to move themselves or hire a moving company in the subsequent year.
We used this data to analyze:
Section I: Timeline of moves into NYC
Moves into NYC zip codes
Moves out of NYC zip codes
Mover search data collected from Jan 1, 2020 through December 31, 2022, by zip code.
Section II: New York City Moving Trends
The in-to-out ratio is calculated by dividing the number of searches for moves in by the number of searches for moves out.
2022 mover search data collected from Jan 1, 2022 through December 31, 2022, by zip code.
Zillow Home Value Index and Observed Rent Index data.
Section III: Which U.S. Cities are Moving to and from NYC?
The in-to-out ratio by city is calculated by dividing the number of searches for moves into NYC from a city by the number of searches for moves out of NYC to the same city.
Cities included in this analysis had a minimum of 25 searches for moves into NYC and 25 searches for moves exiting NYC to the same city in 2022.
Mover search data collected from Jan 1, 2020 through December 31, 2022.
Section IV: Which States are Moving to and from New York Most?
Net inflow into NYC by state: The number of searches for moves from a state into NYC zip code subtracted by those moving from NYC zip codes to the same state.
This excludes moves from NYC to other parts of New York state, and the reverse.
2022 mover search data collected from Jan 1, 2022 through December 31, 2022, by zip code.
Not what you were looking for?
Check out other categories that can help you find the information you need!
See All
Hide All