The 25 Best U.S. Cities for Electric Trucks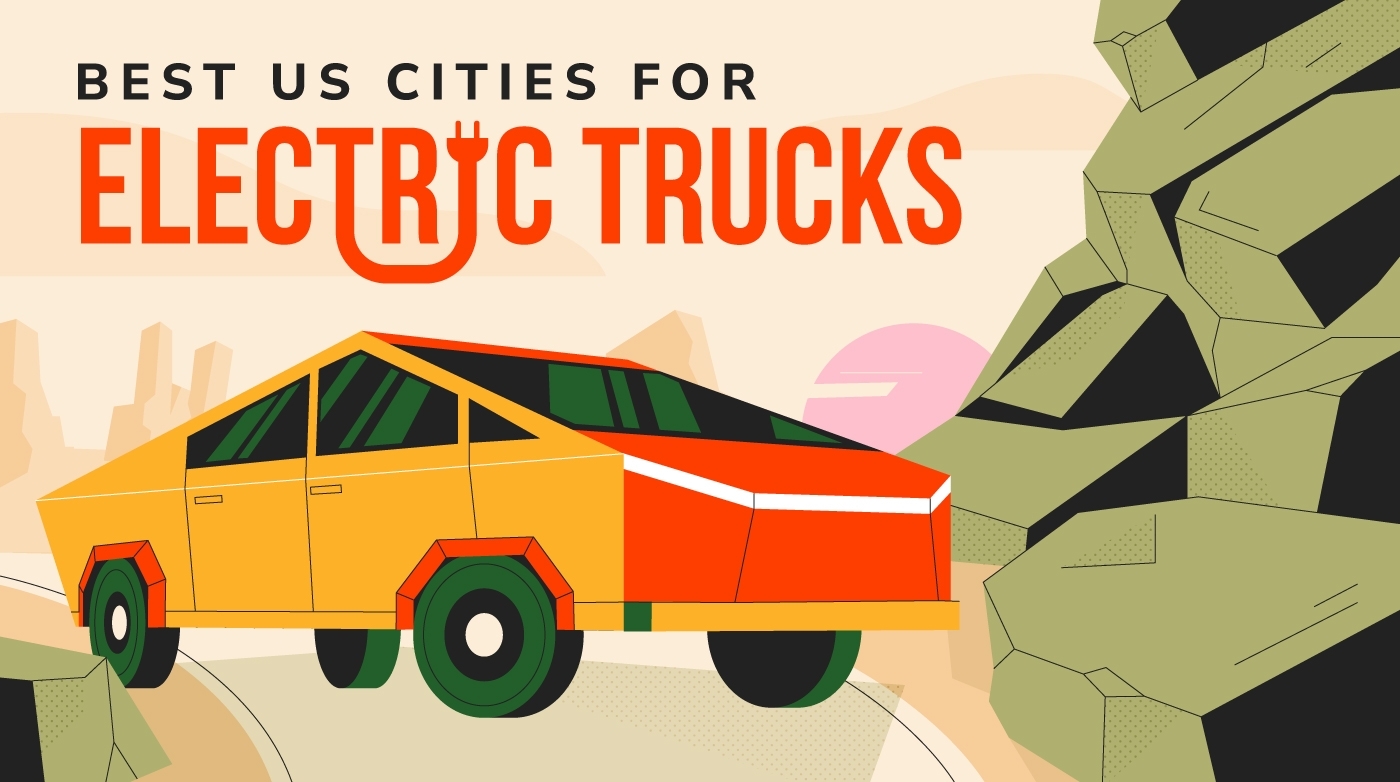 There are few things Americans love more than pickup trucks. Four out of the top ten best-selling cars in the U.S. are trucks, and the Ford F-150 has been America's #1 vehicle for over 40 years straight.
But as increasing numbers of auto manufacturers begin to transition away from fuel engines, it was only a matter of time before the pickup truck got an electric makeover. In fact, 2022 will mark the release of two highly anticipated, fully electric pickups: the Tesla Cybertruck and the Ford F-150 Lightning.
Could electric trucks be the game-changer that brings America to embrace electric vehicles?
The United States has been comparatively slow to adopt electric vehicles.
In 2020, only 2.2% of new vehicles purchased in the U.S. were electric, lagging behind the global adoption rate of 4.6%.
But electric trucks could speed up the transition to electric mobility.
Both the Cybertruck and the Lightning will offer power, payload, and towing performance on par with fuel trucks. And, with prices starting around $40k, Tesla and Ford are hoping to nudge the American public towards electric truck mobility with accessible price points and promises of lower cost of ownership.
Where are electric trucks most likely to catch on?
We wanted to find out which American cities (population 100k and up) are primed to become early adopters of electric trucks.
Our team analyzed 4 categories of city-based data: EV charging availability, electric infrastructure, truck buyer demographic, and proximity to outdoor activities. We've mapped the top ranking 25 cities best for electric truck ownership.

*Read about our sources and methodology here.
Key Findings
California, already leading the way in electric vehicle adoption, is likely to be the largest market for electric trucks. 12 of our top 25 cities are located here, including the #1 spot, Santa Clara. Here, there are 247 electric vehicle charging stations per 100k residents, more than 11 times the list average of 22.
Colorado cities feature in 5 of our top 25, thanks to excellent outdoors-access, below-average electricity prices, and high numbers of typical truck consumers. And in Boulder, our #2 city overall, there are 152 electric vehicle charging stations per 100k residents, 7 times the list average.
Only a handful of cities with more than 150k residents made our list: Irvine (#3), Salt Lake City (#9), Sunnyvale (#12), Atlanta (#19), and Los Angeles (#25). The list is instead dominated by smaller cities and suburbs of major metropolitan areas. These areas offer plentiful access to the great outdoors, and less density likely means fewer parking hassles for truck drivers.
Electric trucks will likely catch on in the Western U.S. before the South, Midwest, or East Coast
Of the top 10 cities we identified as leading contenders for electric truck adoption, 9 are located in the Mountain and Pacific Time Zones, scattered between Colorado, Utah, California, Oregon, and Washington State.

Cities like Santa Clara, Boulder, and Bellevue are home to large numbers of highly educated, high-earning individuals at the intersection of profiles for truck-interested and EV-interested buyers. The typical F-150 buyer is a white (or, increasingly, Latino) man aged 55 with a household income of $82k. In contrast, the typical electric vehicle buyer is a white man aged 40-55 with a household income of $100k or more.
Beyond demographics, these regions also offer the perfect combination of state-sponsored financial incentives, well-developed charging infrastructure, and proximity to outdoor adventures that make them prime locations to enjoy both the convenience and rugged capabilities of an electric truck.
Which states are encouraging their residents to drive electric vehicles?
California, home to 12 of our 25 ranked cities, is already a leading market globally for electric vehicles. Currently, 46% of electric vehicles purchased in the United States are bought by California drivers, and 8.1% of all new vehicles bought in California in 2020 were electric.
More than any other state, California heavily incentivizes consumers to purchase electric vehicles. These incentives include a $2,500 rebate (in addition to the federal tax credit) and HOV lane access, among other things.
California's EV-friendly policies have boosted positive attitudes towards electric mobility among California drivers. A 2020 survey by Ford Motors showed that while only 40% of American pickup drivers, on the whole, would be interested in switching to an electric truck, 62% of pickup drivers in California were excited about the prospect.
Though electricity prices are higher in California compared to the rest of the country, so are fuel prices. By some estimates, the average California resident stands to save $866 per year on mileage by driving an electric rather than a gas-powered vehicle.
In Oregon, Washington, and Colorado, similar incentives exist in the form of income tax credits and sales tax exemptions. In Oregon, in particular, a number of local energy providers offer rebates on the installation of home charging stations.
In Utah, there are income tax credits for those who convert their vehicles to run on electricity, but no incentives currently exist for the purchase of a new electric vehicle. But what Utah lacks in incentives designed to drive EV adoption, it makes up for in cheap electricity, the price for which currently sits roughly 13% below the national average.
Smaller cities and suburbs appear better for electric truck drivers than densely populated city centers
One major trend evident from our ranking of the best cities for electric trucks is the predominance of smaller cities on the outskirts of major metropolitan areas like San Francisco, Los Angeles, Denver, Portland, Seattle, Baltimore, and Boston.
Only three major cities feature in our list: Salt Lake City (#9), Atlanta (#19), and Los Angeles (#25). By comparison, the list features three cities that are suburbs of San Francisco (Santa Clara, Sunnyvale, San Mateo), five that are suburbs of Denver (Boulder, Highlands Ranch, Westminster, Centennial, Arvada), and seven that are suburbs of LA (Irvine, Burbank, Torrance, Costa Mesa, Orange, Pasadena, Fullerton).
This trend suggests that electric trucks may be quicker to catch on in less densely populated areas and areas with high concentrations of people who commute by car. Those who live in the middle of major metropoles, on the other hand, may feel a truck is too large and too much of a parking hassle for driving around the city — regardless of whether it is electric or not.
Furthermore, suburban locales often have better access to the great outdoors, where the off-roading and towing capabilities of an electric truck can be put to good use.
Methodology and sources
This study was limited to U.S. cities with populations of 100,000 or more, according to 2019 estimates from the Census Bureau.
Our ranking includes 4 categories of data; a relative score of 0-10 was assigned to each city for the following criteria:
EV Charging: Density of electric vehicle charging stations (2x weight)
List average:               0.9, or 22 charging stations per 100k residents
Top 25 average:         3.1, or 77 charging stations per 100k residents
Electric Infrastructure: Electric costs and incentives (normal weight)
Average retail price of electricity (cents/kWh) by city; if no city data was available, the statewide average was used
Number of statewide laws or incentives for electric vehicles
List average:               5.1
Top 25 average:         4.8
Truck Ownership: Demographic factors (normal weight)
State truck sales adjusted by a city-to-state population ratio
Percentage of population aged 30-59 (Census)
Percentage of population with Bachelor's degree or higher (Census)
Percentage of population with household income exceeding $75k (Census)
List average:               3.84
Top 25 average:         4.75
Outdoor Activities: Density of campsites, national parks, and state parks (normal weight)
List average:               3.0
Top 25 average:         5.8
Final score calculation and ranking
The cumulative scores of these four categories (with double weight for EV charging stations) were averaged to assign each city a score of 0-10. Cities were ranked according to these cumulative scores.
The list average score for all cities was 4.0. The score among the top 25 cities ranged from 4.4 to 10.0, with an average score of 6.3.
Not what you were looking for?
Check out other categories that can help you find the information you need!