Broad Street Movers: Full Company Review
Overall Opinion
Broad Street movers is a local and interstate moving company based in Pennsylvania.
This company has 13 years of experience moving household goods, furniture, and commercial equipment.
They offer a range of moving services that suit the needs of those needing local and interstate residential, commercial and corporate moves.
After evaluating the many reviews of this company on several sites, we can conclude that they are one of the best local Philadelphia moving companies.
Many happy customers often cite their professionalism, efficiency, and affordability.
Based on their top-tier service and range of services, they earn a spot on our list of the top moving companies in Philadelphia.
How does Broad Street Movers compare to other Philadelphia movers?
| | | | | | | |
| --- | --- | --- | --- | --- | --- | --- |
| Company | Price | Vendor Type | Quoting options | Storage | Minimum Move Size | Interstate |
| Broad Street Movers | $$$ | Carrier | Phone/virtual estimate/In-person | Yes | 1 bedroom | Yes |
| L & J Transportation | $$ | Carrier | Phone/virtual estimate | Yes | 1 bedroom | Yes |
| Moverama | $$ | Carrier | Phone/virtual estimate | Yes | 1 bedroom | Yes |
| Bellhop | $ | Carrier | Phone/virtual estimate | Yes | 1 bedroom | Yes |
Jump to the Broad Street Movers review section that you're looking for:
About Broad Street Movers
The Broad Street Movers company (U.S. Dot#2472401) is a local moving company based in Philadelphia, Pennsylvania. According to their BBB profile, Broad Street Movers is an independently owned and operated moving company that has been operating since 2008. As a registered AI FMCSA carrier trucking service, they have completed more than 18,000 moves for their clients in Philadelphia and the greater Mid-Atlantic region.
Although Broad Street Movers have their headquarters in Pennsylvania, they frequently conduct local, long-distance, and interstate moving expeditions. As an independently owned moving company, they have a particular focus on ensuring their clients feel satisfied with their moving team. Additionally, they strive to ensure their clients feel valued, and they aim to always think outside of the box when facing project challenges.
At present, Broad Street Movers have six registered trucks and have logged more than 10,000 miles, according to their Safer FMCSA listing. According to this listing, they impressively completed 60,000 miles in 2019.
This company specializes in full-service local and long-distance moving and is also a storage company. Broad Street Movers offers residential and commercial moving in Philly, corporate relocation, and professional movers to handle local and interstate city relocation. The team at Broad Street Movers also has experience in hoisting furniture, furniture disassembly, and moving pianos'.
Pros & Cons
Free in-home quote estimates.
Extensive range of services.
Excellent reviews on Yelp and Citysearch.
Provide specialized services such as piano moving and storage.
13 years of moving experience.
Listed on governmental moving websites.
Don't belong to any charities or trucking organizations.
The customer service personnel are only available five days a week.
Don't offer two men moving crews.
Cannot move automobiles.
No international transportation options.
Dorment Facebook page.
Broad Street Movers offer a broad range of services
Broad Street Movers offer an extensive range of services which is arguably why they are considered one of the best movers in Philadelphia. Below is a brief breakdown of the various services they offer.
Express Moving Services to Washington DC and New York: Not every move has a flexible timeframe. The company thus provides express moving service for those moving to Washington DC and New York.
Labor Only Moving: Should no packing be required, this company can still be of assistance. They have a labor-only moving service that will only cater to transporting your goods.
Long Distance Moves: This company handles long-distance interstate city relocations. They have expert knowledge of how best to move to big cities like Boston, New York, and Washington DC. Additionally, they also provide packing services for moves that involve interstate city relocations.
Storage Services: Should you not have a new commercial or residential address yet, you can choose to place your items in storage. Broad Street Movers provides short-term and long-term storage solutions.
Local Residential Moves: This moving company offers quality movers adept at providing those looking to move locally within Philly packing services and unpacking services. They also transport your goods from your old residence to your new home.
Corporate Relocation: If a company requires corporate relocation moving services, this moving company can assist. Broad Street Movers are experts at relocating corporate employees. They can assist with the entire process, from packing up a previous residence or business address to unpacking at a new location.
Commercial Moves: Alongside residential moving, they also offer local and long-distance commercial moves. The company can pack, move and unpack all your commercial equipment and office furniture to your new location safely and efficiently.
How much do Broad Street Movers charge?
There is not much information surrounding the company pricing policies, but they provide a quality service that is a good value for money. Those interested in determining how much the company would charge to move them can fill out an online moving quotes form or contact the company directly via the telephone.
Additionally, the company does offer an in-home quotation service. They send a professional team member out to your location, and this member will conduct a free quotation.
Once you fill out their online form and submit it, a representative from the company will get back to the potential client within a few days. They will provide a cost quotation and confirm details and answer any queries relating to the move.
You should note that they charge an additional 2.75 percent fee on all credit card payments after accepting a quotation.
Should you want to receive an accurate quote on your next move, you can discover the best movers in your area with our moving cost calculator.
Broad Street Movers has a great online reputation
Before you decide to hire Broad Street Movers, it's crucial you look into their reputation and online presence. When you conduct a Google search of the business, you will notice that they have a Google My Business listing. Overall their reviews on Google are exemplary. They currently a 4.9 out of 5-star ratings out of approximately 234 reviews. Most people commented on how they are one of the best Philadelphia moving companies.
According to the BBB database, this company has an A+ accreditation, as we mentioned previously. However, they do have one actively closed complaint within the last three years. Thus far, the company has not received any complaints on the AI FMCSA database.
When looking at Yelp reviews, the company has received amazingly positive feedback. At present, they have a 4.5 out of 5-star ratings with more than 260 reviews. Many of the Yelp reviews indicate the company is professional and incredibly affordable. Presently, Broad Street Movers does have a social media presence, but they are not very active. The last time their Facebook page was updated was in 2020.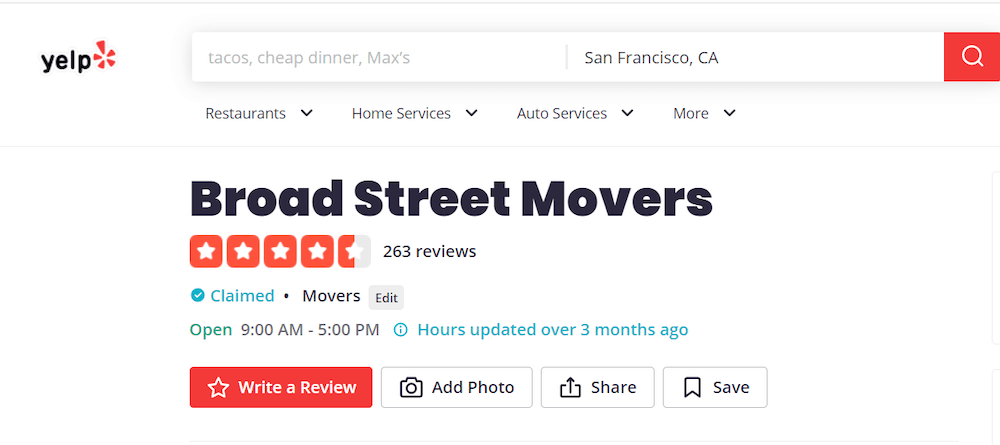 There is an "about us" page on their company website, but it is not very detailed. It also does not have any information surrounding the founders or much company history. However, they have a frequently asked questions section that is informative, and their website does give plenty of information surrounding what the company does.
| | |
| --- | --- |
| BBB Complaint Types | Number |
| Sales or Advertising | 0 |
| Collections or Billing | 0 |
| Deliver-Related Concerns | 0 |
| Warranty or Guarantee | 1 |
| Product or Service Problems | 1 |
What can customers expect using Broad Street Movers?
This moving company has customer service representatives who can be contacted Monday to Friday between 9 am and 5 pm via their telephone number or email address.
Both of these contact reference points are easily identifiable on the company's website. Additionally, customers who want to book an appointment with them can visit their headquarters, phone or email them.
Currently, Broad Street Movers does not state if they offer an on-time delivery guarantee or specifically make a pricing guarantee. However, according to online reviews and reviews on governmental websites, they are not challenging to get in contact with, and most customers enjoy working with them.
Is Broad Street Movers licensed and insured?
In the United States, there are primarily four different governmental databases that collect information about moving companies. Each time we review a moving company as part of our research, we will check the databases to see what information is registered. Additionally, we also check if the company has claimed its various profiles.Essentially, these databases let us discern how credible a moving company is. In addition, the information on the databases allows us to cross-reference the information on the company's website.
| | |
| --- | --- |
| Database | Listed (Y/N) |
| AI FMCSA? | Yes |
| SAFER FMCSA? | Yes |
| Licensing Insurance FMCSA? | Yes |
| Better Business Bureau (BBB) | Yes |
Unlike other moving companies in Philadelphia, Broad Street Movers are BBB certified and carry an A+ business accreditation. Additionally, according to the BBB database, this company has only had one official complaint with the BBB in 13 years.

Additionally, in the last 12 months, there have been no complaints. Moreover, they have received two five-star reviews that have commended the company on superbly professional service and excellent expertise in disassembling and reassembling furniture items.
Based on the information recorded on the governmental databases and the services and information listed on the Broad Street Movers website, we can conclude that the company is transparent and credible. In addition, the company's cargo-hauling capabilities that include household goods and carrier operation information referencing interstate travel on their website perfectly aligns with the information listed on their Safer FMCSA profile.
For more information on how moving company regulations and why we choose to look at these databases, check out our post on how moving companies are regulated. 
Should You Consider Broad Street Movers?
Broad Street Movers is an established, independently owned moving company with 13 years of experience servicing the Philadelphia area with local and interstate moves.
Since they were founded, they have continued to gather excellent reviews across many platforms, including Yelp and Google reviews. Additionally, they market towards anyone needing moving or storage services, including packing and unpacking and loading and unloading.
Essentially, they are an ideal moving company choice for those in Philadelphia who require local or interstate, residential, commercial, or corporate relocation moving services.
Should you require more help choosing a moving company and attaining a free moving quote, you can check out our moving cost calculator to learn your options.
Not what you were looking for?
Check out other categories that can help you find the information you need!