What's the cost of living in Austin, TX?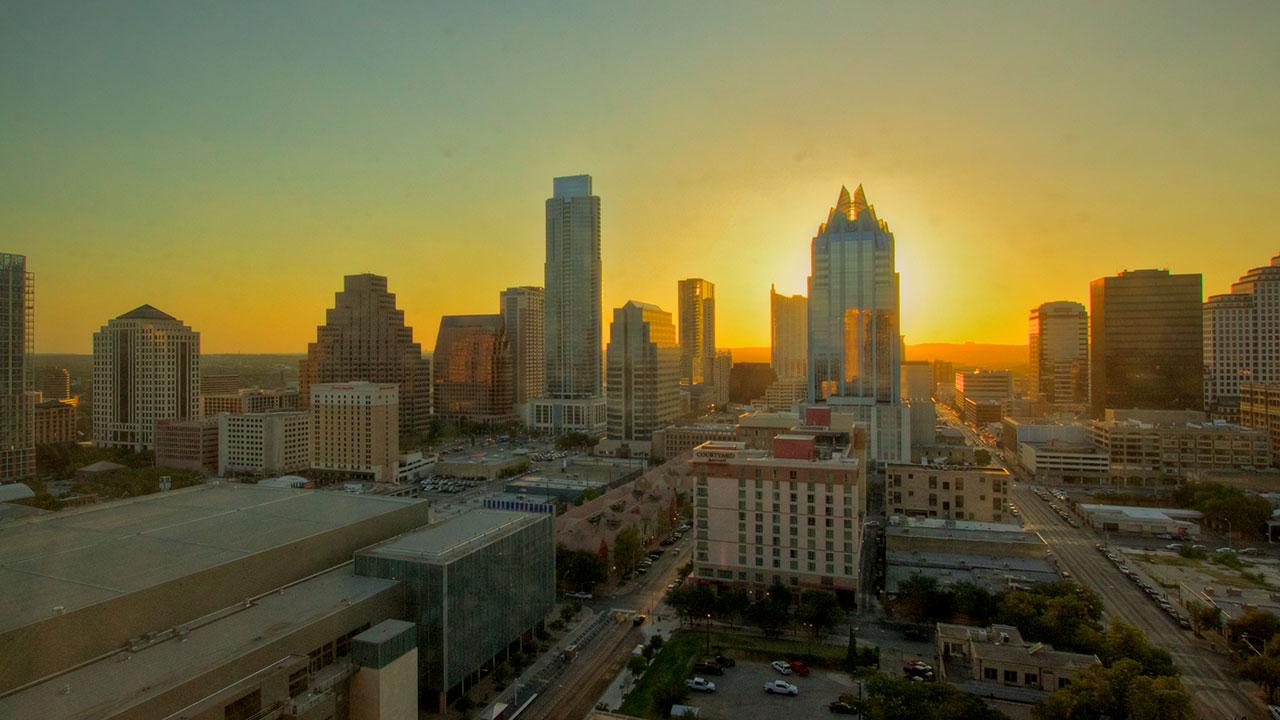 Photo Credit: H. Michael Miley
According to Expatistan, Austin is the 25th most expensive city in the United States.
That's definitely on the higher end of expensive cities, but it really isn't that far off from other cities with similar sized populations.
From the graph below, you can see that Austin is 5% less expensive than Fort Worth and 2% less expensive than Jacksonville. It's cost is almost dead-even with Charlotte's.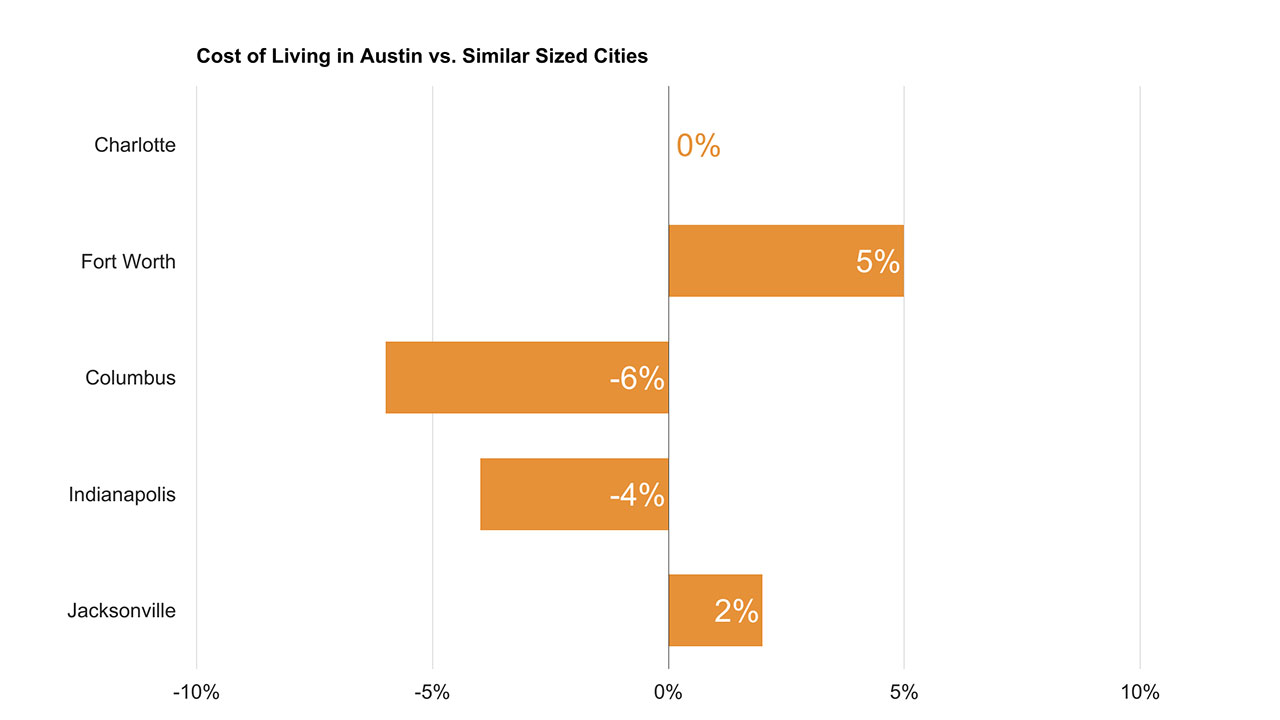 The only two cities coming in slightly cheaper are Columbus and Indianapolis. So if you're looking to save a bit, maybe consider moving up to the midwest.
But seriously, it's the midwest.
Is nearly freezing to death in the winter and spending the rest of the year fearing Children of the Corn really worth saving a few bucks?
Moving to Austin from another city?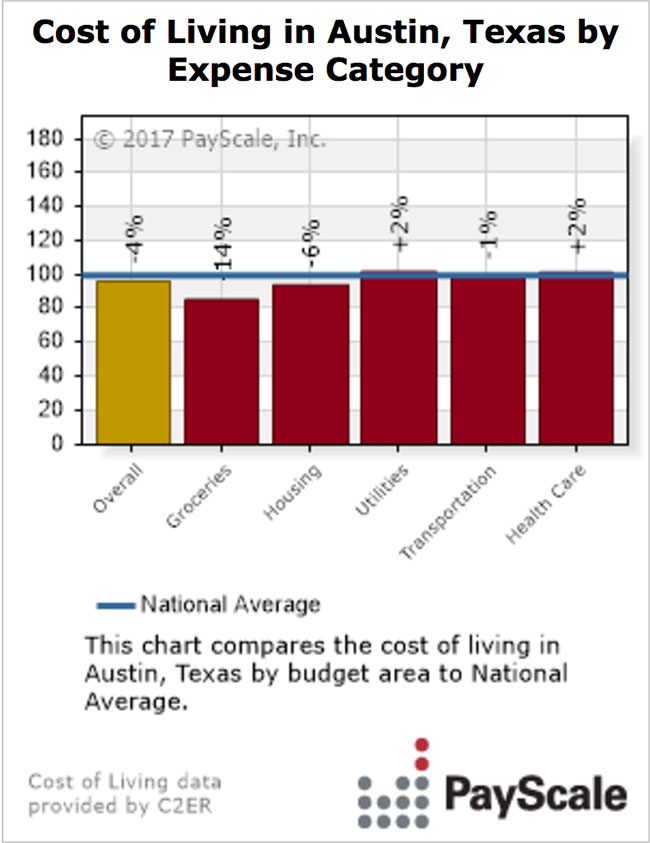 These narrow margins are further reflected when you look at Payscale's chart of the individual costs of certain expenses in Austin compared to their national averages.
Everything is pretty close to the averages. Utilities, Transportation, and Health Care are more expensive but only by a couple percentage points. Groceries are 14% cheaper in Austin. All around, that's not bad for such an awesome city!
More differences start to appear when you look at Austin compared to some major cities that are near it.
Dallas, Houston, and Fort Worth are all more expensive than Austin and Corpus Christi is another tie. San Antonio is less expensive by a pretty wide margin and makes for a nice alternative if you don't mind a hefty commute.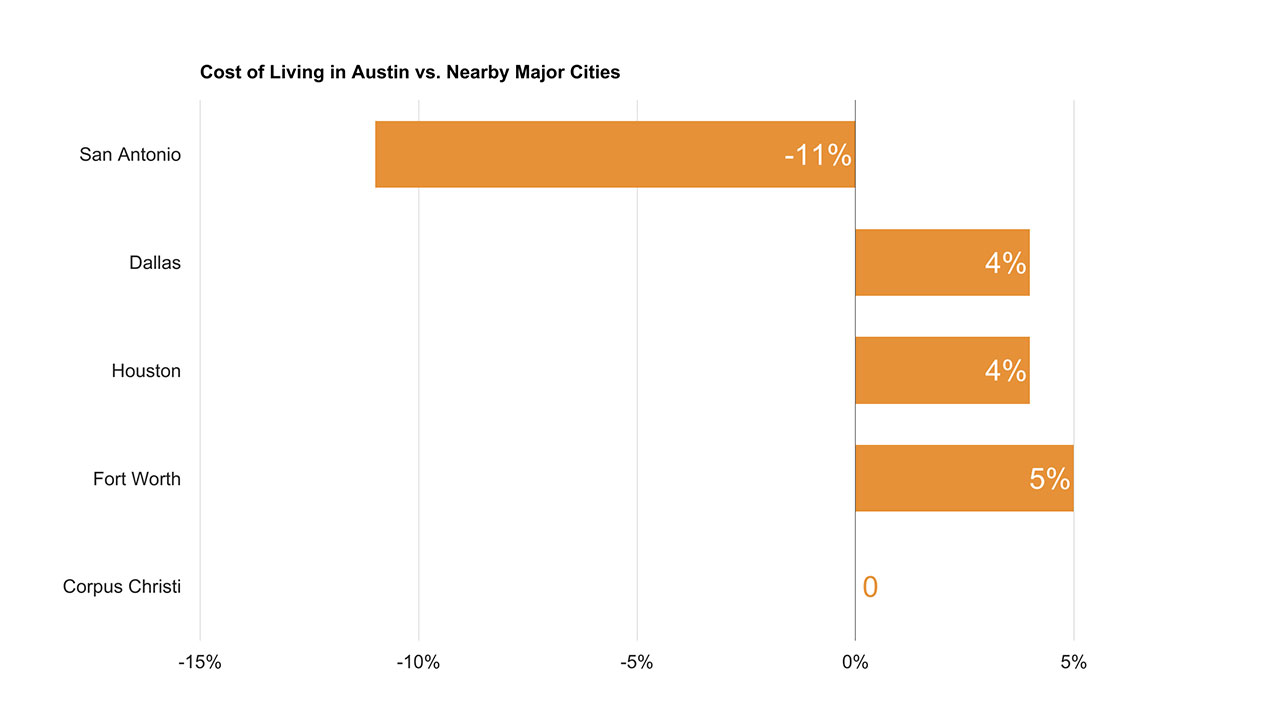 The cost of living in Austin more or less falls squarely in the middle of that of major Southern cities.
Still, it's hard to get a clear picture when speaking this broadly so let's look closer at how much everything's actually going to cost for you to live here.
Here's a full examination of the expenses and cost of living in Austin
Now that you have a general idea of cost, let's look a bit closer at the specific individual monthly expenses you'll be dealing with.
Short answer: You're going to end up spending between $1,470 to $2,470 every month, depending on your lifestyle.
So here's how it breaks down.
Housing: between $939 and $1,801 each month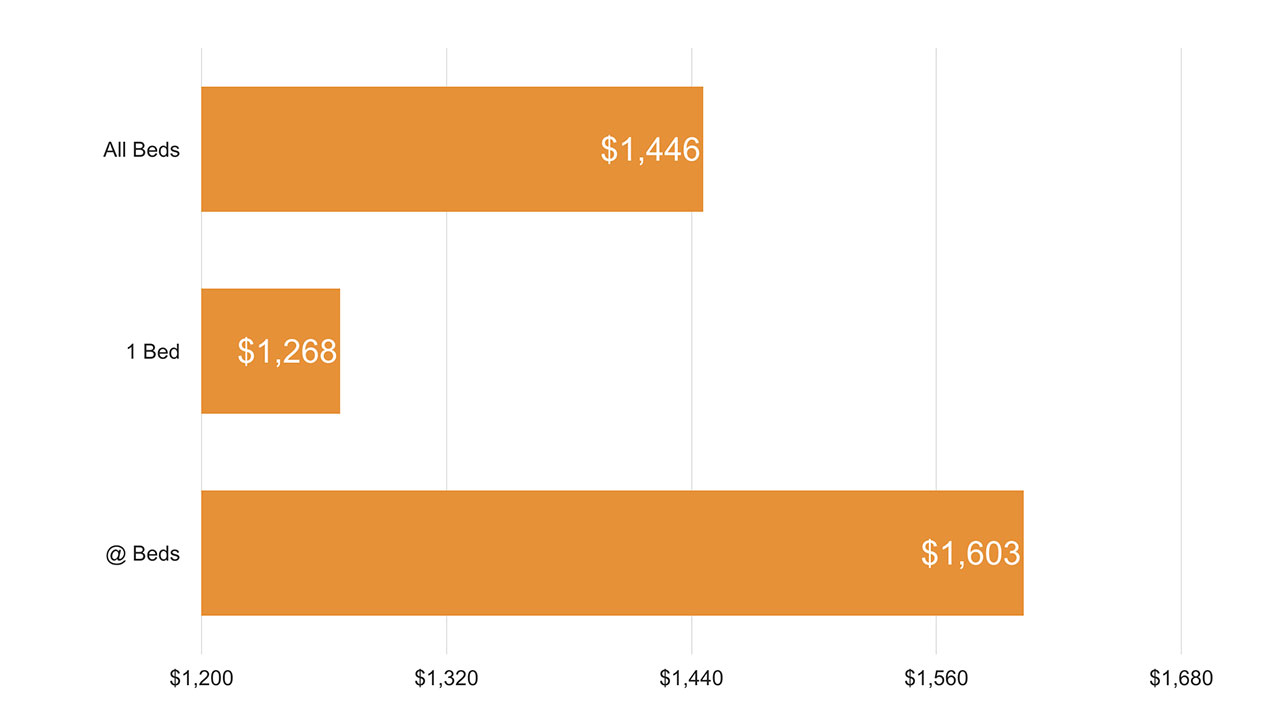 This means that you'll probably spend around $1,200 if you live alone and closer to $800 if you plan on living with roommates.
You should also consider that overall Texas rent is on the rise with a 4.8% increase in rent and a very small decrease in vacancy rate according to the most current statistical data.
Finding a decent place you can afford in Austin can be tricky.
Utilities: $114 per month
Since this is Texas we're talking about, you're definitely going to spend a good portion of the year trying futilely to escape the heat. Cranking your air conditioner up to full blast will be the norm.
The rest of the year, you'll be contending with the chilly winter nights by at least having some sort of heating.
Point being, none of this is good for your electricity bill.
Internet: $30 – $68 per month
The Internet is more or less a necessity no matter what your lifestyle is like. Luckily, Austin is a big enough city to have a variety of options of plans, price points, and internet service providers.
Groceries: $332 – $377 per month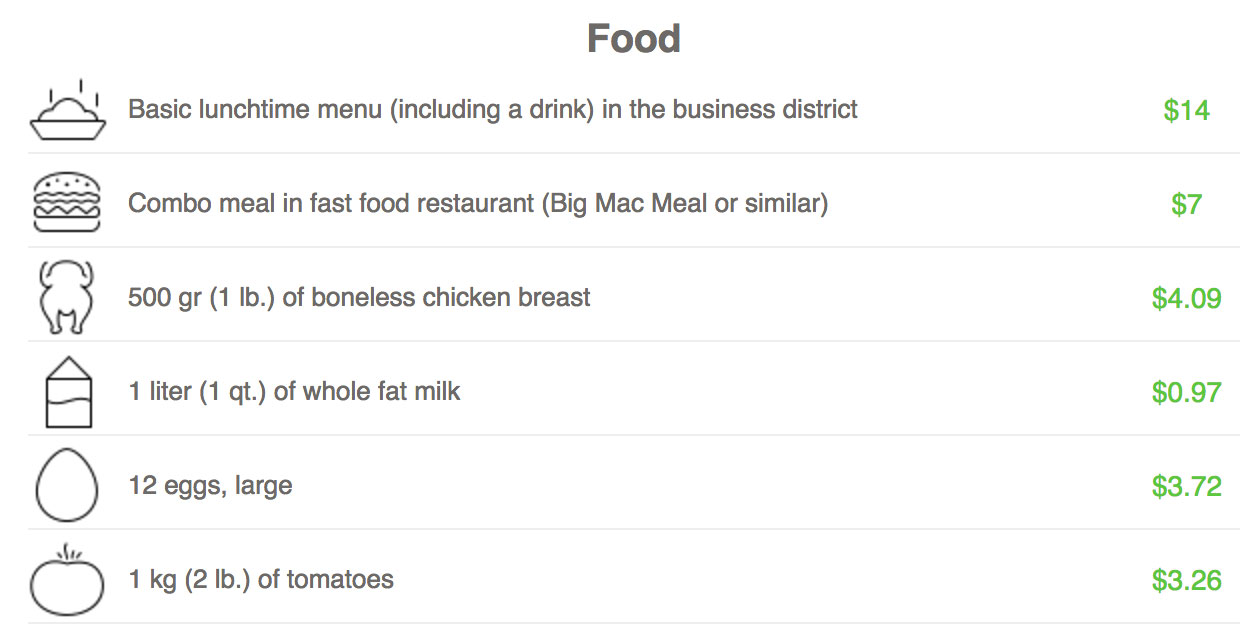 Numbeo suggests that you'll be spending an average of $332 on grocereries every month, which comes to a daily minimum of $10.54 per person. The Price Rankings at Numbeo can give you a more thorough picture of this.
Note: this doesn't include going out to eat or bar hopping.
Transportation: $55 – $380
Everyone's transportation costs are going to be extremely different depending on where they're going and how they're getting there. That being said, Austin's prices are fairly average.

Austin Public Transportation isn't anything to write home about and the city has fairly low transit scores. You might be able to get by on foot but you're gonna need to be living in the right neighborhood.
If the public transit situation doesn't sound great to you (which, yeah, we get it), you'll have to contend with driving in Austin's notoriously bad traffic.
Bottom Line: You're going to wind up with monthly basic living expenses between $1,470 and $2,740 in Austin
One last thing, don't forget about taxes
You won't have a complete idea of what your financial situation is like until you know your state's tax laws.
The sales tax in Austin is 8.25% which is somewhat higher than you'll find in the rest of the country. On the upside, Texas doesn't take any income tax!
We should also emphasize the fact that your cost of living can vary extremely depending on your lifestyle. Being single, married, living with roommates or having kids can drastically impact your expenses.
The MIT Living Wage Calculator does a good job of assessing your personal situation and giving you info on how much you'll be spending.
If you're ready to head to one of the most culturally relevant and popular cities in the country, head over to our moving to Austin guide for everything you'll need to know to get going.
And if you're coming from somewhere within the greater Austin area, be sure to check out our Austin moving costs post for some great resources for finding affordable moving companies.
Not what you were looking for?
Check out other categories that can help you find the information you need!
See All
Hide All