Is Moving to Austin Worth It?
If you love music, the tech scene, independent film, and all kinds of food, you won't regret moving to Austin.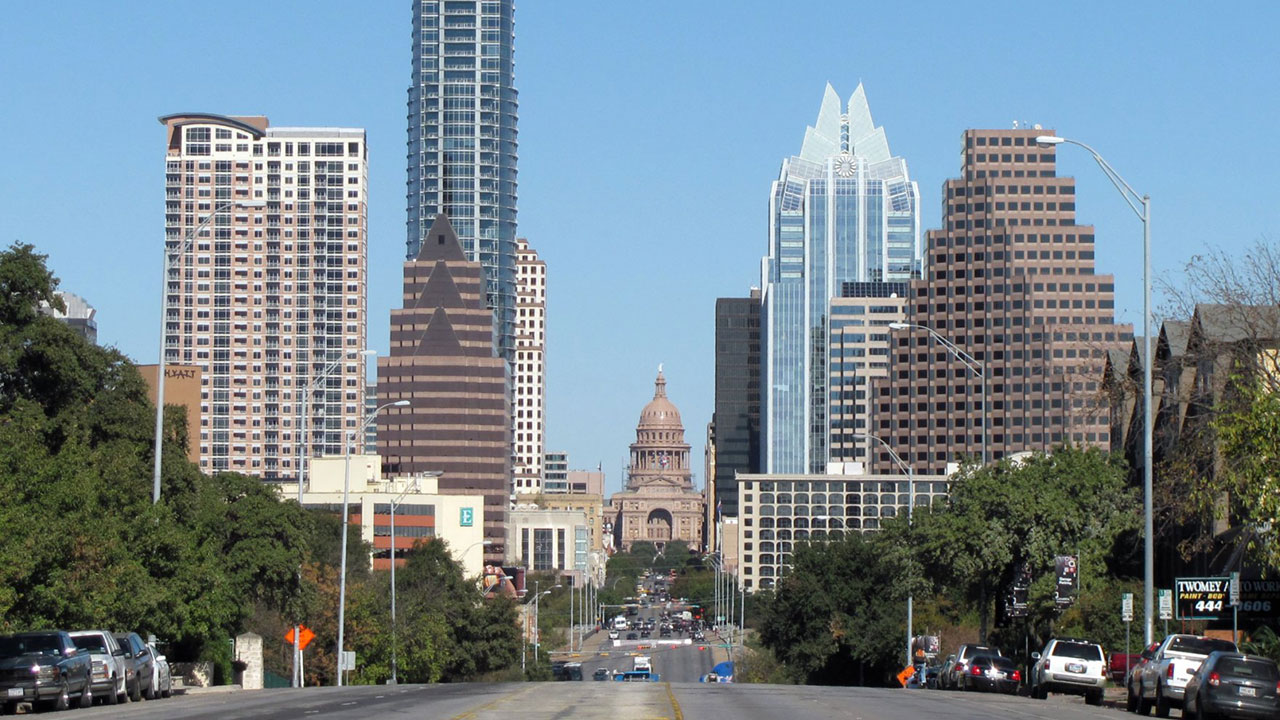 Photo Credit: Michael
Austin is a capital city with one of the fastest growing populations in the country which comes as both a blessing and a curse. Fortunately, we're here to help you to not stick out too much as an Austin newbie.
Our guide will give you the essential groundwork you'll need to get you on your way to being a full-blown Austinite.
Because of its boom in cultural relevance, Austin has the 11th highest population in the United States, clocking in at 950,807 people.
Austin has the 19th highest rent in the country with the average 1 bedroom apartment costing around $1,313.
And even though it became popular as an inexpensive environment for artists to create, Austin's high cost of living has led it to be the 23rd most expensive city in the US.
Before we really get into it, let's take a tour through downtown Austin.
The neighborhoods of Austin
Austin isn't a huge city, but that doesn't mean it doesn't have its regional distinctions.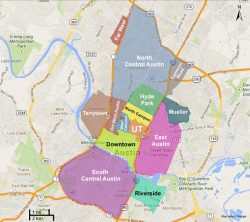 The center of town, including the Downtown, Central, and parts of the East and West regions, are going to be both the most exciting and most expensive places to live.
As you move outwards from the middle such as the North, South, and Southeast regions, things will get cheaper but it'll become more and more difficult to find cool things to do.
Essentially, your decision on where to live is going to come down to two factors: what type of people you want to live around and how much you can afford to pay for rent.
Below is a rent price map showing the average prices you'll find in each area of Austin.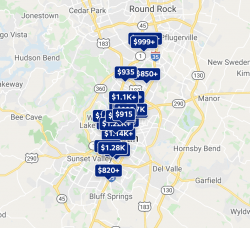 Here's how rent prices break down:
Downtown, Bouldin, Triangle State, and Old West Austin are some of the most expensive, oldest, and busiest neighborhoods available with rents ranging from $1796 to $2560.
Highland, Brentwood, Rosedale, and East and West Congress are more moderately priced areas with rent coming in between $1150 and $1530
Parket Lane, Wooten, Hyde Park, and Windsor Park are all on the cheaper-end of the affordability spectrum where you'll find rent ranging from $935 to $1074.
And if you still have questions, Maps of Austin is a great resource.
Still, price isn't everything. This is especially true when talking about something as important as where you're going to live. You should also take into account the feel of the neighborhood you're moving to.
Where in Austin are people like me living?
Everyone wants to live near people they relate to and Esri's Zip Tapestry tool has made it incredibly easy to find areas with like-minded neighbors.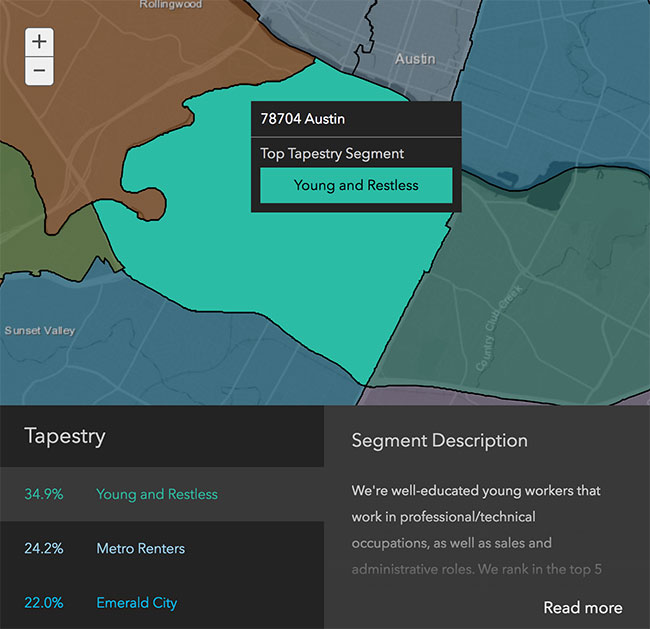 To demonstrate, when you plug in the zip code for Bouldin (78704), you get a detailed description of the three main demographic groups living in the area.

Whether you like your neighbors or not, you'll all need to know how to get to work on time, so you'll have that to agree on.
On that note, let's take a look at the transit options in Austin.
The struggle of the Austin commute
Look––everyone thinks the city they live in has the absolute worst traffic. Austin has plenty of traffic, but so do most major metropolitan areas.
Driving in Austin isn't great, but it's still fairly average
Still, Austin isn't without its own traffic quirks. I-35 can get congested and is a common topic of complaint among locals and transplants alike.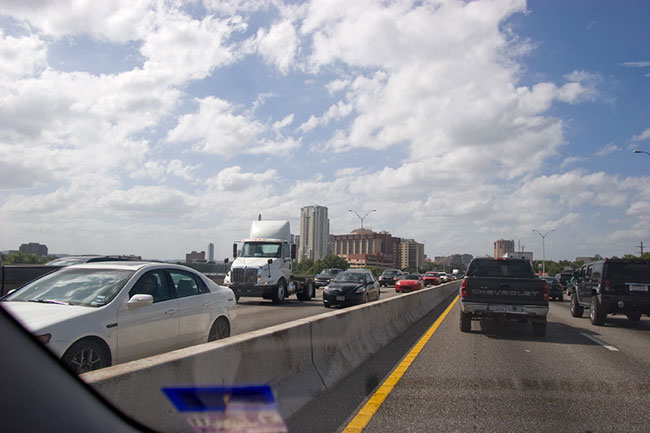 Fortunately, the city recognizes this and has recently begun construction on an I-35 improvement project.
Other than that, you have your typical rush hours that can cause delays ranging from 30 minutes to an hour. Again, pretty normal.
In Austin, it's also particularly important to keep an eye out for pedestrians and cyclists. This is an extremely active city and there are people jogging and pedaling everywhere.
Now, let's talk about being the pedestrian.
Back to index

Walking, bussing, and biking in Austin
While there are some areas of Austin that are fairly walkable, the city as a whole is pretty car-dependent.

A walk score of 41 isn't terrible, but it could be better.
Essentially, unless you're living downton or near the University of Texas at Austin, you'll probably want to have a car.
The bus system isn't great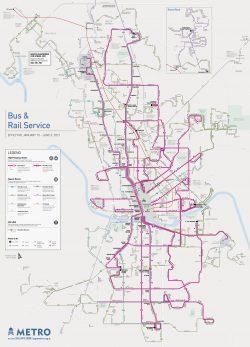 The public transportation system in Austin is…lacking, at best. With a transit score of only 34, it's hard to recommend this as an option for everyone.
Essentially, what this score means is that Austin has "a" transit system, but it isn't exactly useful unless you're using it strictly in the Central and Downtown regions.
Alternatively, the local Metro System provides a slightly more reliable (but also more expensive) means of getting to, from, and around Downtown.
Austin is totally bikeable, though
Strangely enough, Austin's best commuter option is the humble bicycle. This is probably due, in part, to the fact that Austin is an extremely active, healthy city.
The community's interest in enjoying the great outdoors has lead the city to develop a decent infrastructure for cyclists earning the city a bike score of 54.
Along with their numerous bike paths (as seen on the map to the right), Austin also features B-cycle, an affordable bike-sharing program.
Whether you're considering roaming around the city on foot or on wheels, you'll probably also want to have an idea of what the crime rate is like in Austin.
An average crime rate in Austin
It's important to approach crime statistics in any major city with some consideration.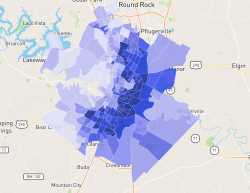 According to NeighborhoodScout, Austin has a crime score of 7 out of 100. That isn't super great…
Still, when you look a bit closer at the data, you see that property damage and theft makes up the majority of annual crime, while violent crime only accounts for 8% of total crimes committed annually.
So yeah, keep in mind that "crime" doesn't always mean "danger" and that as long as you stay aware of your surroundings and don't actively look for trouble, it's pretty easy to avoid bad situations.
Still with us? Good, because now that the basics are covered it's time to get into actually finding a place to live.
Finding an apartment in Austin
For starters, let's look at the accommodations you'll need
In case you haven't caught on thus far, the city of Austin is located in Central Texas. The state of Texas, as you may or may not know, gets hot.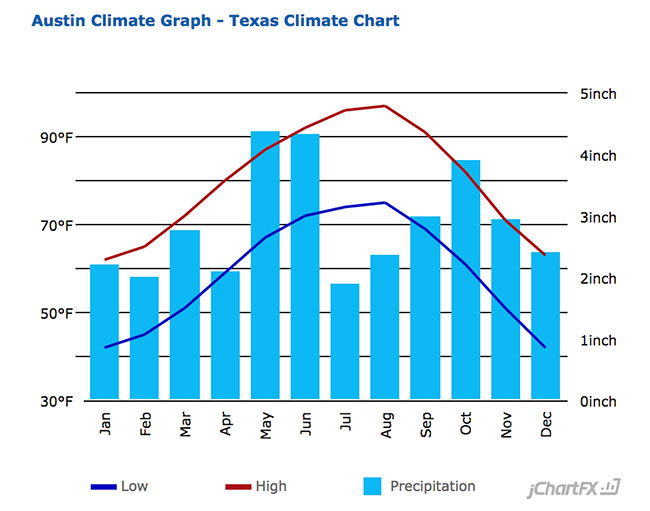 On top of the heat, temperatures get pretty chilly during the winter too, particularly at night.
Because of this, you'll almost certainly want an apartment with heating and air-conditioning.
You'll also want to think about the price of utilities like the average internet cost in Austin, to make sure you can budget accurately.
Also, the city's poor walkability means you'll want a place with a washer & dryer. If you're planning on living in the Downtown area you can probably manage without.
Where to look for an apartment in Austin
Here's a selection of some of our go-to apartment hunting sites. Each one should have search functions that help you specify your search by the desired number of bedrooms, budget, etc.
Now, it may seem a bit sketchy, but Craigslist can be a really effective resource when it comes to finding places to rent in Austin, particularly if you're seeking a bargain.
Note: This DOES NOT mean you should trust Craigslist implicitly. Here's their guide on how to recognize potential scammers.
Austin's rental market
Living in Austin isn't nearly as affordable as it once was, but in comparison to similar cities, it's not the worst place you'll find to rent.
Over the past year, rent in Austin has increased by 6.4%, beating out the state average of a 4.6% increase and the national average of 5.3%.
Meanwhile, the vacancy rate in Austin is at 5.57% (a .05% decrease from the previous year), compared to the 5.97% national vacancy rate. So, below average, but at least it's on the rise.
Texas: Know the (rental) law
There are some super sketchy landlords out there. Be sure to know your rights so you can avoid being taken advantage of.
Maybe you prefer a quieter lifestyle, but also want to be close to the trademark Austin Weirdness.
Fortunately, there are plenty of solid suburbs with decent home prices surrounding Austin that provide great spaces for families to grow without getting bored.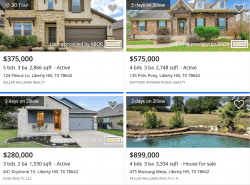 Liberty Hill
This affordable, rural neighborhood will remind you that you're still in Texas without losing the Austin influence. The area is full of reasonably priced single-family homes, outdoor activities, and numerous local shops and restaurants, so the quality of life is pretty good.
Other Affordable Suburbs: Hutto, Lockhart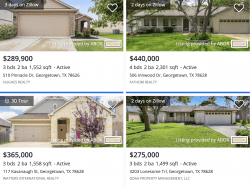 Georgetown
Historic Georgetown is a somewhat pricier option, but definitely offers more cultural attractions as well as a tight-knit community feel. With real estate options ranging from single-family homes to historic Victorians and plenty of art and culture, Georgetown is the perfect "Austin-adjacent" neighborhood.
Other Great Austin Suburbs: Lakeway, Round Rock
Now that you've found a place to live, you'll probably want to know what there is to do in your area.
In all likelihood, this is why you've moved here in the first place. Austin may have a lot going for it, but its biggest draw is the sheer amount of unique music, food, and bars. With a city this jam-packed, it can be hard to know where to start, so let's get a brief overview.
Bars
Like most college towns, Austin loves its booze. And with such a wide-ranging community, your options for different atmospheres in which to drink are plentiful.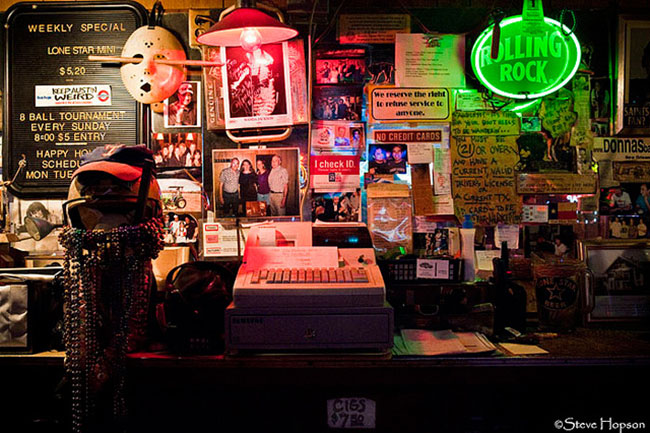 For those who prefer their bars a bit divey, Deep Eddy Cabaret is a local favorite with a neighborhood watering hole feel.
For beer aficionados, they can head over to Craft Pride for one of the widest selections in town–including a whopping 50 taps dedicated solely to beers brewed in the Lone Star State.
And those in the mood for a night of classy cocktails should look no further than the carefully crafted concoctions at Half Step.
The live music capital of the world
Now this is what it's all about. Austin is a live music fan's paradise, but the number of options can be pretty overwhelming.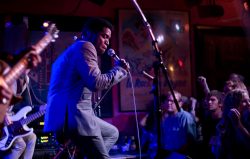 Look, with a music scene this big, we're just not qualified to cover it all here. Everyone's musical tastes vary, but Austin probably covers whatever you're into. Here's the city's official resource for finding music in Austin.
Now that you're ready to move to Austin…
Use our moving cost calculator to estimate your moving costs to Austin.
Check out a more detailed moving to Austin guide from your specific origin
Also, if you are coming from out of state, be sure to have a look at our long-distance relocation guide for more info and tips.
If you're moving locally, you can find great local Austin movers with reviews here.
Parking a moving vehicle in Austin
You'll also want to make sure you and/or your movers have a place to park.
In Texas, residents are required to apply for a temporary parking permit before parking moving vehicles on residential streets.
For more information on getting a permit, check the Texas Department of Motor Vehicles site.
Stuff to take care of post-move
And that's it! Now that you're an official Austonian, here are some of the little details you'll need to square away.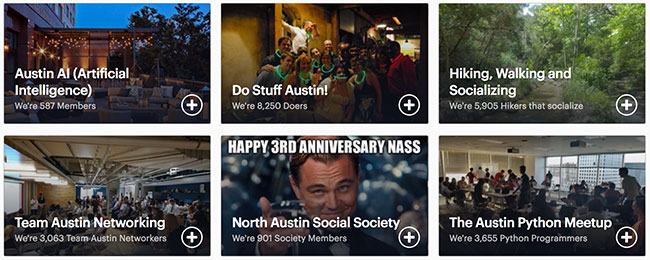 Eating, exercising, and keeping Austin weird
And once you have all the important stuff taken care of, it's time to dive into the best of what Austin has to offer!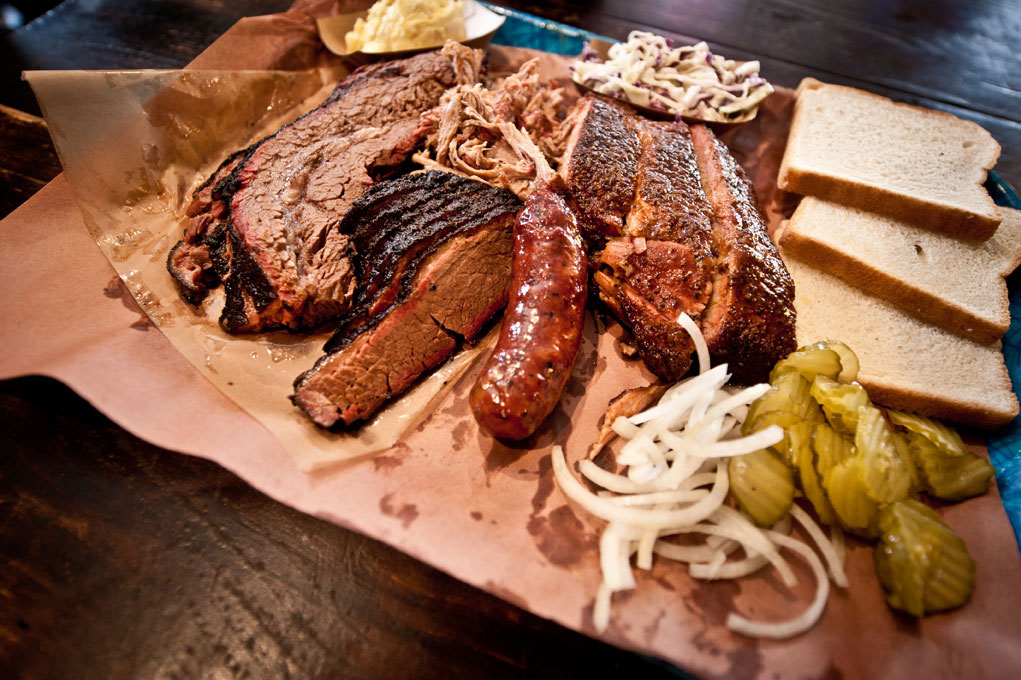 Okay, that's all. Now enjoy some music!
Not what you were looking for?
Check out other categories that can help you find the information you need!