Washington DC: Surrounding Neighborhoods Guide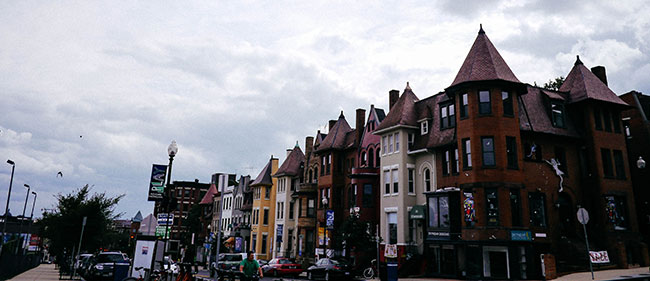 The closer you are to the action, the more you're gonna have to pony up for rent. Because of this, many people choose to live outside of the Downtown area.
In this guide, we'll give you the rundown on all the major neighborhoods surrounding the DC metro area.
We'll also break down average rent prices, help estimate your commute to downtown, and give you an overview of each neighborhood's unique vibe and nightlife.
If you want to jump to a specific neighborhood, feel free to use the table below. Otherwise, scroll through and let's get started.
The District of Columbia and Its Eight Wards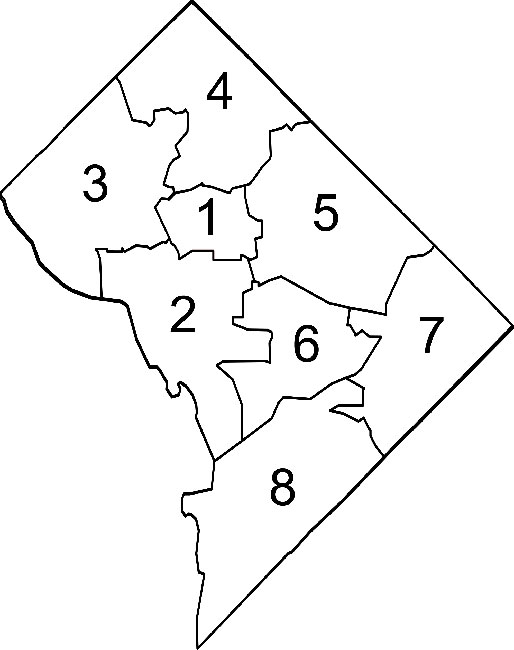 DC is divided into eight distinct Wards, each with their own unique history, culture, and architecture.
Looking at each ward and the neighborhoods it encompasses is a good way to determine exactly where in the city you want to be.
For the purposes of this post, we don't have time to go deep into the nuances that differentiate each ward. But here are some resources that give a more detailed idea of what you're in for.
A Commuter's Guide to DC
There are plenty of resources to help you calculate your exact commute to work, but we thought it'd be a good idea to give you a brief overview of general commute times from each neighborhood to a centralized area of the city.
As an example a chart of commute times from each of the neighborhoods we're covering to the Washington Monument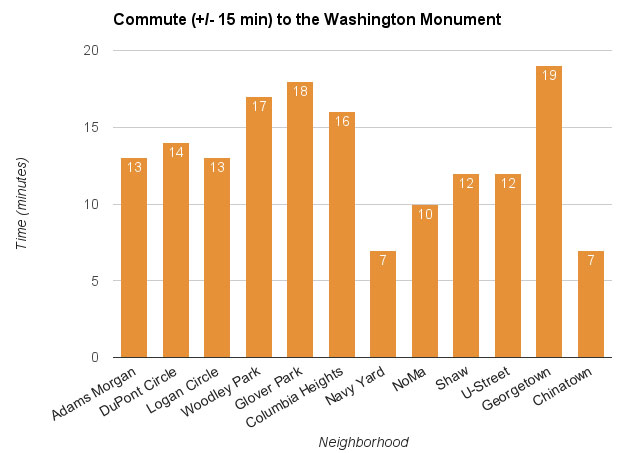 Now keep in mind, this is only a rough estimate. Here's a good link you can use to calculate your specific commute once you know exactly where you'll be coming from and going.
Comparing Average Rent
Another major factor in choosing where to live is, obviously, the price of rent.
It's good to keep in mind, while a neighborhood may be extremely trendy and conveniently located for your commute to work, those benefits may be drastically outweighed by insane rent prices.
Here's a chart of the average rent prices for each neighborhood we're covering compiled from Rent Jungle.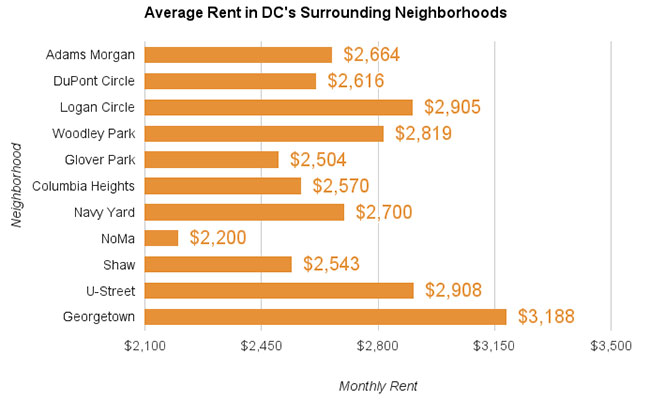 Now, these prices may look sort of scary (and they kinda are), but that doesn't mean there aren't plenty of reasonably priced rental options.
These are just averages meant to give you an idea of what's out there, but our Moving to DC Guide has a ton of resources to help you find a wider array of properties.
Alright, now let's talk about specific neighborhoods.
Adams Morgan
With an abundance of restaurants, accessibility to the active nightlife of 18th St, and a diverse population, Adams Morgan offers a unique charm that you can't find many other places in the city.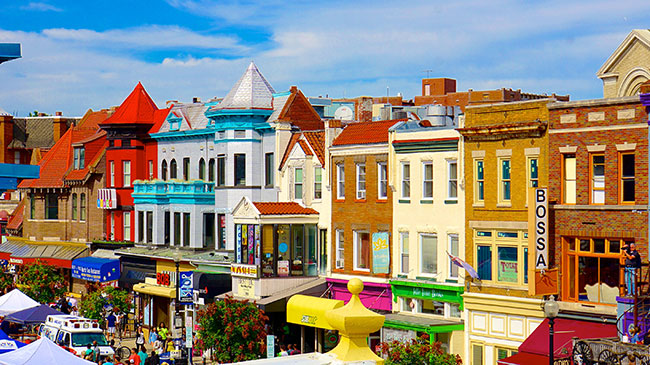 This area attracts all types ranging from college students, music lovers, to young professionals who have a "work hard, play hard," mentality.
The one major downside? Buses are available, but there's no public Metrorail stop. You have to trek to a separate neighborhood, Woodley Park (which isn't that far away).
Median Household Income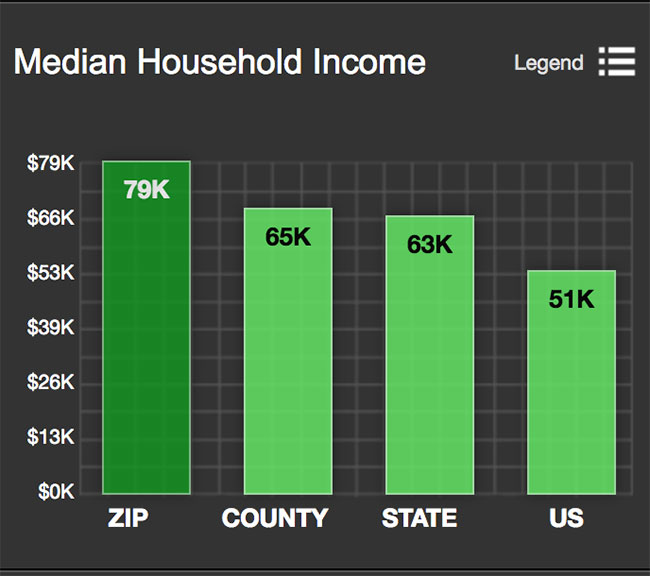 Adams Morgan is located in DC's First Ward, the central cluster of neighborhoods surrounding Downtown.
Because of its convenient location, the cost of living is pretty high. This cost vs. convenience tends to attract people with a slightly higher income than you'll find in the rest of the city.
Noteworthy Local Hotspots
DuPont Circle and Logan Circle
Dupont and Logan Circle are the hubs of young professionals. The nightlife is slightly less happening than Adams Morgan, but the lunch, brunch, and happy hour scene is real.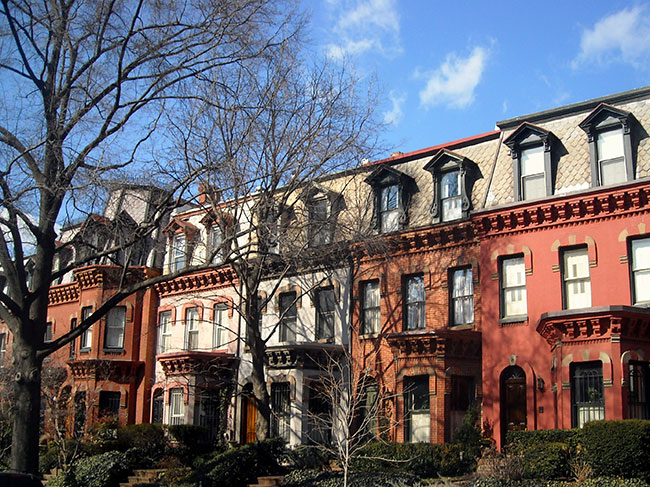 But, be warned! Rent average is higher than AdMo (which is very expensive), but definitely a great spot to be if you can afford it.
Median Household Income
DuPont and Logan Circles are two incredibly trendy areas in the Second Ward.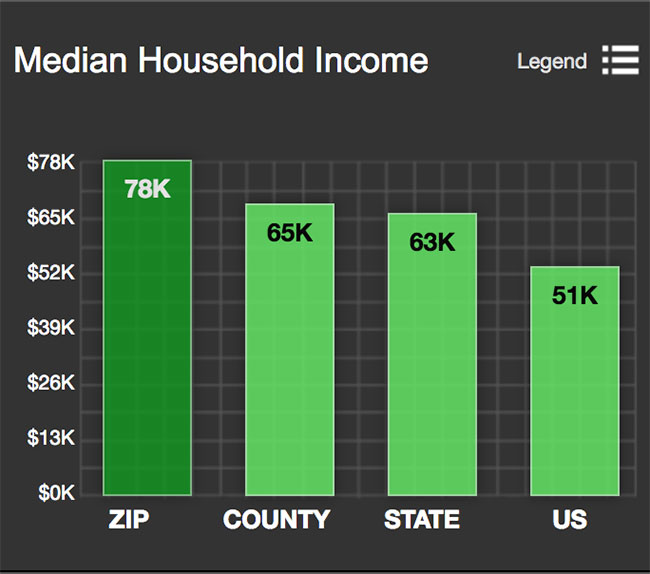 Dupont Circle Household Income (left), Logan Circle Household Income (right)
Unfortunately, the hipness factor will cost you a pretty penny. Of the two, DuPont Circle's residents make substantially more than the average income, but Logan Circle residents are also slightly higher paid than most.
Noteworthy Local Hotspots
Woodley Park, Glover Park, Columbia Heights
These are solid "affordable" options if you are either: working on the Hill making dirt money, a grad school student, or a person who cannot afford over $1200 in rent every month.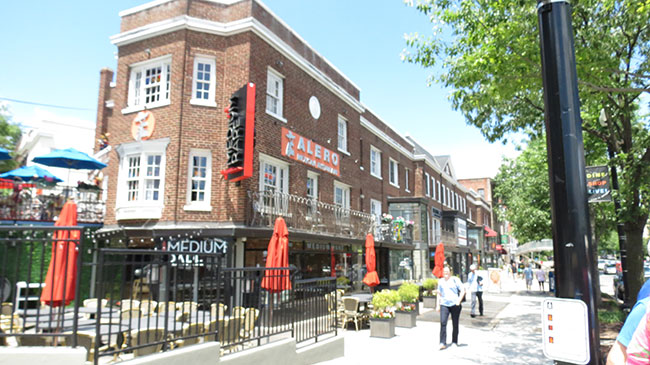 They are all Metro accessible, relatively safe areas (you need to keep a watchful eye out no matter where you live), and offer their own unique flair/nightlife scene. Check these spots out if you're on a tight budget.
Median Household Income
Columbia Heights is at the edge of the First Ward, while Woodley and Glover Park are both located in DC's Third Ward.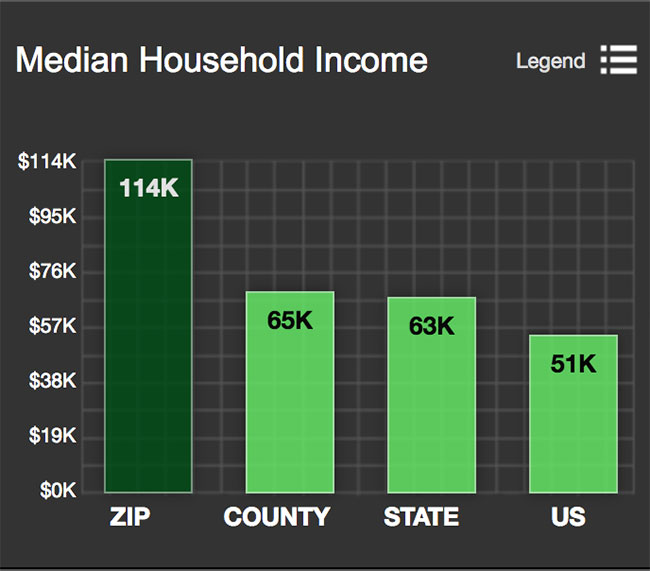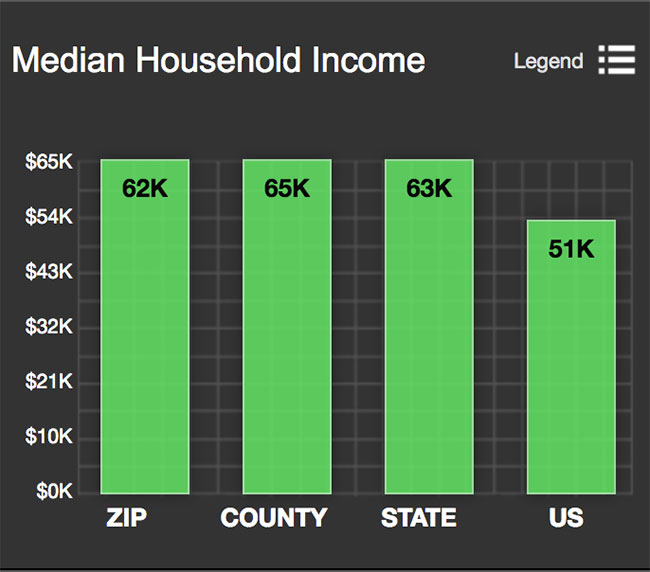 Woodley & Glover Park Household Income (left), Columbia Heights Household Income (right)
They're a bit further out than places like Adams Morgan, but you'll find more variation in rent price because of it with Woodley and Glover Park attracting higher-paid residents and Columbia Heights residents earning closer to the city's average.
Noteworthy Local Hotspots
Navy Yard, NoMa, Shaw
Although in totally different quadrants, these are the "up and coming" neighborhoods in DC. New restaurants, renovated rowhomes, and a refreshing new vibe to what once were "watch your back" type of neighborhoods. Especially Navy Yard.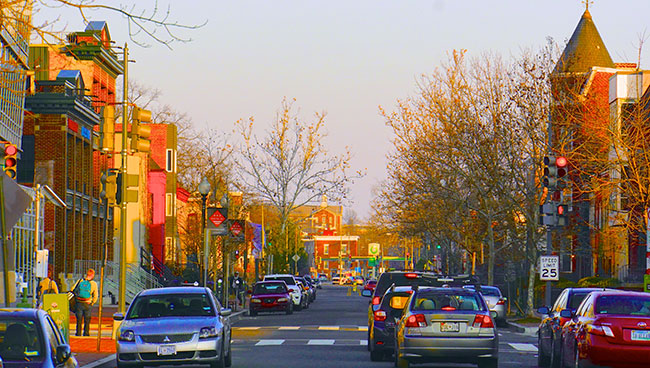 Median Household Income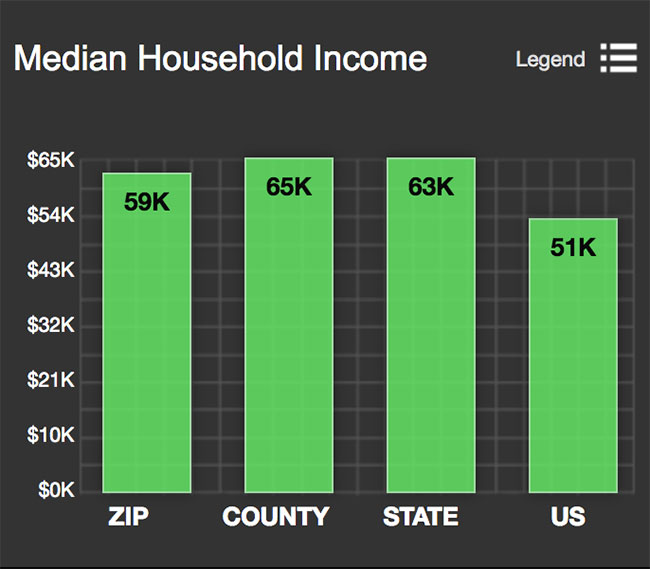 Shaw is uniquely positioned within the First, Second, and Third Wards. Navy Yard and NoMa both exist on the fringes of the Second Ward.
Since Navy Yard and NoMa are still somewhat under-the-radar areas, there isn't a ton of demographical data available on them yet, but the average rent price being on the higher end of the spectrum implies that they attract a crowd that makes slightly above the city's median. However, Shaw's median is lower than the rest of the city's.
Noteworthy Local Hotspots
U-Street
Ah, U-St, the hub of nightlife. Although gentrification has been on the rise the past decade, there are parts that stay true to its core with a dense music and historical culture. Apartments are going up EVERYWHERE, and they're not cheap either.

Walk down U-Street and you'll find bars of all kinds: Irish dive, nightclubs, edgy craft cocktail spots, gay sports bars, the list continues.
median Household Income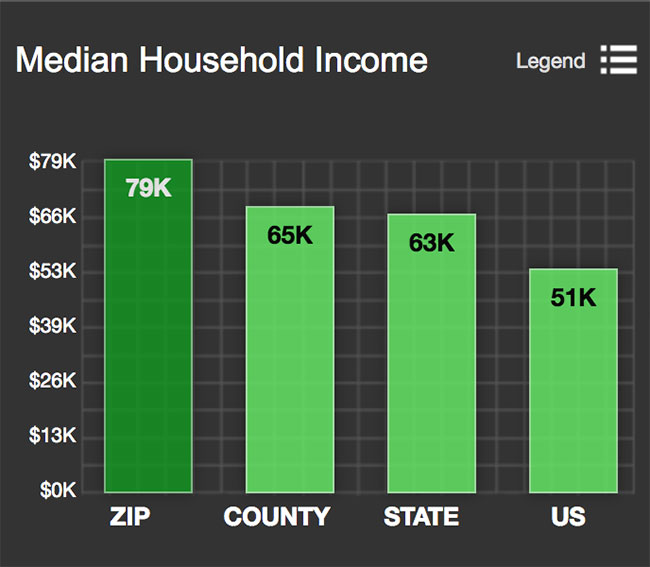 U-Street occupies a nine block stretch throughout Shaw and Dupont Circle in DC's Second Ward.
Now, between the centralized location and the proliferation of nightlife and gentrification tends to attract residents with pretty high household incomes.
Noteworthy Local Hotspots
Georgetown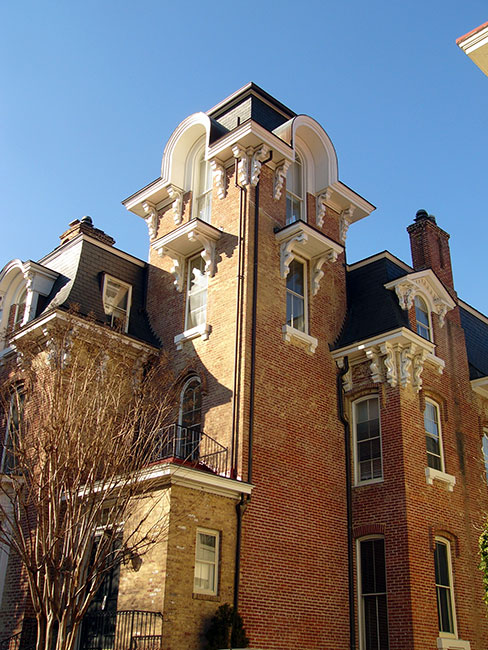 Georgetown's charm is like no other. Cobblestone streets, picturesque waterfront scenery, and cookie-cutter rowhomes painted with pastels. The pristine nature of this neighborhood is due in part to the fact that they have successfully steered clear of implementing a Metro stop (making it rather hard to get to) and have a law banning all bar crawls.
Shopping is to Georgetown as bars are to U-Street. This neighborhood is always full of tourists, Georgetown University students, and residents carrying multiple shopping bags. M Street is a strip of high end shops and restaurants. We'd recommend this neighborhood to (wealthy because rent is outrageous) people/families who are seeking a quieter part of the city with a more suburban vibe.
Median Household Income
Georgetown is conveniently located in the Second Ward.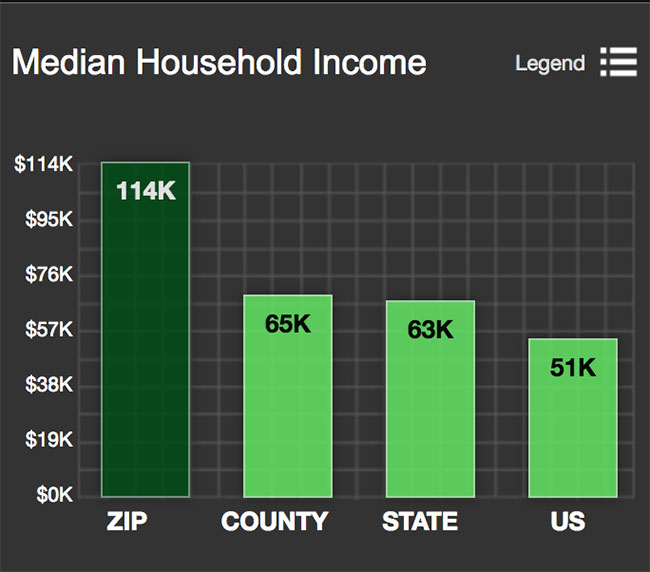 It's centralized location and idyllic scenery make Georgetown a great suburb to live in if you work in the city but don't love the city lifestyle. This has also lead to some high real estate prices though, so the majority of Georgetown residents are probably making somewhere near a six figure salary just to be able to afford to live there.
Noteworthy Local Hotspots
Chinatown
This neighborhood is awesome and brings in all types of people. Being from Boston, this is not the "Chinatown" that I was used to.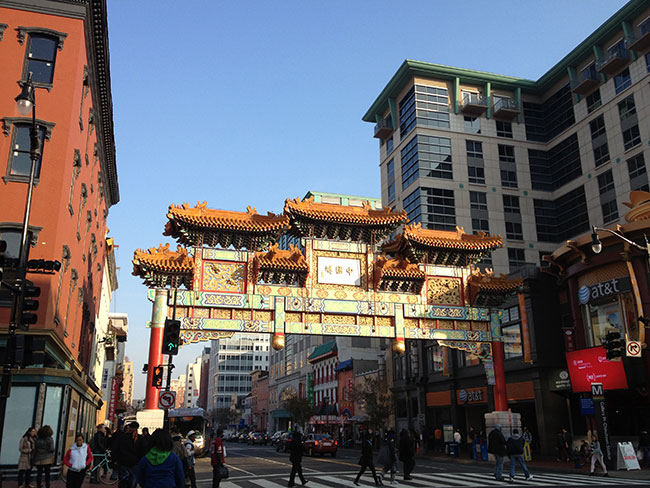 It's much more commercialized, however, this neighborhood offers a hip vibe with a diverse set of restaurants/bars, museums, and street art. People migrate to Chinatown for the vivacious charm it has to offer.
Median Household Income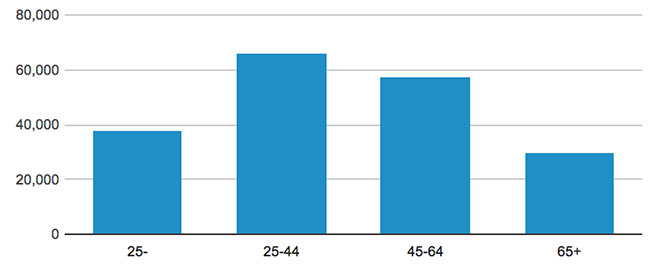 Chinatown encompasses the area between 5th and 8ths Street Northwest, directly to the east of Downtown in DC's First Ward.
This is probably your best bet in terms of affordability and a centralized location. The median household income in Chinatown is the same as the county average.
Noteworthy Local Hotspots
And if you're relocating within the greater DC area, head over to our Moving in Washington DC Cost guide for tips on how to get the best deals when moving.
---