L & J Transportation Companies Review
Overall Opinion: L & J represents an excellent option, particularly for those located in the greater Philadelphia region. Customers may choose from a host of services, and overall customer feedback appears positive.Based on their top-tier service and range of services, they earn a spot on our list of the top moving companies in Philadelphia.
Pros

Cons

Employs a team of professional drivers and move coordinators
Offers full-service options, i.e., local, long-distance, storage, packing, etc.
They offer a digital (video) moving guide on their website.
The agent relationship with North American Van Lines gives them access to tremendous resources.

The company website lacks detail, i.e., FAQ section
They act as a broker for long-distance moves
How does L & J Transportation compare to other Philadelphia movers?
| | | | | | | |
| --- | --- | --- | --- | --- | --- | --- |
| Company | Price | Vendor Type | Quoting options | Storage | Minimum Move Size | Interstate |
| L & J Transportation | $$ | Carrier | Phone/virtual estimate | Yes | 1 bedroom | Yes |
| Moverama | $$ | Carrier | Phone/virtual estimate | Yes | 1 bedroom | Yes |
| Broadstreet Movers | $$$ | Carrier | Phone/virtual estimate/In-person | Yes | 1 bedroom | Yes |
| Bellhop | $ | Carrier | Phone/virtual estimate | Yes | 1 bedroom | Yes |
Jump to the L&J Transportation review section that you're looking for:
About L & J Transportation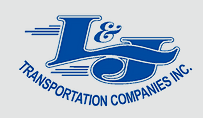 Based in Pottstown, Pennsylvania, L&J Transportation Companies Inc. offers comprehensive moving services for more than 30 years. The organization's primary service areas include Eastern Pennsylvania, Central and Southern New Jersey, and Northern Delaware. James Fry, the company president, expresses pride in becoming listed among the INC Magazine's Top 5000.
The organization supports the Pennsylvania Moving and Storage Association, and staff members have served on the board. The company offers competitive pricing, free estimates, professional packing, and customized crating of belongings for transport. In addition, they have an agent affiliation with North American Van Lines, which facilitates long-distance and international moving projects for L & J customers.
Community involvement includes the Move For Hunger's food charities.
L & J Transportation offers a broad range of services
Local moving: They handle local moving projects throughout Eastern Pennsylvania, Central and Southern New Jersey, and Northern Delaware.
Long-distance moving:  They perform long-distance (interstate) moves using in-house staff to Maryland, Delaware, and New Jersey. Moves from Pennsylvania to other destinations nationwide involve contracting through the North American Van Lines network of carriers.
International moving: Customers preparing for a move overseas will receive assistance from a designated International Relocation Coordinator with significant experience with customs clearance and other important processes. The facilitation of all international moves involves contracting through the North American Van Lines network, which handles more than 120,000 such moves annually.
Logistics: L & J Logistics provides services including moving and storage services for commercial clients using the latest freight, shipment, and distribution management tools. Common add-on services include LTL blanket wrapping and warehousing.
Commercial moving and storage: Customized services for corporate and industrial customers include relocating locally, nationally, or internationally. Customers may use L & J for labeling, packing, unpacking, and removal of furniture. Specialized services include employee relocation and transporting medical, laboratory, and industrial equipment.
Storage services:  Both residential and commercial customers enjoy a variety of short and long-term storage options. The facilities and units are clean and secure. Technological advancements ensure that all facility monitoring occurs 24-hours-a-day and includes fire protection.
Interstate transports typically involve a trailer that weighs between 18,000 and 24,000 pounds and often contains the shipments of multiple customers.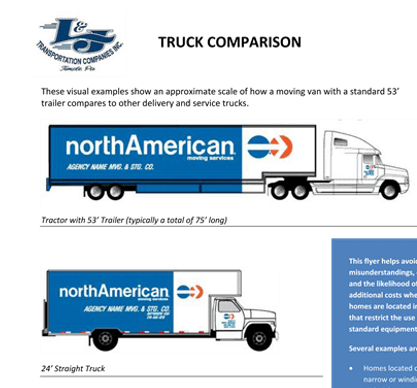 How much does L & J Transportation charge?
The simplest means of obtaining an estimate begins by completing the online estimate form. After submission, a representative will contact you for further details. Customers may pay using credit cards, including MasterCard, Visa, or Discover, among the various payment options.
Estimates: A pre-move survey of all the goods allows for a basic estimate.  Estimates for local moves involve calculations based on hourly rates, while interstate moves expand to include weight, distance, additional services, and other factors. A binding estimate reflects a precise cost calculated in advance. Any changes made will require an addendum.
Accessorial services: Include services that generally require an additional cost, such as crating, appliance installation, shuttles services, and more.
Inventory exceptions: They always create an inventory of items loaded on the transport vehicle at the origin location. The term "inventory exception" refers to belongings deemed as either missing or damaged.
L & J Transportation has an excellent online reputation
The company has a Google business page with approximately 190 reviews and an overall rating of 4.5 out of 5.
Their Yelp page contains some additional details not mentioned on its website, including boat storage, RV storage, and moving supplies sales.
The company is not currently accredited with the Better Business Bureau (BBB); however, they maintain a rating of A+.
The BBB has received 3 complaints over the past 3 years and 1 complaint in the last year.
The following is a summary of the categories (nature) of the BBB complaints received.
| | |
| --- | --- |
| BBB Complaint Types | Number |
| Sales or Advertising | 0 |
| Collections or Billing | 1 |
| Deliver-Related Concerns | 0 |
| Warranty or Guarantee | 0 |
| Product or Service Problems | 2 |
Is L & J Transportation licensed and insured?
The company is federally registered as a motor carrier (MC#436356) with active authority to transport property and household goods. L & J Transportation Companies, Inc. currently maintains Bodily Injury and Property Damage (BIPD) coverage of $1,000,000, which exceeds the minimum requirement of $750,000.The records show that the organization logged 845,663 miles for 2020.According to the FMCSA databases, L & J Transportation Companies Inc. (DBA L & J Logistics) has a satisfactory safety and out-of-service (OSS) rating. In the current reporting period, the organization was the subject of 29 driver inspections, 17 vehicle inspections and had two reported crashes (see image below).
| | |
| --- | --- |
| Database | Listed (Y/N) |
| AI FMCSA? | Yes |
| SAFER FMCSA? | Yes |
| Licensing Insurance FMCSA? | Yes |
| Better Business Bureau (BBB) | Listed (Not Accredited) |

State-Level Compliance
The Pennsylvania Public Utility Commission oversees Pennsylvania's Unified Carrier Registration (UCR) Act that requires all motor carriers to properly register and pay an annual fee. The amount of the fee reflects the number of vehicles currently in operation. In addition, motor carriers must annually verify all information filed with the agency and maintain its registration with the Federal Motor Carrier Safety Administration (FMCSA). L & J Transportation completed its registration (valid), and the data indicates they maintain 12 vehicles.
Claims (Valuation) Coverage
Released Value Coverage: This represents the free and mandated minimum coverage that equates to 60 cents (.60) per pound per item determined as lost or damaged.
Full Value Coverage: This form of coverage represents extra protection that customers purchase.
Maximum Value Protection (MVP): MVP coverage may apply to North American Van Lines transports. The minimum coverage equates to $6.00 per pound per weight per item.  The pricing for the coverage increases based on the maximum value, and customers may choose a deductible amount of either $0, $250, or $500.
For more information on how moving company regulations and why we choose to look at these databases, check out our post on how moving companies are regulated. 
L & J lacks authorization for transporting flammable liquids, ammunition, pets, currency, jewelry, and other dangerous or highly-valued materials.
Should You Consider L & J Transportation for a Move?
L & J represents a solid option for moving services in greater Philadelphia. Feedback indicates they operate with both professionalism and efficiency. With a track record that now spans 30 years, the organization clearly is doing good work.
For more help choosing the right moving company and to get a free moving quote, check out our moving cost calculator. 

Not what you were looking for?
Check out other categories that can help you find the information you need!