The Most Popular Snowbird Sister City Hotspots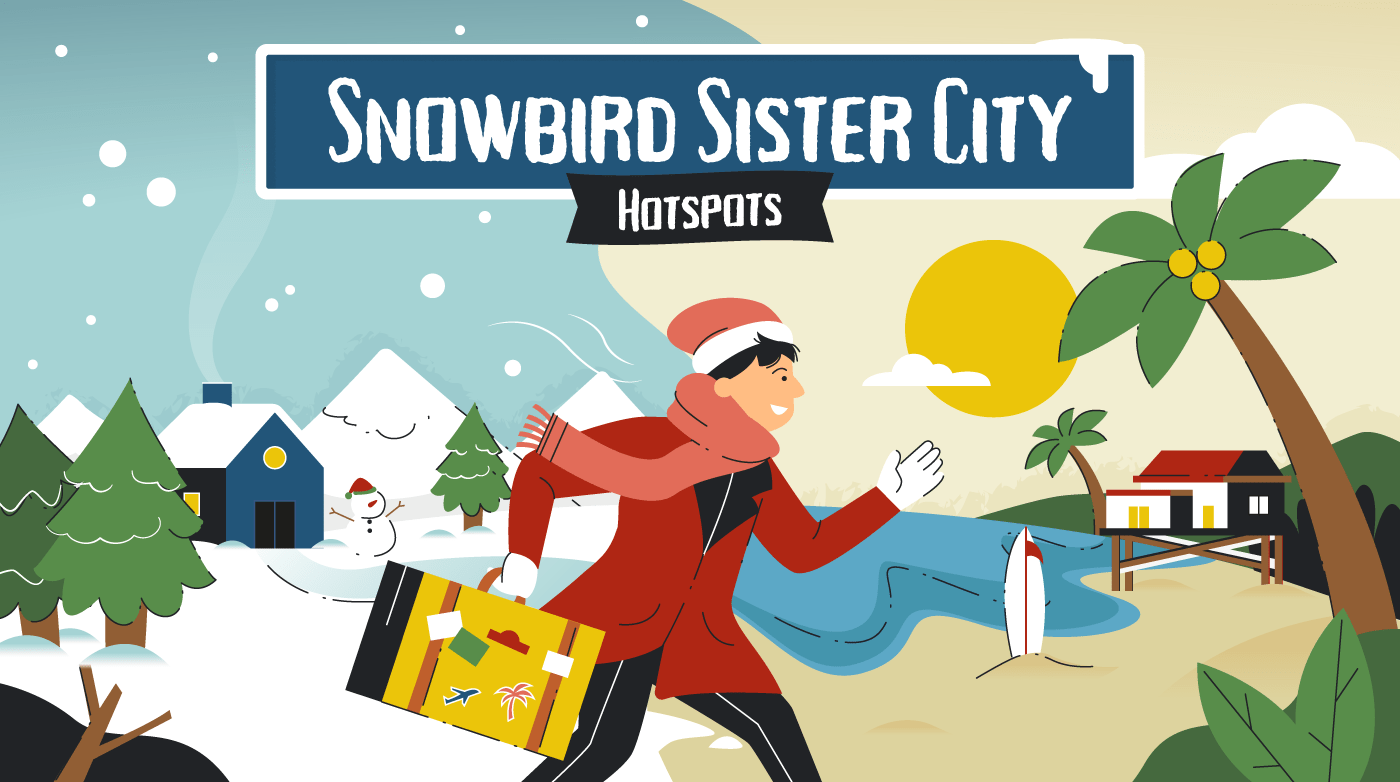 When the big city turns cold, wet, and gray, where do northern urbanites go to get away?
Snowbirds are a type of winter tourist who leaves their frigid urban homes during the winter months to escape to desert and coastal destinations with decidedly warmer, sunnier weather.
Each winter, many temperate destinations welcome planes full of snowbirds from the same regions. These vacation trends can often be so pronounced that they present unique opportunities for local businesses. For instance, in 2016 Lou Malnati of Chicago-deep-dish fame opened one of his beloved pizzerias in Phoenix in part to appeal to the many Chicagoans who vacationed there each winter.
Do snowbirds of a feather flock together? We wanted to know which temperate cities are the preferred winter destinations among inhabitants of the U.S. and Canada's coldest urban areas. We analyzed seasonal search queries to see where each family of snowbirds goes to escape winter in the big city.
Key findings
Las Vegas, NV is the most popular domestic wintertime destination of northern city-dwellers. It was the most-googled warm-weather city for 9 of 25 locations we analyzed.
Together, Orlando and Miami, FL, were the most popular destinations for fleeing snowbirds from 8 of 25 cities – many of which are concentrated around the Great Lakes.
France is the most popular European destination for Snowbirds heading abroad in winter, while Puerto Rico is the most popular Caribbean destination.
Snowy city seeks sunny southern sister: What we analyzed to uncover the most popular snowbird destinations
For this analysis, we chose to focus on 25 urban areas in the United States and Canada.
For the U.S. origin cities, we began by creating a list of the most populous American cities with low winter temperatures and a location north of 40° latitude. For the Canadian locations, we focused on Canada's five largest cities: Toronto, Montreal, Vancouver, Calgary, and Ottawa. We added Winnipeg, the largest city in Manitoba, to stretch our representation of Canadian provinces to 6.
With 25 North American cities in total, we began to analyze seasonal keyword data from Ubersuggest and Keywords Everywhere, evaluating monthly search trends in the winter months of 2021 for keyword strings containing the name of the origin city, the word "flights," and another city or country.
In the end, for each origin city we tallied up the most-searched destinations that were located below 40° latitude in the U.S., or below 50° abroad.
Click here to see our detailed Methodology.
Seasonal migration patterns of the North American Snowbird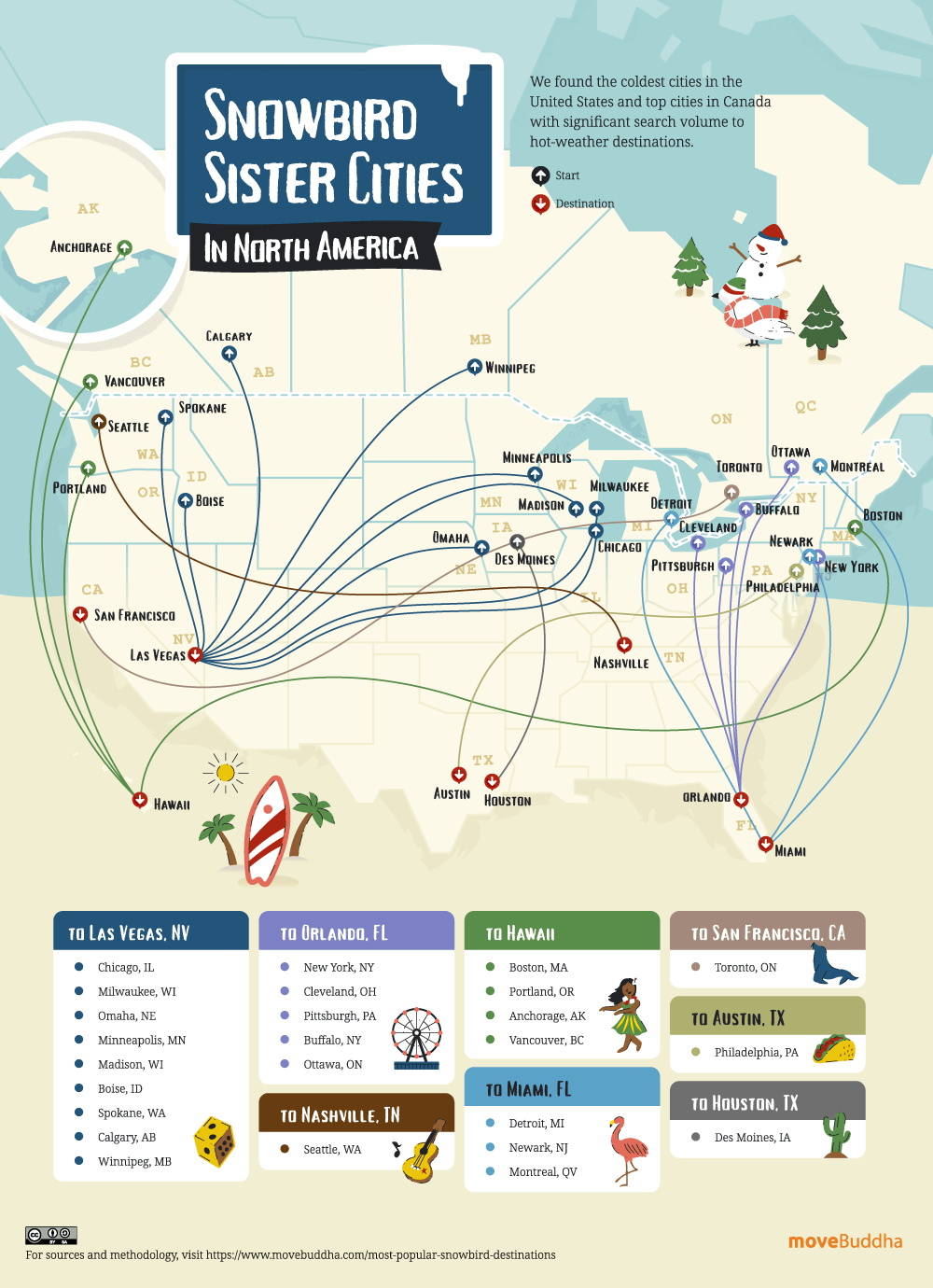 Leaving for Las Vegas
Sin City was the single most popular warm-weather winter destination among the cities we analyzed. Come November, residents of Chicago, Milwaukee, Omaha, Minneapolis, Madison, Boise, Spokane, Calgary, and Winnipeg google flights to Las Vegas more than any other destination with a temperate wintertime climate.
Given the size of the metropolitan area it serves, the McCarran International Airport in Las Vegas is among the best connected in the world. As many as 152 different airports across 8 countries offer direct flights into Vegas. By comparison, the San Francisco International Airport, which serves a population more than 3x the size of the Las Vegas metro area, only offers direct flights with 136 other airports.
Indeed, all of the origin cities with high interest in flights to Vegas do offer direct flights from their regional airport. So if these Snowbirds don't hit the jackpot, they can at least enjoy the desert sun.
Fleeing to Florida
Come wintertime, the balmy beaches of Miami and Orlando are certainly more inviting than the frigid shores of the Great Lakes. These two Florida cities were the preferred destinations for snowbirds hailing from this region.
Residents of New York, Cleveland, Pittsburgh, Buffalo, and Ottawa are especially interested in Orlando, where residents of Montreal, Newark, and Detroit are most likely to google flights to Miami.
Headed to Hawaii
The ultimate escape from winter in an urban jungle, Hawaii is the preferred destination for three West Coast cities: Portland, Anchorage, and Vancouver, whose locations on the Pacific Coast make accessing the remote island as easy as a 6-hour flight.
But it isn't just West Coasters who start dreaming of an island getaway come wintertime. Hawaii is also the most googled destination for Boston snowbirds, for whom this vacation involves an 11- to 12-hour flight.
Taking off for Texas and Tennessee
Some Snowbirds seek to leave their puffy jackets behind and bask in the warmth of southern hospitality. Philadelphians are most interested in heading to Austin, Seattleites to Nashville, and Des Moinians to Houston.
In addition to a lack of snow, these warm wintertime destinations all offer bustling live music scenes, world-class barbeque, and excellent access to nearby nature preserves and parks.
Setting out for San Francisco
This winter, it was so cold in Toronto that the shores of Lake Ontario froze solid, prompting a few brave residents to trek out onto the ice. Other residents said to themselves, "Oh, hell no," and promptly googled flights to San Francisco – the most popular wintertime destination for Torontonians.
Famous for having year-round temperatures akin to a well air-conditioned home, the City by the Bay offers the perfect weather conditions and cosmopolitan sophistication for residents fleeing the harsh winters of Canada's largest city.
Globetrotting snowbirds
Another way to beat the wintertime blues is by packing your passport and heading abroad. In addition to search queries about U.S. locations, we also analyzed interest in flights to warmer destinations abroad.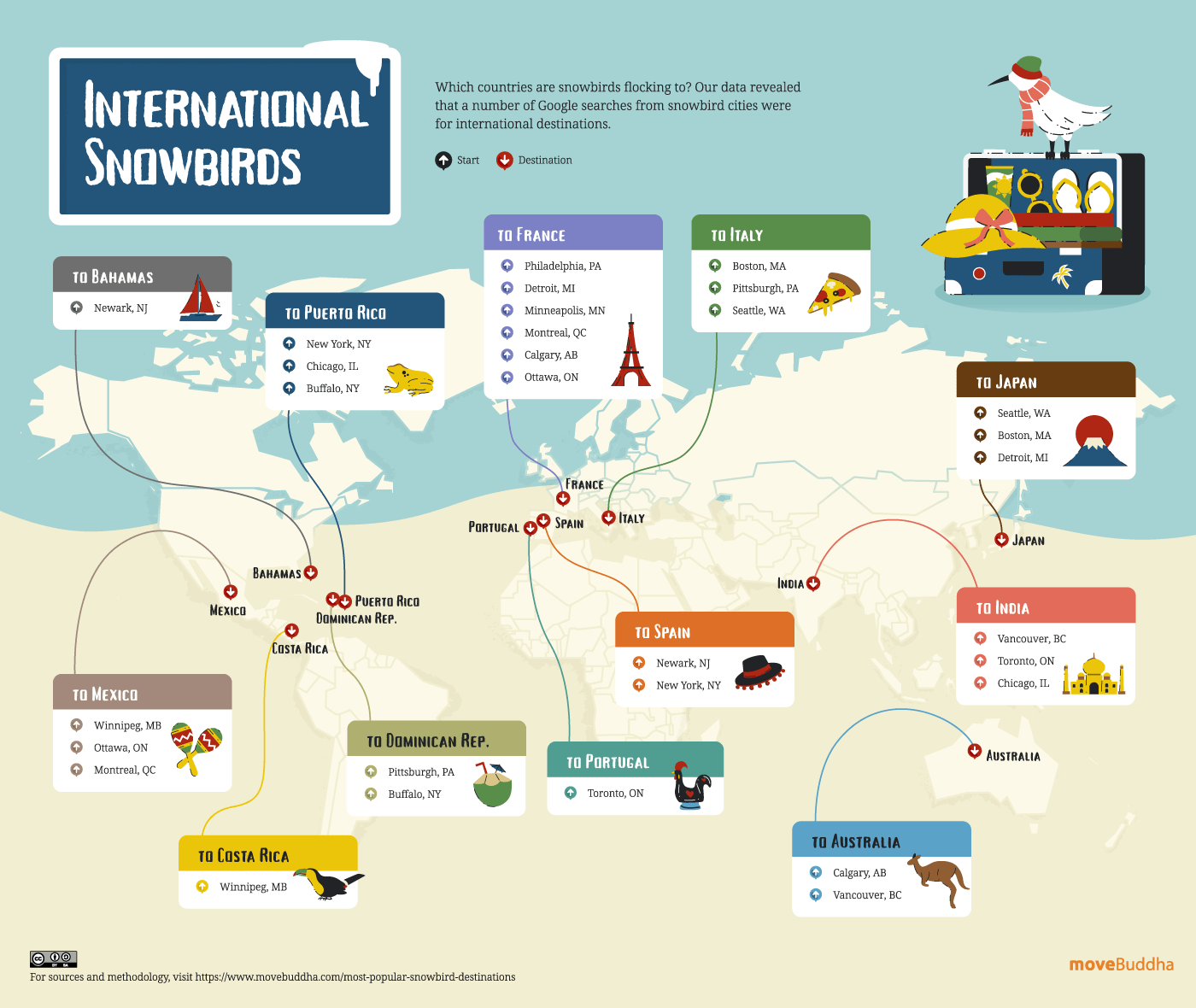 The Caribbean calls
U.S. island territory Puerto Rico was the most googled "international" destination for Snowbirds in New York, Chicago, and Buffalo. This trend is unsurprising especially given that all three cities are home to sizable Puerto Rican populations.
For white sands and blue waters, Canadians prefer Mexico. Residents of Winnipeg and Ottawa googled flights to Mexico (Cancun in particular) more than any other international destination, and Mexico was also the second most-googled destination among Montrealers.
Other popular Central American destinations for North American snowbirds include the Dominican Republic, the second most-googled destination for residents of Pittsburgh and Buffalo; the Bahamas, the runner-up for Newark-based snowbirds; and Costa Rica, Winnepegers' second favorite wintertime vacation spot.
European euphoria
France may not have tropical winters, but a mild winter climate and the romance of world-class wine, fashion, and culture is more than enough to attract flocks of snowbirds from across North America.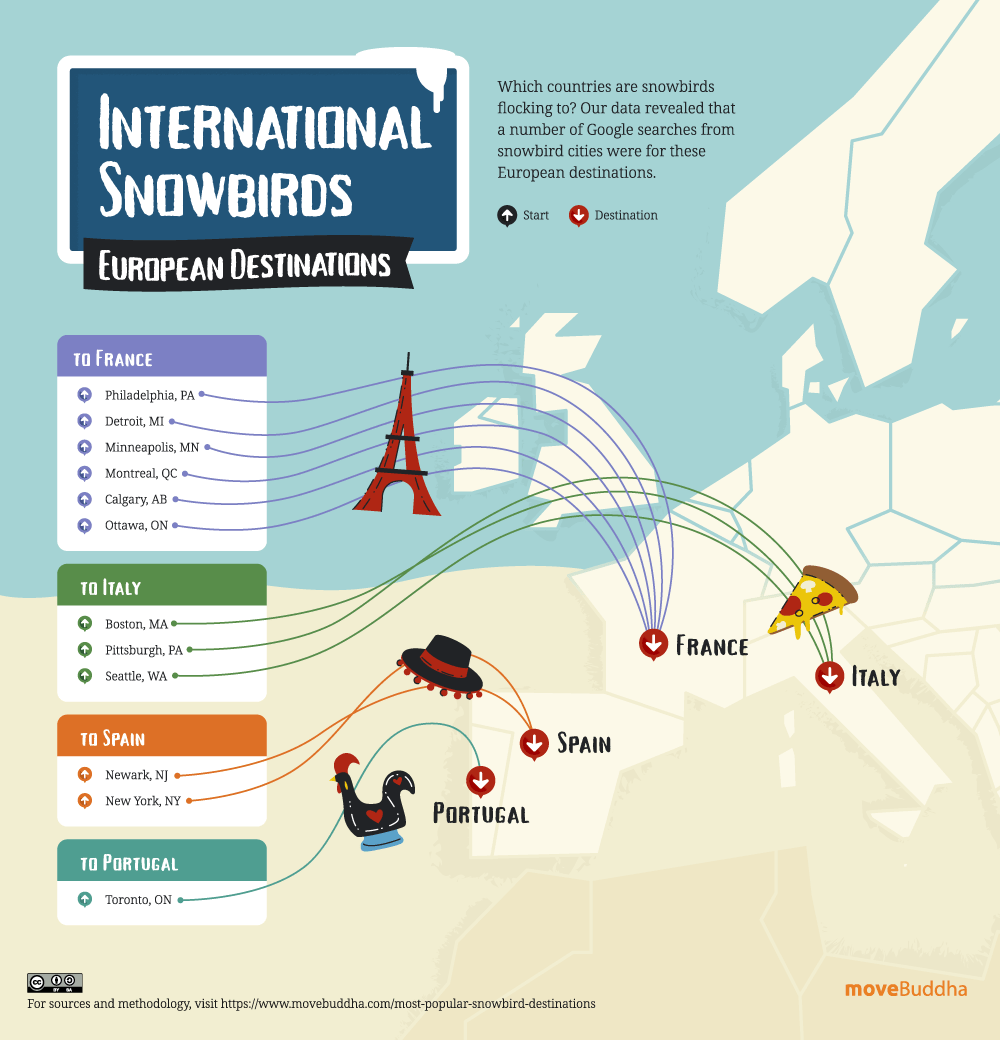 France is the preferred location for a winter getaway for residents of Philadelphia, Detroit, Minneapolis, and unsurprisingly, the francophone city of Montreal. Among residents of Calgary and Ottawa, France is the second most-googled winter destination.
Bostonians and Pittsburghers, however, prefer the decidedly warmer Italy. Both east coast cities are home to large populations of Italian Americans. Seattlites agree, and Italy is their second most-googled wintertime destination.
Residents of the New York City metro region gravitate towards Spain in wintertime. Flights to Spain were the most popular search query for those departing from Newark, and the second most popular for those departing from JFK.
Asia Pacific, ahoy!
Japan is another popular destination among U.S. snowbirds – especially Seattlites.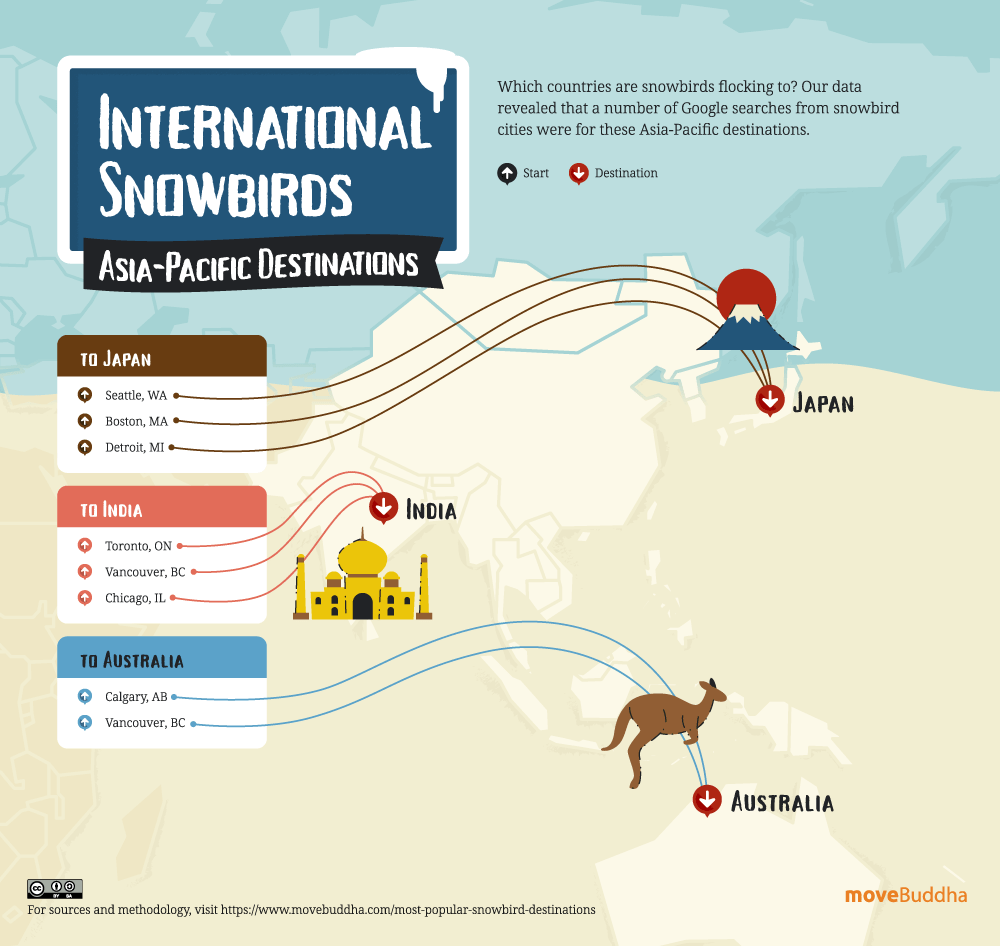 Not only is the transpacific flight from Seattle relatively quick, but Seattle is also among the U.S. cities with the largest population of Japanese Americans.
The Land of the Rising Sun was also the second-most popular destination for residents of Boston and Detroit.
Canadians, however, prefer India for a wintertime getaway. India is the most popular destination for Torontonian and Vancouverite snowbirds, two urban areas with especially large populations of Indian descent. Chicagoans, too, are interested in India come wintertime – flights to India are the second-most popular search query.
Other Canadians seek to circumvent winter entirely. The preferred wintertime destination among Calgarians is Australia, where November to February is the peak of summer. Among Vancouverites, flights Down Under are the second-most searched travel query.
Methodology
Phase I. Compiling origin cities
We used temperature and coordinate data from Best Places to compile a list of the most populous U.S. cities that met the following criteria:
Located north of 40° latitude
For November through February, has an average high temperature below 49° F
For November through February, has an average low temperature below 39° F
Because all Canadian cities meet these criteria, we chose to analyze the five most populous cities as well as Winnipeg, so that five Canadian provinces would be represented in the analysis.
At this point, our list of origin cities consisted of 25 U.S. and 6 Canadian locations.
Phase II. Compiling warm-weather destinations
For each of the 31 cities, we then generated a list of popular search queries using the Ubersuggest Keyword Ideas tool.
We compiled a list of the top travel queries from each city by entering the string "flights [ORIGIN CITY] to." The tool then provided a list of commonly searched keywords that fit this format (e.g. "flights seattle to nashville," "flights seattle to oklahoma city").
From these keyword suggestions, we used temperature and coordinate data from Best Places to exclude all destinations that did not meet these criteria:
Located in the U.S. south of 40° latitude, OR located abroad south of 50° latitude
For November through February, has an average high temperature above 49° F
Phase III. Assessing seasonal search volume
In order to see which travel queries spiked during the winter months, we used the Keywords Everywhere tool to evaluate which destination cities were googled more often from November to February than during other months.
We based our analysis on month-to-month historical search volumes in 2021. Our final determination for each origin-to-destination city pairing was based on the total volume of each search string in January, February, November, and December of 2021.
For international locations, we combined search volume for city-based keywords as well as country-based keywords (e.g. "detroit flights to paris" and "detroit flights to france"), and ranked countries rather than cities. We did the same for domestic searches about Hawaii, combining volume for city- or island-based keywords with state-based ones (e.g. "boston flights to maui" and "boston flights to honolulu" and "boston flights to hawaii").
Six U.S. origin cities were ultimately eliminated from our analysis due to a lack of search volume. These were: St. Paul, MN; Jersey City, NJ; Lincoln, NE; Toledo, OH; Fort Wayne, IN; Tacoma, WA.
Not what you were looking for?
Check out other categories that can help you find the information you need!
See All
Hide All