Tips on Moving to Chapel Hill, NC: Relocation Guide
If you're looking for a low-key college town that doesn't skimp on culture and amenities, want to be where young professionals are embracing an emerging tech scene, and like the idea of living in the birthplace of some highly influential musicians, you should consider moving to Chapel Hill.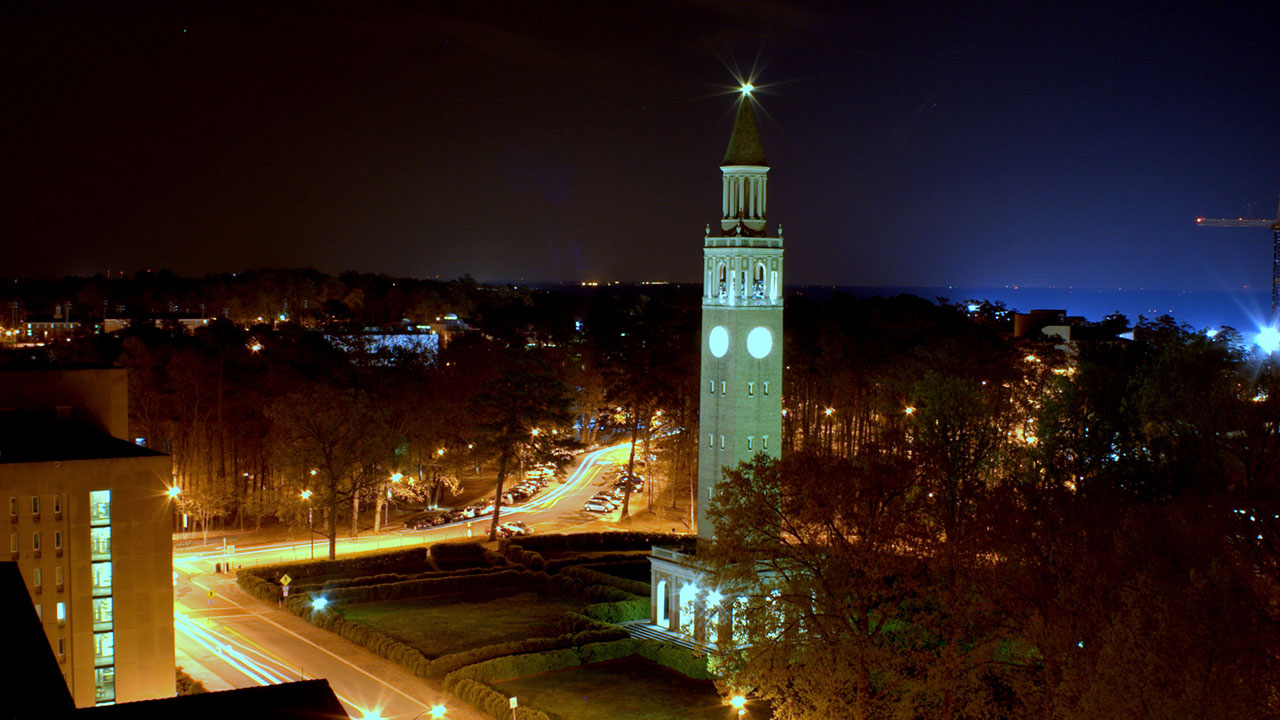 Photo Credit: rudresh_calls
Much of Chapel Hill is dominated by the University of North Carolina, but don't be fooled. The city and its surrounding areas have much more to offer beyond the typical college town bells and whistles.
Chapel Hill has one of the fastest-growing populations in the country, due in large part to the startup boom happening in nearby Durham.
Moving to a new city can seem overwhelming–but don't freak out just yet. We've nabbed the study guide with all the answers for relocating to Chapel Hill so you won't get schooled.
Everything about relocating to Chapel Hill
And if you're looking for more info on moving to Chapel Hill, check out our Chapel Hill moving cost guide.

Quick Chapel Hill snapshot
Chapel hill has a population of 60,998, making it the 15th largest city in North Carolina.
The average rent in Chapel Hill is $1,461 as of 2021.
Due to an influx of well paid tech workers and its proximity to major universities, the cost of living in Chapel Hill is currently around the national average.
Now, before we get too deep into the details, check out this video of Chapel Hill natives explaining what makes their city so special.
Chapel Hill, Carrboro, and The Triangle
When it comes to layout, Chapel Hill is in an interesting position.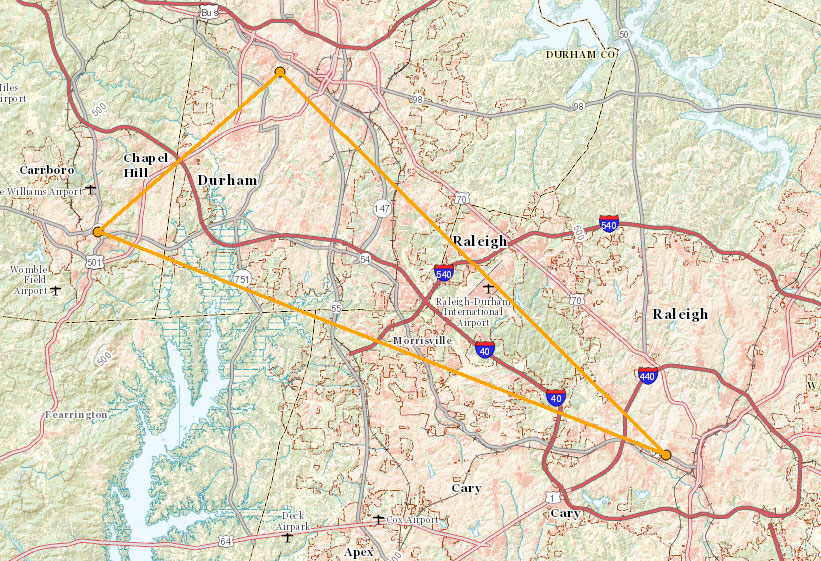 It's considered its own city, but Chapel Hill is frequently viewed as a suburb of Durham. The city is also part of The Research Triangle of Raleigh-Durham, a region formed around the three major universities located in Raleigh, Durham, and Chapel Hill.
You'll also frequently hear Carrboro, a town located directly to the west, lumped in with the greater Chapel Hill metro area, along with Cary, Apex, and Morrisville, all within the Raleigh area.
Basically, if you want to be in the vicinity of Chapel Hill there's no shortage of big cities, small towns, and neighborhoods to suit a variety of needs and lifestyles. Let's take a look at what they cost.
Judging by the Trulia Rent Maps, you can see that rental prices vary often in Chapel Hill and seem to even out when you get into Durham.
Here's how the prices roughly break down
If you're looking for something on the (relatively) cheaper side, consider places like Downing Creek, The Oaks, and Finley Forest where average rents fall between $1,100 and $1,400.
Meanwhile, Briar Chapel, Hope Valley, and Woodcroft represent a few mid-range areas with prices around $1,400 and $1,800.
And, if you don't mind paying anywhere from $1,800 to $3,300 per month, you can look into living in Downtown Chapel Hill, Governors Village, and Governors Club
Alright, now that you've found a place you can afford, let's see if you'll like your neighbors.
Where in Chapel Hill are people like me living?
Everyone wants to live in an area near people they can relate to and Esri's Zip Tapestry tool is designed to help you determine exactly where those areas are.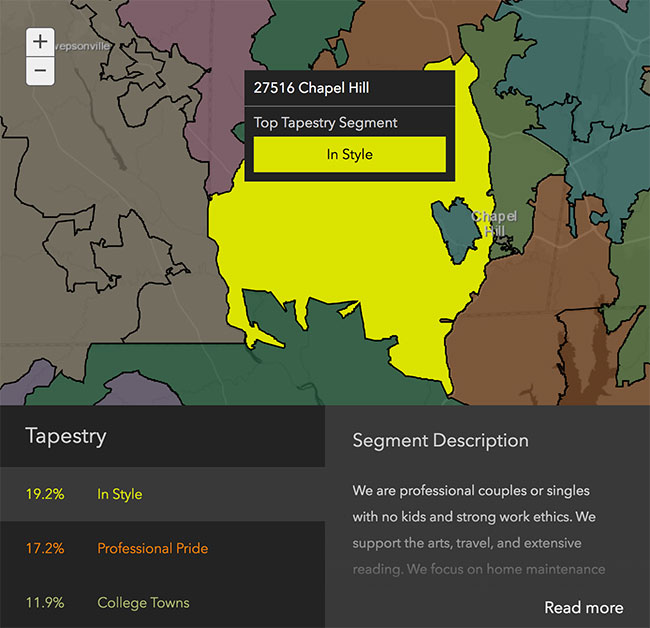 Let's say you want to know more about Downtown Chapel Hill (27516). All you have to do is plug in the zip code and the tool will display the three largest demographic subsections in the area. It's super cool, and it'll help you to find some of the best places with a small-town feel.

Okay, let's make sure your commute makes sense before you call a realtor.
Chapel Hill is a city for commuters
Chapel Hill features a pretty diverse mix of travel options.
It's pretty common for people to commute to places like Raleigh and Durham which are both 30 – 40 minutes from Chapel Hill.
The availability of decent mass transit has definitely lessened traffic issues throughout the city as well, leading to less congestion during rush hours.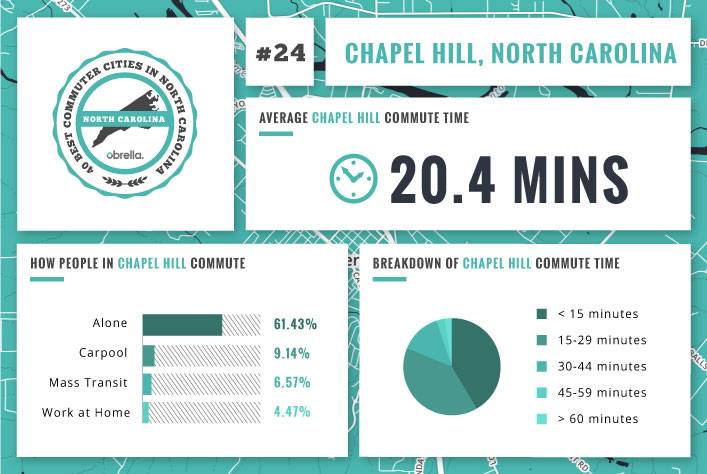 In fact, Obrella has ranked Chapel Hill as the 24th best city for commuters in North Carolina.
Still, if you aren't a fan of driving, Chapel Hill has you pretty well covered.
The city of Chapel Hill is very accommodating to non-drivers
Chapel Hill has good but limited public transit, a decent cycling infrastructure, and is relatively walkable for a city its size

It's possible to get around Chapel Hill on foot, but with a walk score of 36, it's not a completely walkable area.
You'll be able to get around pockets of the city pretty easily on foot, but those don't really extend past the centralized areas.
Fortunately…
Chapel Hill has a solid public transit system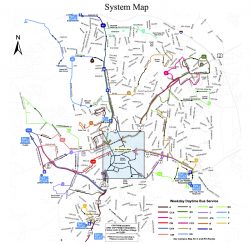 Even though Walkscore only gave it a transit score of 42, Chapel Hill's bus system has a lot to offer.
The biggest advantage of taking public transit here is there are no bus fares, which is pretty phenomenal as it grants access to all residents and visitors.
Still, much like with walking around town, the bus system is limited to the downtown area, making the commute to surrounding neighborhoods difficult without a vehicle. If you want to get to the RTP, you're gonna need a C-A-R.
Chapel Hill's cycling infrastructure is in the midst of massive growth
The Chapel Hill area has a bike score of 50, which is a pretty fantastic improvement for the city.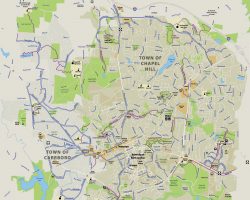 As you can see from the map, there are plenty of bike paths and trails around UNC, Carrboro, and greater Chapel Hill.
But no matter how you're getting around town, you'll probably want to know a bit about its crime rate.
Crime in Chapel Hill is relatively low
No matter where you're living, there's bound to be at least some crime. The trick is knowing how to interpret all the statistics you see about an area's crime rate.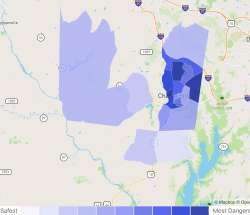 Take, for example, NeighborhoodScout's crime score of 33 out of 100 (100 being safest).
While that number might not seem great, it's actually pretty on-par with crime rates of similar cities by population. For example, over in Greensboro with a population almost 5x that of Chapel Hill, their crime score is 6.
It should also be noted, while the overall crime score isn't perfect, only 7% of the total crime in Chapel Hill is violent crime.
The largest portion of crime in Chapel Hill consists of property theft and damage which, while not great, isn't dangerous.
But really, avoiding crime almost always boils down to staying aware of your surroundings, knowing where and when to avoid certain areas, and doing your best to avoid dangerous situations
And now that we've gotten the nuts and bolts out of the way, let's jump right into the task of finding a place to live.
Renting an apartment in Chapel Hill
When looking for apartments, your first priority should be ammenities.
With Chapel Hill being in the Southeast, you can look forward to some pretty mild winters along with summers that can get pretty hot.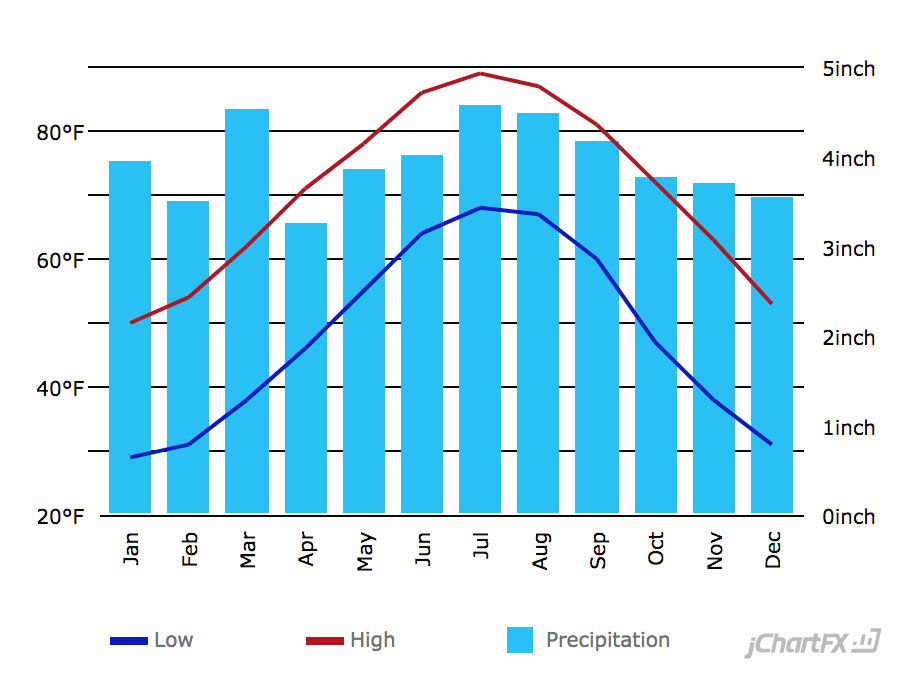 Due to the high temperatures in the summer and the chilly lows of winter nights, you'll definitely want heating and air conditioning.
Hot summers means you'll also want to budget for some high utility bills like your average power bill.
Also, unless you're living Downtown or in a walkable region with easy access to laundromats, you'll probably want a washer/dryer too.
Where to find apartments in Chapel Hill
As mentioned, Chapel Hill is surrounded by schools. This means a lot of rentals will get dumped onto the market around 2 months prior to a semester-ending when landlords receive notice.
Here's a list of some of our favorite websites to find apartments.
Once you know what you're looking for, use the search functions to narrow down places that match your specific budget, location, and amenity needs.
Even though it might seem a bit sketchy, Craigslist can be a pretty solid resource for finding reasonably priced places, too–as long as you know where to look, that is.
Note: This DOES NOT mean you should trust Craigslist implicitly. Here's their guide on how to recognize potential scammers.
Chapel Hill's rental market
Chapel Hill's rental market isn't great, but it's starting to improve…slowly.
Over the past year, Chapel Hill's average rent has increased by 4%, which isn't too much worse than the national average,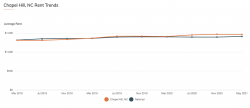 Unfortunately, there isn't a lot of updated information about vacancy rates in Chapel hill, but as of late the Chapel Hill-Durham area has had a vacancy rate of 6.6 percent in the first quarter of 2017.
Still, between a growing demand for student housing and steady gentrification, the rental situation in Chapel Hill is far from ideal.
North Carolina rental law
With a rental market this competitive, you're bound to run into some bad landlords. We've compiled a handy list of important rental laws so you don't get scammed.
And if you're in the market for a more permanent living situation, we've got you covered too.
The Triangle Area Suburbs
Chapel Hill is a suburb itself and has plenty to offer people looking to buy a home. But if you're looking to live outside of Chapel Hill proper, you'll need to look at real estate in Durham's other suburbs.
Chapel Hill's median home value is $456,265, which is up 10.7% from the previous year.
Since this is the most expensive area in the Research Triangle, you might want to look outside of Chapel Hill to find a better price.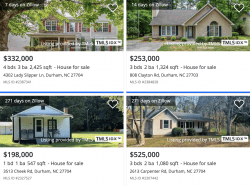 Gorman
Located to the northeast of Durham, Gorman makes up for the distance from Chapel Hill with some very affordable homes and close proximity to Durham and is an ideal place for newly married couples who are buying their first homes.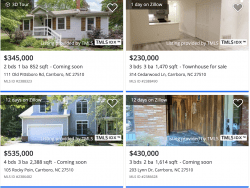 Carrboro
Carrboro is also a great real estate area to find a good quality of life. Benefits include excellent schools, diverse culture, and a slightly lower cost of living while avoiding all the students and difficult rental market of Chapel Hill.
Get Schooled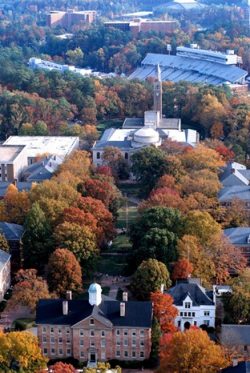 Whether you're a parent looking for the most ideal school district, or a soon-to-be college student yourself deciding on the right university, you might want to know a thing or two about what the area has to offer.
The Chapel Hill-Carrboro City school districts hold the #1 spot for the best public schools in all of North Carolina. With East Chapel Hill High School and Carrboro High School both holding A+ ratings, moving to Chapel Hill might be right for you.
After graduation, you might consider heading to a state university, like the University of North Carolina at Chapel Hill (UNC-Chapel Hill). For a public university, UNC ranks as the 28th best in the nation, and the North Carolina Tar Heels are notorious in football.
If you're looking to go the private route, you'll want to base yourself in Durham. Duke University ranks #12 for national universities and #13 for best school value. For the perfect mix of small university education with a big city feel, you'll find your place at Duke.
Now that you're ready to move to Chapel Hill…
Use our moving cost calculator to estimate your moving costs to Chapel Hill.
Also, if you are coming from out of state, be sure to have a look at our out-of-state moving guide for more info and tips.
Parking permits for moving vehicles
If you're planning on moving somewhere within the city where you won't have a designated parking spot, you'll probably need a parking pass for your moving truck.
Fortunately, the Town of Chapel Hill on-street parking pass is pretty simple to apply for.
A few last things to take care of after moving to Chapel Hill…
You've got the hard part over and done with and you officially live in Chapel Hill. Now, there are just a few things left to do and you'll be a full-fledged resident.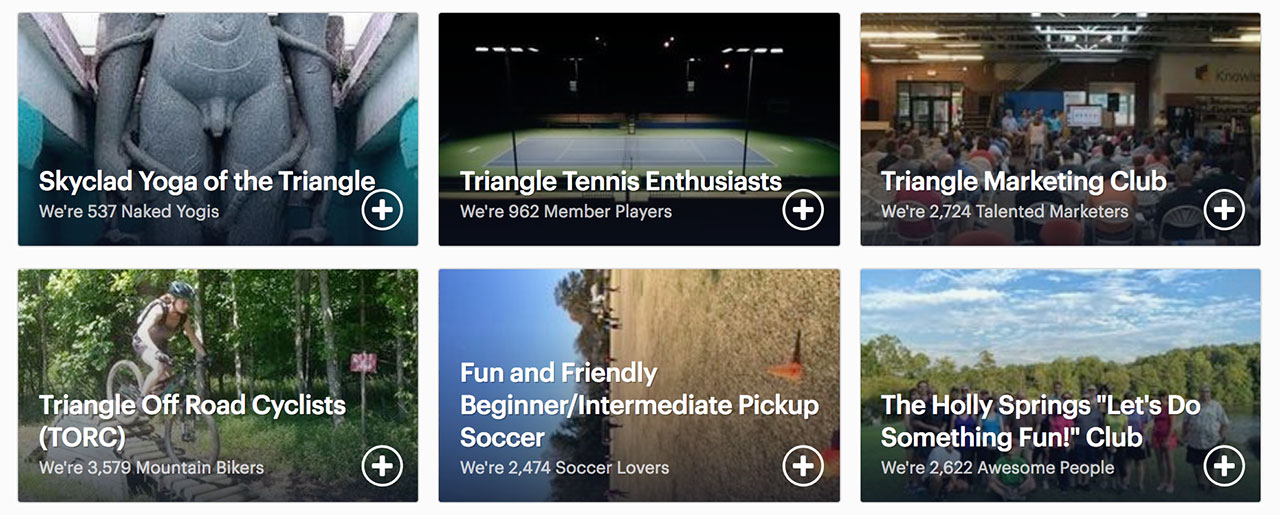 Things to do in Chapel Hill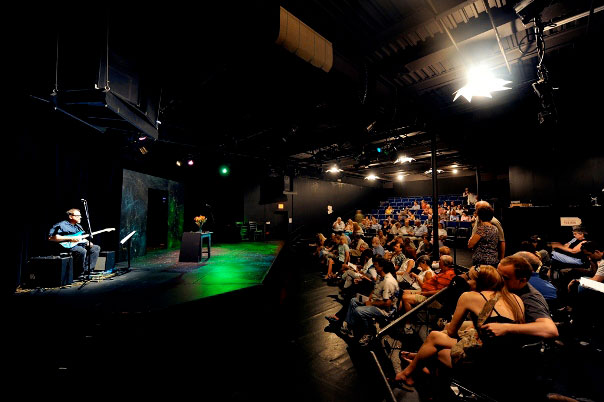 When trying to figure out what to do in a new city, a good first stop is the city's own visitor's guide.
Maybe if you're someone who prefers more under-the-radar attractions, you'd like to check out this New York Times piece which digs into what makes Chapel Hill so unique.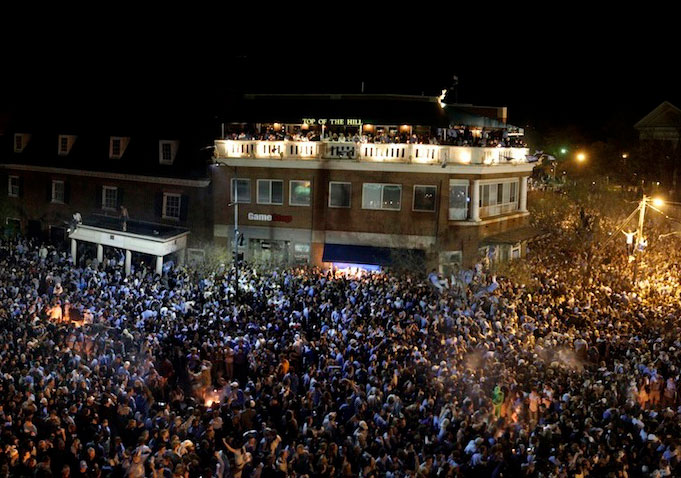 If you're looking to unwind with a nice cold one after a long day, there's no shortage of great places to drink in Chapel Hill. Though your tastes may differ, a few options to get you started include Top of the Hill Distillery, The Crunkleton, and Steel String Brewery.
For free and accessible entertainment, try the Ackland Art Museum. Or, if you enjoy the great outdoors, you can check out University Lake, The Orange County Sportsplex, or one of Chapel Hill's many parks.
That's all we've got on Chapel Hill. Let us know what we missed in the comments, thanks for stopping by.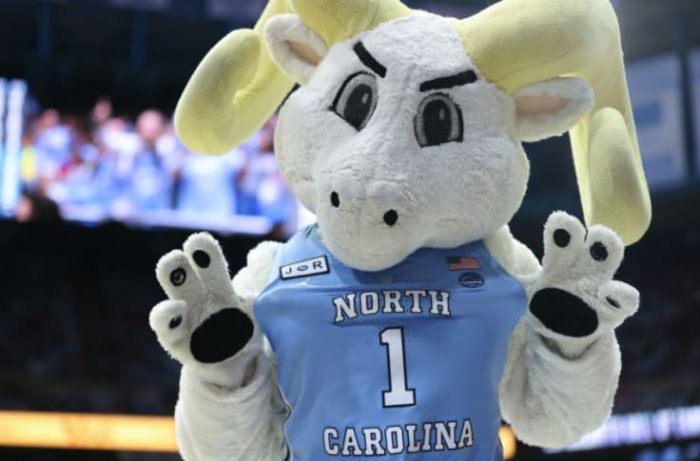 Not what you were looking for?
Check out other categories that can help you find the information you need!