Tips On Moving to Oakland, CA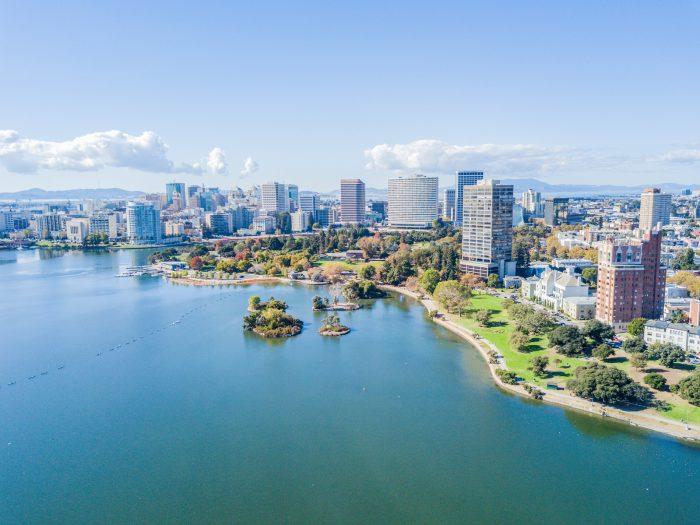 Oakland is known for its environmental friendliness and prominent history of political activism. You can go visit the night markets at Jack London Square and then go see the record-setting Golden State Warriors.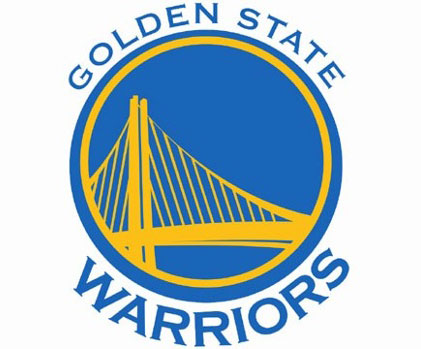 It's home to Kaiser Permanente, the city that birthed the Moneyball A's, and despite what you may have heard, there IS a HERETHERE.
If you're planning a move and want a city that's truly awesome, check out Oakland.
Everything you need to know before moving to Oakland
In this guide we're going to cover how to:
Quick Oakland Snapshot
With a population of 425,097 Oakland is the 45th most populous city in the United States.
With an average 1 bedroom rent price of $2,272 per month, Oakland is the 4th most expensive metropolitan area in the United States. I'm not gonna sugarcoat it, Oakland is crazy expensive. But, hey––it's not San Francisco!
As far as cost of living in Oakland, it ranks as the 5th most expensive city in the United States.
And before we dig too deep into the ins and outs of Oakland, have a look at some of the city's unique scenery in this video!
A few things to help you find you perfect Oakland neighborhood
Oakland has 14 neighborhoods. In fact, it's almost like a big neighborhood itself inside the larger San Francisco Bay Area. Like all cities, each neighborhood has its own vibe and character, along with equally unique rental prices. This website does a really great job of describing each neighborhood.
First thing's first: set a budget. Take your time to figure out how much you'll be spending.
Take a quick look at some rental prices below: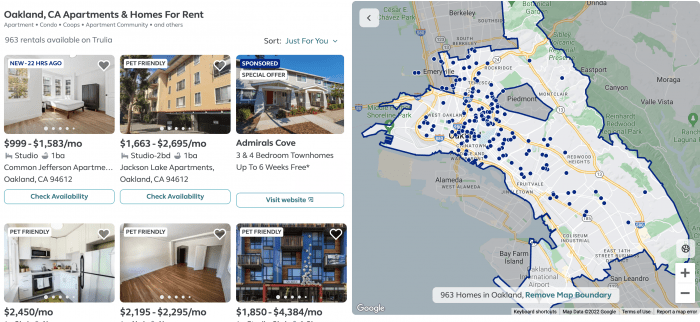 For example:
In Old Oakland, Downtown, and the Jack London District you're looking at spending between $2,900 and $3,200.
Montclair and the Dimond District would be less per bedroom, around $1,900-$2,800.
Neighborhoods east of 14th Avenue – San Antonio, Oak Tree, Allendale, etc. – these are places where you can find an apartment for around $1,700 (or less if you want to do the roommate thing).
So let's get this out of the way now: if you're on a tight budget, look east of 14th avenue – the further you go the cheaper it gets. If cost is no object, look to Old Oakland, Downtown, and the Jack London District.
If you're freaking out about these prices just remember — it's still not nearly as expensive as San Francisco.
Where Are People Like Me Living?
We all want to live near people who are at similar points in their lives. But it's hard to know which neighborhoods fit your lifestyle before you've actually lived there.
The website Esri.com does an amazing job breaking down demographics by zip code with their ziptapestry tool.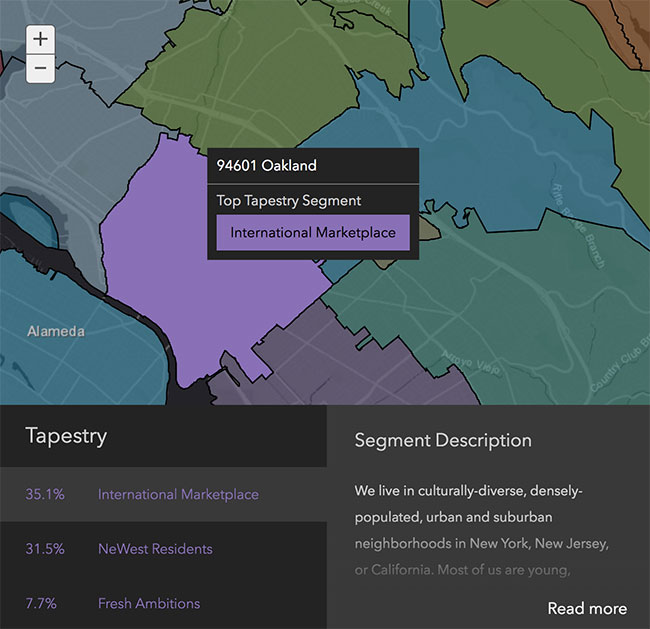 For example, if you plug in Fruitvale (94601) into the tool you'll get a full breakdown of the primary types of people living in that area. Very cool!

Next: consider your commute to work
Limiting your commute time is crucial to your overall happiness in a new city. Let's get one common question out the way.
Can I live in Oakland and commute to San Francisco?
This answer is complicated but we think this Reddit user provides one of the best responses we've seen.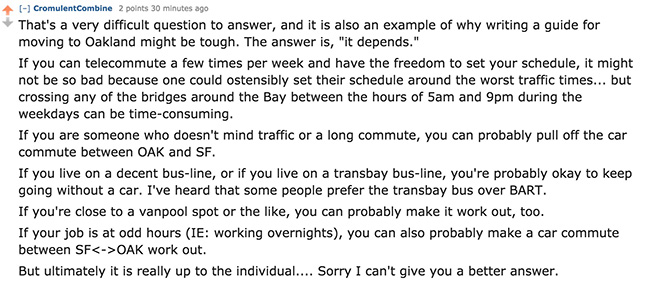 Here's a breakdown of getting around the city:
If you own a car…
Oakland is fairly accessible by car.
Interstates 980, 580, and 880 all run through the city and link up in downtown Oakland. You can use these to navigate your way across the bay to San Francisco, south to San Jose, north to Sacramento, or even all the way down to Los Angeles.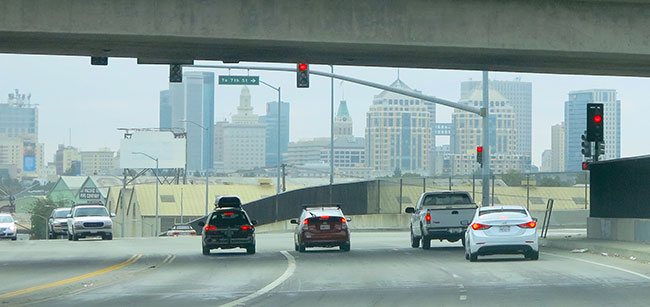 Street parking can be difficult. In some parts of the city, you're not allowed to park overnight because of street cleaning.
There are, however, plenty of parking lots where you can purchase a monthly parking pass. This page has a ton of information on parking.
Public Transportation
BART is a rapid transit system serving Oakland and the rest of the Bay Area. BART can get you to San Francisco in roughly 15 minutes.
If you plan on living in Oakland and commuting into San Francisco on public transit you'll want to be sure both your residence and workplace are located close to BART stations. If you need to transfer between more than one transit agency your commute time can easily run 10 times as long. Not good!
A map of the BART system is below. Living in Oakland, you'll mainly be concerned with the area inside the red rectangle. Daily service to Oakland is provided by all 5 lines in the system.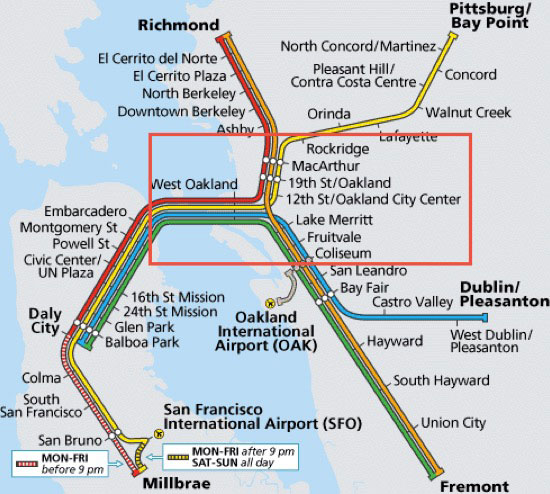 In addition to trains, Oakland also has a decent bus system. AC Transit is the primary bus operator within Oakland and the East Bay area. Most routes converge in downtown.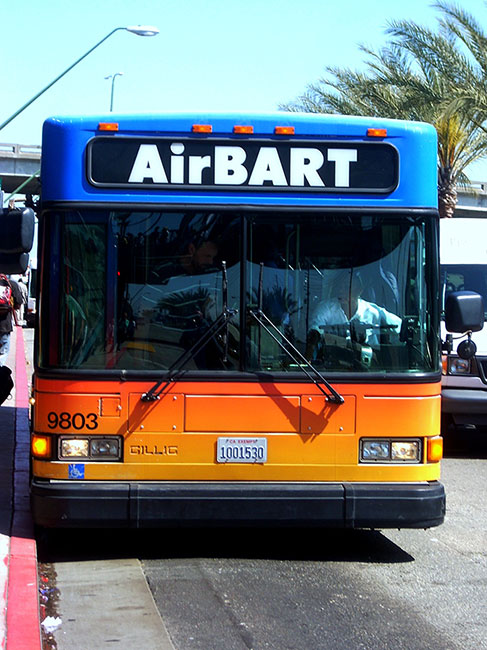 AC Transit provides extensive peak period bus service to/from San Francisco on weekdays. Most service is to San Francisco in the morning, returning to Oakland in the afternoon and early evening hours.
Bus fares are $2.25 for adults for one ride or $5 for a daily pass. Transbay buses to/from San Francisco cost $4.00 and include one free transfer. Transfers from BART provide a 25¢ discount.
Bottom line: with a public transit score of 57, the public transportation system is a bit above average, but still not great. It can get you almost anywhere inside the city within an hour. If you're not planning on having a car, you'd better get used to taking the train and bus, because you'll be taking them a lot.
Downtown Oakland is very walkable
In terms of walkability, Downtown Oakland is great! But the further you move away from downtown, the more you'll need to rely on public transportation or a car to get around.
With a walk score of 75, if you're someone who likes to get around by foot Oakland is a solid option compared to other cities.
Below is a walk score map, and with this, the greener the better. If you plan on walking, stay away from the yellow areas when looking for neighborhoods to live in. Good thing for you Oakland doesn't have any red!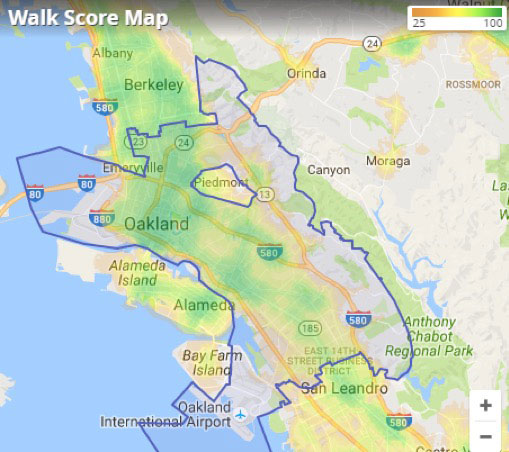 Oakland Nightlife
There are tons—TONS—of music venues in Oakland.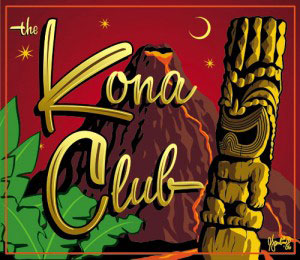 The Fox Theater is a converted old-timey movie theater that is listed on the National Register of Historic Places. It was refurbished in the last decade and reopened as a live music venue just seven years ago. It's hosted concerts from artists like Paul Simon, the Allman Brothers, Green Day, and President Obama even spoke there during his reelection campaign!
If you're not so much in the mood for live music, there are lots of smaller bars that might fit your individual tastes. Kona Club is a fun little tiki bar with a smoke-spewing volcano. McNally's Irish Pub is, well, an Irish pub that allows dogs!
Who doesn't love Happy Hour deals? This is a list of Oakland's best Happy Hours. Check out Bar 355 all week during the week from 4-8 for $3 beers.
Other things to do in Oakland
Jack London Square. This place is named after author Jack London, and it's the home of many stores, restaurants, hotels, an Amtrak station, a ferry dock, an old western saloon, and the former presidential yacht USS Potomac.
Here, check out a video tour of Jack London Square!
Tripadvisor also has an excellent list of the best things to do in Oakland.
Finding a safe neighborhood
Oakland has a notorious reputation for being unsafe.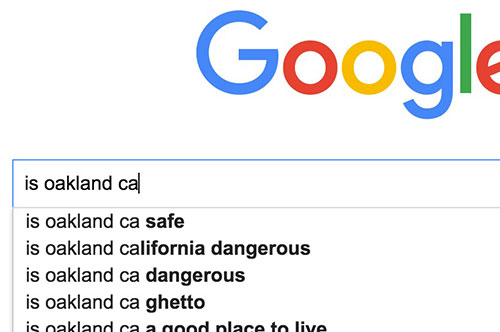 Neighborhood Scout's crime index ranks Oakland a 1 out of 100, so yeah, safety is definitely a concern when living in Oakland.
However, times are changing. Oakland is experiencing a spillover effect from its rapidly growing neighbor San Francisco.
Much like Brooklyn and the Bronx have changed as New York has grown ever more expensive, Oakland is experiencing similar increases in household income and changing demographics.
Just like any city, knowing your surroundings is crucial. Here's a crime hotspot map. The bluer the better.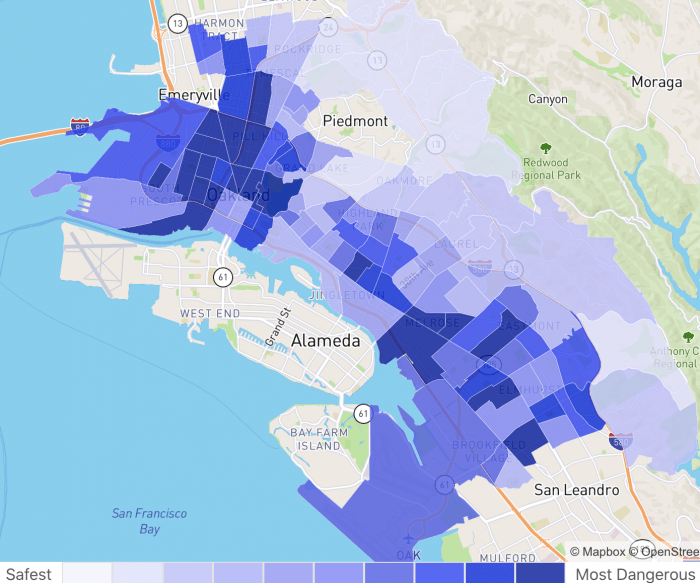 Generally, try to stay around the Jack London District or northeast near Piedmont and Montclair.
Find an apartment in Oakland
Before you jump in and start looking at listings, consider a few things…
Good news! Oakland has some really amazing weather. It's most comparable to a Mediterranean climate, with summers that are usually dry and warm and winters that are mild and damp.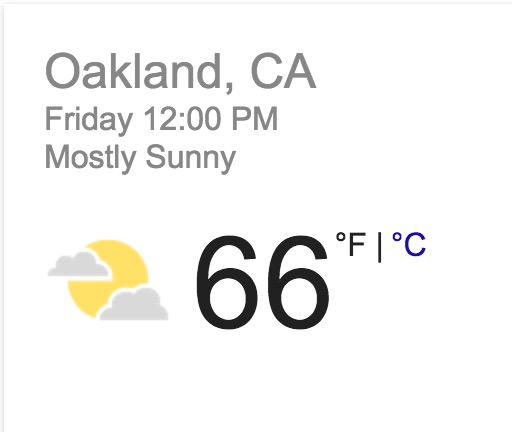 For instance, the average high in January is 58 degrees while the average low is 44 degrees. The average high in July is 72 degrees while the average low is 56 degrees. It's preferred to find an apartment with heating and air conditioning, but they aren't vital.
Laundromats aren't hard to come by, but if you're planning on going without a car, a washer/dryer is a must-have. You don't want to be walking around the neighborhood carrying dirty clothes.
On top of temperature and laundry, you'll also want to take into account utilities like the average electricy cost of living in the area.
Here are a few of our favorite websites to find apartments. Use the sort functionality to drill down on your desired number of bedrooms, budget, etc.
It might surprise you, but Craigslist is actually a very useful site for finding apartments (especially places whose owners/landlords are desperate to rent out).
Note: This DOES NOT mean you should trust Craigslist implicitly. Here's their own guide on how to recognize potential scammers.
Get familiar with California rental law
These are things you should know before moving so that a landlord can't hoodwink you.
Finding an apartment in Oakland takes work
The rental market in Oakland isn't great. With an average rent of $2591, Oakland's rent is pretty espensive, but at least it's decreased by 5.29% between 2017 and 2018.
Oakland's 2018 vacancy rate is 2.7%, compared to 6.32% for the nation as a whole. In other words, rent in Oakland is extremely high and the number of apartments open to renting is already very low.
What you'll need in order to rent
There are a couple of things to keep in mind with respect to your timetable in finding an apartment.
Obviously, it helps to start looking as soon as possible. Leases usually begin on the first day of the month, so you should start looking two weeks before the start of the month you want to move in at the very latest.
You'll absolutely need your Social Security number when applying for apartments. Landlords and realtors will almost always run a credit check on you and any roommates. Many will also ask you for a pay stub as proof of income.
As for deposits, most landlords will require first month, last month, and security deposit (equal to one month's rent).
For example, if the monthly rent for an apartment is $1,000, you're probably looking at paying the landlord a deposit of $3,000 upon signing the lease.
This will cover your first month's and last month's rent, and you'll get the security deposit back minus any catastrophic damages you cause to the place.
If you want to buy a house near Oakland
As this Quora answer suggests, the nicer areas to buy a home in Oakland are around the BART stations.
And just in case the city life is too much fun for you
The nicest suburb of Oakland (and San Francisco and San Jose) is Portola Valley. In fact, it's America's wealthiest community with an average per capita income of $152,000.
It's about an hour drive across the bay from Oakland, a bit less than that from San Francisco, and much less than to San Jose.
You can look for homes in Portola Valley here.
Actually moving to Oakland
Now for the real fun, moving everything!
If you want to get an idea of the cost of different moving services, check out our moving cost estimator.
A few other things you'll want to keep in mind.
Moving Permits: moving to the city is always difficult because of thin roads, sidewalks, and constricted space. Unfortunately, applying for a moving permit in Oakland is extremely difficult and expensive.
A two-day permit can run up to $240. You can try to call the permit office at (510) 238-3443, but your best bet is to go in person to the Oakland Permit Center.
Before going to the permit center, make sure you know the site address, the number of parking spaces you need, the date/time of your move, the type of parking spaces you'll be blocking, and whether or not you'll be blocking traffic.
As we've already talked about, the weather in Oakland is extremely temperate, so that need not be a factor in planning your move. A move in the winter will probably be just as manageable as it will be in the summer.

Everything you need to do post move
Yay! You're now living in the Bay Area. Now do these things…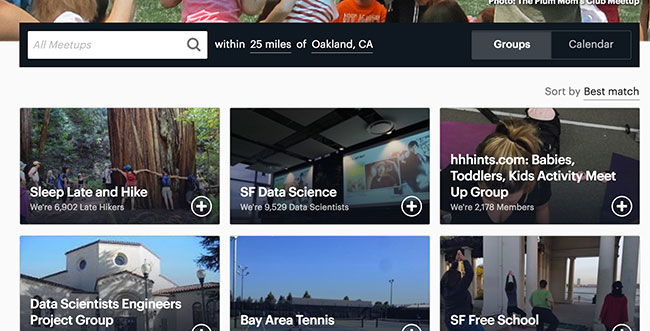 Not what you were looking for?
Check out other categories that can help you find the information you need!
See All
Hide All