Tips on Moving to St. Paul, MN: Relocation Guide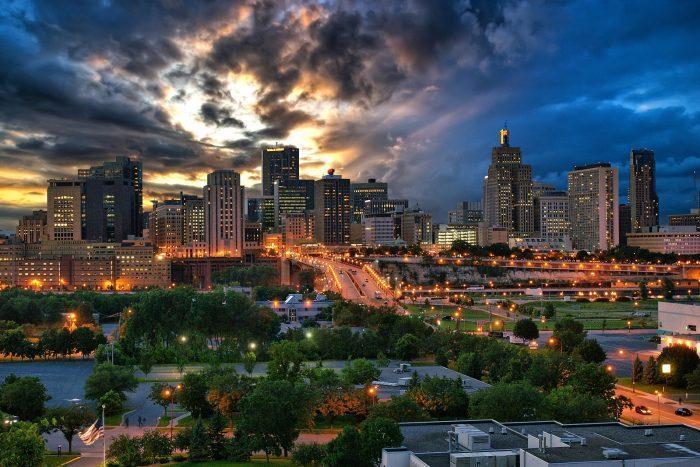 Photo Credit: Dan Anderson
If you read anything about the Twin Cities, you'll pretty quickly realize Minneapolis tends to overshadow St. Paul. Split by the mighty Mississippi River, these twins each respectively have their own speeds and personalities.
Lively Minneapolis is mellowed by the midwest state's capital, and it's the much more laidback of the two. With many Victorian-style homes dotted around the neighborhoods of St. Paul, this old city has got a lot of character.
St. Paul is experiencing some much-needed population growth due to an influx of cultural, culinary, and entertainment attractions drawing many young professionals to the area. Additionally, with Ecolab headquartered here, there are plenty of opportunities job-wise.
But it can be hard to know exactly where to start when you're looking for a new home in a city of this size. That's why we've prepared this guide with all the essential information required for planning a move to St Paul.
First step: Calculate your moving costs!
Everything about relocating to St. Paul
And if you're looking for more info on moving to St. Paul, check out our St. Paul moving cost guide.

Before we get into the fine details, why not familiarize yourself with St. Paul's landscape a bit by watching this drone footage?
"All Roads Lead to Downtown"
Downtown St. Paul's recent revitalization has done a lot to breathe new life into a city many had deemed "dead" just a few years prior.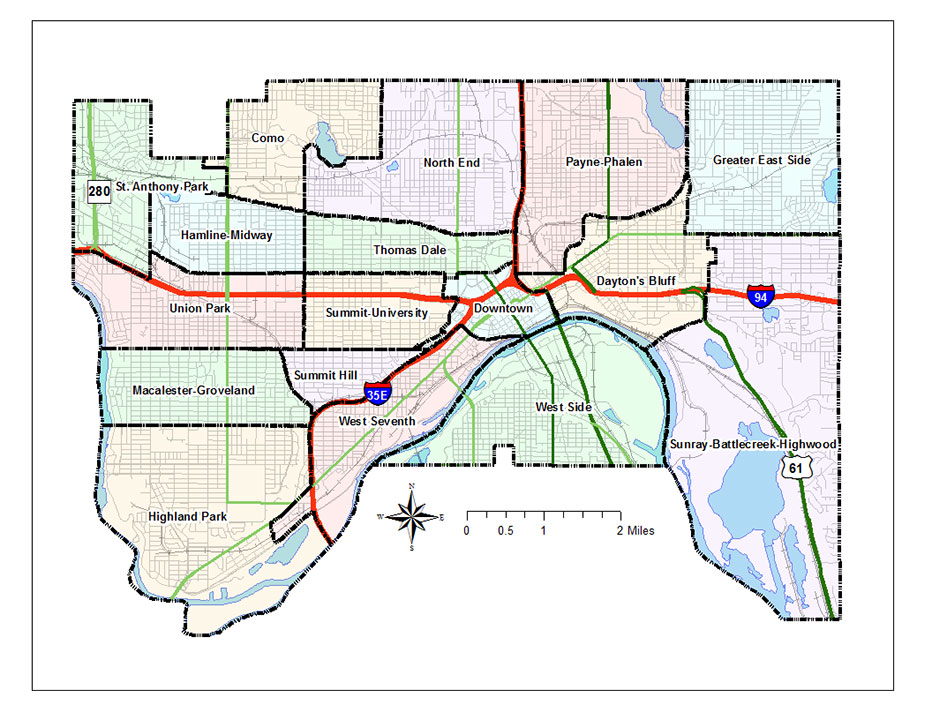 Much of the success of the city's surge in popularity has come from its "all roads lead to downtown" mentality.
As you can see, the centralized neighborhoods are all clustered around the Downtown area, creating high walkability and adding value to the surrounding areas.
If you want a more in-depth look at what each of these areas has to offer, check out this St. Paul Neighborhood Guide.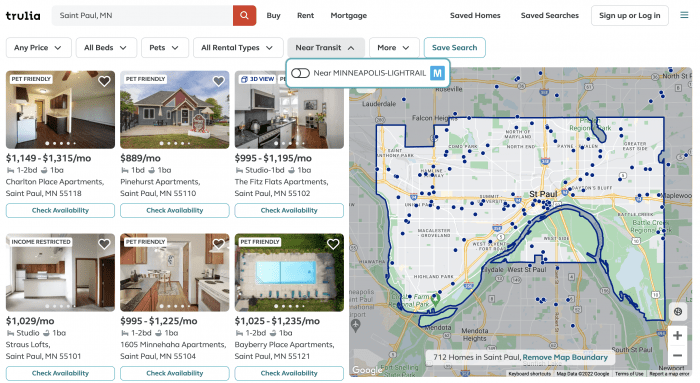 Here's a rough idea of exactly how expensive these areas are
If you're working with a tight budget, look towards places like Como Park, Greater East Side St. Paul, and the North End for apartments that run around $800 – $1,000.
More middle-of-the-road places with average rents between $1,100 – $1,2300 are going to include Midway, Lowertown, and the West Side.
And if price isn't much of an object you might want to look at Downtown, Highland, and Saint Anthony, but be aware that average rent here will fall around $1,400 – $2,000.
Rent prices are only part of the equation––knowing what your neighbors are like can be just as important.
Where in St.Paul are people like me living?
We all want to live in an area that fits our own personal style and the Zip Tapestry tool from Esri is the easiest way to find out where those places are.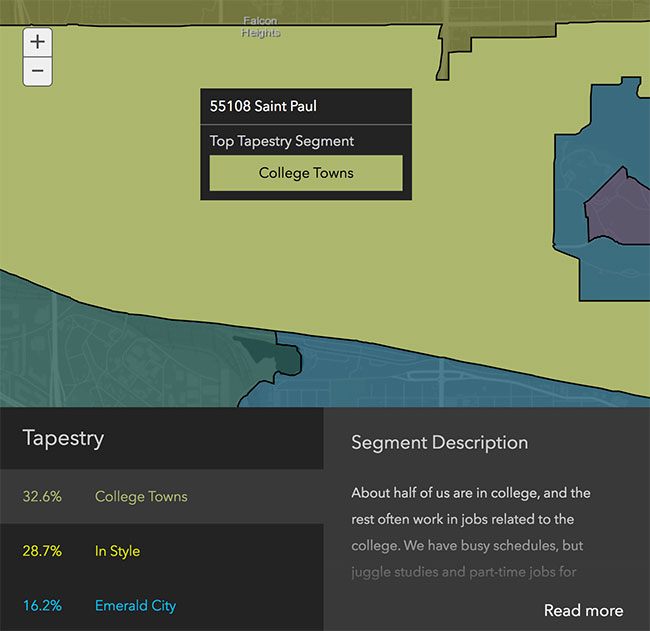 As an example, if we search for the zip code of Saint Anthony (55108), we'll see a list of the three most prominent demographic sections in the area. It's super useful!

Okay, now that you know if you'll like your neighbors, let's make sure you'll be able to get to work on time.
About 9% of Twin City commuters use public transportation. Driving is the dominant form of transportation, because this is Minnesota and winters are pretty terrible.
Of course, the copious amounts of snow are also one of the biggest driving inconveniences.
Another major reason so many drivers live in St. Paul is to commute to Minneapolis and other nearby cities.
Luckily, commute times are fairly average and commuting around the area is nothing compared to other cities like Los Angeles or New York.
For most of you, plan on having a car. But if a car isn't an option, the City of St. Paul has you covered with a great public transit program.
St. Paul has solid public transit
Whether you're walking, biking, or taking the bus, St. Paul has great options across the board.

With a pretty solid walkscore, you'll be able to navigate a good chunk of the city via sidewalks and walkways.
You may not be able to get everywhere from every neighborhood, but the whole all roads lead to the Downtown design of the city definitely helps with walkability.
A good bus system helps, too
St. Paul's public transit score is fairly average for a city of its size.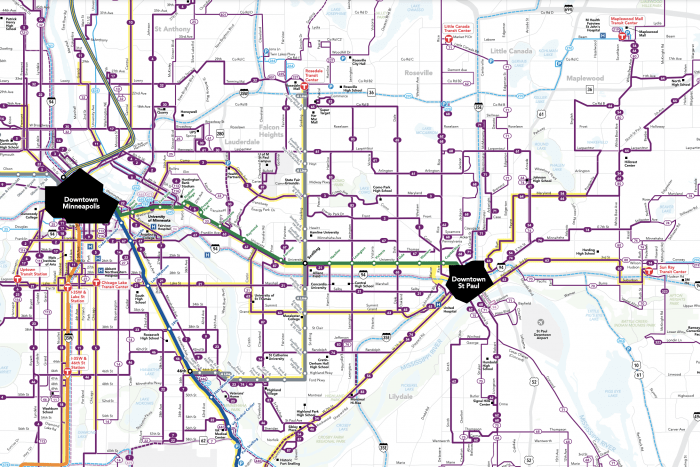 The Metro Transit bus and light rails serve a large portion of the Twin Cities metro area, and along with the Amtrak, there are definitely a good number of options for getting around.
MetroTansit also has an extremely useful Trip Planner that'll help you determine what routes you'll be taking and how much transportation time you should plan for.
And if you plan on using public transit in both of the Twin Cities, here's a comprehensive list of Minneapolis/St. Paul routes.
St. Paul is great for cyclists
St. Paul's higher than average bike score means the infrastructure for bike transit is ideal.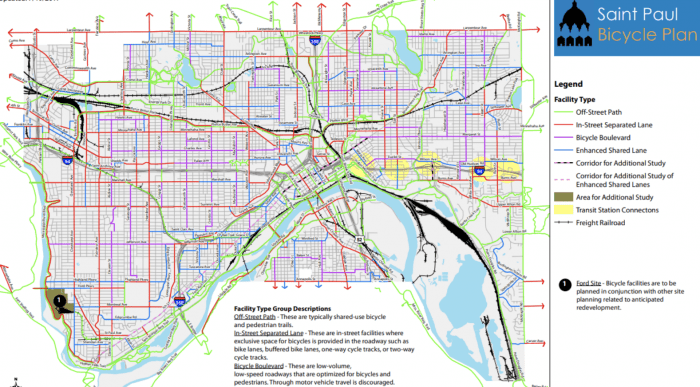 In fact, St. Paul has been recognized for having an extremely bicycle-friendly community by the League of American Cyclists.
St. Paul MetroTransit even has a cycling guide to help you get around the city on two wheels.
And things are still improving with the Saint Paul Bicycle Plan currently working to expand the bikeable areas of the city.
But if you're thinking of how you'll be getting around the city, you'll also want to take into account the crime rate.
St. Paul's crime rate isn't super reassuring…
So, the crime score in St. Paul is 4 out of 100 which, yeah, isn't great.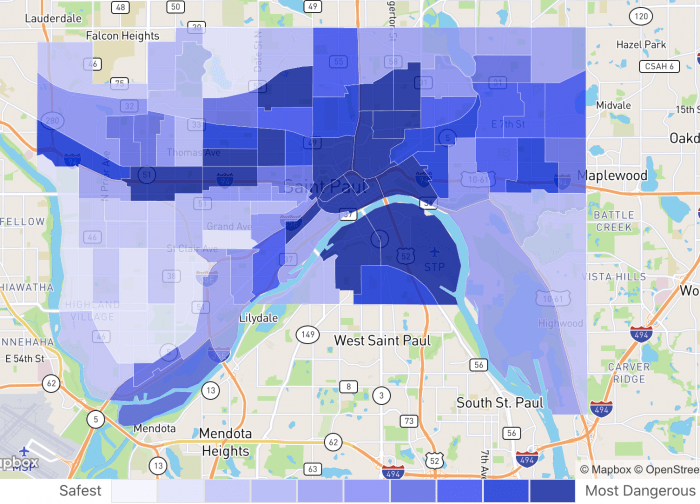 But you should always look at stats like these with a certain amount of perspective.
All cities have their rough areas and most of the crime in St. Paul is property crime, not violent crime.
This forum has an interesting discussion on areas of the city to avoid.
Alright, let's start looking for a place to live.
Finding an Apartment in St. Paul
Your first consideration when apartment hunting should be amenities
Look, the movie Fargo exaggerated a ton of stuff, but it absolutely nailed just how frigid Minnesota winters can be.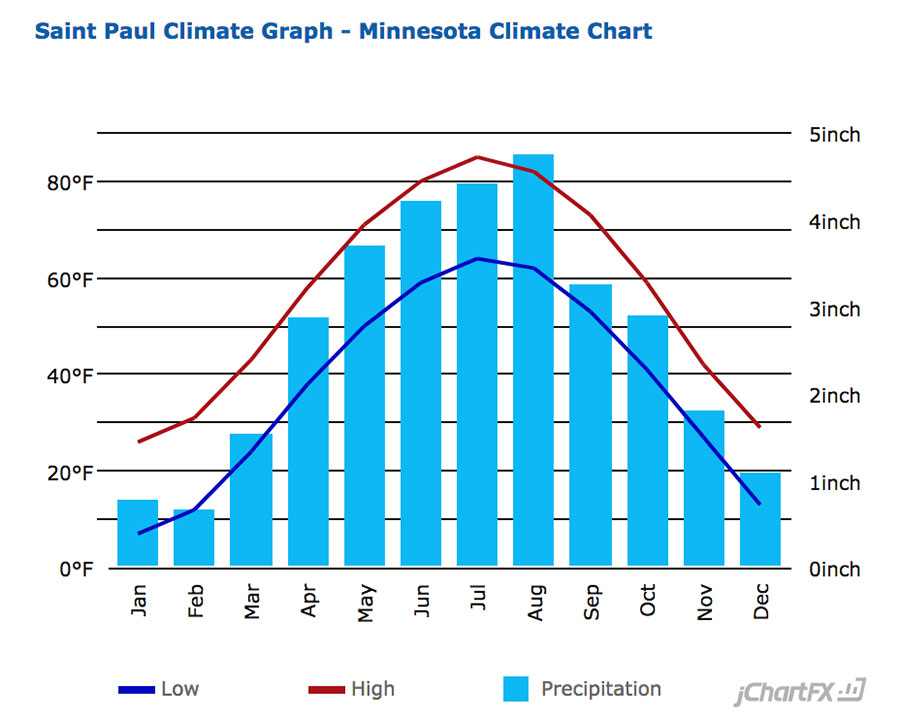 You'll want to be equipped to handle some very cold temperatures, so your place should definitely have heat, but A/C is somewhat optional.
Due to the heating needs, you'll probably have a fairly high average gas cost per month. Take that into account when budgeting for an apartment.
And you'll probably also want a place with a washer/dryer since carting laundry around in the middle of a snowstorm is pretty unpleasant.
Where to start looking
Nobody actually likes looking for apartments, but it has to be done.
That's why we've put together a list of all the best places to look, each with in-depth search options so you can find a place that fits all your needs.
And though it might not seem like it, there are actually a ton of great, cheap places to find on Craigslist that don't typically get posted elsewhere.
Note: This DOES NOT mean you should trust Craigslist implicitly. Here's their own guide on how to recognize potential scammers.
St. Paul's rental market
The St. Paul rental market is in decent shape, but it's still a landlord's market.
Since the end of 2021, the average rent in St. Paul has steadily increased falling just below the national average.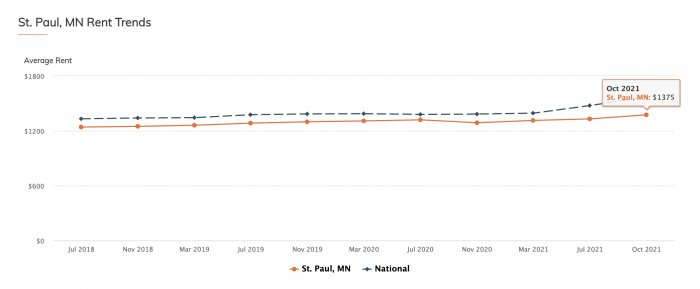 Unfortunately, the vacancy rate in St. Paul isn't doing great. At 4.4% for the metro, it's slightly above the national average, but that's not saying much. You'll need to be aggressive if you want to land a great apartment in St. Paul.
Minnesota rental law
And since it's a landlord's market, you'll want to know about all of your rights to avoid being taken advantage of. Here are some resources.
But maybe you're looking to settle down a bit. In which case, St. Paul has some pretty great suburbs.
The Twin Cities are recognized as having some of the best suburbs in the nation, which should make finding one that fits your needs fairly easy.
The current median home value in St. Paul is $284,488, which is a 9% increase from the previous year.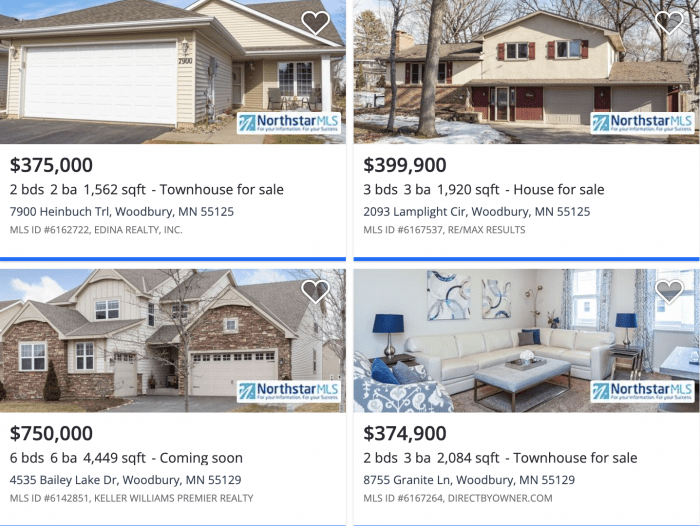 Woodbury
Woodbury was voted one of the best suburbs in the country and with good reason! According to Niche, this place excels on almost every level including having good. public schools, a stellar real estate market, and diversity while also being located within commuting distance of both St. Paul and Minneapolis.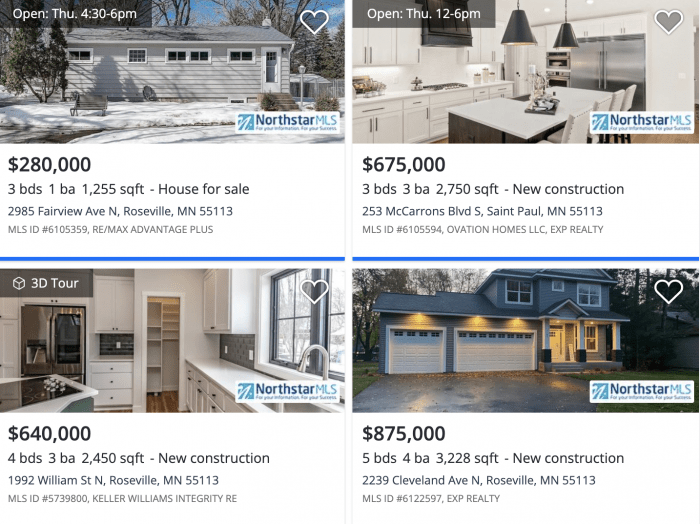 Roseville
Meanwhile, Roseville offers many of the same high ratings in schools, nightlife, and diversity while remaining within St. Paul and offering a lower cost of living.
We'll give a shoutout to another metropolitan area favorite, the nearby city of Bloomington, which also offers many of these great features.
And a few things to take care of once you've moved to St. Paul…
Welcome to the Twin Cities! Now that the difficult stuff's taken care of, there are just a few minor, yet important, things to handle.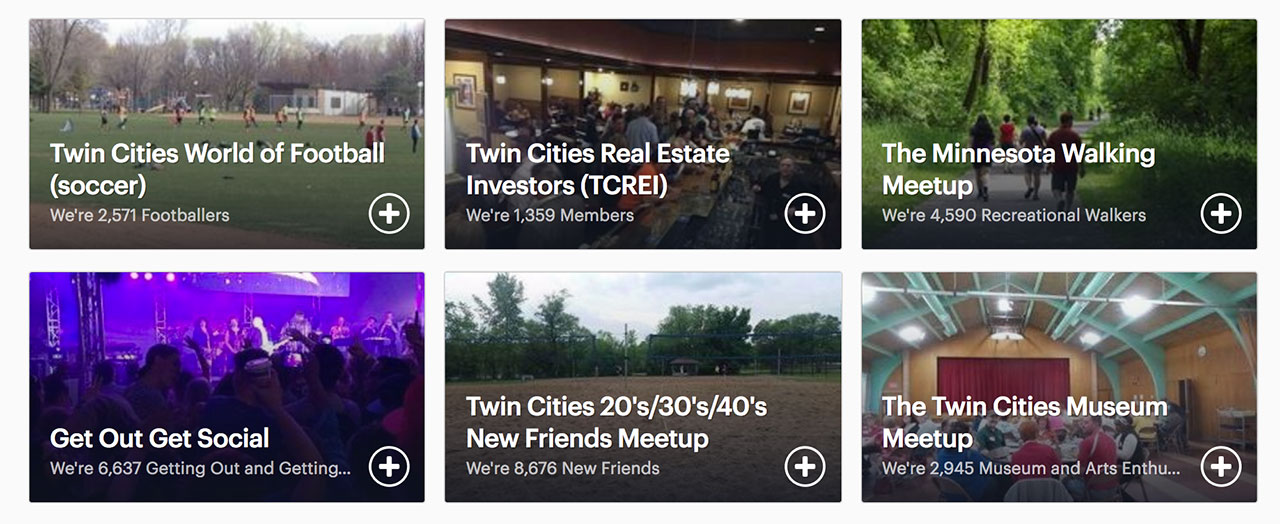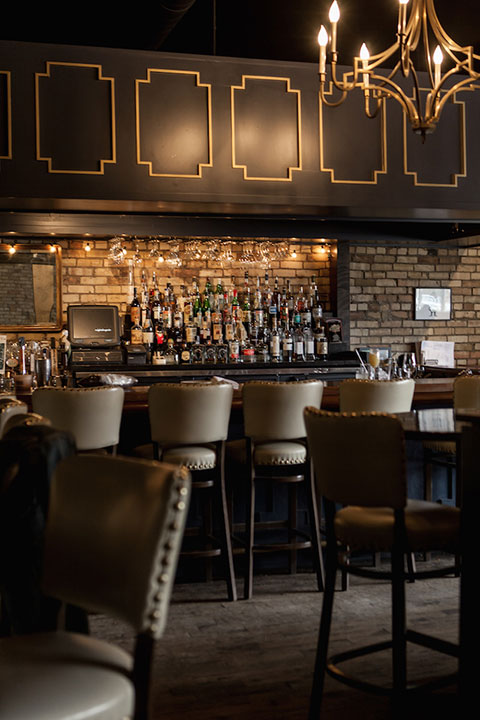 If you're looking to get a feel for what interesting activities the city has to offer, a good first stop is their visitor's site which, yeah, is going to be a bit touristy but it'll also give you a foundation of things to do.
When it comes to looking for bars and hangout spots, it can be hard to make universal recommendations, but pages like this are a great starting point. Additionally, you really can't miss if you find yourself along Summit Avenue or Grand Avenue.
We'll remind you that though St. Paul might be the mellow one of the Twin Cities, its energy is still quite youthful with an abundance of college students in the area thanks to the University of St. Thomas, Concordia, and University of Minnesota campuses (just to name a few.)
If you're the outdoorsy type, the St. Paul Parks and Rec site has a full list of the fantastic places in the city to see green things and partake in your favorite outdoor activities. And if the thought of living in a cold climate leaves your teeth chattering, warm up to the idea with the yearly winter carnival hosted in St. Paul.
Of course, we'd be remiss not to mention the "great Minnesota get-together", otherwise known as the Minnesota State Fair. Located near Como Park, the Minnesota State Fairgrounds are used to host many events throughout the year leading up to the fair.
That's about it! Let us know down in the comments if we missed anything.
Not what you were looking for?
Check out other categories that can help you find the information you need!