The 25 Best U.S. Counties for Mushroom Foragers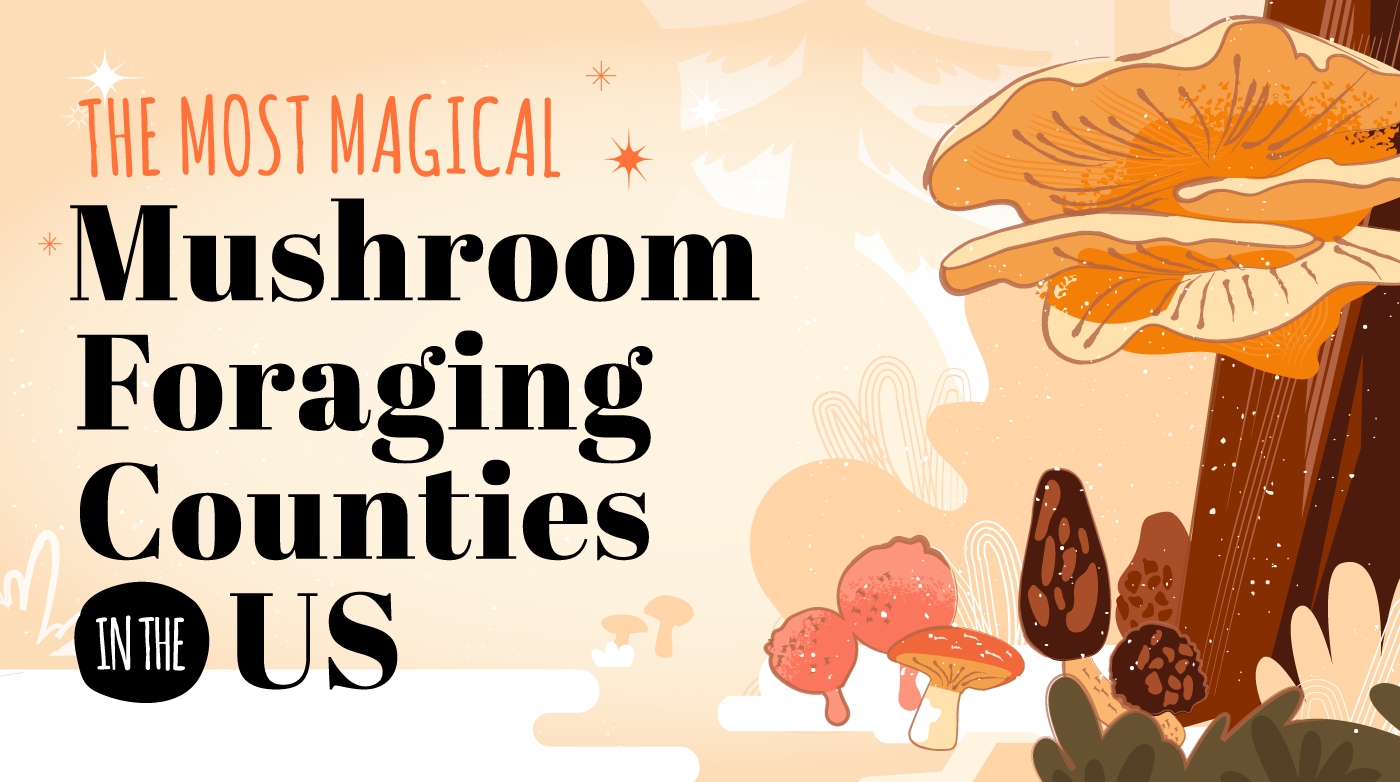 Looking for a pandemic-friendly past-time that will get you out into nature? Mushroom foraging can make for a delightfully delicious, immensely educational, and sometimes even trippy hobby.
As the world went into lockdown in the spring of 2020, the old-timey hobby of mushroom foraging experienced something of a renaissance.
With so many people growing tired of spending their days cooped up inside and staring at their computer screens, many decided the day would be better spent traipsing through brush and staring at the ground.
Mushroom foraging is a rewarding past-time that offers ample opportunities to enjoy and learn about the natural world, all the while potentially finding some tasty, healing, or psychedelic treasures.
But, where to begin? iNaturalist, a wildlife identification and observation app used by 1.8 million hobby- and professional naturalists worldwide, is a great place to start.
We dove into every scientific-grade observation of wild fungi ever recorded on iNaturalist in order to find the most prolific regions for mushroom hunting in the United States.
Whether you're a beginner just starting to learn how to safely identify wild mushrooms, an advanced mycophile looking for the most fruitful fungi foraging regions in America, or a psychonaut hunting for psilocybin, we've amassed the best places in the U.S. to get your 'shroom on.
Key takeaways
For beginning mushroom hunters
The semi-urban Pacific Northwest, from Northern California through Washington, is the best region for beginning mushroom hunters to learn about fungi, with 9 of our top 25 counties located here, including our top-rated spot, Alpine County, CA in the Sierra Nevada. Not only do these counties have high rates of fungi observations, they are also filled with mushroom meetup groups, forager festivals, and other social events dedicated to learning about and celebrating fungi.
Beginning mycophiles can still find meetups, festivals, and plentiful mushrooms in some desert regions. While conditions may not be excellent for finding a huge diversity of wild mushrooms, regions such as Los Angeles County, CA, and Bernalillo County, NM still have vibrant mycophile communities as well as enough wild mushrooms to go around.
For advanced mycophiles
Experienced fungi foragers will find choice shrooming grounds in Alaska, especially in Sitka, Skagway-Yaukutat-Angoon, and Denali Borough counties, where untouched wilderness, high annual precipitation, and cool summers lead to a tremendous biodiversity of fungi.
If Alaska is too remote, mycophiles can head to the forests of Mid-Atlantic and Midwest states such as Minnesota, Michigan, Pennsylvania, and West Virginia to scope out areas with high rates of fungi observations.
For psychonauts
The Pacific Northwest, the Rustbelt, East Texas, and Central Florida, are the regions with the highest rates of observations for wild psilocybin mushrooms.
Reminder: mushroom foraging is not without risks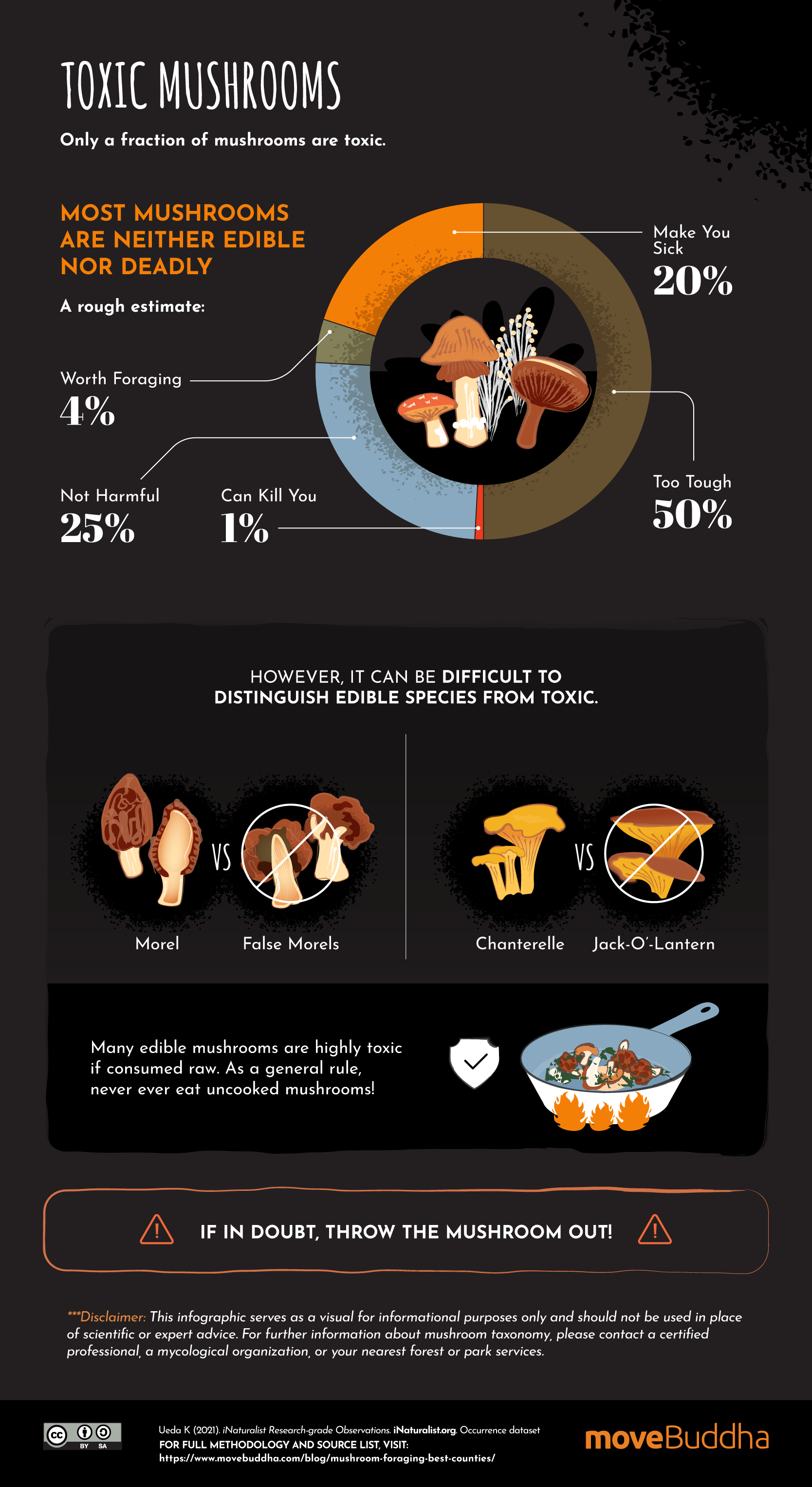 The consumption of wild mushrooms comes with serious potential risks.
Mushrooms can be poisonous to eat, with effects ranging from gastrointestinal distress, to organ damage, to death. Some edible mushroom species are toxic if eaten raw, in combination with alcohol, or when befallen by mold.
The authors of this study do not in any way condone consuming wild mushrooms that have not been identified as safe to eat by experts.
This piece is in no way intended as a guide for identifying wild mushrooms.
The 25 best U.S. counties for new mycophiles
Eager to learn about mushroom foraging, but not sure where to start? One of the following 25 U.S. counties would make for the perfect place for a beginning mycophile to start learning about regional fungi species and their identifying characteristics.
We ranked these counties based on the rate of iNaturalist fungi observations relative to the population, as well as the prevalence of mycophile meetup groups and community events such as foraging festivals.

Unsurprisingly, the Pacific Northwest features heavily in this list, with 9 of 25 counties falling between Northern California and Washington State. With cool weather, many old growth forests, and heavy annual rainfall, these regions are veritable hotspots for fungi. But more than that, they are also home to some of the most prominent mycological societies and foraging festivals in the country — and thus the perfect places for beginners to receive expert guidance.
For instance, the Puget Sound Mycological Society located in King County, WA hosts a diverse array of events every month, ranging from workshops on microscopic identification, to guided hikes, to lectures from famed mycologists.
And in Lane County, OR, near Eugene, the annual Mount Pisgah Mushroom Festival, hosted by the Cascade Mycological Society and Lane Community College, showcases hundreds of species of local fungi — including tasting booths, guided nature walks, and more.
But you don't need to live in a region with perfect environmental conditions to start a mushrooming hobby! Fungi are very tenacious and grow year-round all over the world.
Though desert regions like Los Angeles County, CA, and Bernalillo County, NM may not be famous for their biodiversity of fungi, they are home to vibrant communities of fungi enthusiasts. In addition to relatively high rates of observations made by dedicated iNaturalist users, beginning mycophiles will find plenty of experts and hobbyists alike to help teach them how to find mushrooms in the desert.
Note: Keeping tabs on mushroom events can be tricky. We advise keeping tabs on updates from local mycophile organization sites or one of these two resources: The Mushroom Company Events and Mushroom Events of the USA in order to find the most recent details about mushroom festivals and events.   
The 25 most fungi-prolific U.S. counties
Are you an experienced mycophile looking to explore mushroom wonderlands where competition with other foragers is low?
We ranked the top 25 counties in the U.S. based on the rate of iNaturalist fungi observations relative to the population. From the Midwest, to the Sierra Nevada, to wild Alaska, here are the counties where mushroom hunters could strike gold:

Alaska's brief but plentiful mushrooming season is the stuff of mycophile legend. Covered in snow for the majority of the year, Alaska in late summer to early fall is a time when mushrooms can be found almost everywhere you look. Three of our top counties for mushroom observations are located here: Sitka, Skagway-Yakutat-Angoon, and Denali Borough Counties.
But you don't need to trek as far away as Alaska to find fungi treasure troves.
Fungi foragers in Northern California can find hugely prolific shrooming grounds, from the Bay Area (Marin, Santa Cruz Counties) to the Sierra Nevada (Alpine, Sierra Counties) to the Northern Coast (Mendocino, Humboldt Counties).
Midwestern mycophiles can explore counties from Minnesota (Lake, Cook Counties) to Indiana (Brown County) to Michigan (Keewenaw, Ontonagon, Alger Counties).
In the Mid-Atlantic, there are many mushrooms to be found between upstate New York (Hamilton County), down through Eastern Pennsylvania (Forest, Clarion Counties), into West Virginia (Tucker, Pendelton Counties), and down to Virginia (Richmond, Norton Counties).
The 25 best U.S. counties for finding psychoactive mushrooms
Psilocybe is the most common genus of psychoactive mushrooms, with over 200 species growing across every continent. 22 different species of psilocybin mushrooms grow in the United States, with different species favoring different regions and growing conditions.
We explored iNaturalist data for observations of Psilocybe species across the country to find out which regions are hotspots for these trippy little mushrooms.

*The collection, possession, and consumption of psilocybin mushrooms is illegal in many states. The authors of this piece do not condone the illegal collection or consumption of these mushrooms. 
The Pacific Northwest is by far the best place in America to go looking for psychedelic mushrooms, with 15 of our top 25 cities being located between the Bay Area and the Canadian border. Here, Psilocybe cyanescens, commonly known as the Wavy Cap, is the most commonly observed psilocybin mushroom among iNaturalist users.
The cattle pastures of south and east Texas are also a good place to go hunting for psychoactive mushrooms. Rusk and Dewitt Counties feature high rates of observations for Psilocybe cubensis, colloquially known as Magic Mushrooms. This species also grows well in humid central Florida, such as in Highlands and Alachua counties.
The corridor from northern Ohio up through Pennsylvania, New York, and Vermont is also rich in psilocybin mushrooms, with high rates of Psilocybe caerulipes spotted in Ashland County, OH; Warren County, PA; Cattaraugus County, NY; and Washington County, VT. High rates of observations of Psilocybe ovoideocystidiata are reported in eastern Pennsylvania's Lackawanna and Allegheny Counties.
Sources and methodology
Our analysis of the best counties in the U.S. for fungi foraging are based on research-grade observations of fungi reported in iNaturalist.
Ueda K (2021). iNaturalist Research-grade Observations. iNaturalist.org. Occurrence dataset https://doi.org/10.15468/ab3s5x accessed via GBIF.org on 2021-09.
We sorted this data from iNaturalist based on the following criteria:
Research grade observations only – iNaturalist observations become candidates for "research grade" when they include a photo, date, and geo coordinates. If the community agrees on the identification, they become "research grade."
U.S. counties – Only observations made in the U.S. were considered, and grouped by county.
Fungi kingdom – Only observations belonging to the Fungi kingdom were considered.
Genus Psilocybe – For one category of data, we excluded all observations of fungi not belonging to the genus Psilocybe.
Additionally, we used the 2020 County Population Estimates reported by the U.S. Census Bureau to calculate the rate of observations per 1,000 residents.
To measure the presence of a mycophile community in each county, we factored in the number of foraging groups registered on Meetup.com, the number of festivals listed on Wikipedia, as well as the number of clubs affiliated with the North American Mycological Association. Each county was scored according to the prevalence of these factors, with festivals and large events receiving a weight of 75%, and clubs and meetups 25%.
Not what you were looking for?
Check out other categories that can help you find the information you need!
See All
Hide All