25 Best Cities for Women in the Roaring 2020s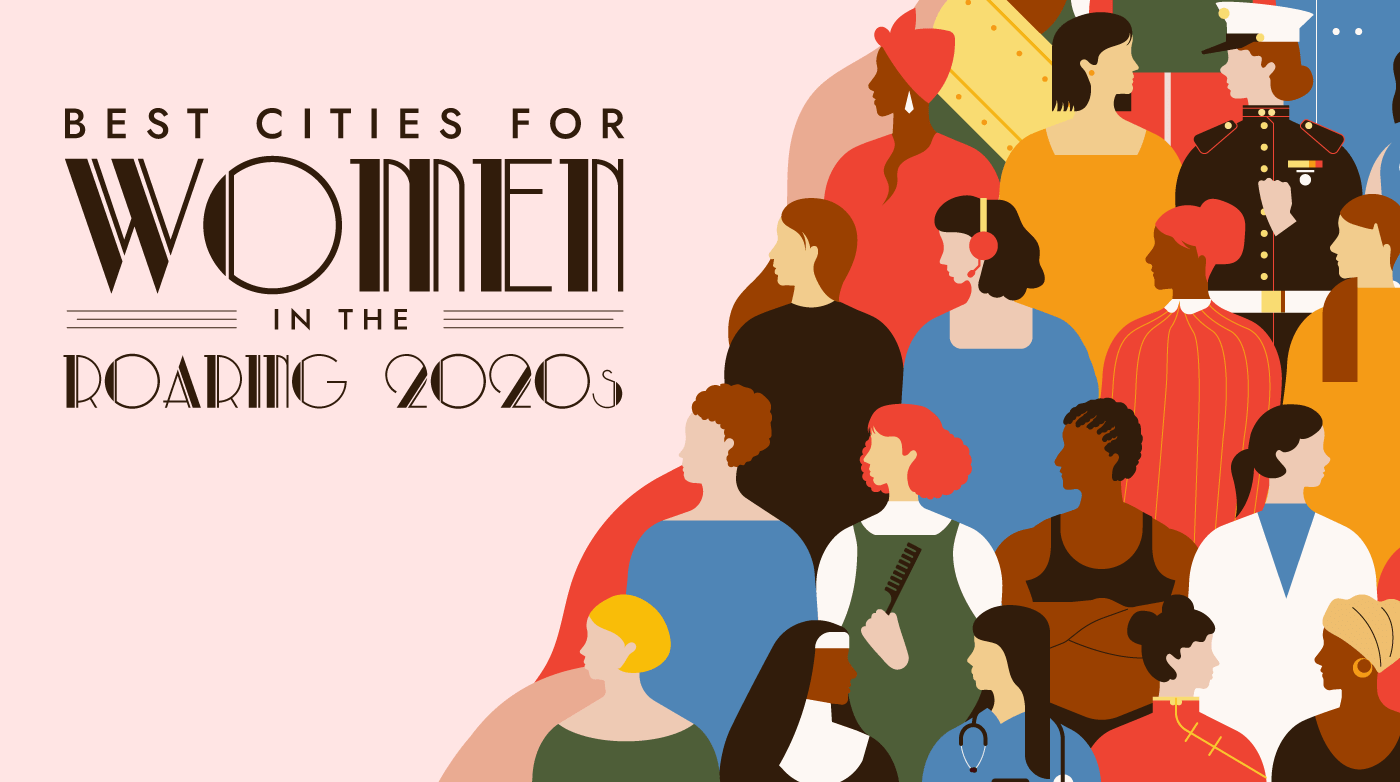 The Roaring 20s was more than firey jazz bands and dazzling art nouveau. It was a decade marked by prosperity, vivacity, and change – especially for women.
The parallels between the 1920s and the 2020s abound: rapidly growing cities, new technologies transforming our everyday lives (automobiles then, Meta now), and a questioning of established norms.
In fact, women of the Jazz Age were especially known for refusing to take a back seat in society. Qualities we see in women today. For instance, already we've seen the swearing-in of America's first-ever female vice president, attempts to rectify inequality between men and women in sports, and many businesses and cities raising the minimum wage (which benefits an estimated 59% of employed women).
However, according to the Global Gender Gap Report 2021, the U.S. lags behind Albania (one of the poorest European countries), Germany, and — less surprising — New Zealand.
100 years later, could it be time for another American-style Roaring '20s 2.0?
Despite the ongoing effort for equality, the good news is that the nation is vast. There are many states and metropolitan areas in the United States which offer greater opportunities for women, some more so than others.
We wanted to know which are the best U.S. cities for women – those which are ahead of the curve when it comes to gender parity. So, we've analyzed the 111 largest U.S. metros over more than 20 femme-focused factors to uncover the 25 best urban meccas for women of The Roaring 2020s. The top-ranked 25 ranked metros have a mix of equitable economic factors, smaller margins of gender disparity, ample female political representation, and more.
Big Takeaways:
#1 Las Vegas, NV metropolitan area boasts female political representation, a substantially lower-than-average 13-cent wage gap, and high scores for social and cultural factors.
The highest-ranking 25 metro areas largely land on either the east or west coastlines; like east-siders #2 Washington, DC and #5 Albany, NY; And west coast's #4 Seattle, WA and #6 Riverside, CA.
Outliers include #3 Honolulu, HI; #7 Albuquerque, NM; and Arizona metros like #13 Tucson and #14 Phoenix.
It's not one size fits all: The metros in the top 25 range from populations of +6 million (Los Angeles, CA and Chicago, IL) to <1 million (Poughkeepsie, NY and Durham, NC).
Business(wo)men, Miami is the place to be; over 40% of small businesses are female-owned, 4.6% are evenly split by men and women owners, and here we saw the highest rates of business formations.
For those passionate about social and health rights, #11 San Francisco Bay Area offers the most accessible healthcare for women.
Divide and Conquer: Go East or West
The top 25 cities are neatly split along the eastern and western regions of continental America.6t54
8 of the best cities for women are along the California coast while the eastside includes MSAs from NY state stretching down to Florida.
Outliers include #3 Honolulu, HI; #7 Albuquerque, NM; and Arizona metros like #13 Tucson and #14 Phoenix. Chicago, IL also pops up right at the #25 spot.
To uncover the top metropolitan areas for females in the 2020s, our analysis broke out and scored 4 primary categories:
Economic
Female Government Representation
Social + Health
Culture
We then computed a cumulative score across all categories. Metros with the highest cumulative scores rank the highest.
Here are the top 10:

Vegas Ladies: Politically Repped and Culturally Integrated
#1 ranked Las Vegas metropolitan area has the highest score for government representation at the highest level: both of Nevada's current senators are women. Plus, the current female mayor of Las Vegas has been in office for 10+ years.
It may come as a surprise, but this desert gem is home to a culturally diverse population. It gets better: we found that the city had some of the highest rates of integration. Integration is often a key factor in defining equitable communities. Las Vegas was not only one of the most integrated cities in our study, of the top 25 metros it had the highest scores in the Culture category.
When it comes to salaries, women have bright prospects here and across the state. The wage gap in the state of Nevada is not quite the lowest, but significantly lower than the average ($0.19) at a mere $0.13.
Bonus: Sin City may be known for visitors gambling their money away, but the sprawling metro area is actually comparatively affordable to other cities in our analysis. For one, area home prices are still about 14% below their peak in 2006. Secondly, the opportunity to buy is much more feasible than in other commonly considered progressive (and culturally rich!) cities like Los Angeles or New York.
Presidential Prospects: Strong and Educated Women of DC
It's no real surprise that the Washington D.C. metropolitan area scores high in the female government representation category, but what makes the sprawling political center stand above the rest is the Social + Health Score.
When it comes to health, D.C. prioritizes the overall well-being of its residents. The Capitol city has the highest possible score for increased access to birth control,  and across all cities in the study is only 1% away from the lowest levels of mental and physical distress among residents. Perhaps it's the city's top-tier walkability that lends to living an active lifestyle and the countless museums, monuments, and activities to engage in that increase overall happiness.
Also included in our Social + Health Score, the women of Washington D.C. have proven that knowledge is power — D.C. has the 2nd highest percentage of women with a bachelor's degree or higher.
Women Who Mean Business (+Beach)
For those who enjoy island life and are career or business-minded, we suggest you girl-boss your way over the rainbow and go live your best life in paradise.
Honolulu, HI metro scored the highest in the Economic category. For starters, unlike the majority of metros on our list, the median income of a single mother's household in Honolulu is actually a few hundred dollars more than those of single-father households.
Furthermore, of all the small businesses in Honolulu, 41% are fully women-owned, and another 4.3% are equally male and female. Even better, across the state of Hawaii, the wage gap is just over a dime (11¢).
Rounding out the overall ranking is a strong culture score thanks to a diverse population. Island residents report lower physical and mental stress. So if you're looking for an excuse to move to Hawaii, saying you will "simply be happier and healthier", rest assured that statistics are on your side.
Closing the Gender Wage Gap: Closer to Equal, But Not Quite
Among the top 25 metros for women in the 2020s, when it came to our economic analysis Honolulu, HI (#3); Albany, NY (#5); Durham, NC (#12); Atlanta, GA (#17); Madison, WI (#18); and Orlando, FL (#20) all scored particularly high.
In Albany, NY single mothers earning the way for their family fare better than those in most other cities. Durham, NC may be best for single women; the difference in earnings between single men and single women earning a median income is $5K (compare that to San Jose, CA where the difference is more than $25K). While female job seekers can head to Madison, WI where there are remarkably low rates of female unemployment across the metro area.
Room for Change: When analyzing solely economic factors, we noticed that business-minded women have the least representation in Provo, UT; Allentown, PA; Salt Lake City, UT; and Lancaster, PA. To add insult to the injury, Utah cities all scored lowest when we look solely at gender wage gap factors because the state has the largest wage gap between men and women at $0.30/hr.
Social and Health Rights: Health is Wealth
Giving Washington D.C. a run for its money, #11 San Francisco, CA has the by far best score in this category out of all 111 metro areas analyzed (despite a less than desirable housing affordability profile). 51% of the Bay Area female population has a bachelor's degree or higher and access to reproductive health resources is plentiful with 14 local Planned Parenthoods spread across the metro region. Margaret Sanger would've been proud.
Other California metro areas like San Jose (#8), Sacramento (#22), and San Diego (#24) all score high in this category. Equally noteworthy standout metros across the nation and in the top 25 include Seattle, WA (#4); Chicago, IL-IN-WI (#25); and Poughkeepsie, NY (#9).
Room for Change: We were shocked to find many of the largest metropolitan areas had ZERO Planned Parenthood locations. Most of these were metro areas in the Southern parts of the U.S. and include: Jackson, MS; Chattanooga, TN; McAllen, TX; Augusta, GA; and Palm Bay, FL. That being said, almost all of these metros have no female representation in government and the highest percentages of mental and physical distress.
A Nod to the Past: The Period of Great Gatsby-esque Glory is a Comeback Story
What was it about the 1920s, and is history really repeating itself 100 years later?
After both the devastation of  World War I and the 1918 flu pandemic (sound familiar?), the 1920s was a vibrant period full of new ideas breaking societal boundaries, especially for women. It all started on August 18, 1920, when the 19th Amendment passed, granting women the right to vote in the U.S.
Women have made leaps and bounds over the decades and fought hard for the equality that they still do not fully have today. The enlightened metros at the top of our ranking are hubs where women may have more opportunities to thrive.
We can only hope that the one parallel that doesn't come true is the decade-ending most infamous economic crash in American history known as the Great Depression (this would be an entirely different article on an entirely different site if we were to dive into the possibility of that happening again… Google it if you're interested.)
Full list of studied MSAs and their category rankings:
Methodology:
Our analysis pulled data for the 111 largest metropolitan areas across the United States.
We ranked the best cities for women in the Roaring 2020s by analyzing 23 female-oriented factors divided into 4 categories, each of which were scored on a scale of 1 to 10, with 10 being the best:
Economic
Female Political Representation (1/2)
Social % Health
Cultural
💵 Economic Factors (9)
👩🏽‍⚖️ Female Political Representation Factors (3)
🏩📚 Social + Health Factors (8)
🤗
Culture Factors (3)
Scoring
Unless noted with (triple) or (1/2), all factors and categories received a single weighted final score in our analysis.
To compute our final ranking, we scored each factor and rolled them up into the corresponding category to find the category score. We then averaged the score of the 4 categories and calculated a fresh final score between 1 and 10, with 10 indicating the highest-ranked city.
Not what you were looking for?
Check out other categories that can help you find the information you need!
See All
Hide All