Overall Opinion of Clutter: Headquartered in Culver City, California, Clutter Inc. is a tech-savvy storage company serving the residential market that offers easy online quotes and ordering, as well as full services such as door-to-door packing and loading.
Clutter will coordinate the pickup of the items and transport them to a temperature-controlled storage facility. Customers can have any items that they need to be delivered (returned) to them from the storage. Customer satisfaction levels are inconsistent from location to location.
Jump to the Clutter review section that you're looking for:
Clutter: Moving Services Available:
In 2019, Clutter was the recipient of $200 million in funding and has upgraded its technology for logistics. The organization boasts of having now stored more than 3.4 million items for customers across the U.S. They currently have locations in New York, New Jersey, San Francisco, Los Angeles, San Diego, Seattle, Philadelphia, and Chicago.
Full-Service Pickup: "Full" service includes professional packaging, disassembly of furniture, loading, transport, and storage. Materials for packaging including boxes, moving blankets, and tape are also provided at no charge. Furniture reassembly services are not currently offered. All Clutter's movers are subject to background screening.
Curbside Pickup: The customer packages their belongings themselves and awaits pick up where the items are loaded and transported to storage.
Secured and Controlled Storage: Clutter's warehouse storage facilities are temperature-controlled, not open to the public, and are protected using video surveillance.
Return Delivery: Customers may choose to have certain items returned or all items returned by logging into their account. A minimum fee of $9 applies to all deliveries. Requests for deliveries should be made at least 48 hours in advance and are based on the current schedule availability.
"Traditional" Self-Storage: Here, customers can bring and retrieve their belongings directly at a Clutter self-storage facility. This is currently available only in the New York markets of Brooklyn, Long Island City, Yonkers, and White Plains. Self-storage unit options vary by location and may include indoor, drive-up, and more.
Donation Services: Customers may coordinate to have items transported to a donation center with proper advanced notice. Junk hauling and disposal services are not currently offered.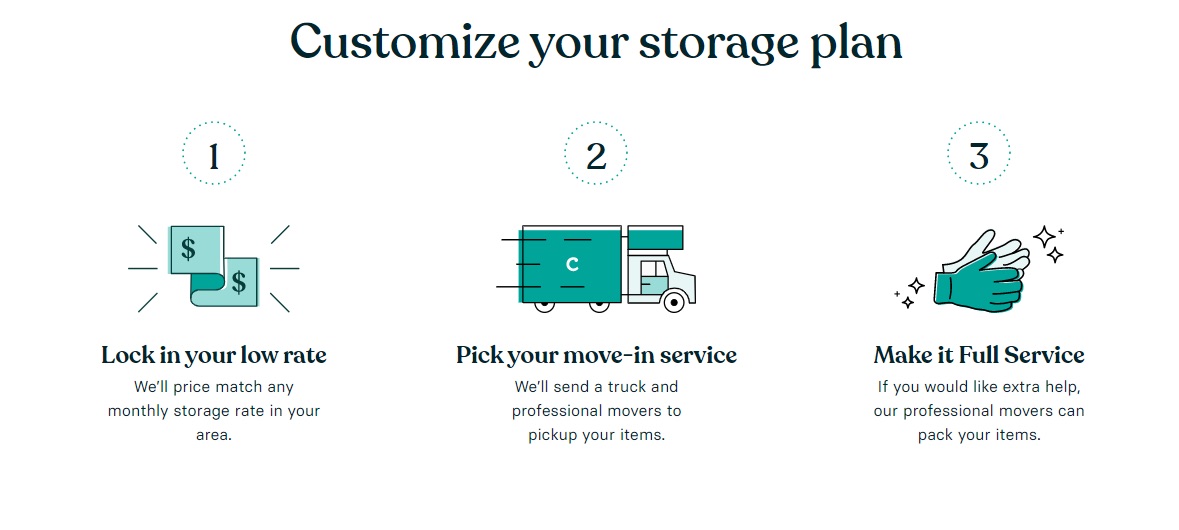 Clutter: Pros and Cons Summary:
The Good: Nice System for Getting Estimates and a Price Match Guarantee
Getting a quote on clutter.com is quick and easy. The company is eager to remain aggressively priced and offers to meet or beat any rates of their competitors.
The Bad: Not Many Locations and Confusing Contract Terms
Unless you live in a major city such as Los Angeles, Chicago, or New York, it is unlikely that you will find a location nearby. Many customers claim to be surprised by fees that arise. Clutter should place more emphasis on ensuring that customers understand the terms of their price agreements.
---
Pros:
Customers can access photos of their inventory online, which are taken when the items are picked up
Clutter will match the monthly storage price of competitors
Additional items can be added to an existing storage unit for a small fee
Customers may be eligible for a $100 bonus for referring friends or family
Automatic monthly payments are processed via debit or credit card using Stripe, which uses encryption technology to protect customer information
The "Safety for Everyone and Everything" COVID-19 Program: In response to the pandemic, all movers have been trained in the best practices, equipped with personal protective equipment, and are eligible for paid time off if an illness occurs.
Cons:
Currently is only operating in roughly 12 major U.S. metropolitan-area markets
For door-to-door service, items must be returned to a location within the same service area as the pickup location
Some of the items that are prohibited from storage include liquids, perishable food, weapons, flammable materials, vehicles, pianos, and grandfather clocks
Customers who enter a "flexer" or "saver" discount plan will be charged for the total duration of months outlined in the agreement, regardless of whether they need them or not.
Website Pricing Examples
The following chart shows pricing for a garage-sized 10-foot x 10-foot storage unit based on whether you choose a minimum of four or eight-month commitment for storage.
| Locations | 10' x 10' (8-Month Commitment) | 10' x 10' (4-Month Commitment) | Full Service (Labor & Materials) |
| --- | --- | --- | --- |
| Los Angeles | $181 | $236 | + $38 per hour |
| Chicago | $94 | $122 | + $439 fee |
| New York City | $162 | $211 | + $229 fee + $78/hour |
| Trenton, NJ | $94 | $122 | + $38 per hour |
Those who commit to a four-month minimum are eligible for a 15% "Flexer" discount or up to a 35% "Saver" discount for an eight-month minimum. Month-to-month rates are available with increases that will generally range from 10 to 20%.
Full-service describes the optional upgrade for providing labor and materials, which is either fee-based, hourly, or a combination of both.
Building Certificate of Insurance (COI) Requirements
Some of the apartment buildings in larger metro areas require all contractors on the premises to present current proof of insurance. Clutter will email the appropriate document to building management upon request.
Insurance Protection Plans
Customers may purchase protection plans up to a maximum of $2,500 in case of damage, fire, or theft of property. These plans are available for a low monthly rate that may vary by location. "Basic" coverage is always included, which provides compensation of $1.00 per pound based on the weight of the item.
Customer Reviews & Feedback
Clutter's self-storage location in Queens, New York has a rating of 4.1 of 5 on Google. Many of the negative reviews were directed toward the previous company that occupied the facility called Storage Fox. Some of the recent complaints involved the elevator being broken and several customers are frustrated with the rising monthly storage costs.
The Yonkers, New York location has an overall Google rating of 4.3 of 5. Feedback suggests that the storage facility is in good condition and is well maintained. A few customers expressed displeasure after the 24-hour access was reduced to the hours between 6 a.m. to 12 a.m.
Most of the other complaints were somewhat minor billing concerns.
The location in San Francisco has more than 700 reviews on Yelp with a rating of 4.5 of 5. Many of the recent reviewers praised the moving staff for being careful and professional. One of the most common complaints involved billing concerns from customers who were charged fees that they didn't expect. Many of the problems were worsened when the customers couldn't reach a service or support representative to discuss their concerns.
The headquarters location in Culver City has an overall rating of A with the Better Business Bureau; however, the customer reviews were overwhelmingly negative. Many of the dissatisfied customers had items that they claimed to have been damaged, lost, or stolen during moving or storage. Some of the unfavorable reviews involved unexpected charges and misunderstandings related to the agreement terms (contract).
Should You Consider Clutter as a Storage Provider?
The company offers good service and attractive pricing, particularly for those in densely-populated urban areas. The contracts are often confusing and customer service can be very mediocre. Overall, they are a viable option for full-service storage.
Not what you were looking for?
Check out other categories that can help you find the information you need!
See All
Hide All