What's the cost of living in San Antonio, TX?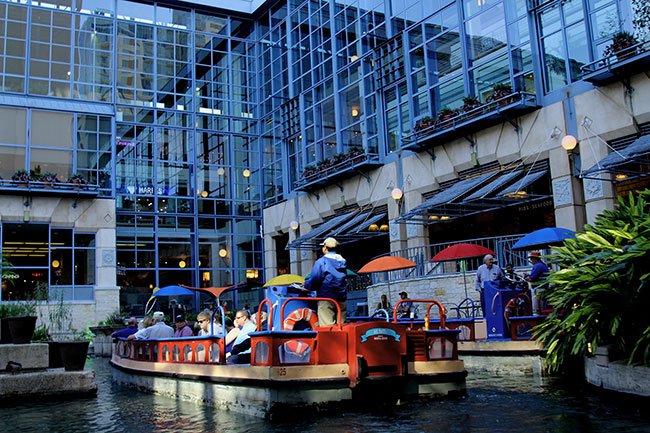 So here's what you've got to work with:
According to the cost of living calculator on Expatistan.com, San Antonio is the 55th most expensive city in North America.
The city's affordability becomes more apparent when you compare the cost of living in San Antonio to other similarly populated cities.
As the graph below shows, San Antonio is a massive 41% less expensive than San Diego, 30% less expensive than Philadelphia, 21% less expensive than Phoenix, 14% less expensive than Dallas, and 8% less expensive than Detroit.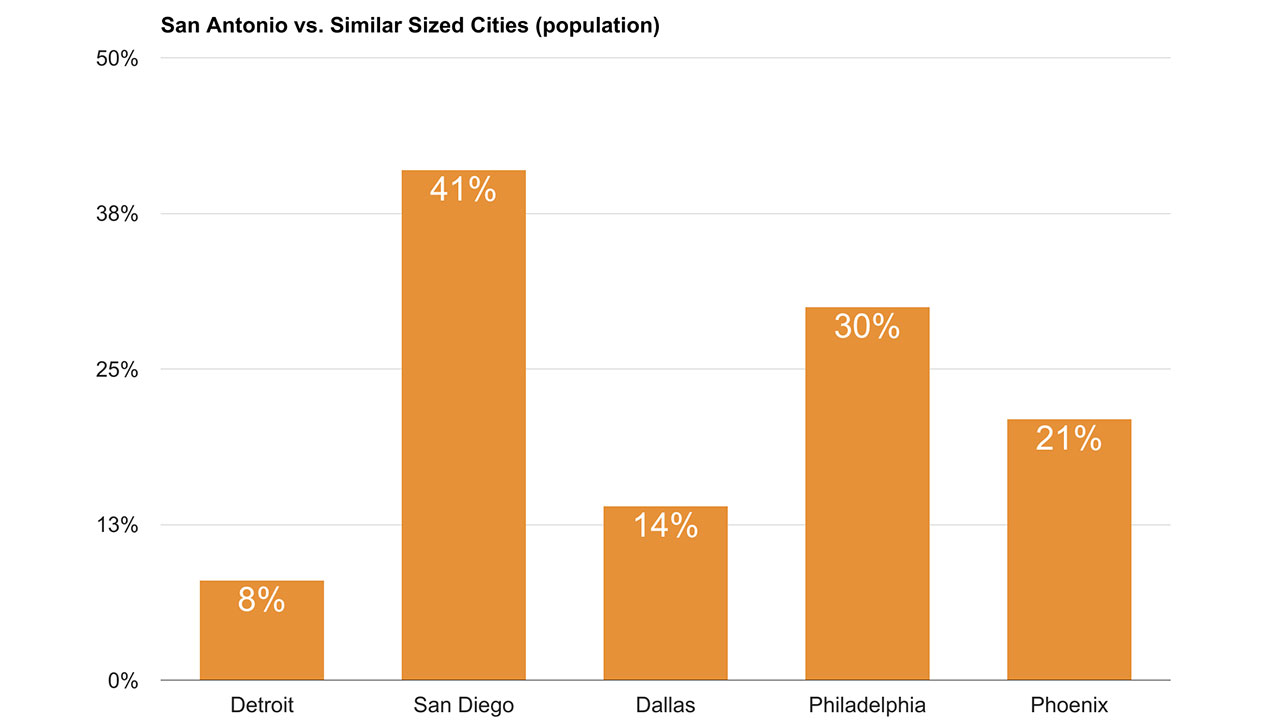 For a city that ranks in the top 10 most populated in the US, San Antonio is a serious bargain.
The only city close in affordability is Detroit. But the weather's definitely going to be worse in Michigan and, c'mon…it's Detroit…
The situation looks even better when you compare the cost of basic expense in San Antonio to national averages.
Although the margins aren't huge, San Antonio's costs are lower than national averages across the board. For a major city that's very impressive.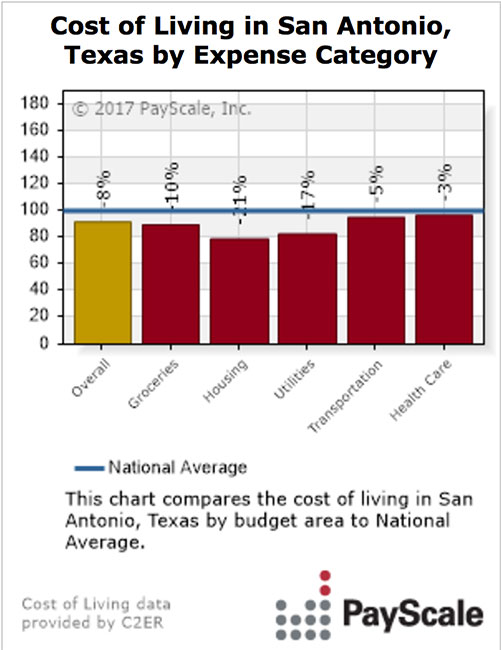 All-in-all, San Antonio's a pretty solid option for those in search of a large city that's also super affordable.
Still, Texas is a huge state and you're probably going to run into some variation between San Antonio and other nearby major cities.
Comparing San Antonio to its neighboring cities, you'll see even more evidence of how inexpensive it is. Austin and Corpus Christi are 10% more expensive than San Antonio while Dallas, Houston, and Fort Worth are 14% more expensive.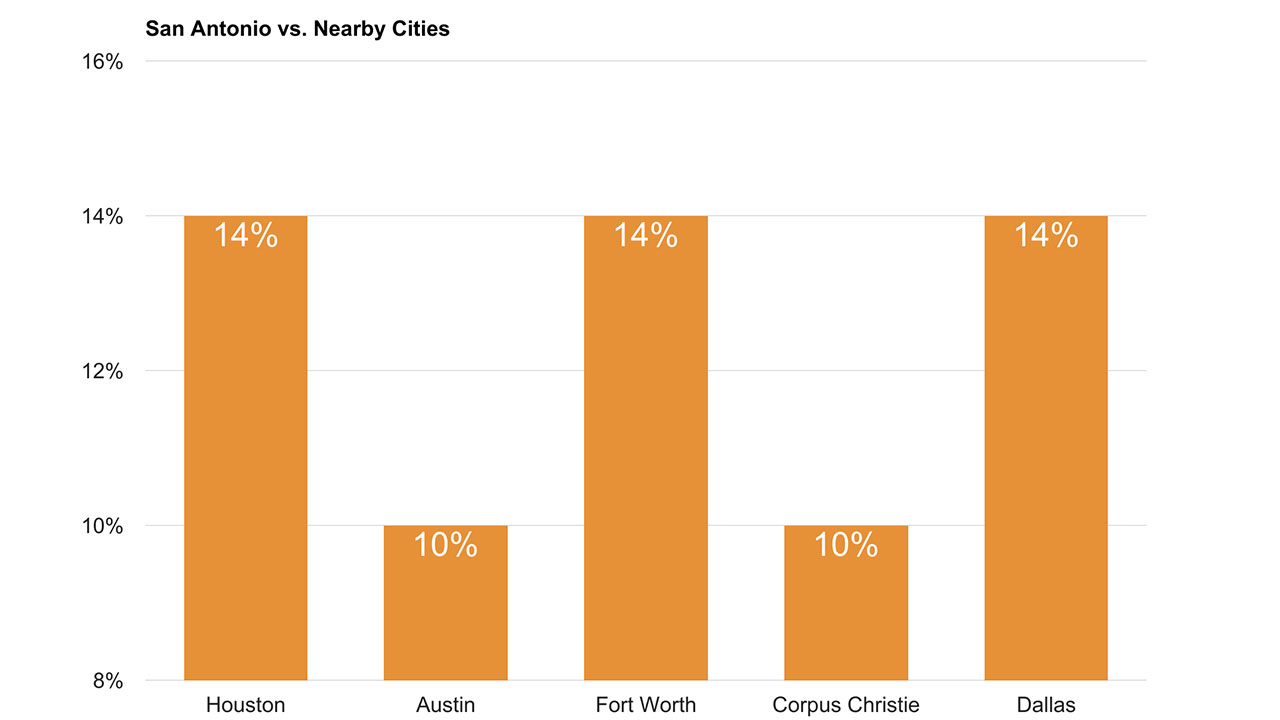 So yeah, the difference isn't staggering, but San Antonio's definitely a better deal than most major Texas cities.
Still not sold? Let's look a little closer at the specifics of how much you'll be saving when you move to San Antonio!
Here's a more specific look at the exact cost of living in San Antonio
Okay, now that the broad strokes are out of the way, let's examine what your monthly expenses are going to look like in San Antonio.
Short answer: You'll be spending around $1,642 and $1,933 each month depending on your lifestyle.
So let's look a bit closer at the specifics.
Housing: $1,078 to $1,369 per month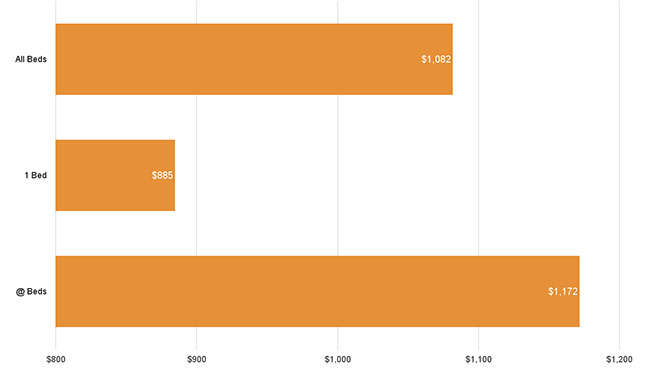 Your rent's probably going to end up running you around $885 if you're planning on living alone or $586 per month with roommates.
Overall, the average cost of rent in Texas is pretty reasonable, having only experienced a 3% increase in the past year. San Antonio has the 7th most expensive rent in Texas, and its average is equal to that of the state as a whole.
Utilities: $164 per month
Speaking of Texas, you're gonna be dealing with some pretty unforgivable weather for most of the year.
The summer heat can be unbearbale without AC and the winter (while relatively mild) can still get pretty chilly at night. This is going to lead to some consistently high utility bills.
Internet: $30 – $68 per month
Look, San Antonio is a major city and an internet connection is absolutely required, so this is an expense that's pretty hard to get around. The prices here are pretty average, but there are still a wide variety of options available for people looking to do some comparative pricing.
Groceries: $296 – $344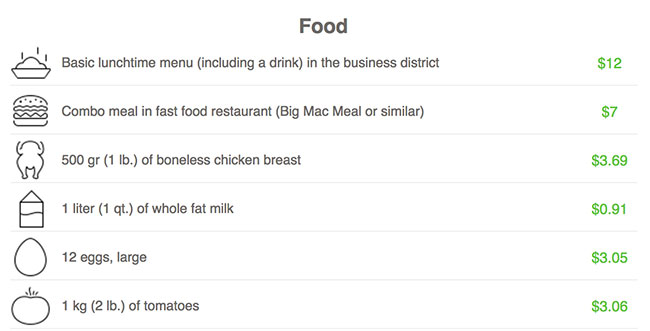 SmartAsset estimates your expected monthly grocery cost will be at least $296. (Note: this is based off of data from Austin, TX which has a similar cost of living to San Antonio).
If you want more detailed data on San Antonio's food costs, check out NUMBEO's Price Rankings.
Transportation: $36 – $122
$36 – $122 seems like a pretty big margin, but when it comes to paying for transportation in San Antonio, you get what you pay for.

San Antonio's bus system may not have the best rating, especially for long-distance commuters, but, at $36 per month, at least it's fairly cheap.
Other than the bus, you'll have to contend with they typical expenses that come with owning and maintaining a car. If all that seems too expensive, consider living/working in the Central-Downtown area which is the only walkable part of the city.
Bottom Line: You'll probably be spending between $1,604 to $2,067 on basic living expenses in San Antonio
And a quick note on taxes…
You can't fully understand a city's cost of living without also being aware of its tax laws.
San Antonio's sales tax is 8.13% which is on the higher end nationally. Fortunately, Texas is one of the few states with 0% income tax!
With all of this in mind, we need to stress how wildly your cost of living can fluctuate depending on if you're single, living with roommates, or married with kids. You can consult the MIT living wage calculator to get a clearer picture of what your exact expenses are going to be.
If you're looking to live in one of the largest cultural hubs and historical cities in the South, moving to San Antonio is a pretty easy call to make!
The insane affordability and proximity to other massive entertainment hubs like Austin certainly sweeten the deal too!
And if you're planning a move within the greater San Antonio metro area, check out our Cost of Moving in San AntonioGuide for tips on how to get the best bang for your buck.
Not what you were looking for?
Check out other categories that can help you find the information you need!
See All
Hide All