Tips on Moving to San Antonio, TX: Relocation Guide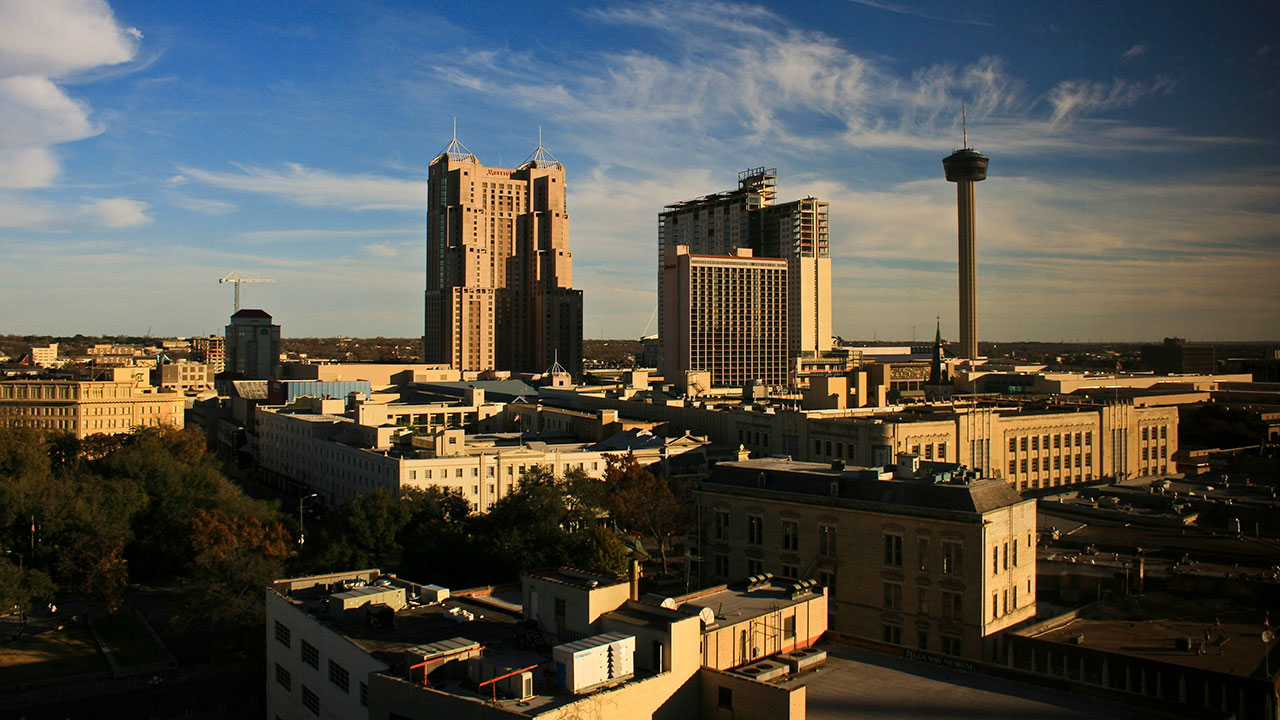 Photo Credit: Bobby MageeAre you considering a move to San Antonio, Texas?
San Antonio is a pretty big tourist town, thanks to SeaWorld and Six Flags Fiesta Texas. But it's also a popular place for military folks to put down roots, thanks to Joint Base San Antonio and Fort Sam Houston.
Regardless of how you find yourself in this bustling Texas city, relocating to San Antonio is a great decision, but it comes with a lot of questions.Luckily for you, moveBuddha is here to help! Check out this guide to learn everything there is to know about living in the second-largest city in Texas. You'll find tips on how to choose the right movers and get insight into what to expect from your move.
If you're looking for more info on moving to San Antonio, check out our resources on the cost of living in San Antonio, San Antonio neighborhoods, and our San Antonio move cost guide.
What's it like living in San Antonio? Quick Snapshot
With a population of more than 1.5 million, the City of San Antonio is the 7th most populous city in the country. That's more than Austin and San Diego and only slightly less than Philadelphia!
As of June 1, 2023, the average rent for an 863-square-foot apartment is $1,289. This is low compared to other large metropolitan areas, like New York City, where rent fetches $3,450 for a small studio.
San Antonio is huge. The city is nearly 500 square miles. To give you some perspective, you can fit all of Chicago into San Antonio twice!
The San Antonio job market is pretty good, ranking at 6.1/10. The average salary is $51,740 and the 8.1% unemployment rate is below the national average of 8.7%.
San Antonio is a rich city with plenty of things to do. Whether you're a diehard fan of the Alamo, authentic tacos, or the smiling faces of San Antonians at HEB, the Alamo City is among one of the best places to live in the United States. San Antonio is most famous for its delicious Mexican food, the River Walk in downtown San Antonio, and its rich Texan history.
Look, San Antonio is in Texas and Texas is hot. You'll need air conditioning unless you want to be utterly miserable for half the year. As for the winter months, it still gets into the 20s in San Antonio from December to February. Fortunately, pretty much all homes include A/C and heat. Be aware that your heating and A/C usage will affect your average electricity bill.
San Antonio also doesn't really have a lot of conveniently located laundromats and most areas of the city aren't super walkable. Basically, unless you're living in or near downtown, a washer/dryer is a necessity.
And here's a video that'll give you a better idea of just how cool the Riverwalk is!
How to move to San Antonio
San Antonio is a unique place, so it's best to make a strategy for your move before you relocate to the Alamo City.
Follow these steps to have the smoothest move possible.
Avoid moving in the summer: San Antonio is in Texas, which can get very hot in the summer. The average high in July is 95 degrees (but trust us, it feels hotter than that). If possible, you should avoid moving during the summer.
Get the right permits: If you're moving to downtown San Antonio, contact the city'sRight-Of-Way Management Division to file for a temporary street parking permit. This will make it much easier to park a moving truck without worrying about parking tickets.
Hire an experienced mover: There are tons of options to choose from, but moveBuddha did a lot of the legwork for you. Check out our guides for thebest apartment movers andinterstate movers to kick off your search.
Estimate costs first: If you want to get an idea of the cost of different moving services, check out ourmoving cost calculator. You also may want to have a glance at ourmoving out of state guide for more info and tips to consider when making a long-distance move.
Everything you need to know about relocating to San Antonio
Whether you're moving from another Texas city, like Dallas, or you're a Texas transplant, it's important to know what to expect when you live in San Antonio. Follow this guide to find the perfect new home in the Alamo City.
Find the best San Antonio neighborhoods to live in

San Antonio is a pretty big city that's split into a bunch of smaller neighborhoods which are conveniently divided into regions named after their geographic location.
San Antonio is unique because it's a big city that's split up intosmaller incorporated cities and neighborhoods. This gives San Antonio a small town vibe with all of the amenities of living in a major city.
With some exceptions, San Antonio is solarge and spread out that rental prices don't vary too much from one area to another. As of June 1, 2023, the average rent for an 863-square-foot apartment is$1,289. This is below the national average of$1,700 for an approximately 900-square-foot apartment.
However, living in downtown areas is more expensive. For example, living in Southtown near Blue Star can cost as much as$4,000 for a two-bedroom apartment, and renting a place in Alamo Heights costs about$1,400 for 900 square feet.
While cost is always a big factor, the neighborhood you choose should match your interests and lifestyle. These areas of San Antonio are some of the most popular with new movers:
Medical Center: San Antonio's healthcare and bioscience companies are mostly situated in the Medical Center area in the northwest part of town. This is also the area where most students and many young professionals live, since it's home to theUniversity of Texas at San Antonio, theUniversity of Texas Health Science Center, and theSouth Texas Medical Center. It's also whereValero,USAA,NuStar Energy, andKinetic Concepts have their corporate headquarters.
Lackland and Randolph AFB: San Antonio is also called Military City, USA, because of the number of military bases in town. There are military outposts spread all over the city, with Lackland Air Force Base on the far southwest side of town and Randolph Air Force Base on the Northeast Side.
Castle Hills: This San Antonio area is part of the Northside Independent School District (NISD), which is one of the best (and largest) public school systems in town. The real estate market is reasonable here, making Castle Hills a popular option for young families with kids.
Southtown: This rapidly developing area is becoming an expensive, artsy part of town that's popular with hipsters, beer aficionados, and foodies. It's in close proximity to art museums and the San Antonio River Walk.
Stone Oak: This is a developing area of San Antonio that's popular with high-income earners. Located in the far north area of San Antonio, Stone Oak is expensive, but it's one of the best neighborhoods in San Antonio.
Not sure where to move?ESRI's ZIP Code Lookup Tapestry tool will tell you the demographic makeup of any ZIP code.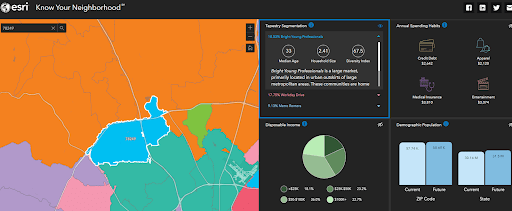 For example: If you plug in the zip code for the River Walk (78249), you'll get a detailed breakdown of the types of people living in the area. See the average age, household size, diversity index, income information, and a lot more.
San Antonio suburbs


Not a fan of living in town? There are plenty of suburbs within 30 to 45 minutes of San Antonio.
The outer edges of town are where you'd want to be if you prefer to avoid city life. Past Loop 1604 are landscapes true to what you'd expect from the Texas Hill Country.
These suburbs are the most common destinations for San Antonio transplants:
Depending on where you live, opting for a suburb could be more expensive than living within San Antonio city limits. You can also expect a long commute, especially if you plan to drive on the infamously congested Loop 1604.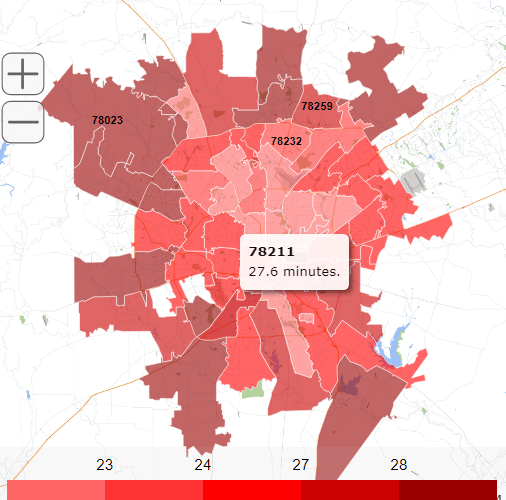 >Make sure you have transportation in place
San Antonio is trying to improve its walkability and bike-ability, but it just isn't there yet. If you live in San Antonio, you'll need a car because anything you need is likely off the highway.

If you don't like driving or can't drive, you'll pretty much want to live near Downtown. The downtown area of San Antonio has a 98/100 score for walkability, but that definitely isn't true for other areas of San Antonio.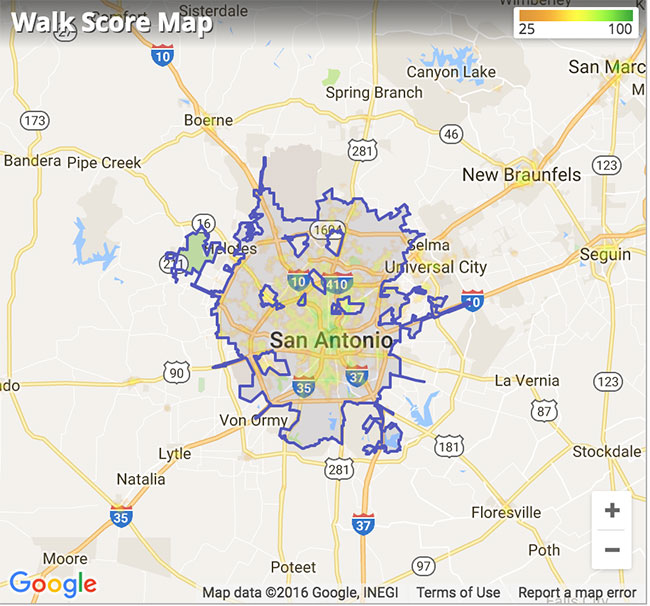 Public transportation
If driving isn't an option, biking in conjunction with public transportation is a decent backup.
However, San Antonio is the 16th most dangerous city for cyclists in the United States, so it's best to minimize cycling on roadways if possible. Some areas, like the Pearl, have bike-only paths as well as electric bike rentals, which are much safer.
San Antonio's public transportation system, VIA, charges affordable rates for bus transportation. Bus fees are $1.30, but you can sign up for a variety of different passes if you commute regularly by bus. Students receive discounted fares, and the city also provides a Fare Assistance Program.
If you need to commute between San Antonio and Austin, take the Megabus. At roughly an hour and a half long, fares start at just $25.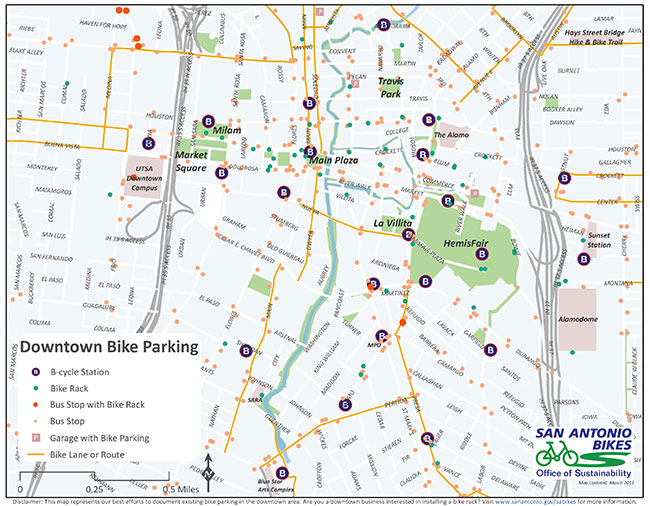 >Consider San Antonio's crime rate
San Antonio is a big city, which means it's going to have its fair share of crime.
On paper, San Antonio doesn't look too hot. According to Neighborhood Scout, San Antonio's crime index is a 3 out of 100. This means San Antonio is safer than just 3% of other cities in the United States. But if you're considering a move to other big Texas cities like Houston, San Antonio ranks better in terms of safety.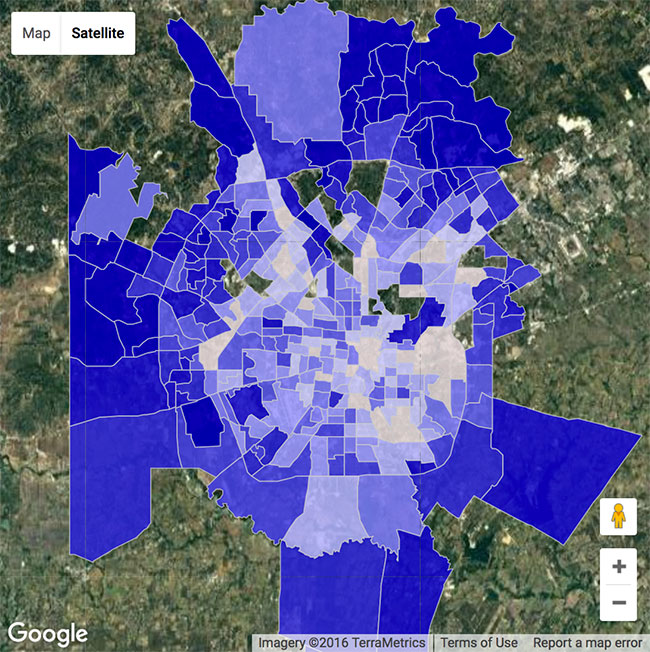 The good news is that the majority of crime in San Antonio is property-related. The violent crime rate is 37 (compared to the national average of 22.7) and the property crime rate is 72.4 (compared to the national average of 35.4).
So, what does this mean for new San Antonio residents?
Protect your property: Lock your car, home, and windows at all times. Consider installing cameras around your property to catch would-be thieves.
Move to a low-crime neighborhood: If you're moving to San Antonio, try to live in a lower-crime area. Check out this map to find safer areas within the city.
Avoid high-crime areas at night: Avoid areas like downtown, the east side, and the west side after dark. If you go bar-hopping downtown, go with a group of friends and keep your wits about you.
Keep in mind that the chances of violent crime are lower than property crime in San Antonio. As long as you follow common sense practices to keep yourself safe, you'll find that most San Antonians are friendly and eager to help.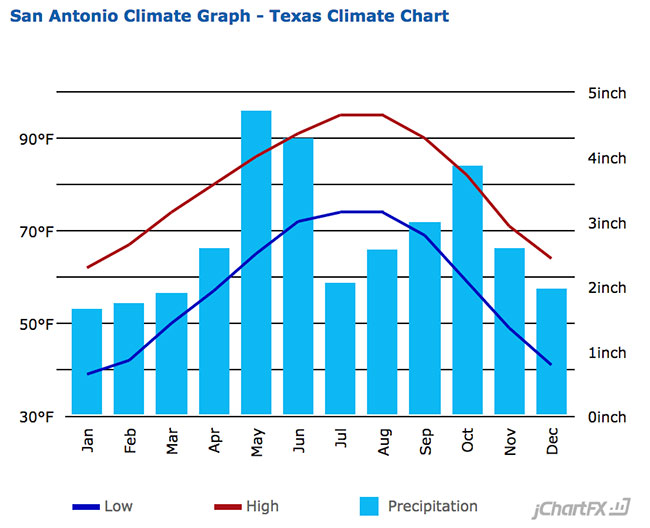 Now that you have a better idea of where you might want to live in San Antonio, it's time to find the perfect apartment or house for you.
San Antonio's rental market is pretty good. In fact, the average rent in San Antonio is on the decline, which is good news for renters.
San Antonio's vacancy rate is 7.7%, which is lower than the national average of 6.4%, so it's slightly easier to find available apartments here. Plus, the rent will probably be cheaper!
So, where can you find available real estate for rent? These resources are moveBuddha's faves:
Texas Rental Law
Before you pack your wagon and hit the old dusty trail, there are a few things you should know about the laws related to renting in Texas:
Live near what you love to do
San Antonio is a major tourist city, which means there's a lot going on in the Alamo City! If you're considering a move, try to live close to areas of town near activities you enjoy.
For party-goers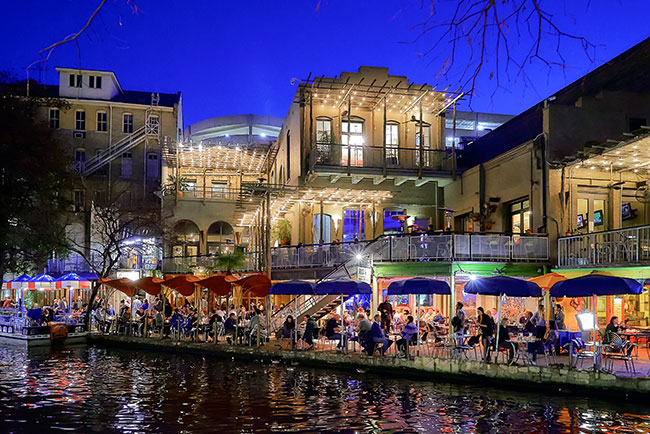 Downtown San Antonio and Southtown are the places to go if you want nightlife. Of course, the River Walk also has tons of live music venues and bars that specialize in wine, martinis, and local brews.
And who doesn't love happy hour deals? This is a list of San Antonio's best happy hour deals.
For history buffs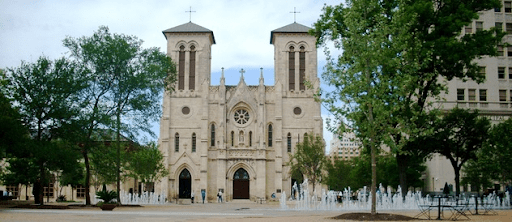 San Antonio is an old city with historical sites aplenty. There's always the Alamo, but there are plenty of other historical sites to see, too.
Check out the San Antonio Missions National Historical Park, which is the only UNESCO World Heritage Site in all of Texas. You can still attend mass at the San Fernando Cathedral, which is the oldest continuously running religious community in the state.
For families
If you're moving to San Antonio with little ones, we have great news! San Antonio has plenty of family-friendly attractions to entertain kids of all ages:
Six Flags Fiesta Texas: This Texas-sized theme park is perfect for amusement park rides, greasy Tex-Mex food, and a great time.
For sports lovers
If there's one thing that's puro San Antonio, it's this city's love for its five-time NBA champs, the San Antonio Spurs. The San Antonio Spurs are nothing short of legendary, and locals never miss the opportunity to let you know about it.
Now that you're ready to move to San Antonio…
If you want to get an idea on the cost of different moving services, check out our moving cost calculator.
You also may want to have a glance at our moving out of state guide for more info and tips to consider when making a long distance move.
Before moving, you'll also want to contact the city's Right-Of-Way Management Division to file for a temporary street parking permit.
Moving Permits: If you plan on moving near the downtown area, you may or may not need a permit to occupy a space temporarily. You should visit this website to learn more.
Make your move official
Once you've moved into your new place, there are just a few things you need to do to settle in. Follow this quick checklist to officially make San Antonio your new home: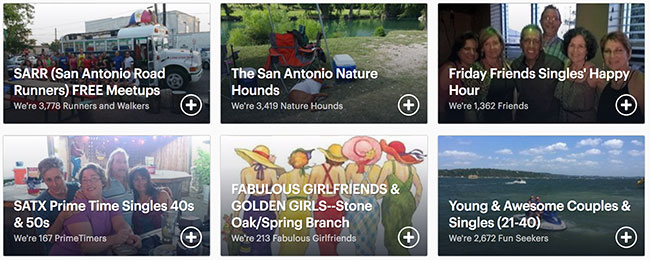 To find great local events and happenings check out visitsanantonio.com!
The San Antonio Current that prints a monthly magazine chock full of upcoming events, deals, and news about the great city of San Antonio.
Not what you were looking for?
Check out other categories that can help you find the information you need!
See All
Hide All