How to Throw A Housewarming Party
The first thing you need to know about a housewarming party is simple but important.
A housewarming party is a party that YOU throw for YOU.
After a stressful move, the last thing you need is more stress and looking to please everyone.
These 15 tips will help you create your personalized housewarming party for you.
Let's get into them
1. Give Yourself Enough Time

No matter how many times your family and friends ask when they can come and see your new space, wait until you're ready to host them.
Moving and unpacking take a lot out of you! It's totally normal to wait several weeks or months before you feel ready to throw a housewarming party. This gives you enough time to unpack the majority of your belongings, arrange the furniture how you like, and start feeling comfortable.
---
2. Determine When and Who
It's your house, so you create the rules!
You can invite a large group of people to show up at 7 p.m. and get the party started all at once, or you can give a timeframe, like 1-4 p.m., in the style of an open house. Open houses are especially great if you don't like large crowds or if your space is too small to host everyone at once.
You can even host more than one party to keep the crowds to a minimum, such as a party for close friends and family and another for your new neighbors.
Next comes who you want to invite. You may be comfortable inviting the entire neighborhood to come to visit, so go ahead! The more new friends, the merrier! You can also be more selective and only invite the neighbors on your street or block or only the adults. However, inviting entire families will help your children become acquainted with the neighborhood kids.
---
3. Invite Guests In Your Way
Waiting at least a few weeks after moving to welcome others into your new house also means you can give your guests an invitation plenty of time in advance. (Giving them a date ahead of time will also answer everyone's parroted question since they're so eager to come over!) But you don't have to send an invite the old-school snail mail way.
You can always send housewarming party invitations via social media, text, or email! Be sure to include your new address along with the date and time. It's also a good idea to ask guests to RSVP so you know how much food to prepare.
---
4. Choose a Theme or Go Casual
If you want to spice up the night with more than good food, choose a housewarming party theme! Common themes include sharing foods from around the world, serving your favorite cocktail drinks, and swapping recipes.
Themed parties aren't for everyone, however, and no one will complain if you make the evening as casual as possible. I mean, who doesn't love talking over food and drinks without the pressure to step outside your comfort zone? (The answer is no one!)
---
5. Select the Main Area for Socializing
One of the best parts of hosting a get-together in your new home is meeting your new neighbors! This means that you'll want an area of the house set aside just for socializing and making new friends. Ideally, the area won't be too far from the food and drinks, but not so close to it that the room is easily congested.
If you're going to have a cookout, try arranging the back yard with patio furniture and lawn chairs, or ask your guests to bring their own! If you'll be inside, the living room is a great central area for everyone to gather.
---
6. Plan the Menu
When you decide to invite everyone over, you'll also need to plan what sort of food to serve. If the guests are to show up in the late afternoon and early evening, they may expect a dinner party with a full meal.
You can provide the entire meal yourself, or make it a potluck and ask your guests to bring their favorite side dish! This is a great way to sit down with your guests, but not everyone has the resources to do this right after moving.
If you invite guests over between meals, appetizers and finger foods are the way to go. This includes vegetables and dip, chips, fresh fruits, crackers, etc. These are not only extremely easy to put together, but it's the perfect food to have when you're on a budget! If you have a sweet tooth, you can also invite your guests over after dinner and provide dessert! Essentially, the simpler you keep the party food, the better.
---
7. Offer a Variety of Drinks
Whether you're inviting only adults or full families, it's important to have several different drinks available. A few alcoholic beverages will do, though not every adult will want one. They may opt for punch, soda, or water, which is also great for kids!
---
8. Designate Areas for Drinks and Food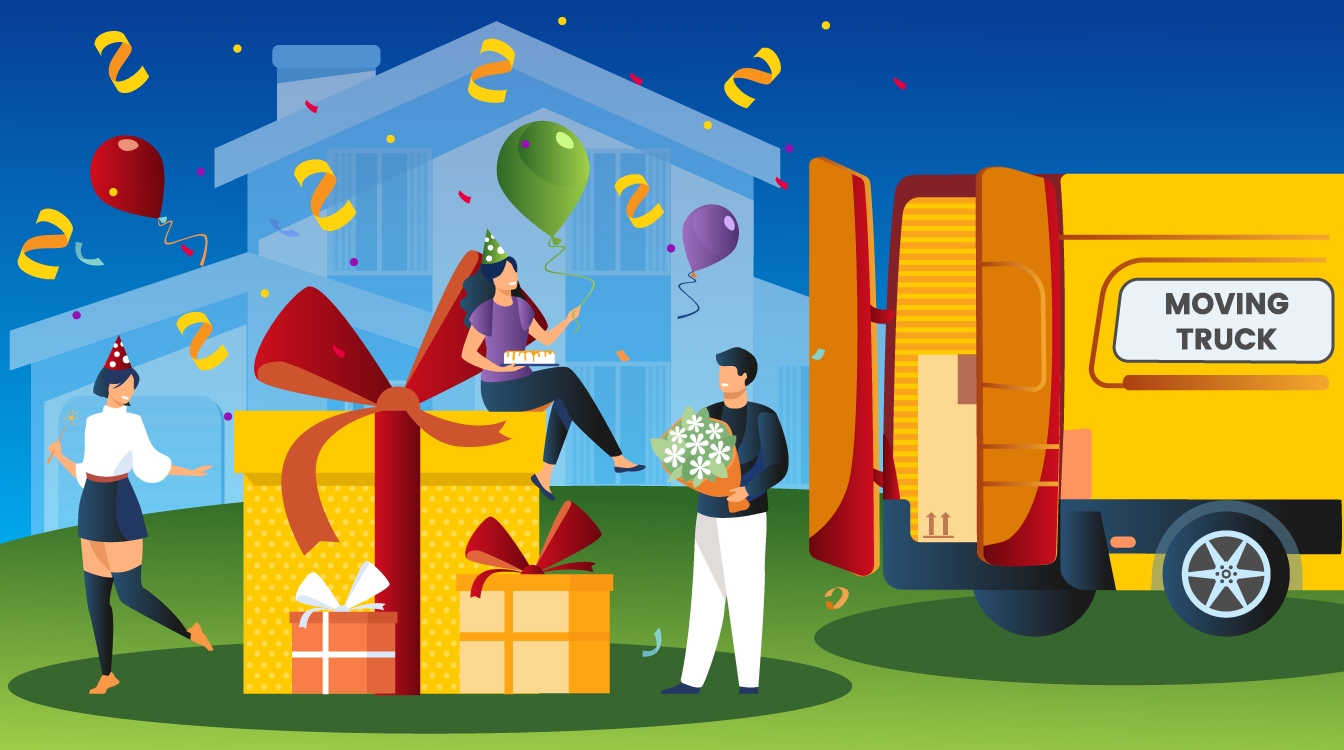 When you're planning a housewarming party, think about where you'll direct your guests from the front door. Odds are, they'll want to grab some food before socializing with the rest of the guests.
Depending on the layout of your new place, keep your food and drinks on the counter in the kitchen or on the dining room table. It's also a great idea to keep all the food in one area and the drinks separate. This way, there won't be too much crowding in one spot.
---
9. Pick Out Plates and Cups
If you want to throw the easiest housewarming party you can imagine, stick with paper plates, cups, and napkins. This makes the cleanup a breeze because everyone can simply toss them into the garbage when they are done.
If you're working with a budget, feel free to use your own plates and cups or use plastic ones. It'll take more time to wash the dishes after everyone leaves, but you'll save money (which is especially helpful after just moving)!
---
10. Tidy Up Beforehand
Your house is the star of the show, so make sure the main party area is presentable for your guests. U
ncover the living room furniture, lay down the rug, and display the artwork and other home decors.
You'll feel better, and the house won't seem as empty! It's okay if you still have some boxes to unpack; no one will blame you if you aren't fully settled in yet. Just place them in a corner or closet so they don't detract from the look and layout of your new home.
---
11. Decide Whether to Decorate
It's completely up to you to put up housewarming party decorations. You can decorate any way you want, but it should be subtle so it emphasizes the beauty of your home.
A common favorite is a vase of flowers. Place one on the dining room table, coffee table, and more to add a freshness to the area that invigorates the room. And the best part is that you get to enjoy their beauty long after the party!
---
12. Create a Comfortable Atmosphere
It'll be easier to have fun with your new and old friends if you set a warm and comforting tone. This will help them feel at home with you and have a good time!
One of the best ways to accomplish this is to keep music playing in the background. It shouldn't be so loud that it drowns out conversation, but it should subtly fill in any lulls that will happen naturally. Some music streaming apps, like Spotify, have housewarming party playlists to choose from, or you can set up your own with all your favorite hits!
---
13. Set Up a House Tour
While your guests will enjoy socializing, eating, and drinking, they'll also want to see the rest of the house. When you have a good number of people gathered, take them on a house tour and point out the details that you like.
If there are some areas of your home where you still aren't sure how to layout the furniture or decorate, ask your guests for ideas! They'll love offering advice and being a part of the journey.
---
14. Remember Housewarming Party Etiquette
We all know that housewarming parties typically result in guests bringing you a gift in celebration, so some decide to create a registry for their party. In terms of good etiquette, a gift registry may be too forward in some cases.
If guests ask you if you need anything for your new space, give them ideas, but treat every gift as a surprise. On the day of the party, it's also important to brush up on other etiquette skills.
Remember to answer the door when each party guest arrives, and take a moment to talk to them and invite them to help themselves to the food and drinks. Introduce new and old friends, and get to know your neighbors.
---
15. Relax and Have Fun!
You just moved, which is stressful in and of itself, so remember to have fun! You can help yourself and everyone else relax by playing some games or putting together a scavenger hunt for different items around the house. If you can get everyone to laugh, they'll loosen up and have a good time, as will you!
A Memorable Housewarming Party Is Only the Beginning
A housewarming party is supposed to be a celebration that everyone enjoys, including you, so don't get too worked up over the small details. This is the beginning of a new journey in a new community, and making friends along the way makes it more pleasant. It'll also help you adjust after the move!
Not what you were looking for?
Check out other categories that can help you find the information you need!
See All
Hide All