Tips On Moving to Houston, TX: Relocation Guide
If you love space travel history, want to see some of the country's best rodeo, and care to see what ends up happening to the world-famous Astrodome, consider moving to Houston.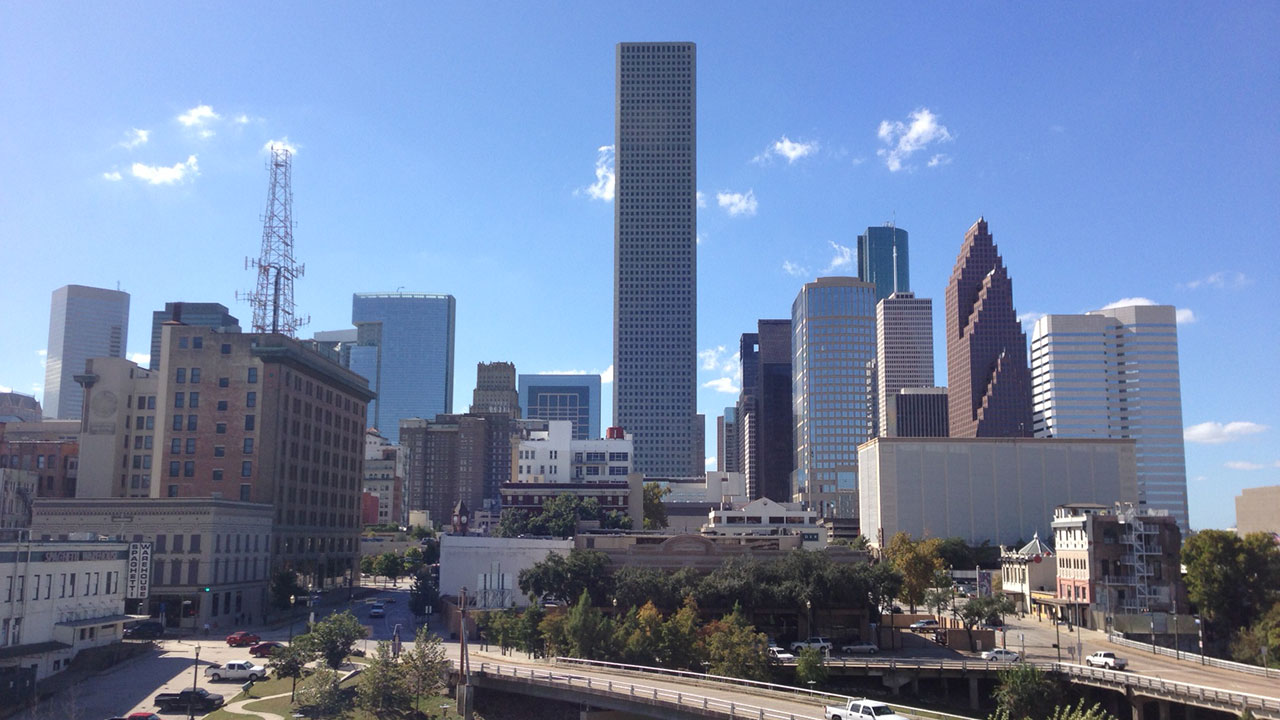 As one of the most diverse cities in the US, it's no wonder Houston is a popular spot to relocate to. With the second most Fortune 500 headquarters plus strong manufacturing, aerospace, and healthcare industries, Houston is a great place to live and work.
You might know it for the stuff that Texans from Dallas to Galveston love most, like the Houston Livestock Show and Rodeo, or its famous food scene featuring tex-mex and cajun galore.
Sure, the fourth largest city in the US might be family-friendly and boast a prosperous job market––but "H-Town" has more than just a strong industrial backbone. Houston also features a bustling arts district, a thriving theatre scene, and an underrated museum district.
With so much to take in, this big city can be a bit overwhelming at first, which is why we've outlined some of the baseline info you'll want to know before moving to Houston.

Everything about relocating to Houston
With a population of 2.31 million, Houston is the 4th most populous city in the United States.
The 2021 Houston average rent is $1,205 per month, ranking as the 508th highest rent in the country.
As the 55th most expensive US city, Houston has a fairly high cost of living but is still affordable compared to other large cities.
Before we get too deep into the finer details, get a feel for the city with this video drone tour.
When prepping for a move, finding the right neighborhood in a major city is a big decision.
But that can be a bit difficult when the city is as big and sprawling as Houston.
The city of Houston doesn't really have a uniform standard for what defines a "neighborhood."
What we do have are a bunch of areas like historic wards and planned communities that have been loosely coupled into 88 "super neighborhoods".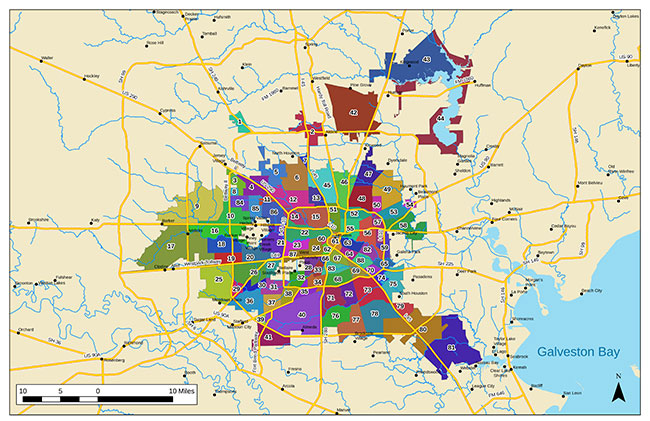 That narrows things down a bit, but there's still a lot of neighborhoods to choose from. To make things a little more fun, try out this quiz to help you decide which neighborhood is right for you.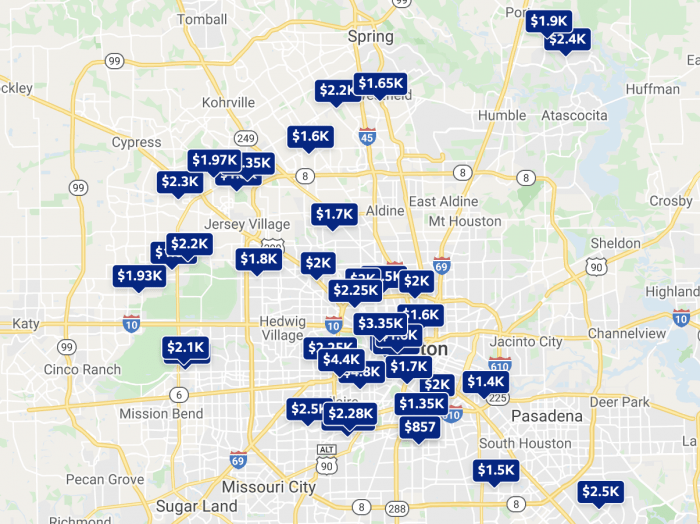 Ultimately, your biggest deciding factor is going to be whether or not you can actually afford to live there. That's where this rental map from Trulia might help.
The following list is a breakdown of the monthly average rent prices of a few Houston neighborhoods that should give you an idea of where to start looking. Remember, the Houston area is massive––at 669 square miles, it's about triple the size of Austin and over twice as large as New York City, so you've got a lot of space to cover.
Houston rent prices by neighborhood
Areas like Westwood, Park Place, East End, and Westchase are where you'll find cheaper rent that falls in the range of $825 to $1,060.
The more moderately priced rents are around $1,100 and $1,700 and can be found in places like Meadow Vista, The Heights, Greater Eastwood, and Uptown.
The neighborhoods around and similar to Montrose, Midtown, Medical Center, and Downtown are where the rent is highest, ranging from $1,750 to $2,250.
Where are people like me living in Houston?
Keep in mind that price is only part of the equation. You'll also want to find a neighborhood that suits your lifestyle.
To help you find an area that fits your needs, we plugged in the zip code for Downtown Houston (77002) on the Ezri Zip Tapestry tool to show the main demographic sections in the area.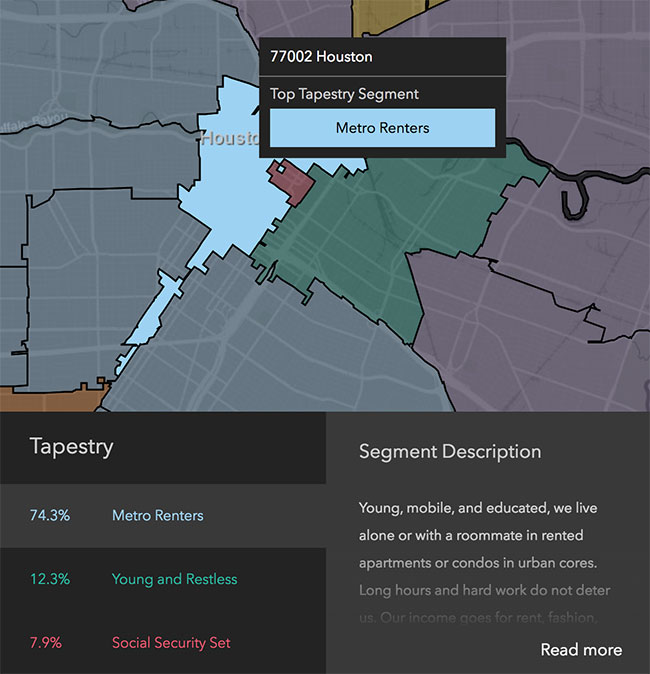 You can use the tool to explore other Houston neighborhoods too. Once you've found a place with a good vibe, you'll need to make sure you can navigate it easily.
The Loop
The first thing you'll need to familiarize yourself with is the circular-shaped stretch of highway, also known as Interstate 610. "The Loop" separates the densely populated, high-rise-filled Houston from Greater Houston.
Inside of the loop, you'll find green space like Hermann Park and Buffalo Bayou Park (named after the body of water running through the city), Houston's own Museum of Fine Arts, the University of Houston, and the Astros playing at Minute Maid Park.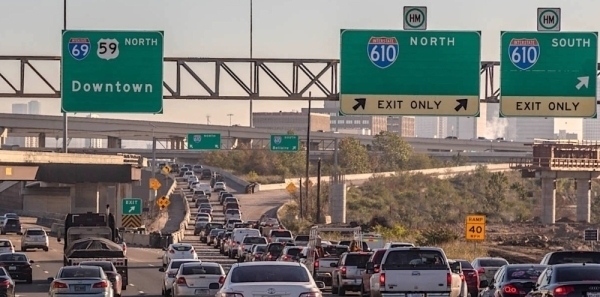 The area outside of this designated section of "Bayou City" stretches north and south for miles, with much more residential areas and single-family homes. But don't think that makes it boring––just outside of the loop there's the renowned Galleria, and less than a "giant leap" away you'll find yourself face-to-face with NASA's Johnson Space Center. Pretty out of this world!
Unfortunately, there aren't many rockets taking off any time soon to get you to work on time, so here are some of your other options.
Like most major metropolitan areas, Houstonians really hate driving in the city.
Houston has an average commute time of 27.2 minutes, which puts it above the national average. However, H-town does beat the average with 9.74% of commuters carpooling.
This study found Houston to have the 16th most stressful commute in the country, which isn't great but also isn't the worst(New York takes the cake, obviously). That's somewhat easy to see when only 0.5% bicycle, 2.1% walk, and 3.6% use public transportation.
Walkability and bicycle transit in Houston are fine, but its public transportation system is weak.
Houston has a walk score of 48 which, is just shy of passable.

Areas close to downtown tend to be fairly walkable but the further you get from the city's center the less feasible walking becomes.
A car is nearly a must in most parts of Houston.
Fortunately, city officials have recognized the issue and changes are being formed by the Walkable Places Committee to make Houston walker friendly.
As Rice University points out though, making Houston walkable is going to be a challenge.
Houston has low bikeability
Currently, Houston has a bike score of 37, but the city is trying to get things up to speed.
Cyclists in Houston face many of the same issues that pedestrians do, with developments towards infrastructure being constrained by the way the city's been set up.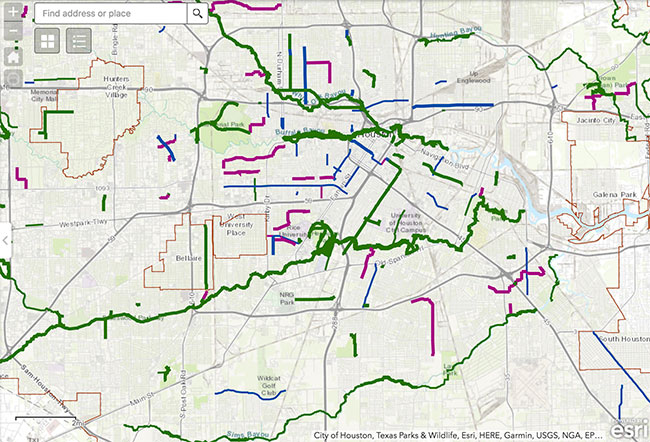 The Houston Bike Plan is working towards improving safety, increasing accessibility, and improving ridership throughout the city by 2027.
The nonprofit group Bike Houston is also working towards improving safety and bikeability throughout the city and Houston BCycle provides Houston with a convenient bikeshare service.
But hey, at least the bus system acommodates bikes…
Unfortunately, the bus system in Houston is fairly weak
Houston's bus system leaves a lot to be desired with a score of 51, but things are starting to improve.
Bus transit throughout the city is handled by Metro Houston which offers routes on most city streets.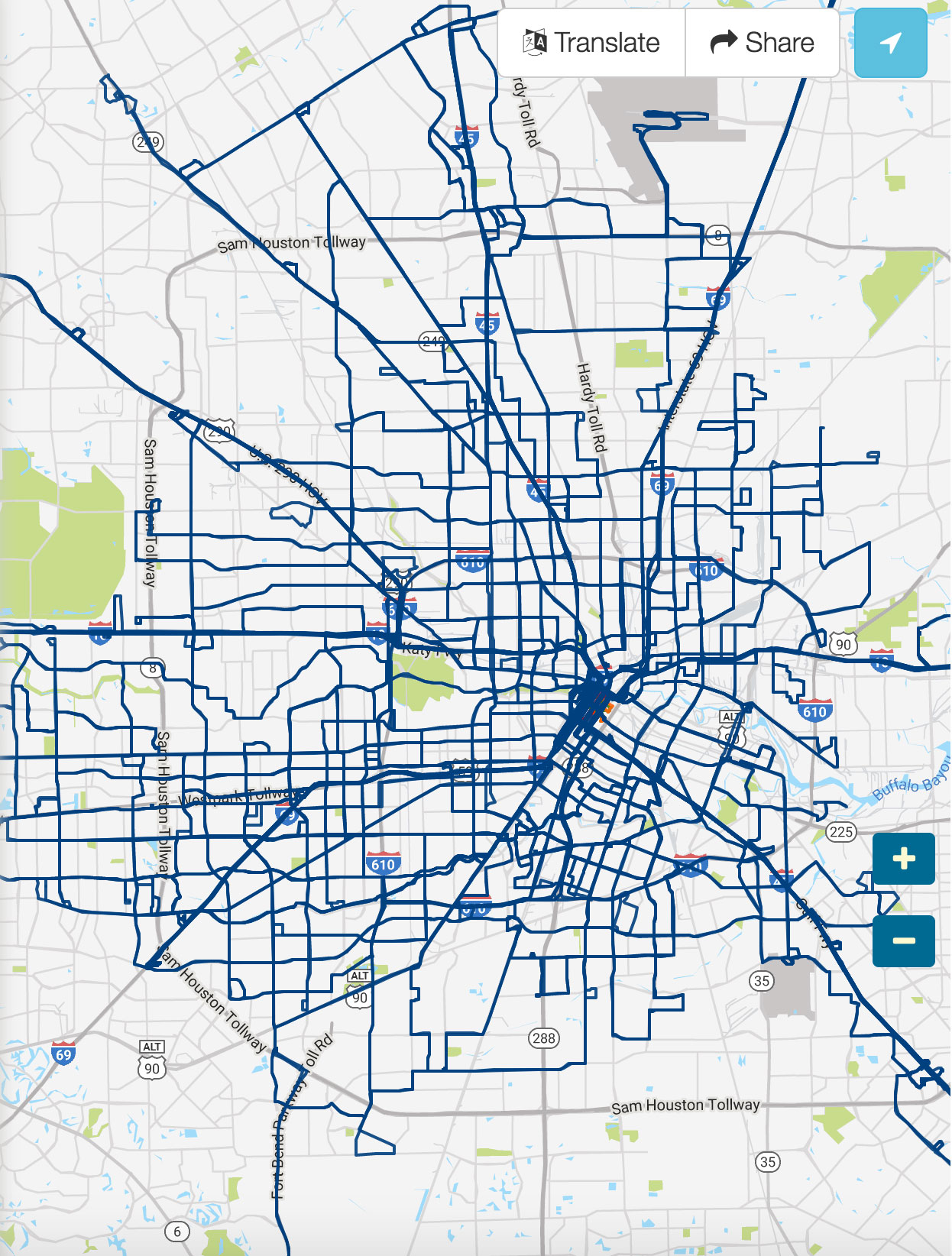 As you can see from the bus system map, bus routes offer a variety of stops but tend to be concentrated in and around downtown.
While overall US public transit ridership has been on the decline, Houston has experienced ridership gains after revamping bus lines, making them more direct, faster, frequent, and more reliable. They've done a fine job with the development of a new rapid transit system which aims to make bus services more efficient and cost-effective.
Also helpful is the 22.7 mile-long METRORail light rail system which additionally allows for Bike and Ride. You can make connections from bus to rail, too––not so bad!
Alright, that's how you can get around… let's talk about the places you shouldn't go.
The crime rate in Houston is fairly high, but things appear to be improving.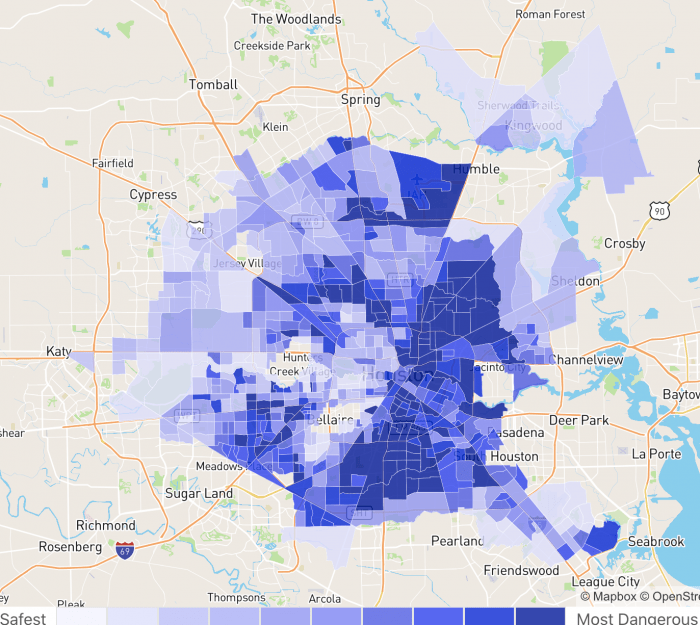 According to NeighborhoodScout, Houston has a crime score of 3 out of 100.
So… there's that.
But on the bright side, this is the case for many cities of this size. Similarly-sized San Antonio, for example, has a crime score of 4.
It's also important to remember "high crime rate" doesn't necessarily mean you're always in constant danger––just that you need to be alert.
Now, let's get to finding a place to live.
Hunting for apartments in Houston
The easiest first step to narrowing down your apartment search is figuring out what you'll need in terms of amenities.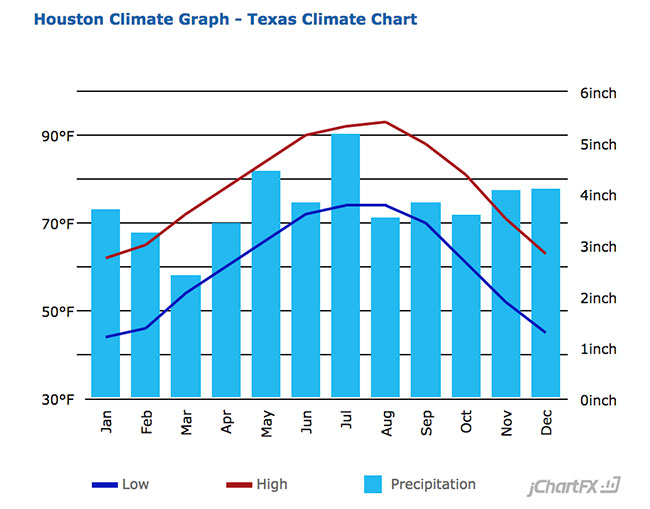 First and foremost, Houston gets hot and the winters can be pretty chilly (especially at night), so you'll want a place that has heat and A/C. Even though the lows don't typically dip below freezing in the winter, 2021's winter storm should be your reminder to plan ahead.
With Houston's low walkability, you'll also want a place with a washer/dryer to avoid trekking to the laundromat.
And while you're considering utilities, check out our guide on the typical cost of utilities so you can budget accordingly.
Searching for Houston apartments
Apartment hunting is a massive pain, but the internet is filled with a ton of solid resources to help you search.
We've compiled a list of all our favorite apartment search resources.
Houston rental market
In the past year, Houston's average rent has increased by 8%, which isn't too bad.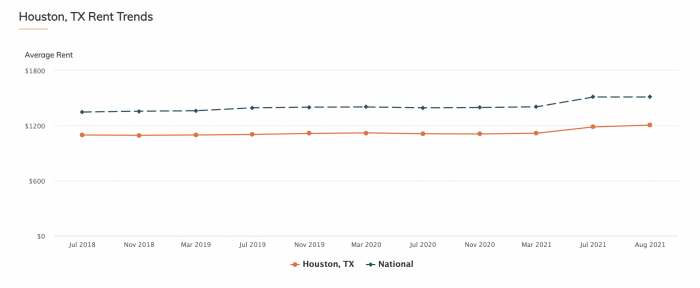 With the rent high but stable, the market's in a pretty good place for renters. Particularly when the vacancy rate is sitting at 8.59%.
The rent is higher than the national average along with the vacancy rate, meaning you'll probably be able to find a place to live, but affording it will be a different story.
Texas rental law
Before you commit to any leases or sign any contracts, you should understand what your rights as a renter are.
Okay, now for home buyers.
Finding a home in Houston
Houston's median home value as of 2021 is $231,32 a 16.5% increase from the previous year. Luckily, Texas is one of the few states in the union which don't require an income tax, though the property taxes in Houston are higher than other Lonestar cities. Still, suburban Houston is one of the best places to be if you're young and ambitious.
Seeing as home prices won't be going down anytime soon, you'll want to make sure you find a place you'll want to stay in for a while. We've highlighted a couple of areas we found to be the most interesting to help get you started.
Montrose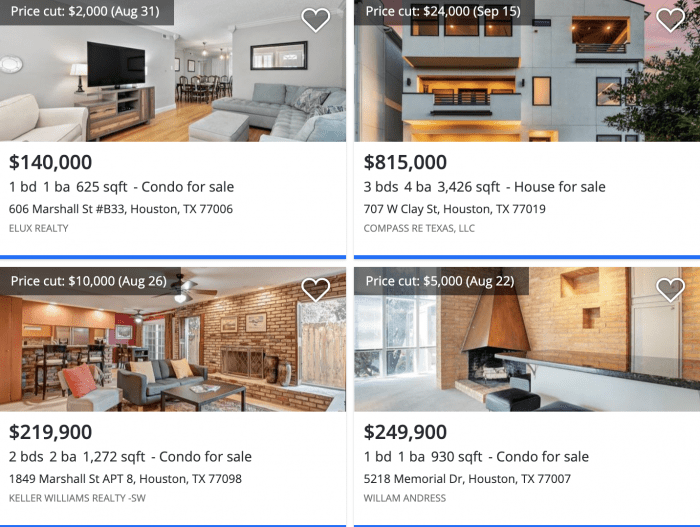 Located just east of downtown, Montrose is a neighborhood with a great commute, plenty of nightlife, and a lot of cultural cachets. While it's extremely appealing to young professionals, that also means it can get pretty expensive.
Spring Branch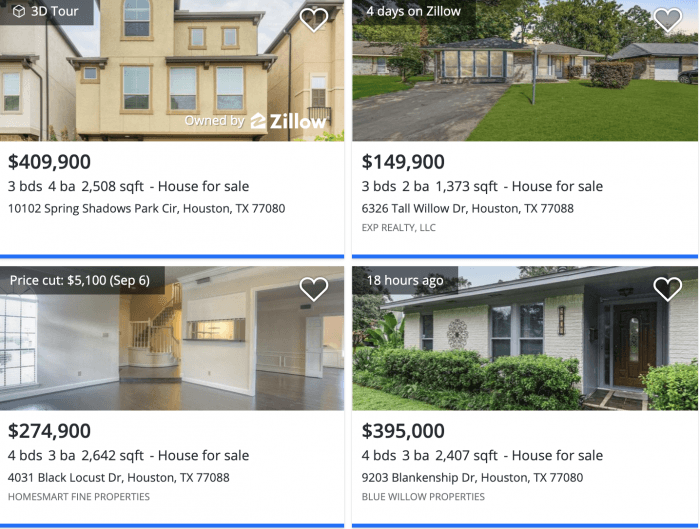 People looking for a little more yard space without straying too far from the convenience of the city will want to look at Spring Branch which provides a more suburban lifestyle without giving up the cultural identities of its longtime residents. With a highly-rated school district, Spring Branch is ideal real estate for families.
And now that you're ready to move to Houston…
Use our moving cost calculator to estimate your moving costs to Houston.
Also, if you are coming from out of state, be sure to have a look at our state-state moving guide for more info and tips.
Parking permits for moving vehicles in Houston
You'll also want to make sure you'll have a place to legally park a moving truck before you lock in any plans.
Houston's website has a solid list of resources about parking permits that can help you figure out what you need.
Finishing up the last details of your Houston move
Alright, you've gotten all the heavy-lifting out of the way! Now all that's left to take care are a few post move details.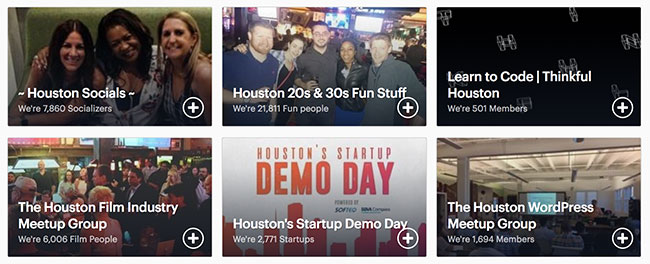 Things to do around Houston
Once you've moved to a new city, you'll want to get a good idea of what it has to offer in terms of entertainment.
A solid first place to check is the city's Visit Houston site.
And, if it's your first time in H-town, here's a visitor's guide for out-of-towners (which you won't be for long).
Once you're settled in, let us know what we missed. In the meantime, good luck with your move to Houston!
Not what you were looking for?
Check out other categories that can help you find the information you need!
See All
Hide All