Tips on Moving to Reno, NV: Relocation Guide
If you like the idea of Las Vegas style casinos, extensive dining options, and abundant nightlife but prefer a smaller city feel, you should strongly consider moving to Reno.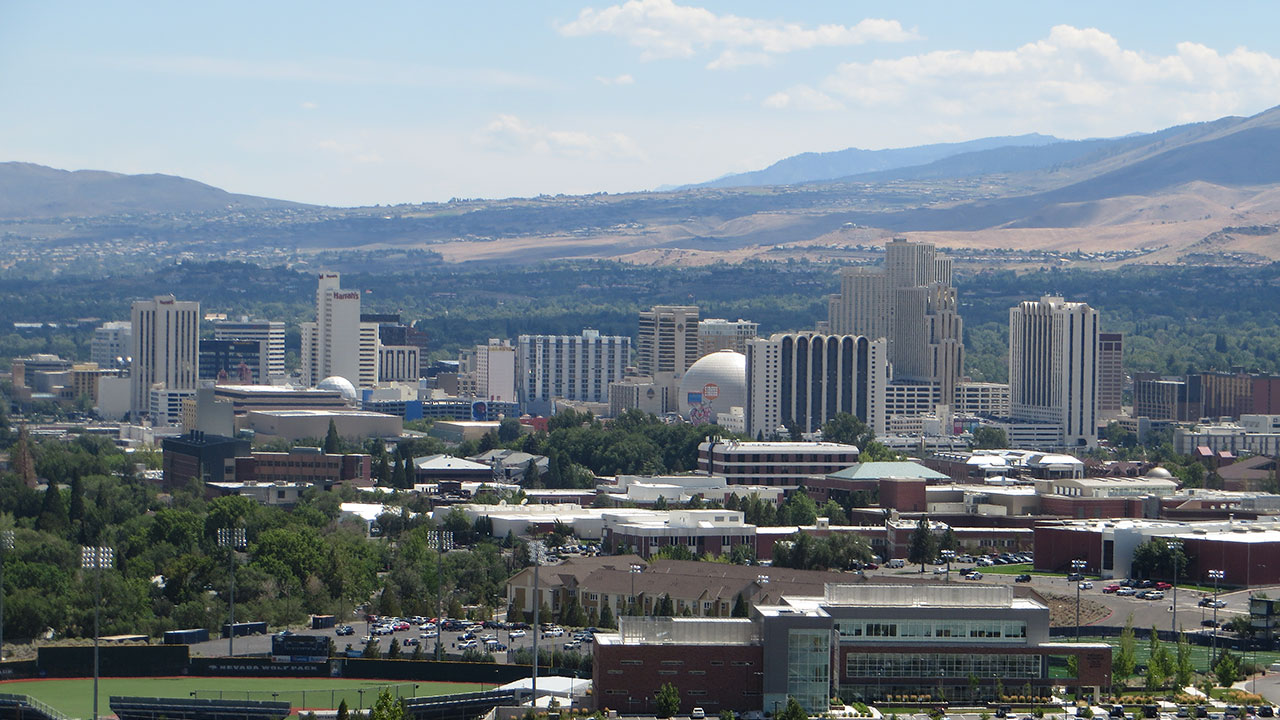 Photo Credit: Ken Lund
Often seen as playing second fiddle to Vegas, "The World's Biggest Little City" is currently experiencing a ton of growth due to a recent tech boom which is affecting the city in poth positive and negative ways.
Most people only know it as a tourist city, so it can be difficult to know where to start when planning to move to Reno.
This guide is meant to provide you with a solid base of knowledge to ensure your move gets started on the right foot.
Everything about relocating to Reno
And if you're looking for more info on moving to Reno, check out our Reno move cost guide.

The Biggest Little City Snapshot
Reno has a population of 245,255 which places it as the 87th highest populated city in the United States.
As of 2018, the average one bedroom rent in Reno was $919 per month which ranks it as having the 48th most expensive rent in the country.
The cost of living in Reno is slightly higher than the national average, but it's still relatively low compared to other cities of its size.
Now, before we get too deep into things, take a look at this great aerial footage of Reno to better familiarize yourself with the city's scenery.
The neighborhoods of Reno
Before digging into Reno's neighborhoods, it's important to know the distinction between Reno and its neighboring city of Sparks.
Sparks began as something of a commuter town to the northeast of Reno, but over time has come into its own. Still, it's a popular choice for people looking to work in Reno.
As you can see from the interactive map above, Reno has a ton of neighborhoods to choose from, each with their own personality and price range.
It can be a bit difficult to know exactly where to start when picking a neighborhood, so we recommend looking at affordability first and foremost.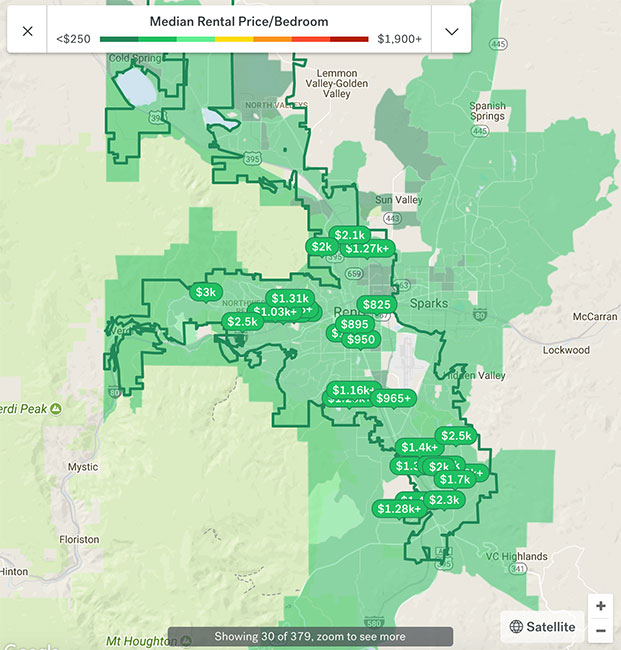 Here's a general breakdown
Look towards East Reno, the North Valleys, and Northeast if you want areas on the more affordable end of the spectrum.
If you're looking for an area closer to the average cost of living, you'll probably want to be somewhere along the lines of Old Northwest, Midtown, or South Central.
And if money's no object, places like Old Southwest, Somersett, and Northwest are all good high-end (expensive) options.
Regardless of an area's price range, you'll also want to make sure you'll enjoy living there.
Where in Reno are people like me living?
Everyone wants to live near people they relate to. Fortunately, Esri has created a tool to help you determine what area best fits your style.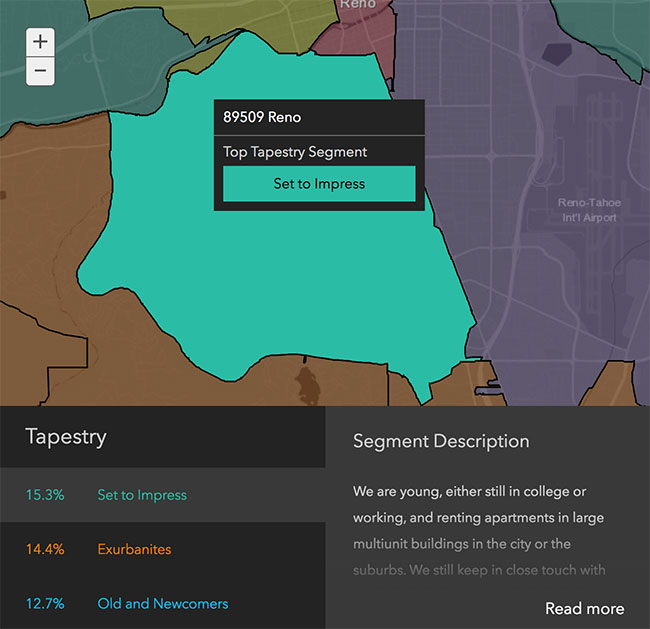 Say you wanted to know about Old Southwest (89509), you just plug in the zip code and Esri's Zip Tapestry tool shows you the three largest demographic sections in the area. It's pretty sweet.

But no matter how much you like your neighbors, you'll still need to get to work on time.
Fighting the Reno Rush Hour
Reno is a fairly commuter-heavy city, which means you'll probably be spending a solid chunk of time stuck in traffic.

Still, these are only averages and don't account for any abnormal causes of congestion so you should definitely do everything you can to speed up your commute.
A recent study conducted by a national transportation research group found 55% of roads in the greater Reno area were rated as being in poor condition and 33% were rated as mediocre.
So yeah, even if driving might be the most "convenient" option, you might want an alternative mode of transportation to avoid the frustrations of driving.
Navigating Reno on two legs and two wheels
Reno is relatively walkable, has some public transportation, and is fairly easy to navigate by bike.

A 37 walk score definitely isn't awful, but it's significantly below average.
Years of the city slowly spreading out have taken something of a toll on its walkability.
Essentially, as long as you're in the central areas, like those surrounding Downtown, you can get by with mostly walking.
But the further you get from the city's urban hubs, the more difficult it will be to walk as a primary mode of transportation.
Busses in Reno aren't great
While Reno's public transportation score is only 28, the city still maintains a fairly wide array of routes that make public transit a little difficult but still a viable option.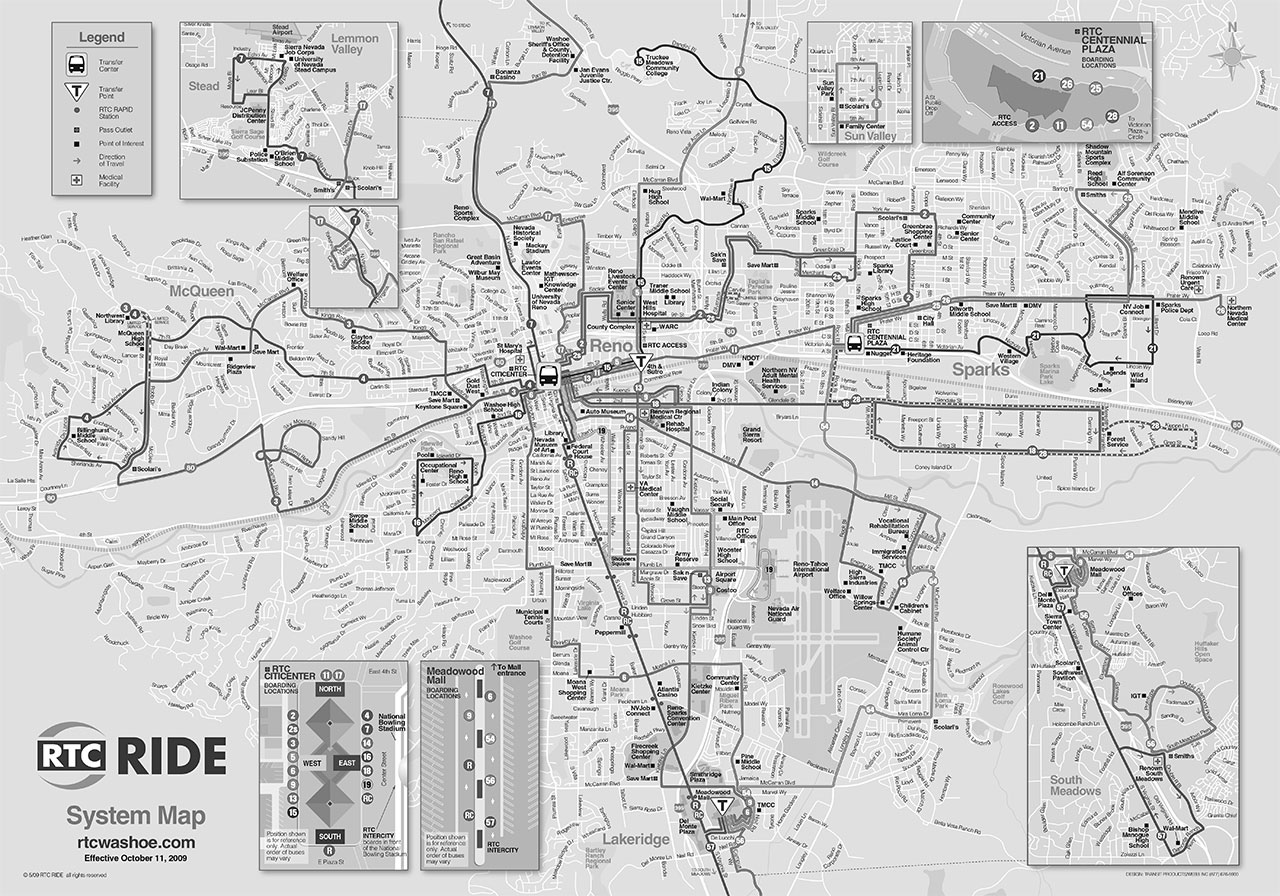 As you can see from the map, the RTC bus routes have a fairly wide reach, particularly considering how spread out the city has become.
But a common issue with systems that contain this many different routes is that it can be extremely difficult to find good areas where schedules line up and connections can be made.
Reno is a decent city for biking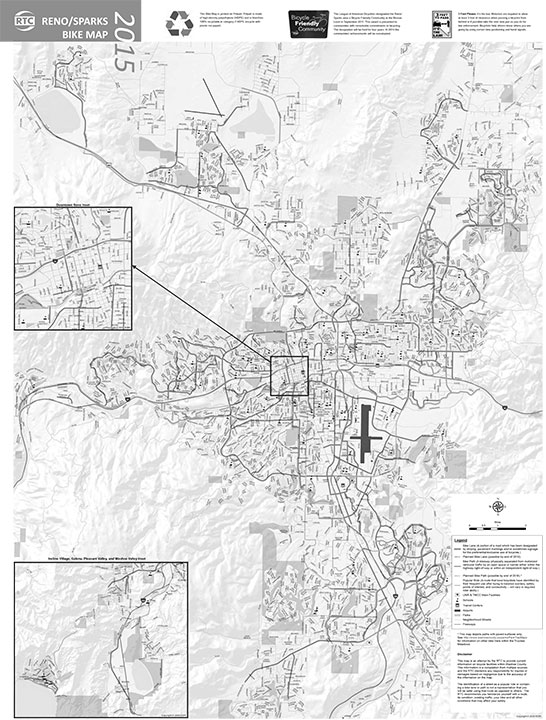 Reno has a bike score of 48, which is pretty average.
The city has begun the process of building up its resources for cyclists which, while not super extensive, provide a good basis of information.
Reno has also created the Bicycle Commuter Act to provide reimbursements as an incentive for more people to bike as a primary means of transportation.
Now that you've got an idea on how to get around, let's look at the crime rate in Reno.
Reno has a fairly average crime rate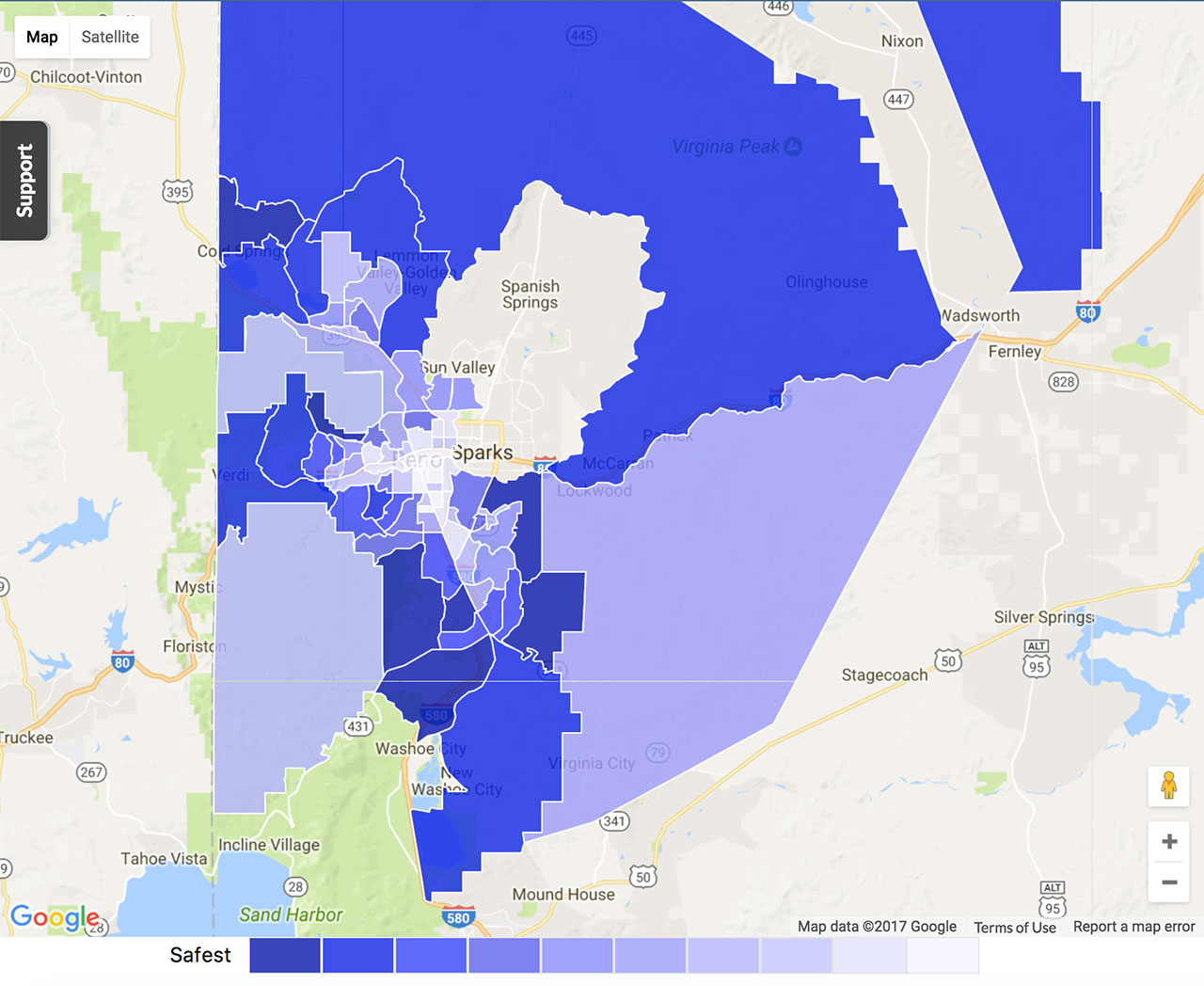 NeighborhoodScout lists Reno's crime score at 12 out of 100
While that does not sound promising, keep in mind that it's on par with other cities of its size. (It should, however, be noted that Reno's crime rate has been on the rise since 2015).
The city definitely has it's rougher areas but overall crime isn't a major issue.
If you keep your wits about you and know when and where to avoid certain areas, you'll be fine.
Now that we've gotten all the broader points out of the way, let's get down to actually finding a place to live.
Finding an Apartment in Reno
The first thing you're going to need to consider is what accommodations you'll need
You'll definitely want to prepare to deal with the weather fluctuations of northern Nevada.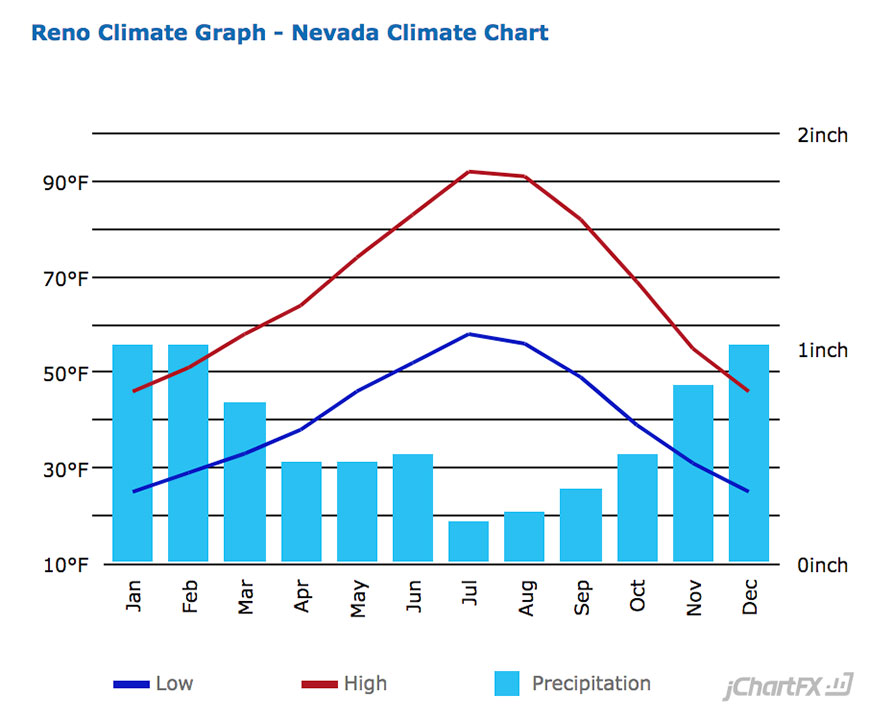 As you can see from the temperature chart, summers in Reno can get pretty hot, and lows in the winter aren't exactly balmy.
Bottom line, you will need a place with decent heating and air conditioning.
You should incorporate the heat and A/C needs into your estimate electric bill so that you can adequately budget for an apartment
Also, unless you're living in or around the Downtown area, you'll probably want a place that has a washer/dryer. Laundromats are few and far between.
Reno Apartment Hunting Resources
Searching for a new apartment can be a major slog.
To help ease some of the stress, we've compiled some of the best resources available for finding apartments and getting the best deals.
Even though it sounds a bit sketchy, Craigslist is actually a fairly solid option when it comes to finding places at decent prices that aren't listed elsewhere.
Note: This DOES NOT mean you should trust Craigslist implicitly. Here's their own guide on how to recognize potential scammers.
Reno's Apartment Market
Reno's rental market has isn't doing so great.
After seeing a massive surge in rent prices over the past couple years due to a tech boom, Reno's average rent has continued to increase by 6.16% between 2017 and 2018.

Nevada Rental Law
No matter where you rent, there's always going to be the risk of a sleazy landlord trying to rip you off.
To help you avoid getting into a bad situation, we've compiled a list of rights and laws for renters in Nevada.
If you're looking for a place to settle down that's a bit more permanent, Reno's many suburbs have plenty to offer.
As of 2017, Reno's Average Home Value is around $311,400, which is an 11.9% increase from the previous year.
Since the cost of living in Reno is rising rapidly, finding a good deal on a home should be a top priority.
Let's look at a few popular areas to buy homes.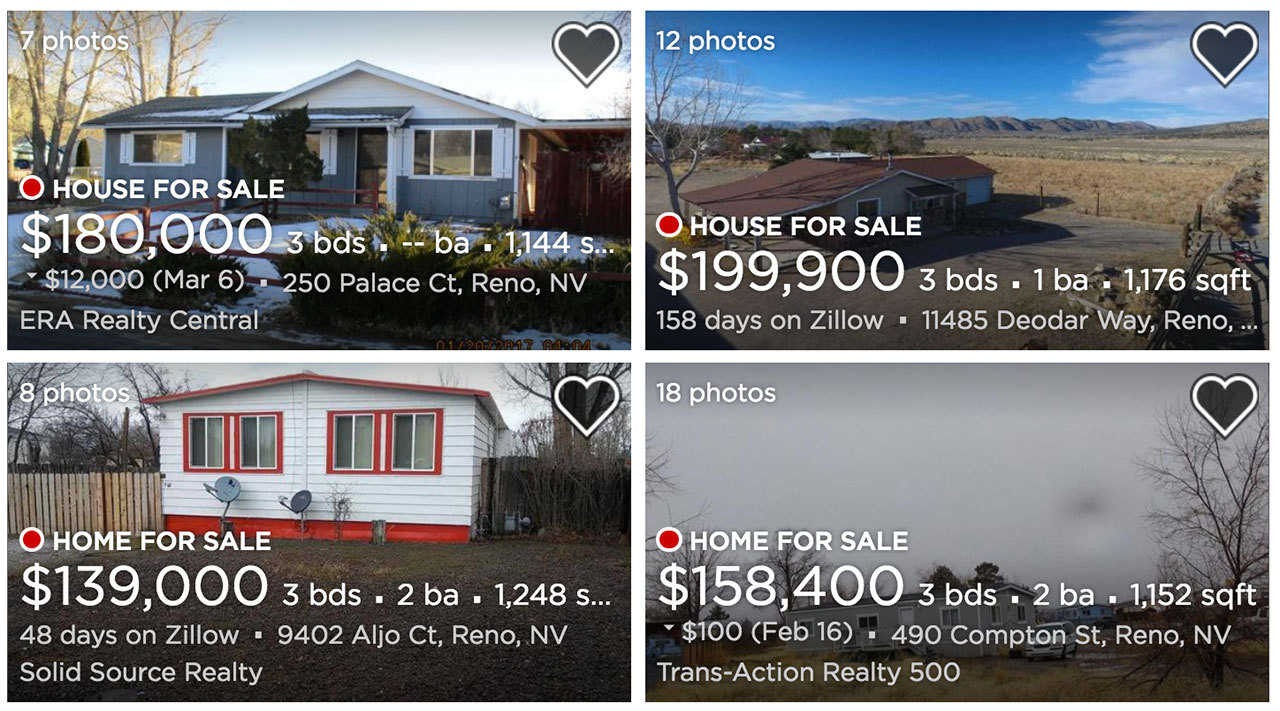 Lemmon Valley
Located 10 miles north of Downtown, Lemmon Valley offers residents a relatively short commute into Reno proper (around 25 – 30 minutes) along with a cost of living and median asking price lower than the state's average.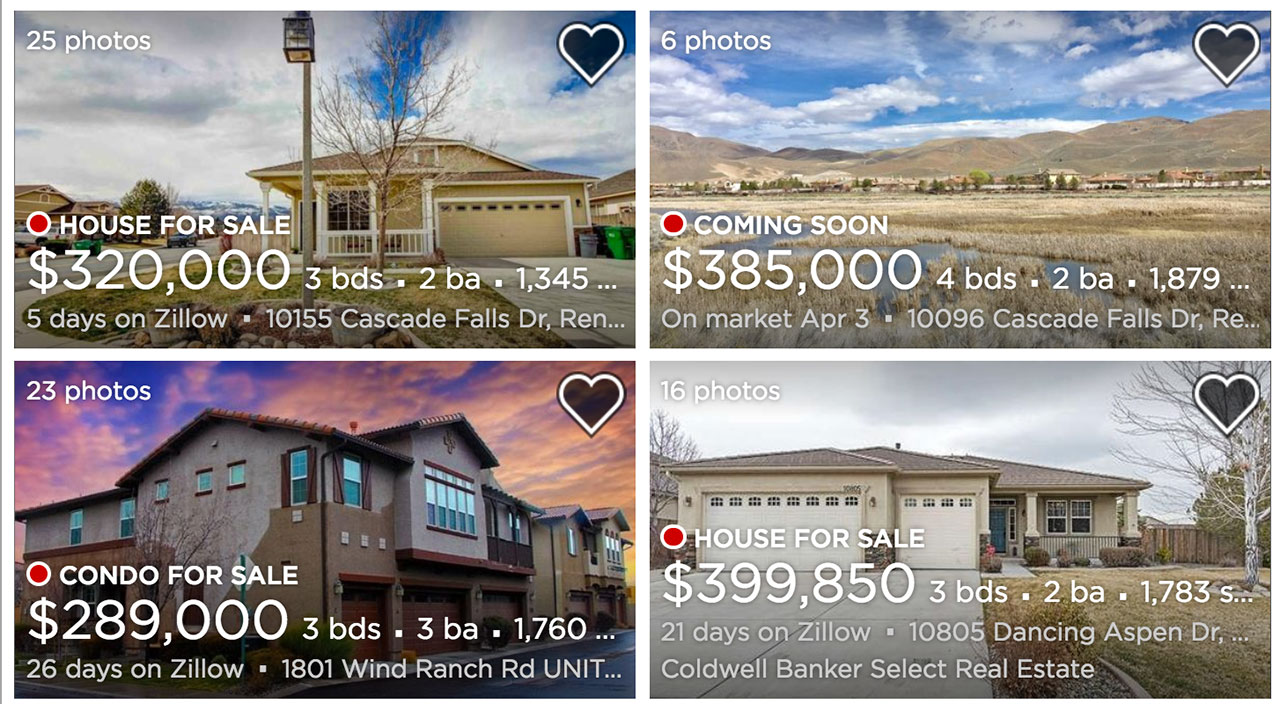 Damonte Ranch
Damonte Ranch offers even more convenient access to Downtown. Residing south of the center of town, this is a slightly more expensive, upscale area which has grown substantially along with Reno.
Now that your'e ready to move to Reno…
Use our moving cost calculator to estimate your moving costs to Reno.
Also, if you are coming from out of state, be sure to have a look at our out of state moving guide for more info and tips.
Parking Permits for Moving Vehicles
If you're moving somewhere where you'll need to park a moving vehicle on a public street, you'll probably need to apply for a pass to do so.
For move information on residential parking passes in reno, check out this guide from the City of Reno.
Now that you're officially a resident of the World's Biggest Little City…
Congratulations, you've got the hard part out of the way! Now, all that's left to do is get a few minor "new resident" tasks done and you'll be good to go.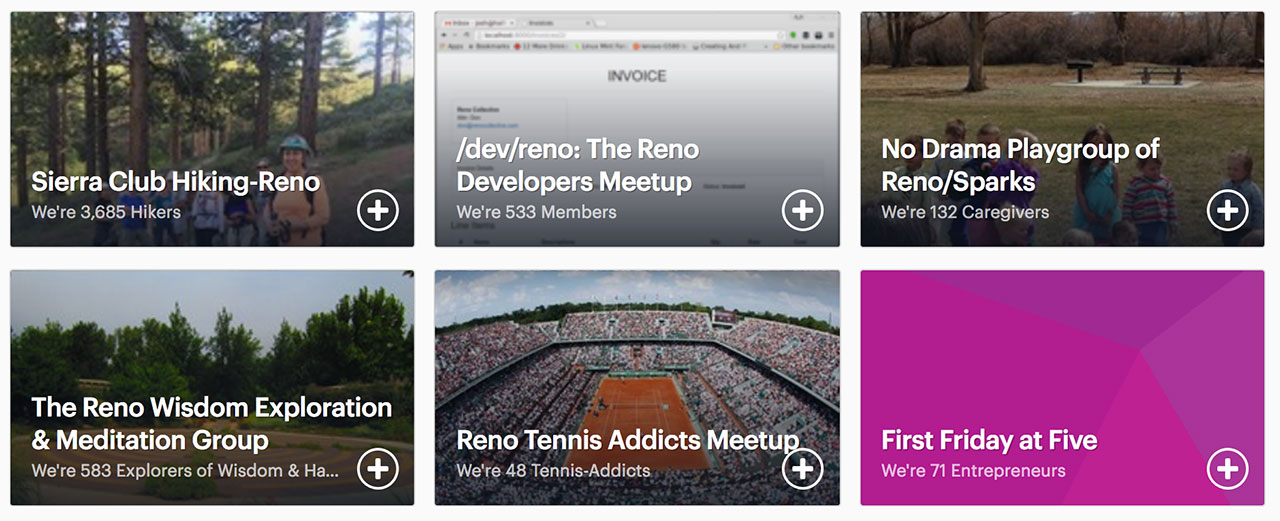 First of all, yes, Reno has a lot of casinos, many of which are pretty good. But frankly, if you're living here the novelty is going to wear off fast.
On a similar note, City of Reno's Things to Do guide has a good assortment of interesting stuff including museums, skiing spots, and historic areas that are worth checking out.
For the outdoorsy types, Reno has some really great parks such as Rancho San Rafael Park, Idlewild Park, and the Truckee River Whitewater Park that are sure to satisfy every type of nature lover.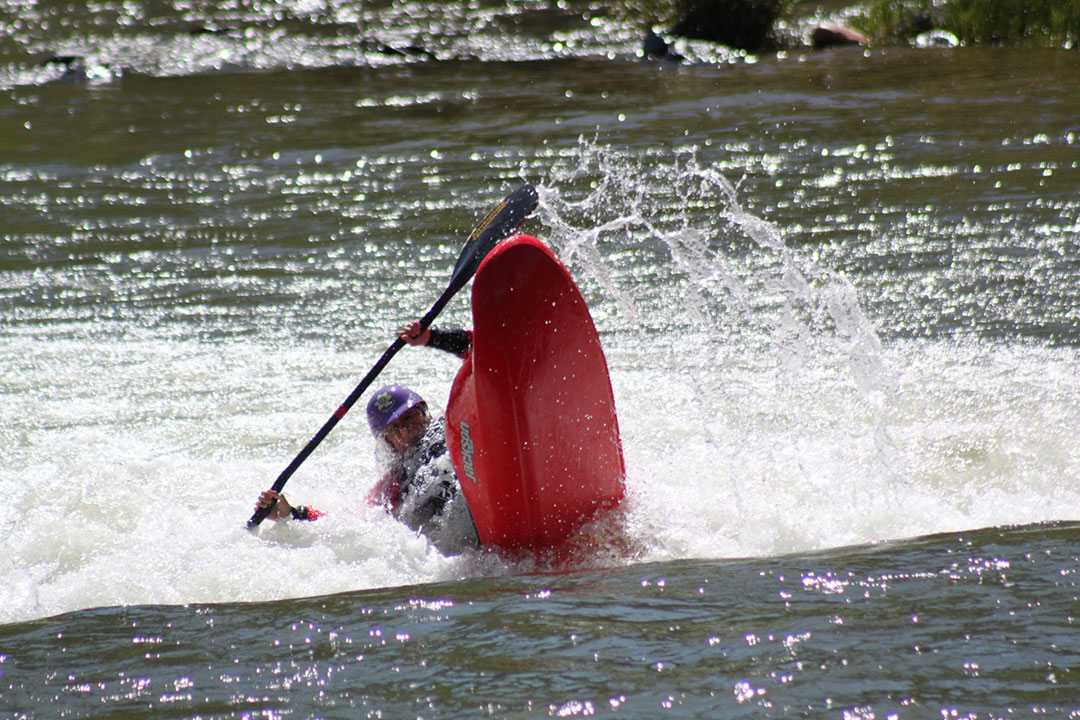 And, as with most popular cities, there are a ton of bars to choose from. Since people's tastes in watering holes tend to vary drastically, it's hard to recommend any "must see" places, but Sierra Tap House, 1864 Tavern, and Death & Taxes Provisions and Spirits are a few options to get you started.
Welcome to Reno!
Not what you were looking for?
Check out other categories that can help you find the information you need!
See All
Hide All