MovingCompanyReviews.com Acquisition
Big news: moveBuddha recently acquired MovingCompanyReviews.com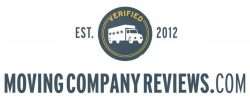 Founded by Shannon Cullins and Doug Breaker in 2012, MovingCompanyReviews.com (MCR) has always been guided by one overriding mission: giving consumers "happy moves" by connecting them with the best moving companies in the industry. Yeah, it's exactly what we do here at moveBuddha.
These days, some moving company review sites provide questionable and unverified reviews that don't help consumers weed out the bad apples.  In fact, they muddy the waters by making some companies appear more reputable and experienced than they really are.
As early innovators in the online moving review niche, the team at MCR realized that consumers with access to verified reviews were in a far better position to choose a top-notch moving company. But they didn't rely on reviews exclusively. Instead, they upped the ante by including licensing and insurance information and photographs of moving company crews and equipment to make finding a good mover easier.
To get the new project off the ground, MCR's founders used gift cards and free pizza to entice consumers who'd recently moved into reviewing their service providers via an automated phone system. Big surprise: the reviews flooded in, and MCR built one of the industry's most extensive databases. Since then, MCR has collected reviews of more than 7,000 moving companies in the United States, each of which is verified with a Bill of Lading (moving receipt) to ensure that an actual customer wrote it.
When evaluating moving companies at moveBuddha, we consider reviews from our own customers, from other sites like MCR, and key data from well-known sources like the US Department of Transportation and Better Business Bureau. Because our missions align so perfectly, the acquisition is a natural fit and should help more consumers have positive moving experiences. The process of integrating nearly a decade worth of MCR data with our own is already underway. If everything goes according to plan, MCR will be shut down by early November 2022 after the data migration is complete and will be redirected to moveBuddha. You can read the full press release here.
Not what you were looking for?
Check out other categories that can help you find the information you need!
See All
Hide All