How Far Would You Go for Olympic Dreams?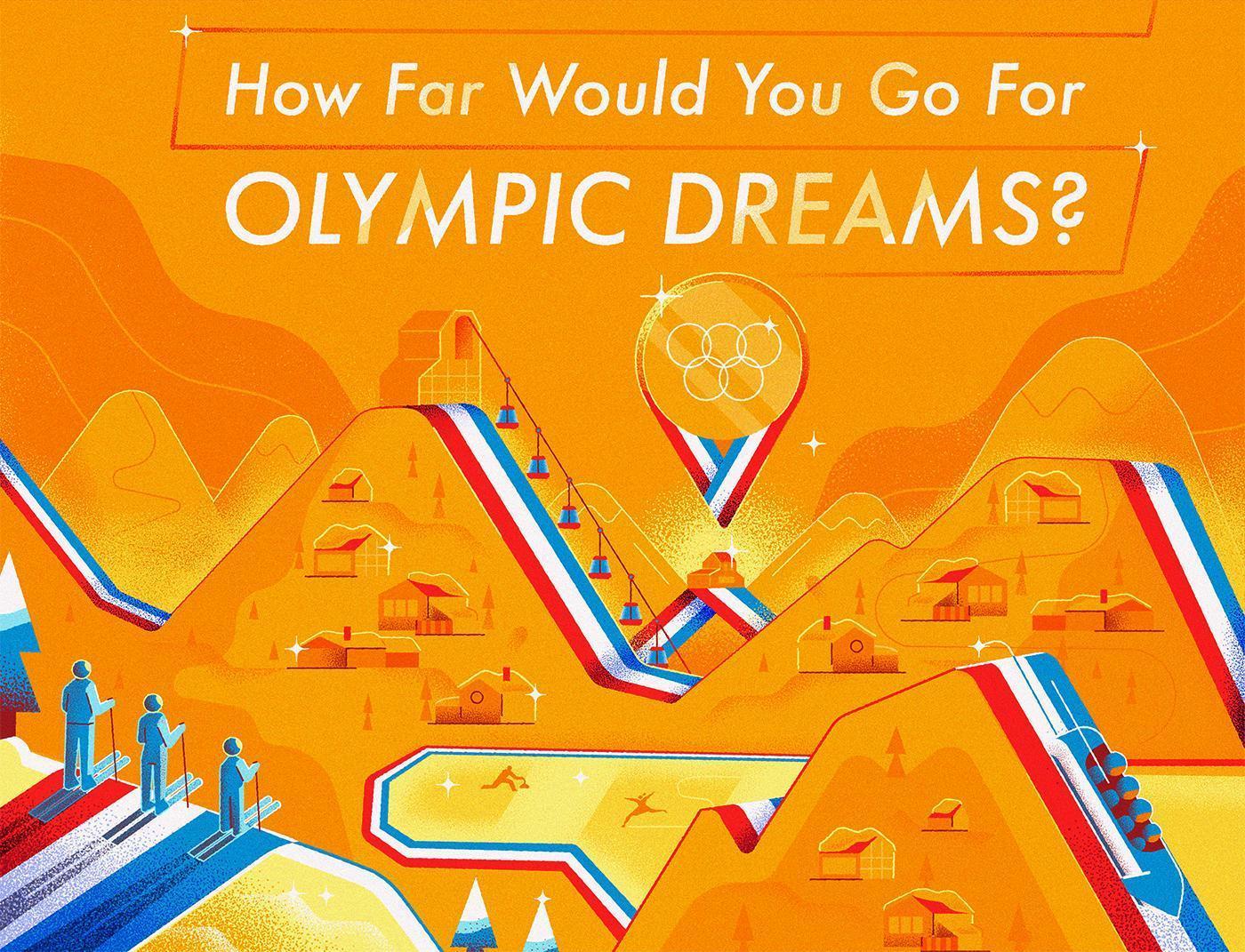 Parents of future Olympians are known to move across the country to support their child's athletic career. We analyzed the Team USA roster for Beijing 2022 to see how far training has taken these Olympic families.
This week, athletes from around the world will gather in Beijing for an event they've spent their entire lives training for. Behind the ceremony and fanfare of the Olympic games, there are years of hard work and dedication – not only on the part of the athletes themselves, but also their families. 
From athletic gear to coaches, from travel and lodging to private tutors – supporting a child who shows Olympic potential requires a serious investment of time and money. On top of all this, many families choose to relocate to an area with greater access to top-tier training facilities. 
To better understand the costs of raising an Olympian, we compared the costs of living in the birthplaces and current hometowns of athletes competing for Team USA in the Beijing 2022 Winter Games.
Key findings
The closer we are to the next Olympic Games, the more likely people are to describe themselves as "Likely" or "Very Likely" to be willing to relocate to support a child's budding career as an Olympian.

27% more respondents

were in favor of the idea in January 2022 than were in August 2021.

Team USA athletes who have relocated now live in areas where homes are, on average, 

45% more expensive

than where they were born.

Two-thirds

of relocated athletes now reside in regions with more expensive housing than where they were born, and

one-third

now reside in regions with more expensive healthcare.

Compared to the average annual cost of raising a child in the USA, raising an Olympic athlete can cost anywhere from 2.4 to 11 times more depending on the sport.
For full methodology, see here.
Survey findings: Moving for the gold
If your child displayed athletic abilities with Olympic potential, how far would you go to support their dreams? 
In two separate surveys performed in August 2021 and January 2022, we asked respondents to consider this hypothetical scenario: How likely would they be to relocate if it meant their athletically gifted child could have better access to Olympic-level coaching?
With just a few weeks before the Olympic torch is lit in Beijing, 53% of survey respondents answering in January 2022 expressed a willingness to move in support of a child's athletic career. This is a 27% increase from the summer 2021 survey, for which only 38% of respondents reported that they'd be likely or very likely to relocate. 
The dramatic uptick in positive responses suggests that, the closer we are to the next Olympic Games, the more people are willing to entertain the idea that they too would do whatever it takes to help their child become an Olympian.
Moms vs. Dads: Who is more willing to move?
Interestingly, the Olympics-fever seems to be more pronounced among men than among women.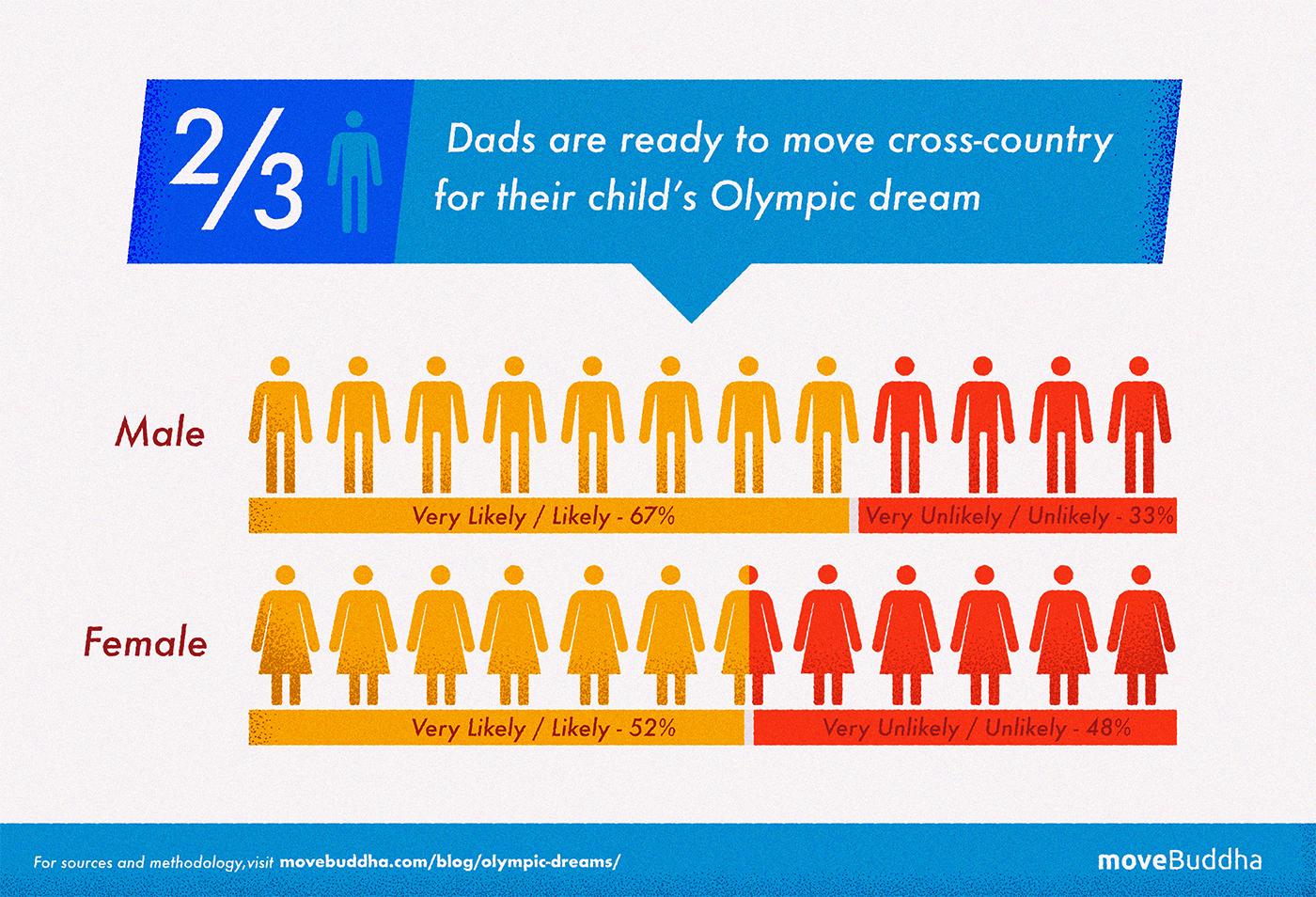 In the summer survey, similar proportions of men and women reported they would be likely to relocate if their child showed Olympic potential: 38% and 39%, respectively.
In the winter survey, however, men were significantly more likely to respond positively than women. "Likely" and "Very Likely" responses from men increased by nearly 20 percentage points to 57%, whereas positive responses from women increased by only 10 percentage points to 49%.
Relocation by region: Which U.S. regions are more willing to move?
In our winter survey, residents of the Midwest, South, and West all showed a similar willingness to move to support a child's career as an aspiring Olympian. For each of these three regions, "Likely" and "Very Likely" answers totaled roughly 45%.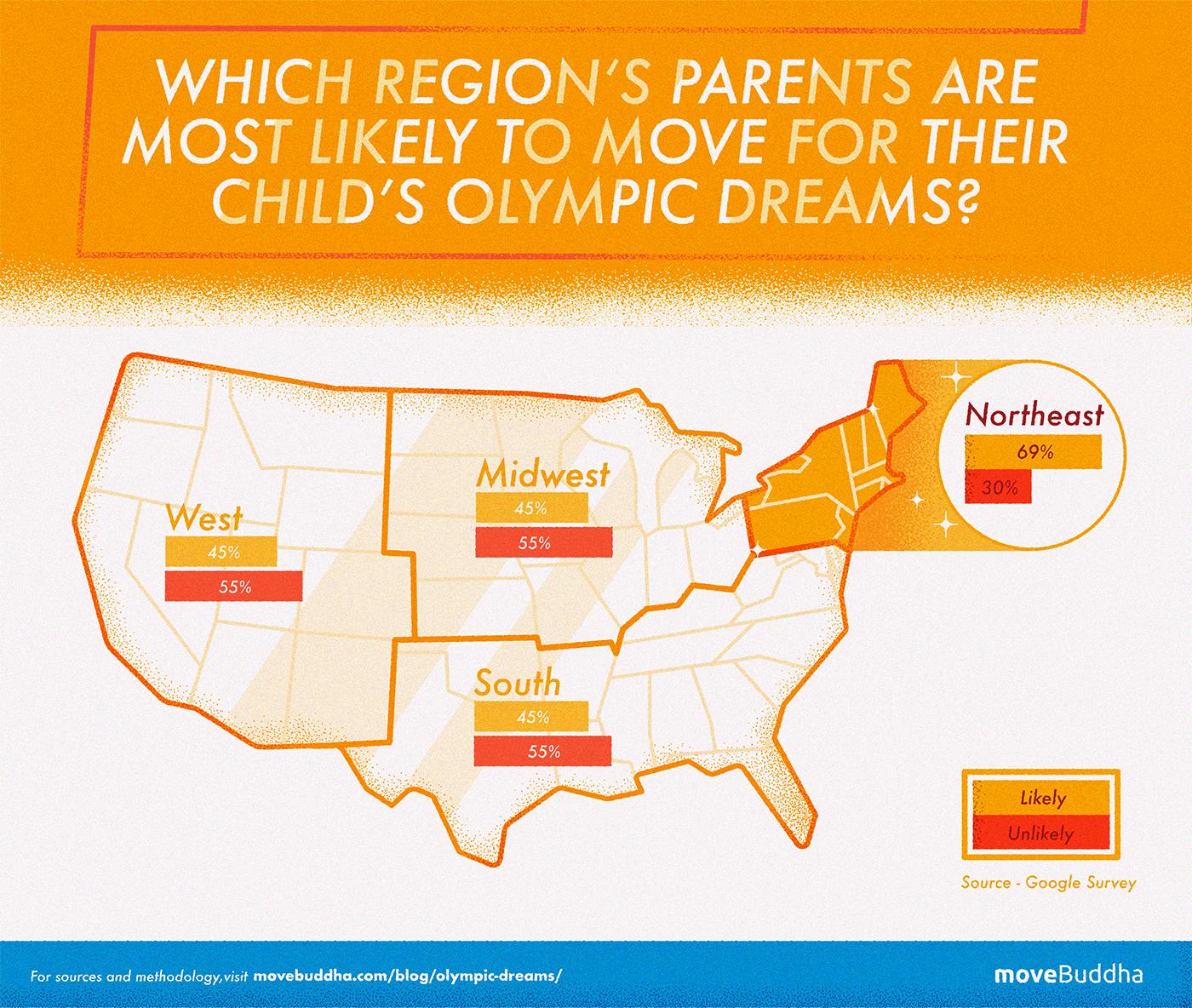 Residents of Northeastern states, on the other hand, were significantly more likely to respond affirmatively. 69% of respondents in this region reported they'd be willing to move across the country for their child's Olympic dreams.
Winter 2022 athletes who made the move
How much relocation was necessary for Team USA heading to Beijing 2022? To better understand the behind-the-scenes dedication of Olympic families, we looked into the birthplaces and hometowns of 121* Olympians across 13 winter sports. Who has moved, and do these moves typically involve higher costs of living?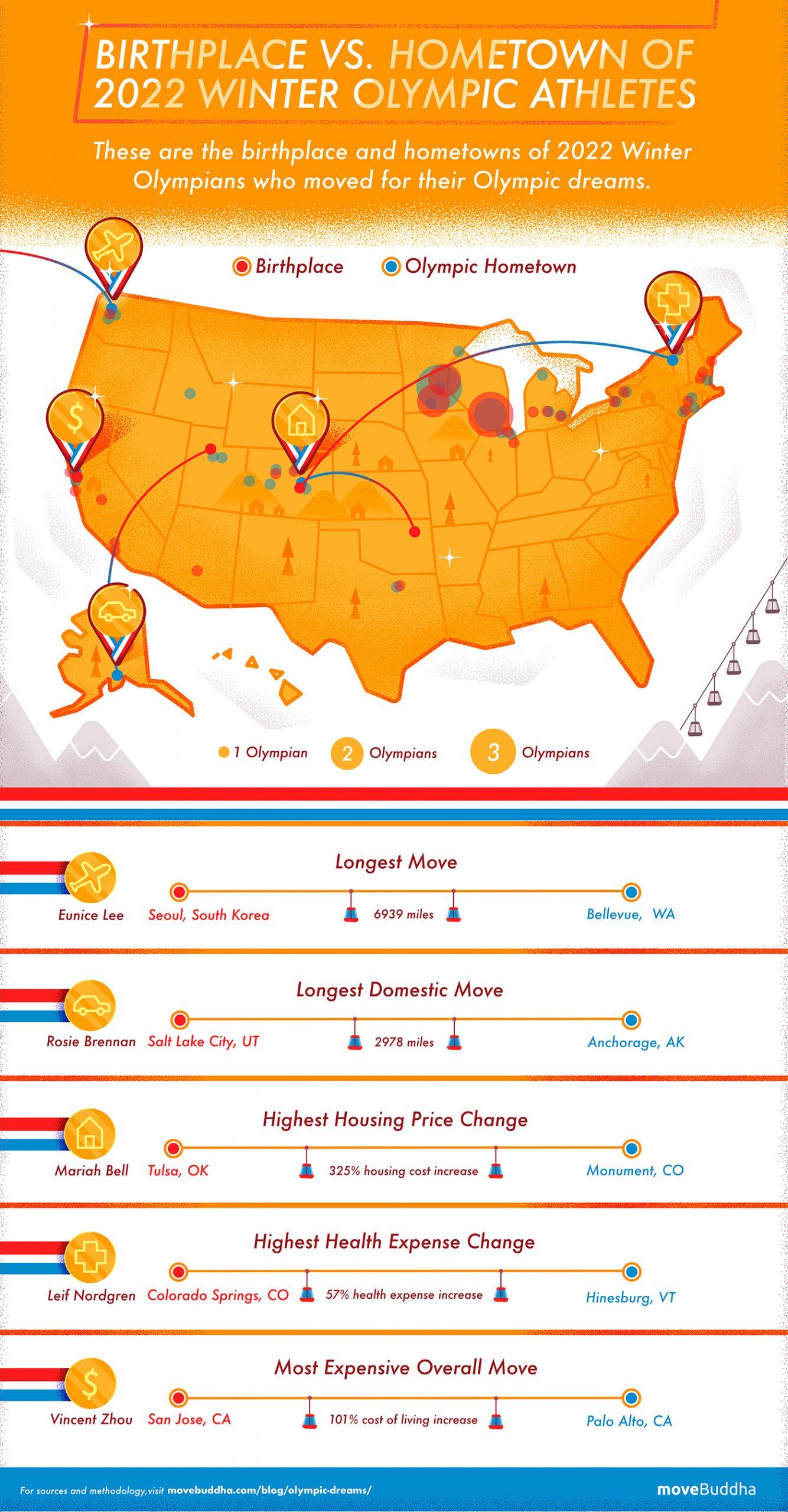 Of the athletes we analyzed, 46 had relocated since birth – about 38% overall. 
The gold medal for the longest move overall goes to Eunice Lee, a 17-year-old short-track speed skater and first-time Olympian. Born in South Korea, Lee now resides in Bellevue, Washington – nearly 7,000 miles away. 
Domestically, the U.S. Olympian with the longest move to their name is Rosie Brennan of the women's cross-country skiing team. The Salt Lake City native now resides in Anchorage, Alaska – nearly 3,000 miles away.
Cost of living to train: Housing and living expenses for relocated Olympians
Our analysis of the differences in living costs between athletes' birthplaces and hometowns showed that, in general, moving to pursue an Olympic career involves a considerably higher cost of living. 
Two-thirds of the athletes who had relocated are living in regions where housing costs are more expensive than their place of birth. In fact, one in five athletes moved to a region where the median home costs at least twice as much as where they were born. In total, the average cost of relocating for your Olympic dreams includes a 45% increase in housing costs. 
Figure skater Mariah Bell is the Team USA athlete whose relocation best represents this increase in housing costs. Born in Tulsa, Oklahoma, Bell now resides in Monument, Colorado – ideal for easy access to the Olympic Training Center in Colorado Springs. Where the median home in Tulsa costs $168k, the median home in the Colorado Springs area costs over $423k. 
But housing prices aren't the only cost increase that could be awaiting Olympic families on the move. Health is obviously a top priority for athletes, and more expensive healthcare could also add up quickly. Roughly a third of Olympians who have relocated are now residing in places with higher healthcare costs than before.
For example: Colorado Springs native and biathlete Lief Nordgren has since relocated to wintery Hinesburg, Vermont, a small town outside of Burlington. Though the perfect setting to train for the biathlon, the remote location also involves considerably higher health costs: a 58% increase, and the highest of any athlete we analyzed.
It takes a village('s salary) to raise an Olympian
Raising children isn't cheap. And this is especially true if your child might one day bring home Gold. 
Beyond the costs associated with relocating to support a child's athletic career, we researched the extra investments parents might make for coaching, equipment, travel, and healthcare.  
We estimate that the additional annual cost of raising a future Olympian ranges from an additional $36k on the low-end to $167k on the high-end.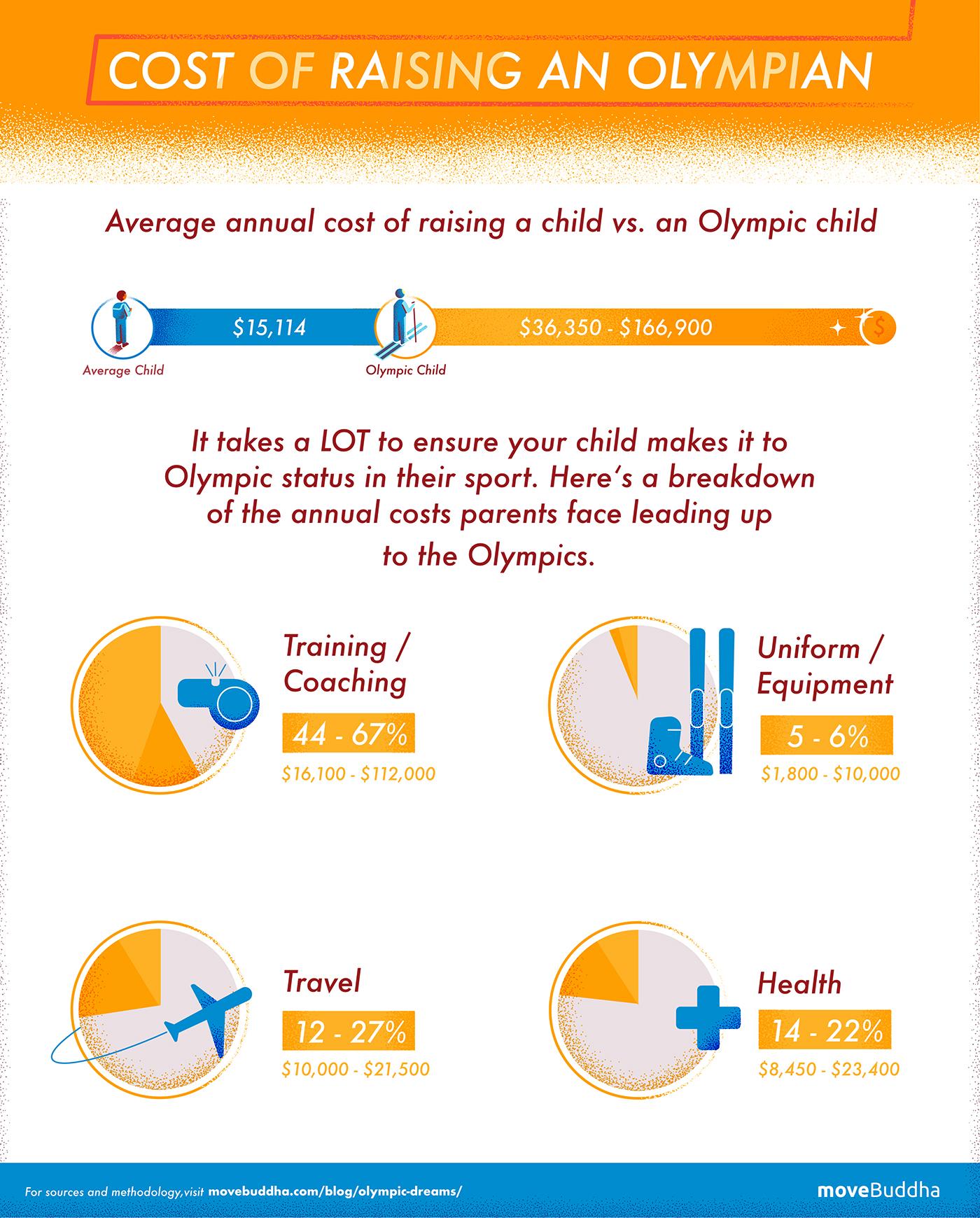 The costs of just being a kid
At the end of the day, future Olympians are kids too. While you can't put a price tag on parenthood, you can calculate nationwide averages for the costs of feeding, housing, clothing, and transporting a child into legal adulthood: roughly $15k per year, by some estimates.
Training & schooling fees
Between private coaches and team memberships, we estimate that regular instruction can cost anywhere from $1,000 to $57,000 a year – depending on how intensively the athlete trains and how exclusive the instruction is. 
Additionally, many children that train full-time require special schooling arrangements. Whether tutors or an exclusive private sports academy, education can run from an additional $15k to $55k annually. 
For instance, the exclusive Burke Mountain Academy in Vermont is famous for having dozens of skiing and snowboarding Olympians among its alumni, including several who will be competing in Beijing. This prestigious preparatory school costs $53k per year in tuition, plus an additional $20k for extra coaching.
Facility & equipment costs
Kids are notorious for growing out of their clothing quickly. But the costs truly mount when you're raising an Olympian who needs top-notch athletic equipment to perform their best. Getting your child geared up to hit the ice or the slopes comes with some lofty fees for facilities and uniforms: between $1.8 and $10k per year.
Whether for ice hockey or figure skating, a good pair of skates can cost as much as $1,000 – and will need to be replaced at least once a year. A professional-level snowboard or pair of skis can easily cost this much as well. 
Some sports also require, in addition to equipment and facilities costs, that the athletes get their hair and makeup done before competitions. Figure skaters can spend anywhere between $90 to $140 on professional grooming per event.
Travel costs
Traveling to events is a hallmark of raising a child performing at a high competitive level. Between plane tickets or gas, hotel stays, and dining out, we estimate that big competitions can run parents anywhere from $1,000 to $2,150 per trip. 
And with Olympic-level athletes competing in as many as 10 events per year, being there to cheer on your child from the stands can run parents more than $20k annually.
Health care costs
Competitive athletes require specialized medical attention to prevent injury and keep them performing their best. Between physical therapy sessions and sports nutrition, parents could be looking at additional expenses totaling $8.5 to $23.4k annually.
Methodology
Survey findings:
This article uses data gathered from two separate but identical Google Surveys that asked: "Would you move to a city across the country near an Olympic training center to support your child's Olympic dreams?
Survey I – concluded August 7, 2022

1,503 respondents in all 50 states

Link to full results

Survey II – concluded January 14, 2022

1,502 respondents in all 50 states

Link to results
Hometown and living costs analysis
We analyzed the Team USA roster for Beijing 2022 that was public as of January 11, 2022. This roster included 121 athletes across 13 winter sports. Since then, the full roster has been made available and encompasses 223 athletes. Only the initial 121 athletes announced by NBC Sports were included in our analysis. 
Birthplace vs. hometown data was compiled from the following sources

For every athlete whose hometown was listed as different from their place of birth, we compared cost of living data as reported by

Bestplaces.net

.

Only athletes with complete data sets were used in averages. Athletes who had moved from abroad or for whose hometowns or birthplaces no data could be found were excluded from calculation in list-wide averages. 
Cost of raising an Olympic child
We used the following sources to estimate the costs of raising an Olympic athlete in the United States:
*Our analysis encompassed the 121 athletes publicly included in the Team USA 2022 roster as of January 19, 2022. Since then, the full roster has been publicized and includes 223 athletes in total.
Not what you were looking for?
Check out other categories that can help you find the information you need!
See All
Hide All