RedBin Technology Company Review
Overall Opinion of RedBin: RedBin Storage On-Demand is a mobile or "valet" self-storage company based in Brooklyn, New York that offers next-day pickup and re-delivery service. After placing an order, red plastic bins are brought to the customer's home. After the items are loaded, a driver will return to pick up the bins and transport them to storage. RedBin is a good economical option for New York City apartment dwellers that need to store clothing, books, decorations, and similar items.

Jump to the RedBin review section that you're looking for:
RedBin: Storage Services Available:
The company was founded in 2015 and has created one of the more simplistic business models in the self-storage industry that caters to residents in densely-populated urban centers.
In 2017, they hired the founder of Portable on Demand Storage (PODS) to help lead the company forward. New York City apartments are notorious for being high-priced and having very limited space that creates demand for this service. Some of their primary competitors include companies such as MakeSpace and Clutter.
Pickup Options: Once the driver arrives with the storage bins, the customer can either fill the bins within 20 minutes or have the driver return later to retrieve them. Drivers always have additional bins on-hand if necessary.
Customer Pickup from Storage: Customers can call ahead and schedule an appointment time to stop at the storage facility to personally retrieve an item(s).
Visual Inventory: Each of the loaded bins are photographed to create a visual inventory. The bins are then sealed with an identification tag that the customer can quickly reference by logging into their online account.
Re-Delivery: Customers who need stored items can simply make an online request for re-delivery, which typically arrives within 24 hours.
Additional Item Storage: Belongings such as bicycles, small appliances, and golf clubs may also be stored using RedBin.
The RedBin Three-Step Process

RedBin: Pros and Cons Summary:
The Good: Offers a Very Fast, Easy, and Affordable Storage Option
New York City is the most populated major city in the country with more than eight million residents. For every square mile, there are more than 25,000 inhabitants and most are apartment dwellers. The result is that housing is considerably more expensive than in most cities and the size of the units is small and lacks sufficient storage or parking space.
RedBin has created a simple solution geared toward storing small to medium-sized belongings that people use infrequently or seasonally. The ordering process is incredibly easy, as a driver brings the red storage boxes (bins) to the customer to be filled. These bins are transported to the storage site where they remain for a flat rate of $7 per month. Each re-delivery of items to the customer costs $27.99 and occurs within a day or two after request.
The Bad: Not a Viable Option for Storing Large Quantities of Items or Bigger Individual Items
As the company name implies, usage of red plastic storage containers is the primary focus. Because of the smaller size of these containers, many larger items such as furniture or exercise equipment are less suitable for RedBin. Also, those with an entire household of belongings might find that a traditional self-storage unit is a better value compared to paying "per bin."
---
Pros:
Re-delivery of items is completed within 24 hours after the request is made. Customers are provided with a two-hour "window" for the arrival of all pickups and delivery services.
Unlike some competitors in this market, the company has its own vehicle fleet and warehouse storage facilities.
Each bin is sealed with an identification number that is easily read using a bar-code scanner
The storage facilities are well-secured, free of pests, and temperature-controlled. RedBin has a security program with three key components as follows:-Each employee is subjected to a "rigorous" background check and is bonded

-The storage facility is monitored 24-hours per day by on-site security personnel and remotely using high-definition cameras

-All transports to and from the facility are electronically monitored and time-stamped
Cons:
Certain items are not accepted for storage including flammable materials, food products, and extremely fragile or expensive items.
Packing or unpackaging services and supplies such as boxes are not currently offered.
The organization presently has only one location in the Liberty View Industrial Plaza in Brooklyn, New York.
RedBin does not offer insurance, such as for items damaged, and assumes a maximum liability of $200.
They are currently promoting a special $7.00 per bin monthly storage offer, which requires a minimum of three bins and a three-month commitment. The initial drop-off of the bins, pickup of the bins, and any re-deliveries each cost a flat rate of $27.99. Each bin can hold up to three cubic feet of items and measures 27 inches in length, 16 inches in width, and 12 inches in height.
Payment is made using a debit or credit card that is charged each month. Any declined payments are subject to a 10-day grace period and a late fee of $15. Following the initial three-month period, the storage rental is considered "month-to-month" with a 10-day advanced notice required for cancellation.
Online Visual Inventory Management Application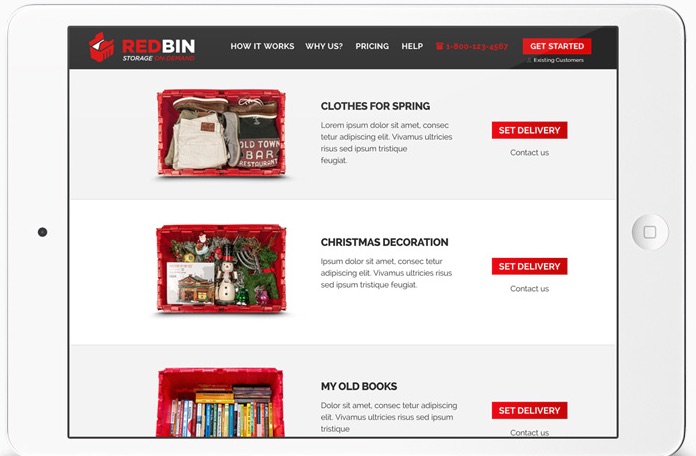 Customer Reviews & Feedback
RedBin currently has a rating of 3.9 of 5 on Google and the management is responsive to customer reviews (good and bad). The customer feedback is overwhelmingly positive. Some negative reviews were from customers that were charged a $25 "no show" fee for not being present when the driver arrived. The company will drop off the bins with a building doorman if applicable; however, they don't otherwise leave the bins unless someone is home at the time to accept them.
The company's Yelp page has an overall score of 4.0 of 5. Several dissatisfied customers stated they had difficulty reaching a live service or support person over the phone during business hours. A few further alleged that responses to voice messages and emails took a couple of days. At some point in 2018, RedBin raised its flat monthly rate to $7 from $5 that brought about some negative feedback from existing customers.
RedBin Technology's Better Business Bureau (BBB) page indicates they are a "not rated" (NR) company. They are not currently BBB accredited and no customer complaints exist.
Should You Consider RedBin for Storage Services?
Potential customers will find the process of obtaining a quote (estimate) to be seamless and straightforward. The flat-rate pricing of $7 per bin each month for storage and $27.99 for each pickup or re-delivery is very transparent. Customers who request re-delivery of items typically receive their belongings within 24-hours, which is among the fastest in the industry.
RedBin does have some overall limitations for many potential customers. For example, they only have a single location in New York City and don't offer packing services. Insurance or valuation programs are not available; therefore, people with valuable possessions or highly sentimental items may want to seek an alternative option.
The RedBin business model is very systematic and transactions are primarily handled online. While being an efficient and affordable option, RedBin tends to deliver mediocre personal customer service and support.
Not what you were looking for?
Check out other categories that can help you find the information you need!
See All
Hide All